When a company sells one million of something, what do they do to celebrate? When that company is Electronics for Imaging (NASDAQ: EFII) and they have sold one million Fiery servers, opening the NASDAQ Market is a good start! And presenting the one-millionth server to Kinko's, Inc. at the opening of On Demand 2003 is a close second.
Charles A Pesko, Managing Director of CAP Ventures, Inc. closed his keynote presentation in the Jacob K. Javits Center by introducing Guy Gecht, CEO of EFI, and Steve Grupe, Kinko's Vice President of Global Sourcing, to the On Demand audience. "Few companies have the scope or longevity to sell one million products, particularly when those products are sophisticated enablers that encompass software and hardware components," remarked Mr. Pesko. "Today I would like to celebrate such a landmark event because of the impact that Electronics for Imaging and the Fiery line of controllers and color servers have had on the On Demand market."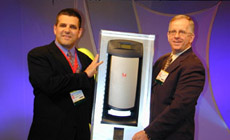 It's Big - Really Big!
Without resorting to laying a million Fierys end to end across the planet, how does one really grasp the magnitude of this accomplishment? It's enough it to know that every resident – man, woman, and child - in Tulsa, OK, could have his or her very own Fiery!
Selling one million Fierys has made EFI successful and profitable. From 1992 through 2002, as a public company, EFI generated more than $3.58 billion in sales with an income of about $455.9 million, or about 12.7% of revenue. Not bad for a company that was founded less than 15 years ago!
In the beginning…
EFI's head of engineering, Dan Avida (who later went on to become EFI's CEO), and his team of developers asked a very simple question: Why can't a copier also be a printer? After all, a copier could scan images, make cheaper and faster prints, and could collate and staple. A printer could … well … print. The whole concept was a very cool idea. It could turn a copier into a printer or network printers, scanners, and copiers together into a multi-function system.
Dan chose five young, but very talented, developers for the project. Most were right out of college. Using a "commando" development approach – a small group with an aggressive schedule – the Fiery was developed very quickly. And launched in 1992.
A First for Kinko's
Tacoma, WA, is the home of the store to get the first of thousands of Kinko's Fiery installations. In 1992, branch manager Miche Wilson was dealing with an especially challenging task. The store was working with several local modeling agencies that needed promotional cards for their models. The cards contained a number of photos – in color, of course – and physical descriptions, and each agency had a specific layout for placement of the images, data, and the agency logo.
To produce the cards the production staff would make copies of the photos, reduce and crop the images, cut and paste until second or third generation copies were being used. The light background often used for promotional photo shoots washed out the rest of the image. Filtering reduced the detail. Paste-up lines showed up. You get the picture…
One of Miche's staff was an amateur photographer who knew a little about technology. It was clear that they needed to build the documents on a computer. The problem was that the computer wasn't connected to a color printer.
The solution? The local IKON office provided a Canon CLC 800 and a Fiery on loan. In just a matter of weeks, no one in the Tacoma Kinko's wanted to let the combination go. The Fiery had been in production only a short time, but the Kinko's staff was already counting on it. While there were still color challenges, the new workflow took pasting "copies of copies" out of the loop.
It's Mine! Give it back!
The Kinko's staff wasn't the only fans of the Fierys' capabilities. Late one night, shortly after the "loaner" copier/Fiery combination was up and running, two armed gunmen locked the Kinko's night manager in a restroom and loaded the equipment into a truck behind the store.
The carefully planned heist, complete with pre-printed "closed" signs and instructions showing exactly which equipment to take, was intended to launch a Seattle man's counterfeiting career. However, the thieves were caught, the equipment returned in a matter of hours, and a counterfeiting career was cut short! In only a few days it was all just a bad memory.
And now?
"The Fiery is an integral part of our business and we use it on a daily basis. I couldn't imagine life without it," said Miche. "If someone tried to take it away, I'd throw myself in front of their truck!"
Printing from a digital file makes everything better for color. According to Miche, any job that is digital and in color goes through the Fiery: business cards, brochures, photos from digital cameras, training manuals, and any color copies. If you can think it in color, they can print it in color.
Then
Now
Fiery ColorLaser 125i
Fiery Q4500
CPU
Intel 386 SX
Dual 2.2 GHz Intel Xeon
RAM
64 MB
Up to 6 GB
Hard Disk
40 MB
Dual 80 GB
Network Connectivity
AppleTalk, Ethertalk Phase II
EhterTalk Phase II, TCP/IP, Novell IPX
Printing Resolution
400x400 dpi
600x600 dpi
Removable Media
1.44 MB Floppy
250 MB Zip, 48x16 DVD-ROM
Output Speed
(engine dependent)
5-7 pgm
2000 pgm
A Marriage Made in Heaven
"Kinko's was visionary enough to see the potential in the Fiery. We were a small unknown company then," said Guy. "They took a chance on us." Although, EFI sells only through indirect channels and the two companies have never had a formal, contractual relationship, they have worked together to improve the Fiery from the beginning.
Kinko's provided input and EFI listened to understand the requirements, and made the needed changes. Not many manufacturers or developers of technology can make that kind of commitment to a relationship with an indirect customer.
"EFI has done a great job evolving the Fiery. The product has continually changed and improved, it's a lot farther down the line than it was even a few years a go," responded Steve. "We like to deal with innovative companies like EFI."
Even though Kinko's has been a long-standing Fiery customer, it's worth noting that, early in the relationship with EFI, Kinko's had standardized on a competitive product. But it was clear what the differences were and around 1994 the company made the Fiery their controller of choice.
Now the Fiery is used to control black and white as well as color equipment in Kinko's production sites, and the vast majority of production volume goes through a Fiery device. Kinko's also enjoys the benefits of Fiery technology around the world – in the company's international sites too.
No Crystal Ball
"There was only one problem," laughed Guy. "We didn't realize how really big the Fiery would become. When you think of a million units, it's astronomical!" Most of those units are still in service. It's a tremendous testimony to an industry that has stayed loyal to EFI. The market rewards those who take care of it.
In 1975, the world was trumpeting the "Paperless Office." And, of course, the Internet was supposed to mean the death of printing. Now the Web is actually enabling printing, and when a Fiery is installed, the page count goes up. In fact, Kinko's ran more than two billion original prints through Fiery-controlled devices last year.
"The Fiery brand is much better known than the EFI name," Guy said. "Lots of users recognize Fiery but don't recognize EFI. That's OK! We're just looking forward to celebrating the delivery of the two millionth Fiery in a few years."
Now, that's optimism!