As the On Demand Show gets started, I am pondering about the companies I thought 10 years ago would be leaders in the industry today and how it actually turned out. In retrospect, I think we are more influenced by marketing than we like to believe and often miscalculate the key ingredients for future high-tech success (assuming there are some).

The pondering started recently at a briefing for a company who is exhibiting at On Demand. They are #1 in six Dataquest product categories and have over 20% market share in many. They have b/w and color printing products in the office, the print shop and the data center. They have solutions for document management, enterprise services, document distribution, forms management, digital rights, security and cost recovery and variable data printing among others. Better yet, in this declining market over the past 3 years they have actually posted positive results, even last year. With a flat to declining market this year, they are projecting a 3% growth and started off the first quarter in double digits. I believe they are truly a leader in the digital printing revolution and 10 years ago they were not near my A list. If you haven't already guessed, they are Canon USA.

How did this "non-digital desktop copier company" emerge a leader in digital production technologies? In a relatively short amount of time they had to evolve from the desktop to multifunction to production, from analog to digital to networked, and then from the office to print-for-pay to the data center, and from color to black-and-white, and from hardware-enabled to software-driven.

Today they compete directly with Xerox, Heidelberg, HP and Oce. They have alliances with Heidelberg, EFI, SAP and Sun, among others. So, I ask myself--what did I miss about Canon 10 years ago? What have they done right? After all, there are no huge marketing splashes, no big parties, the President is not often quoted and they are not frequently in the news. Not that every company can take the same road, but there are times to look at a leader and see if there if something to learn. Because I don't think the answer is "they have cameras," here are some ideas about the characteristics that led to success.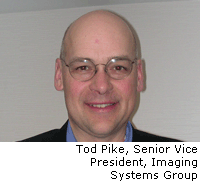 Innovation and Patience
Canon has continued to innovate significantly, achieving the #2 spot for new patents issued in the U.S. for 2002. That is 1,893 to be exact—toners, inks, papers, optics, sensors, chips, you get the idea. #2 is a position they have held in 4 of the past 8 years. According to Tod Pike, Senior Vice President, Imaging Systems Group, "The company invested $234 million in R&D in 2002, up from $219 million in 2001." With this incredible rate of innovation they were able to continue moving into new markets and remain a vendor of choice with sales channels.

At the same time, Canon seemed not to be in a hurry. They entered markets slowly and grew market share over time. Although proud of new product announcements, I don't remember any "big banana" entrances with unrealistic goals. They seemed to choose limited placements and customer satisfaction over announcing too early, or overextending and risking a poor reputation.

Multiple Markets and Low Prices
According to Canon, "business processes involve solutions for individuals, small offices, workgroups, departments, the enterprise and color professionals, including outsourcing, across many geographic locations and skill sets." So, they entered a wide range of markets and this spread the market risk. In some markets they initiated products, and with others they followed a leader. They didn't seem "late to the party" or doubtful about breaking through their "color company" identity when they launched the ImageRUNNER 110 and Pro 150+ to compete with the Xerox Docutech.

In fact, they have achieved a major edge. CEO Carmel Rowley of BERTL, one of the industry's foremost independent testing laboratories, said of the Heidelberg Digimaster 9150i (Canon ImageRUNNER Pro 150+) and the 9110 (imageRUNNER 110) "Our studies have shown it delivers a stronger performance than the Docutech." In the worst case, Canon is just patient and waits for the competitors to fumble. Keeping prices reasonable allows them to provide many entry-level products. This strategy works in good times, and even better in bad times. It appears that, complementing the innovations that support low prices, is few layers of management and low overhead.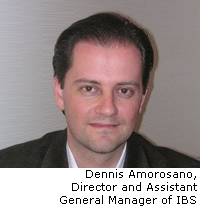 Partners, Multiple levels of distribution and Longevity
Controllers with EFI, b/w printers with Heidelberg, document distribution with eCopy, mid-volume production printing with T/R Systems, mainframe printing with I/O Corporation, enterprise management software with BMC and variable data with Objectif Lune—Canon is no stranger to partnerships. Meanwhile, multiple levels of distribution—dealers, distributors, subsidiaries, VARS, direct-- spread the wealth and the risk. Years ago it was difficult to visualize how sophisticated digital printing equipment could be sold successfully through dealer channels when manufacturers found it hard enough to continue retraining their own direct sales force.

But dealers are in the business of selling and they are entrepreneurs. It seems they can figure out ways to succeed, especially with good support. However, all of these alliances, including employees, are not worth much without low turnover. The cost of retraining is very high. The more diversified the channels, the more partners, the greater the need for a company to be successful with relationships. I don't know the average tenure of employees, but two Directors I met have been with the Canon for 20 and 10 years, respectively. IKON and Danka have been dealers from the start. I have to assume that there is a sense of respect, of being treated well, of competency being rewarded and values being lived up to.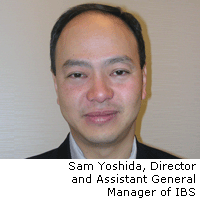 Eye on the customer and Vertical marketing
According to Sam Yoshida, recently promoted to Director and Assistant General Manager of Integrated Business Systems, "Japan listens to the US market." The proof is in the successful sales of their affordable, intuitive, non-proprietary, open systems. Dennis Amorosano, also recently promoted to Director and Assistant General Manager of IBS says, "Integration is an important theme. We are finding an increasing need of customers to integrate with existing, enterprise level systems such as SAP and Oracle." He also points out, "Because color is no longer a luxury in the office, but a necessity, Canon remains committed to color in the office. 56% of the buyers are first time color users."

Amit Bagchi, Director, Printer Division, says, "There is a huge transition to digital proofing in the print–for-pay market." According to Keith Taylor, Director and Assistant General Manager, Solutions Development Division, "Customers need applications customized to their specifications; this means a significant level of differentiation from what we are offering today." To get closer to customer needs, Canon has always taken a vertical marketing approach. It is not different now as they focus on several specific markets for 2003 and a goal is to be able to deliver developed vertical market applications. Look for announcements at the show.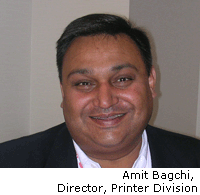 Of course, they DO have those cameras! Be sure to check out the Canon USA booth #2218.


For more information, visit www.canon.com