As part of our continuing coverage of the quick print market and with the start of our coverage of the OnDemand show, WhatTheyThink interviewed Don Lowe, CEO of Franchise Services, the holding company for Sir Speedy, PIP and other quick print franchise brands. Lowe provides an update on the Franchise Services managed brands, including both service and geographic expansion plans. Lowe also shares his insight on the value of digital services, such as scanning and variable data printing, as well as his thoughts relative to their overall impact on the quick printing business.

Don F. Lowe Lowe joined Sir Speedy in April of 1981 as president until September 1996. Under his leadership, Sir Speedy, Inc. grew from 320 printing centers and network sales of $50 million to nearly 700 printing, copying and digitally networked centers with combined annual sales of more than $400 million. Prior to Sir Speedy, Lowe served as senior vice president for Kampgrounds of America, Inc.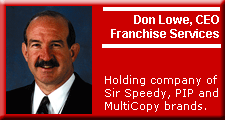 WTT: Don, thanks for taking the time to speak with us at WhatTheyThink.com. For our readers who may not be familiar with Franchise Services' organizational structure, can you provide us with an overview of the brands you manage and the geographies you cover? How do you differentiate your operation from your competitors as you seek to acquire new franchisees and retain existing ones?

DFL: Three things differentiate our centers, not just in terms of franchising, but also in terms of how we service our customers. The first is brand. Franchise Services, Inc. owns very strong brands. PIP Printing and Sir Speedy have had effective national advertising in place for years; our brand awareness among our business buyers is very high. Your own survey last year attributed an 83% brand awareness of Sir Speedy alone. (Premium Members see this survey) Multicopy is by far the dominant brand in terms of awareness in the Netherlands. PIP is a well-established brand with a lot of equity. We have nurtured our brands to communicate both convenience and a wide range of products and services to our business customers.

The second differentiator is our range of products and services. We have expanded our products and services beyond just output, although that continues to be our core offering. We are teaching our franchisees how to capture business throughout the entire lifecycle of a document, from creation to distribution and from managing to archiving. By concentrating on documents, we can make money in any stage in a document's life, whether its final distribution is to paper or electronically. Our customers benefit because they get to employ leading technology that makes them more efficient. Our centers will have the best chance in our industry to prosper despite changes in technology. A good example of this is our MyDocs/EasyDocs solution. Our franchisees have access to a complete online ordering and document management solution, at no charge to them, offering them a strong differentiator from all of our competitors. They also have the tools and training to implement this program effectively, and they have, in fact, done so.

Finally, we offer the training and resources our franchisees need to support their customers. We have a wide-range of training venues—in person, online, on video and in printed format—to make sure we deliver training to the largest possible number of our franchisees and their employees. Our emphasis on fostering a capable and well-trained network delivers the high-average invoices, large share-of-customer ratios and leading sales figures that earn our franchisees above average sales and profits.


WTT: Do you have any company-owned production sites?

DFL: In the U.S., we do not. We have concentrated on developing our two domestic brands through franchising. In Europe, we have five company-owned production centers under our MultiCopy brand.


WTT: How would you characterize the business mix throughout the respective chains relative to walk-in retail versus corporate accounts?

DFL: While it differs from center to center, all of our brands are primarily business-to-business brands. Overwhelmingly, our centers handle corporate accounts. Our early emphasis on outside sales, effective direct marketing and national brand development has allowed us to focus our efforts on servicing the needs of business.


WTT: How has year-over-year growth been affected by the economic downturn, both in terms of revenue per store and the ability to add new stores?

DFL: It has been a challenging year. Our centers are faced with customers who have cut back on spending and who are tightening their belts. We receive a significant portion of our sales—across all brands—from the marketing and advertising sectors, and they have been hit hard. Sales have stayed flat, year over year. Our opportunity is to gain more market share now and position ourselves to take advantage of the economy's improvement when that happens.

In terms of adding new centers, we are seeing a great deal of growth internationally; we have recently opened new centers in Chile and China. In fact, we hope to add 200 new centers in China in the near future. We already have a significant footprint globally, and are working towards increasing that in important new markets. Domestically, it is a different challenge. We are very selective with whom and where we expand domestically. Our real emphasis with Sir Speedy and PIP is to increase revenues substantially in existing locations. As a result, it will slow our expansion relative to the past.


WTT: What is the normal configuration of a Sir Speedy or PIP shop, and how much continuity is there from site to site?

DFL: At their core, they are very similar. We offer a similar range of products and services to a similar clientele. The centers have a similar look and layout and marketing strategies within their respective brands. What differs the most are those factors influenced by the personality and skills of the local owners. The markets they serve and the specific niches they target can vary greatly from center to center.


WTT: You have invested a tremendous amount in bringing your organization into the digital world. Tell us a little about the new services you have made available to your franchisees and their customers, such as web job submission, scanning, variable printing, etc.

DFL: As I mentioned before, we are looking at the entire business document cycle. Today, most of our revenues come from a very small portion of this cycle, mostly output. Our goal is to do more. Businesses run on documents, and we have 35 years of network experience dealing with documents. So, the new services we introduce, and our marketing materials and messages, will focus on these services.

The first was MyDocs (for Sir Speedy and MultiCopy) and EasyDocs (for PIP). We introduced this online ordering system in early 2000 and made it easily available to all of our franchisees. It allows customers to have a personal catalog of the items they order most. They can submit a new file, place an order for an existing document, or design a new one online. They can store, update and even customize a document, and receive an immediate proof and price, including any shipping or taxes. They also receive comprehensive reporting and order tracking. This is quite an advantage to our customers, and allows our centers to talk about more than just printing and copying.

Building on that, we have continued to update MyDocs with new features, and it has become one of the ways we do business. We are seeing a lot of interest and activity in document scanning and archiving.

With a few notable exceptions, variable printing continues to be a solution searching for the right audience. Our customers like to hear about it, but implementation is challenging for them.

Mailing services are also widely implemented across our network and utilized by our customers. Services like fulfillment, book publishing and global distribution of documents through our network of centers, are finding a hold in a smaller set of centers. But for those centers, these services are helping to generate revenues and capture new customers.

When taken together, all of these services help us to serve our customers better, differentiate ourselves from our competitors and improve our overall profitability.


WTT: Specifically with respect to variable printing, how is that initiative going? Can you comment on the types of applications you are producing, volumes, etc? And are these programs produced throughout the organization or only in specified locations?

DFL: Variable print is an interesting talking point, as I indicated earlier, but has not translated into a large amount of business for us yet. Mail merge is popular. Versioning is becoming more commonplace. We have centers that have carved out niches, but these revenues are small in comparison to our other services. The issues tend to be more on the customer's end; it is difficult for them to find the information they need to target their mailings appropriately. However, we continue to train our franchisees on how to help customers version direct mail pieces to enable greater marketing efficiency. These conversations help us to capture more customers, and serve them better, even when the ultimate print job is not a fully-personalized piece


WTT: How has the adoption rate been for these services? Can you comment on the revenue allocation for these services versus traditional walk-in services, and how do you see that ratio changing over time?

DFL: When compared to our core services, these new services account for a small percentage of what we do -- most certainly less than 10 percent, probably closer to five percent. Of course, any printer today would be happy with any service that would bring in a percentage of incremental business. But more important than percent of revenue, these services provide more value than the numbers would suggest. For example, our franchisees report that they have a number of customers who have come on board after seeing a MyDocs/EasyDocs demo, but do not use the online service regularly. I feel the same about the other services. We measure success in our ability to capture new customers, and then increase our share of customer. Without these new services, we would not be as successful at maintaining our premium pricing and keeping customers over the long term.

So, it terms of giving us something to talk about, and helping us to impress the customer with our capabilities, these services are already paying dividends. Just as importantly, these services are where color was a decade ago. By offering them now, we are positioning ourselves to profit in the future. No other network in our industry can boast as much experience selling these new services as our brands. That's significant now, and will become more important in the future.


WTT: How much of your print volume would you say is conventional offset versus digital these days and do you see that shifting more to digital?

DFL: Digital print volume certainly has been growing at a faster rate than offset in both black-and-white and color. However, we currently do about 39 percent of our volume in offset, with much of it in color. We continue to add a significant number of two-color and four-color presses in our network.


WTT: What other strategic initiatives are in the works?

DFL: Look for our brands to continue to develop our document strategy. Look for more product and service offerings from us. And look for us to capture an even larger share of brand awareness. Look for more openings in more countries outside the US. We plan to compete very aggressively for the printing and document dollars available in any business climate.


WTT: Don, thanks for your time today. Before we close, are there any other thoughts you would like to share with our readers?

DFL: Printing is a dynamic field. It grows more so every day. The opportunities available are impressive, but they will take a lot of work to develop, more so than ever before. The players in this market that will survive and thrive will have much in common—they will have a strong brand; they will have close ties with their customers; they will have well-trained employees and a dynamic and aggressive marketing and outside sales program. And they will offer a broad range of document-related services. Our brands will be among those survivors and we will continue to lead our industry.