The Technical Association for the Graphic Arts (TAGA) is sponsoring The World of Printing from Microtechnology to Ink on Paper, in Montreal, Quebec, from April 6-9. For readers of WhatTheyThink, the spring conference/trade show season offers lots of choices. To help you make your decision as to which makes it to the top of your list, we asked Dr. Bruce Blom, TAGA President, to fill us in on TAGA and the upcoming conference.
Dr. Blom is also Manager, Paper & Graphics Education at MeadWestvaco Corporation. MeadWestvaco is a global producer of packaging, coated and specialty papers, consumer and office products, and specialty chemicals. The company operates in 29 countries and serves customers in nearly 100 nations. MeadWestvaco manages strategically located forestlands according to stringent environmental standards and in conformity with the Sustainable Forestry Initiative® program.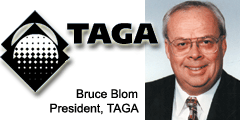 WTT: While TAGA is an international organization, not all of WhatTheyThink's readers are familiar with the association. Would you provide us with a quick overview of TAGA?
BB: TAGA, the Technical Association for the Graphic Arts, was founded in 1948, and has about 900 members. We're an international professional association, with individual membership. That's different from most graphic arts industry associations, which are usually corporate memberships. Of course, we do accept corporate sponsorships!
In addition to the group's annual technical conference and publications, one of the biggest benefits of TAGA membership is the network that comes with it. If you need information about a technical topic in the graphic arts, a member of TAGA will either know it or be able to point you in the right direction.
WTT: "Technical Association" sounds pretty intimidating. Is the organization limited to ink and paper chemists or is there a place for operations people too?
BB: It's not intimidating at all—in fact, it's a warm and friendly environment! TAGA is a diverse group serving practitioners, like technical people employed by printers, publishers, and pre-media companies, as well as engineers and scientists employed by graphic arts systems and equipment providers, ink manufacturers, and paper manufacturers.
There are CEOs, CTOs, and CIOs, as well as people who are in their first job at a printing company. Anyone interested in the industry and technology, whether applications, engineering or science, is welcomed with open arms.
WTT: The TAGA mission statement describes your focus on "emerging technologies for Graphic Arts print production and related processes." What are some of those "emerging technologies" that will affect the Graphic Arts Industry in the short- and long-term?
BB: If you look at the conference program for this year's TAGA annual technical conference (which is in its 55th year, by the way), you'll see a great cross section of both today's hottest issues and tomorrow's challenges represented. We have sessions on new Microtechnology applications, on Hybrid and Stochastic Screening, on important packaging topics, as well as practical sessions on press operations and much more.
WTT: TAGA has a very broad reach, what would you say are the most important issues you address?
BB: Really, TAGA is most important for providing a venue for discussion of technical topics in the Graphic Arts Industry. Whether your interest is paper or software, you can come to TAGA and find something of interest. Just as important, attending TAGA can help you get a "big picture" perspective on the industry. If you are a software developer and you listen to a session about flexography, you may not be able to immediately apply what you learn but it may give you a broader view into your own work.
WTT: Publishing "The Journal of Graphic Technology" sounds like a big undertaking. Please tell us more about that publication. How will print and graphic arts executives, like WhatTheyThink's readership, benefit from it?
BB: Getting the first edition of "The Journal" out has been an arduous task. It's the only peer-review journal in the Graphic Arts Industry today, and we are really excited to be able to offer this opportunity to our members and to the academic community. There hasn't been a place where papers could be published with the rigor of a real professional journal.
WTT: The next generation of graphic arts professionals are in school now. How does your outreach program with college and university students work?
BB: Another great feature of TAGA is our student chapters, which are unique. They are at schools around the US and at there are 15 active student chapters around the world, including chapters in Canada, France, Sweden, Taiwan, and Wales. Student membership is very affordable, and we hope that students will continue their membership after they graduate. Almost 400 students are members today.
Students meet regularly in their chapters, and there are several annual paper and publication competitions where they create and produce papers and printed items that are judged by a board of academic and professional TAGA members. There have been some truly exciting submissions over the years and students often incorporate cutting-edge technologies like digital photography and personalization.
WTT: Your conference in Montreal, April 6-9, covers a lot of ground: "From Microtechnology to Ink on Paper." Could you fill us in on what to expect there?
BB: I mentioned some of the sessions before, but we are really proud of the program at the 55th annual technical conference. TAGA has a long history of innovation, and this year is no exception.
Dr. Richard Goodman, Manager of Plate Research at Kodak Polychrome Graphics and TAGA Vice President of Technical Papers, and the conference planning team have put together a truly world-class event. There are tutorials that begin on Sunday, April 6th, and cover really forward-looking topics like Nano Technologies in the Graphic Arts, as well as very practical sessions like Miles Southworth's "Finding the Sweet Spot on the Press", an expanded version of an extremely popular session Miles presented at last year's Asheville, North Carolina TAGA conference.
In addition, Tony Stanton (head of the graphics management program at Carnegie Mellon University) will present an in-depth session on Digital Photography. Digital photography is moving forward at an accelerating pace, and this tutorial will appeal to anyone interested in this topic.
Tracks in the main conference, which begins on Monday, April 7th, include Color Management, Newspaper Process, Measurement Science, Flexo/Packaging, Paper Technology, Ink Technology, the TAGA MicroTech Forum, and Hybrid Stochastic Screening.
It's the most in-depth and broadest technical conference of the year. While we do have several corporate sponsors, including Day International, Fujifilm, Heidelberg, INX, Kodak Polychrome Graphics, Mohawk, Group Infotech, Sun Chemical, X-Rite, Tobias, and more, an important thing to remember about TAGA is that there are no sales pitches: this is a real technical conference, not a trade show with some conference sessions tacked on!
WTT: Thank you for taking time to tell us more about TAGA and the Montreal conference next week.
BB: Thanks for the opportunity. For those interested, TAGA can be reached by email at [email protected], or ask for Karen Lawrence, Managing Director, or Kara Knopf, Assistant to the Director, at (585) 475-7470.