Heidelberg has announced that it is "officially" targeting the packaging market with an extensive portfolio of prepress, press and postpress solutions tailored to label printers and folding carton converters. That will come as no surprise to many package and label printers that already rely on Heidelberg solutions for a variety of applications, but the company's previously diffuse packaging message has coalesced into a proactive strategy. That strategy comes with a portfolio of currently available solutions and a plan to unveil Heidelberg's full packaging workflow – complete with VLF additions to its Speedmaster XL line of presses – at the drupa trade fair next year.
"The company's previously diffuse packaging message has coalesced into a proactive strategy."
The company recently invited members of the trade press and some of the nation's most prominent packaging printers to view Heidelberg packaging solutions at the first annual Packaging Inforum and Open House, held at the company's newly expanded Print Media Demonstration Center (PMDC) in Kennesaw, Ga. Opened in 2005, the demo center hosts 1,100 customers, performs 2,000 demos, and burns 37,000 plates per year, an output roughly equivalent to that of a $70-$100 million commercial print shop. In an additional 6,000 square feet newly dedicated to packaging, Heidelberg has installed a formidable array of packaging equipment, including its Dymatrix, Varimatrix, and KAMA die cutters, the entry level ECO 105 folder-gluer, and the new servo-controlled Diana X 135 folder-gluer, which had its North American debut at the event. While the Packaging Inforum afforded plenty of opportunity for attendees to kick the tires on these and other Heidelberg machines, it was clear that the company had a larger vision to communicate.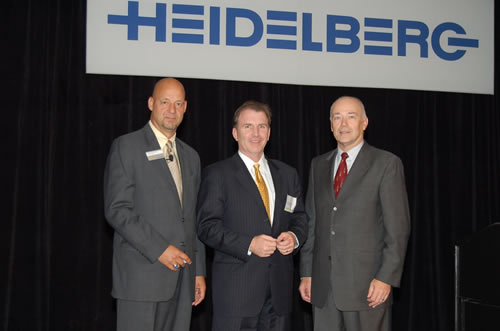 Left to right, Ralph Pasquariello, Vice President, Postpress Product Management, Corey Gustafson, President, JohnsByrne Co., and James Dunn, President, Heidelberg USA. Heidelberg will fund a scholarship in the name of JohnsByrne Co. at Ferris State University.
With this new emphasis, Heidelberg lays claim – uniquely - to the entire packaging value chain with a "soup-to-nuts" workflow ranging from management and prepress to press and postpress solutions designed to boost the productivity and profitability of packaging printers, commercial printers already involved in packaging, or those that are contemplating a move in that direction. Cohesion is supplied by the Heidelberg's integrated Prinect workflow.
According to Mark Rasmussen, Heidelberg's Product Manager for Packaging, "There is a wide variety of software packages being utilized by packaging customers on the factory floor. Some are MIS, some are QC, some are maintenance oversight systems, and some are software design packages." As a result, he says, companies run the risk of tripping over their own infrastructure even as the market demands that high-quality products be delivered to market faster and at lower cost. "Heidelberg aims to ameliorate this inefficient 'negative uniqueness' by providing the means to unify some of those systems, bringing to market a de facto standard of packaging workflow and becoming a single source supplier for the prepress, press and postpress needs of commercial printers involved in packaging, trade finishers, and packaging pros."
"Heidelberg aims to...[bring] to market a de facto standard of packaging workflow."
The company said it plans to introduce a full packaging workflow at the drupa trade fair next year, and shared a tantalizing preview of the much-anticipated launch of its 56-inch Speedmaster XL 142 and 64-inch Speedmaster XL 162 VLF offset presses, already in production in the 375,000-square-foot assembly Hall 11 of its main factory in Wiesloch, Germany. "We had no interest in creating a 'me, too' design with our VLF press," said Heidelberg USA President James Dunn, "so its combination of speed, print quality and ease of operation will be a quantum leap ahead" of currently available technology. Each printing unit of the new press weighs up to 20 metric tons, Dunn said, adding that Heidelberg also will manufacture plus-size platesetters to match the new VLF presses.
Given an installed base of aging equipment ripe for replacement with more automated, productive machines, and a market for folding cartons and labels that is increasingly focused on differentiation, the company clearly feels the time is right to launch its packaging push. More complex graphic and structural designs, security features, the use of special inks and coatings, holograms and foils, and elaborate folds and die cuts, are among the many opportunities for brand enhancement that folding cartons can deliver – in an environmentally sustainable manner. In the vanguard on the press side are Heidelberg's high-speed, ultra-high-performance, 41-inch Speedmaster XL 105, already installed in a number of packaging environments, as well as its versatile 29-inch Speedmaster CD 74 and 40-inch Speedmaster CD 102 presses.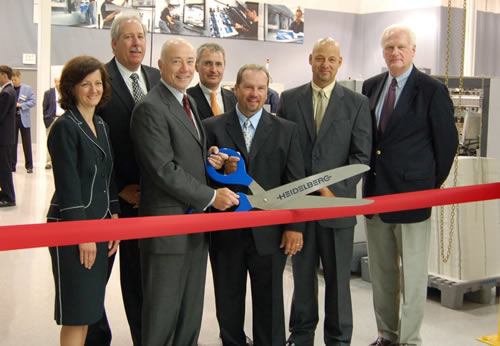 Left to right: Susan Nofi, Senior Vice President, Human Resources and General Counsel, James Martin, Senior Vice President, Marketing, James Dunn, President, Heidelberg USA, Thomas Topp, Senior Vice President, Finance, Clarence Penge, Director of Demo Room Operations, Ralph Pasquariello, Vice President, Postpress Product Management, and Jerry Van de Water, President, Paperboard Packaging Council, inaugurate a 6,000-square-foot addition to the Print Media Demonstration Center at the company's Kennesaw, Ga. headquarters. The expansion is dedicated to Heidelberg's packaging line.
Inforum attendees enjoyed a half-day guided tour of the demo center, viewing the range of Heidelberg packaging solutions in action. On the finishing side, Heidelberg's full-size Dymatrix 106 die cutter, which comes in cutting and blanking and cutting/blanking/stripping configurations, the entry-level Varimatrix 105 die cutter, the half-size KAMA ProCut 74 die cutter with foil stamping and embossing, as well as the Diana X 135 and ECO 105 folder-gluers, testified to the breadth of Heidelberg's offerings to the packaging market, all of which are JDF-integrated to receive finishing data from prepress. The company's widely installed, JDF-connectible POLAR automated cutting systems already have proven themselves highly capable adjuncts to both commercial and packaging workflows.
Heidelberg's Prinect workflow contributes the magic that enables commercial and packaging printers to get the most from their equipment by creating and communicating the graphic and structural design information used to set up the press, die cutter and folder-gluer. Open to predominant design modalities and all standard formats, Prinect's packaging-friendly functionality includes Printready automated prepress with MetaDimension RIP; Signa Station for management of step-and-repeat, nesting, CAD, press and finishing marks, ink fields and 3D simulation; PDF Toolbox for management of spot colors, trapping, screen growth and special screening; and Prinect Color Solutions, which furnishes tools for calibration, profile creation and monitoring. The Prinect Image Control color measuring system integrates all HKS and Pantone color charts. Look for more packaging-specific Prinect enhancements by drupa 2008.
"We had no interest in creating a 'me, too' design with our VLF press."
While the Packaging Inforum focused primarily on software and hardware, sustainability and education were also part of the message Heidelberg sought to impart. In keynote remarks delivered at the conclusion of the event, John Bernardo of Sustainable Innovations urged package printers to introduce sustainable processes and technologies into their business culture. In keeping with its long tradition of support for graphic arts education, Heidelberg also announced that it would create a $5000 annual scholarship in the name of JohnsByrne Co. of Niles, Ill., at that company's choice of graphic arts school. (JohnsByrne was the winner of a drawing at the event.) JohnsByrne will contribute additional funds, with the total to be awarded to Ferris State University in Big Rapids, Mich.