We caught up with Larry Tanowitz, who is in charge of all of Heidelberg USA's postpress business, including the high-volume equipment. Tanowitz is responsible for the strategic direction and management of sales and service activities for all finishing products, including digital and web finishing products. Products in this segment include the Stahlfolder line of folding equipment as well as saddle and perfect binding equipment, and the Polar line of cutting and labeling products. Tanowitz joined Heidelberg in 1974 and most recently served as vice president, Postpress.

He takes a few minutes to explain how the Post Press division fits into Heidelberg's theme of Connecting the Passion of Printing.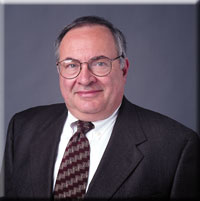 WTT: Larry, other executives we have spoken with told us about your company's theme for the Graph Expo show and how that relates to the company's vision of connecting the path from job creation to finishing. Your role comes in at the end, doesn't it? Tell us about your vision for postpress.

Tanowitz: I am sure other executives you have interviewed explained how all of our equipment at Graph Expo will be related to the theme of Connecting the Passion of Printing and how we use digital information to manage the process.

Our vision, which can be seen in our theme and our demonstrations, is to seamlessly connect all components of the printing process and make postpress as an efficient and technologically superior a process for our customers as possible.


WTT: Tell us about a piece of postpress equipment that will be used to demonstrate the theme and the vision at Graph Expo.

Tanowitz: A good example of such a piece of equipment is the ST 400, the world's most automated stitcher. The ST 400 is a gang stitcher that we have showed previously at IPEX and DRUPA. The ST 400 uses the integrated, automatic format presetting system and mobile feeder units with servo drives. This translates into handling regular job changes cost-effectively and quickly. With an output of 14,000 cycles per hour, the Stitchmaster ST 400 is a fast, efficient piece of postpress equipment.


WTT: Any other examples?

Tanowitz: We are demonstrating how we have improved the productivity of cutting in postpress by 200% using our Polar System cutters. Another highlight is the first United States showing of our DCM die cutter punch and a pile tuner that operates automatically and completely hands-free. It jogs and aerates without the need for anyone to touch the sheets.


Thank you Larry.