Although one industry pundit predicted a minuscule turnout, the Town Hall meeting in the Hyatt Grand Ballroom was packed front to back with show attendees drawn by the on-stage presence of Lou Dobbs of CNN Moneyline moderating a panel comprised of Robert Reich, former U.S. Secretary of Labor, Anne Mulcahy, President and CEO of Xerox; Lester Wunderman, the father of direct mail marketing; Stephanie Streeter, President and CEO of Banta Corporation and Barb Pellow, Gannett Professor for Printing and Publishing at Rochester Institute of Technology.

Unlike the usual trade show press conference or media event, the Town Hall meeting held the audience of at least 400 for over an hour while Dobbs queried the panel on how the challenging business climate, the demand for customized products and the need to deliver services as part of a product offering are transforming the printing industry.

Printer's present were no doubt assured by Wunderman's statement that electronic media are a long way from taking over from print, especially in terms of delivering consumer response. And while most attendees have had an eye on the economy and their stock portfolio, they may have been somewhat pleased to hear Reich note that he didn't foresee a double dip in the recession. There is, however, some concern that deflation could raise its head before the economy becomes more secure in 6 to 12 months. However, noted Dobbs, war in Iraq and its impact on world oil prices are something of a wild card in the whole mix. Like they say on TV, stay tuned.

For more coverage of Town Hall, see Carole Alexander's coverage today in the Graph Expo Special Reports section.

There's much more going on at the show on this first weekday. One of the more interesting ways to look at a show like this is to talk to the people on the floor. I've taken to accosting printers and asking about their take on the show and why they got on a plane to come here and cruise the aisles--and what they are getting out of the hype, promotion, and tech talk that means something for their businesses.
Dan Adler of Lexinet in Council Grove, Kansas is a direct mail printer who uses DocuTechs and a DocuColor 2060. Looking to move up to a DC 6060 and possibly an iGen3, he is evaluating those machines at the show, but also looking at the NexPress 2100. He says the latter is not on his short list, but he still looks at it and asks the tough questions. "I need to know what other machines can and cannot do," says Adler. "I wind up having to sell my capabilities against those machines, so I have to understand what they can and cannot do. It helps me sell my capabilities much more effectively."

Don DeHart from DeHart's Printing Services in Santa Clara, California is looking for both monochrome and color solutions. Some of his shop's prodigious output of technical manuals stream off an IBM Infoprint 3900, which has been upgraded to an Infoprint 4000. He sees the 3-up capability of the IBM 4100 an advantage for 6 x9-inch books. "It seems like no matter what you buy there is always something bigger. I have a DocuColor 2060 , but now I'm looking at the iGen3 because it's sheet size--about 20.5 x 14.3-inches offers some real advantage for many of the documents we print. It can help us keep more work in-house."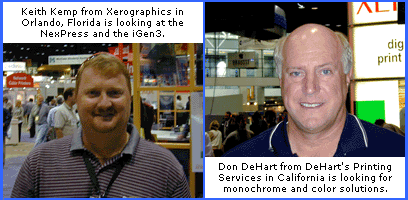 Keith Kemp from Xerographics in Orlando, Florida is looking at both the NexPress 2100 and the iGen3 as a step up from his present pair of DocuColor 2045s. "I like both machines," says Kemp. "Both produce prints I can easily sell to my customers, so quality is not an issue. What I'm thinking about is which one will best fit into my workflow."

These three industry veterans point out some key issues for printers looking to adopt new solutions.

The print engine is only one part of the process. With data and design being digital from creation until it comes out of a press, workflow is crucial to productivity, especially with the faster turnarounds of digital printing. It is imperative that you look at how a machine will fit your working environment and the types of jobs you intend to run on it, both now and a few months down the road.

And it's good to understand, as Adler points out, what other machines can do because sooner or later one of them is going to wind up as your competition.