Variable Data Education for Designers
It is no secret that, despite the proven increased response rates from variable data printing, it has not yet "caught on" in a major way. In an effort to stimulate demand, the DPC (Digital Print Council) of PIA decided to go straight to the designer market and provide education. Its Designing for Digital (D4D) program was launched yesterday at GraphExpo by Frank Romano, RIT professor, and Keith Bloom, creative director for Imago Bloom agency. The multimedia toolkit, jointly sponsored by Heidelberg, EFI, Xerox and HP Indigo, describes the opportunities and how-to of variable data printing.

The program consists of a 104-page book and two CDs with interactive learning followed by quizzes that can be graded. As the intent is for printers to provide the education to their clients, usually in seminars, the CDs also contain customizable posters and PowerPoint presentations with scripts and video clips. There will be a website for additional tools, such as more about databases. Costs are $49 each for DPC members, $99 for GATF members and $149 for others.

I applaud the concept of education on variable data printing to the design community and the involvement of printers to teach their end users. At first glance, much of the material appears to be a rewrite of Romano's prior book on Variable Data Printing which is good news because that content is very good. Less impressive was the look and feel of several of the materials. In educating the design community, it seems using a high level of design talent might be more beneficial. As Suzanne Carnes Morgan, Founder and Editor of PrintBuyersOnline said, "The content looks good and it is much needed, but I think many printers will customize and redesign."

IBM and CAP Research
Jim Hamilton, Associate Director of CAP Ventures, presented the results of recent research prepared for IBM on The Power of Digital Printing. Stating that "digital and offset are complementary - just use the right tool for the right job." Hamilton suggested three good reasons why a printer should chose digital - "it's a tested technology, it's a growth market and business processes are moving to digital."

Regarding quality, he said that digital b/w is very good for text and line art, but can still fall short on halftones, depending on the application. Color compares favorably to 4-color offset (with paper making a big difference) but does not yet benefit from extra color such as Pantones and coatings. Regarding growth, recent CAP surveys showed that the on-demand production digital print industry is estimated to grow 14% per year, becoming $50.5 billion by 2006.

"Production digital print is most profitable," according to Hamilton,"when it is part of a well thought-out business plan that includes short runs and variable data." He emphasized the need for an appropriate infrastructure that might include automated quoting, predetermined pricing and web access, and avoidance of price-based competition in favor of value added services. "The bottom line," says Hamilton, " is to make customer documents more meaningful, more timely and more useful."

Bruce Otte, IBM Worldwide Manager for Production Print Solutions, discussed how IBM is helping their printer customers implement new solutions and generate more money. He gave several case studies and focused on IBM's ability to be consultative. To determine IBM's differentiator in more detail, stay tuned.

The Xerox Town Hall Meeting
Based on the Xerox theme, the New Economy of Printing, Lou Dobbs from CNN's Moneyline led this panel of industry experts with charm and wit. He reminded us that the stock market dip in September was the largest since 1929 and that the recovery has been "muted, erratic and disappointing."

Dobbs added that the printing industry has experienced declining sales this year, the second year in nearly 3 decades. However, according to a floor survey at GraphExpo yesterday, 60% of attendees said business has been improving and 81% expect it to improve in the next 6 months. He reminded us that "in any industry, those who try to keep the status quo are not prepared for the next cycle. There are high-performance printers doing well today with the right strategy, the right tools, partners and insights."

The key issues of the day Dobbs articulated as "the migration to a service-based economy, movement to mass customization, use of new modes of communication and finding new ways to make money in difficult times."

Sitting on the panel were: Robert Reich, former US secretary of Labor, Anne Mulcahy, CEO and President, Xerox Corporation, Lester Wunderman, Chairman Emeritus and Founder, Wunderman Agency (and founder of direct marketing), Stephanie Streeter, President and CEO Banta Corporation and Barb Pellow, Gannett Professor, RIT. All the speakers agreed with the need for printers to provide a wide range of services from management consulting to databases and distribution, and to realize they are in the business of helping customers communicate.

Mulcahy sympathized with the tough decisions printers have to make by explaining her own tough decision to outsource some Xerox manufacturing and focus on the "sweet spot" of their product line. For companies large and small, if you can't do it all, "focus on your special, strategic competence."

There were some good laughs. Reich addressed the issue of living in "perilous times" and the understandable "desire to change things incrementally and test each step." But, he also pointed out that some things cannot be done that way, siting the potential travesty that could occur should England change from driving on the left to driving on the right, in increments.

Streeter urged the audience not to back away from things that confuse them, such as technology. She confessed her own relief in having discovered earlier in the day from Mulcahy that VDI wasn't a social disease. Wunderman thought that loyalty was always too strong a word to attribute to customers, since all one could do was stimulate or ignore the proclivity to repurchase. He emphasized this by proclaiming, "I am loyal to my country and I would die for my country, I am loyal to my family and I would die for my family, but I would not die for Xerox."

Noting the consolidation of the printer population from 52,000 establishments in 2000 to 46,000 in 2001, it was agreed that consolidation in most of the high-tech industries was expected to continue. One of the biggest challenges (for most industries) was considered to be attracting, training and retaining talent. According to Reich, "It is the only way to provide better services, innovation and relationships. You cannot have high turnover." The session concluded with Reich urging printers to use this dip in the economy to buy new equipment while interest rates are low and use this time to prepare themselves and their staffs for the next upturn.

*Just for Fun with HP Indigo
This writer is proud to have been featured on the cover of Target Marketing magazine as a winner of the "HP Agency Executive of the Year." Oh alright, so was everyone else who stopped by the HP Indigo booth. Using the well-known creative skills of Digital Marketing from Minneapolis, MN, HP Indigo takes your picture and asks two simple questions about your job and your hobbies.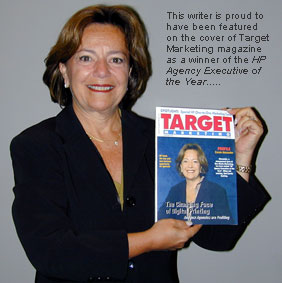 The result is your picture on the cover of the magazine with multiple personalized fields of text. On the back of the 11"x17" cover is an ad about your hobby and on the inside front cover a letter, both personalized and customized. Using a preprinted magazine, these highly variable covers are printed on the HP Indigo 3000 and cut and bound on Duplo equipment. Well done.