In his classic style, Yves Rogivue has again taken generous time with us to explain their plans for Graph Expo. He also updates our members on the items discussed in a previous interview with WhatTheyThink.com.

MAN Roland's booth number at Graph Expo is 1032 and will be one of the largest exhibits at the show. The company has taken a different approach to interacting with visitors this year. Rather than running their entire range of equipment, (as they did at Print 01) MAN Roland is focusing their efforts on a single demonstration theater.

Mr. Rogivue says the star of the show is the Roland 500, their new 29" press, which is making its North American debut at Graph Expo. Through the use of multi-media, MAN Roland will also be visiting with printers who are running some of their other sheetfed models. This will give visitors a working assessment of the new technologies they have to offer.

We encourage you to print and read all our Graph Expo features. In this case, Mr. Rogivue's interview is certainly an interesting item for your weekend reading.

Topics include:

- The PowerPrinters program
- Survey results with MAN Roland's customers
- Capacity issues
- The Roland 500: "The star" of Graph Expo
- Financial performance and outlook for the economy
- GATF awards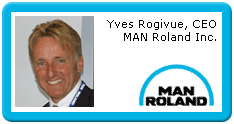 WTT: Yves, you certainly have an interesting strategy for this year's show. Tell us about your booth and why MAN Roland selected the 500 as this year's "star".

Yves Rogivue: We chose the 500 as our Graph Expo centerpiece because it is the right press for these times, when a printer has to squeeze every iota of productivity from their equipment. There are several reasons why I say that.

Its 29" sheet size equips the 500 to print six-up sheets. That's 50% more output than a conventional half-size press. At 18,000 impressions per hour, the 500 is the fastest multicolor sheetfed press on the planet. With that kind of speed and the six-up output, a printer using a 500 can compete with 40" competition.

Finally, and probably most importantly, the 500 can handle the widest range of substrates in its class — from the lightest weight stock all the way up to 40 pt. board. That means a printer can print packaging, plastics, point-of-purchase and range of other niche products in addition to commercial work. When the economy is closing down on you, you want to be able to open as many doors as you can. The 500 is the key.

Of course we'll also have other things to see and do at Graph Expo. We're offering several exhibits within the exhibit. Our commercial web press resources will be represented by a unit from our new LITHOMAN Insert. As its name says, this press is purpose built to help printers excel in the lucrative insert market. We'll also have multimedia presentation on our donation of a ROTOMAN web press to GATF.

Other displays will demonstrate the capabilities of our PECOM operating and automation system, our new Press Operating Profitability analysis and our PowerPrinters program.


WTT: In the first six months of the year, orders for your company's products were more than 30% lower than the first six months of last year. Obviously everyone has been affected by the downturn, but talk about the results as it relates to North America.

Yves Rogivue: That 30% decline is a worldwide figure, but North America has hardly been a bright spot. Fortunately our newspaper press business has been strong. Our GEOMAN and REGIOMAN models have become the systems of choice for major American newspapers that are upgrading their color printing capabilities. On the commercial side ROTOMAN is becoming the benchmark for web press performance.

What also puts us in a good position is that we reorganized and streamlined our organization about a year and a half ago. So while you never want to see the kind of downturn the industry is currently experiencing, at least we were prepared to handle it better than most. We don't have to panic. We don't have to push products on our customers and prospects that they don't really need right now. We can let our technology do the talking for us.


WTT: When the economy comes back, many say that capacity will not fill to pre-downturn levels. What do you think?

Yves Rogivue: Let's try to understand where that prognosis is coming from. Certainly the dot.coms aren't going to come back. So all the extra advertising and promotional printing they were doing is probably gone for good. And even in the best of times, many were saying that the graphic arts is in a state of over capacity.

From my vantage point, you have to determine if that capacity is cost-effective capacity or not. A printer who is running a lot of old presses may have a ton of capacity, but his overhead costs are going to eat his lunch. He will have trouble succeeding in any kind of economy. That's because more and more printers are going to be turning their operations into Computer Integrated Manufacturing workflows. So they'll be able to handle more work and more kinds of work more efficiently They will be the winners when the economy comes back. CIM capacity will grow, and the old ink-under-the-fingernails capacity will shrink. As it always does, the industry will balance itself.


WTT: Tell us about the Press Operating Profitability analysis and how does this differ versus the NAPL Blue Book data?

Yves Rogivue: POP is our new Press Operating Profitability analysis, which I mentioned before. It's essentially a computer-driven consultation that helps printing plants select the full-size press that most economically fulfills their production requirements.

Buying a press on emotional appeals or other subjective criteria could be a catastrophic mistake if you're trying to get ahead in this tight economic climate. A POP analysis gives the printer in dollars and cents realistic evaluations of how well the press he purchases will perform in his facility.

We had an independent market research firm, the Bridge Strategy Group, collect real operating data on the world's most popular 40"-41" presses. All of the systems represented in the study were six-color models, newer than five years old, to establish a bench line for the analysis.

The database from which POP draws its benchmarks is the most extensive and complete of its kind, and actually encompasses NAPL Blue Book data. That means printers who take advantage of this appraisal tool can get a highly realistic assessment about the operating profitability of the press they want to purchase.

To customize its analysis to account for the type of work a facility does, the POP model allows you to enter such variables as the number of shifts he or she runs, run length and job mix. You'll see it in action at our Graph Expo booth.


WTT: On a recent visit to your facility, we viewed your demo rooms and saw the PowerPrinters program in effect with people there being trained on your systems. Give us an update on how this program is progressing.

Yves Rogivue: Like every user group, PowerPrinters is designed to let its members interact with each other to exchange information and enjoy each others' company. But what makes this group unique is that we're focusing exclusively on the hands-on level — press operators, press supervisors, even press helpers.

The second unique aspect of PowerPrinters is that advanced training is by far the most important component of our program. We've taken that route because that's where we feel a user group can have the most impact. The advantage to our customers is that they wind up with more knowledgeable and more productive press crews, who can maximize the capabilities of their equipment.

Maximizing press uptime and speed are the main issues. Our customers buy a press with the most advanced automation. Their crews are trained to use it. But before long, they revert back to the old ways of doing things. PowerPrinters training is designed to rectify that disconnect. We've designed a one-week intensive course that lets operators develop a working relationship with our automated systems and subsystems. So when they get back to their shops, they can get everything out of their presses that we put into them.

We teach them how they can use press automation in the most efficient way. That results in a combination of increased uptime and higher press speeds, which leads to increased profitability. Thanks to their PowerPrinter training they'll use 100% of the press all the time.

PowerPrinters launched with an inaugural training course last March. Today we have over 300 members. We'll be having some special PowerPrinters activities at Graph Expo as well, including a VIP show at our exhibit. Printers can sign up at our website. Anyone who operates an MAN Roland press, or any of our legacy equipment, is invited to visit the site to sign up.


WTT: MAN Roland is one of the largest companies in the graphic arts industry and has a broad product range. That gives you, as CEO of the company, a "viewing platform" that few people in the industry have. Tell us, then, about the trends you see for 2003.

Yves Rogivue: It would be nice to say that we're going to be rebounding to the boom times we experienced during the last decade, but you and I know that is not going to happen. The best we can predict is slow and steady growth. The winners will be the facilities that embrace Computer Integrated Manufacturing. That means networking their presses to every other aspect of their operation — prepress, postpress, MIS.

We've got a special Graph Expo show offer on our advanced PECOM automation modules — JobPilot, PressMonitor, ServerNet and PrepressLink — to help our customers get up to speed quickly with CIM. We're even including an Auto-Count module from Printcafe so that they can get presses and bindery systems that are not digitally controlled into the loop.


WTT: What challenges should the industry anticipate over the next few years? What opportunities should we be reaching out to grasp?

Yves Rogivue: The challenge of generating new business is not about to go away. The dot.coms may be gone, but the changes in the way we communicate just keep on coming. That world keeps reinventing itself, so printers have to keep reinventing themselves.

That means they might want to start thinking out of the commercial printing box. Perhaps they can do some packaging printing. Maybe they can become direct mail specialists and acquire competence in producing all of the various elements in each mailing package. The equipment exists for printers to go in that direction. I know because we make it.

WTT: In our last interview, you said MAN Roland was in the middle of a comprehensive survey with customers to understand their needs going forward. We recently published select results from that survey related to how your customers view trade shows. Tell us more about these findings.

Yves Rogivue: We wanted to know if the impact of the Internet, email and multimedia disks reduced the viability of graphic arts trade shows. So we had our marketing agency, NAK, survey 1,000 of our customers and 1,000 other graphic arts players. The results showed that printers continue to rate major expositions, like Graph Expo and Print, as prime sources of information. But they are less enamored with regional trade shows.

When we asked them to rank their information preferences in "live media," the group selected "A Live Demonstration at a Trade Show" as their number one answer. Following on the list in their order of finish were: "Running New Equipment," "An Association Presentation or Seminar," and "Conversations with a Fellow Printer." At the bottom of the category, placing tenth, was "An Interactive Website Presentation."

Those who responded also gave low marks to regional trade shows. 54% agreed and 10% strongly agreed that the smaller expos "don't offer the depth and scope of information. . . of the national shows."

The survey also found that printers continue to rely on a variety of "permanent media" as information resources. "News Articles in Trade Magazines" topped the field, followed by "A Visit with My Local Sales Representative," and "A Product Brochure." "A Static Website" and "Email" ranked ninth and tenth respectively.

Print 01 received high marks, with 74% saying it met their expectations and 16% noting it exceeded what they expected. The MAN Roland exhibit received similar scores, with a 67% reporting it "met expectations" and 31% saying it "exceeded expectations" .
.
Of course, the survey was not meant to be scientific, but to provide a snapshot of how the industry feels about its trade shows. We wanted to know what our customers and the industry at large thought about these expositions, so we can do a better job of allocating our communications resources.


WTT: MAN Roland's JobPilot and PressMonitor products recently received significant acknowledgement by GATF. Tell us about the products and why they have been honored.

Yves Rogivue: Two new software modules that advance the capabilities of MAN Roland's PECOM press operating and networking system have received a 2002 InterTech Technology Award from the Graphic Arts Technical Foundation.

The innovations, which I mentioned before, are called JobPilot and PressMonitor. They enhance print production workflows by accelerating makeready, expediting repeat jobs, and tracking operational and performance details on every project.

JobPilot creates, edits and organizes the electronic job tickets that enable printers to preset more than 100 automated functions on their MAN Roland equipment, while the press prints the previous job. That maximizes uptime, while minimizing makeready time.

To facilitate the printing of repeat jobs, JobPilot can repurpose job ticket content information for exact reruns. Similarly, JobPilot can use job ticket content information to create templates that give the printer the opportunity to develop house standards on every job type that he runs, further accelerating the makeready process.

When used as a quality control tool, JobPilot provides access to the print quality information from both current and completed projects, storing the data as content in the job ticket. JobPilot also connects the pressroom to a facility's front office, linking up with popular MIS systems.

Our other InterTech honoree, PressMonitor, is a remote and real-time window into the press. It runs on any appropriate Windows-driven workstation, and we've even developed a wireless remote version, called Rover.

The module can access the working status of jobs currently in production. That provides pressroom management with the ability to monitor all pressroom shifts continuously, even from the comfort of a home computer. That level of hands-on management can improve throughput on a continual basis.

PressMonitor can also call-up print production data on completed work. That results in an accurate review of actual events that occurred during the print run. PressMonitor can reveal pressroom trends that otherwise would have gone unnoticed.

For instance, one PressMonitor-equipped printer changed to a lesser quality cardboard to cut costs. But PressMonitor revealed that the savings were non-existent because the cheaper stock generated more dust in the press, doubling the amount blanket wash-ups required every week.

By equipping printers to embrace Computer Integrated Manufacturing, the advanced PECOM Systems provide a more structured, scientific and successful way of doing business for the printer that uses them. And that makes them useful indeed in both bad and boom economies.


Thank you again Yves, for spending so much time with us and our members.