In December, Regis Delmontagne observed his 25th anniversary as chief executive of NPES The Association for Suppliers of Printing, Publishing and Converting Technologies. He was the Association's first fulltime professional executive. At the time he joined the Association, it had only 37 members. Today, NPES has nearly 500 members which manufacture and distribute equipment, systems, software, supplies used in printing, publishing and converting.

In 1982, Mr. Delmontagne was named president of the Graphic Arts Show Company (GASC), which is owned by NPES, NAPL and PIA. Mr. Delmontagne graduated from Duquesne University in his home town of Pittsburgh, Pennsylvania. After working in newspaper advertising and corporate marketing, he joined the trade association and exhibit management firm Hanson and Shea in 1963.

He and his wife Elena, have two children and three grandchildren.

In part one, Mr. Delmontagne discussed Graph Expo and the many opportunities for attendees and exhibitors. Today, in part two, he talks about the future of trade shows, how 9/11 has affected the industry and the top governmental concerns of NPES' members.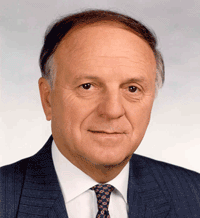 WTT: The events of September 11 and the on-going travails of the airline industry have adversely affected many trade show companies. How is GASC dealing with some in the business population who still avoid travel?

Regis Delmontagne: While our web site and online Attendee Assistant are very comprehensive in the amount of product information visitors will be able to find there, there is no substitute for attending our tradeshows live. Travel restrictions have made it more difficult for some to effectively do business in certain areas, and ultimately this will change the direction of their business. Chicago is very centrally located, with many different alternatives for getting in and out of the city. We have an arrangement with United Airlines to make the air travel portion of the show as smooth and economical as possible, and there are still lots of flights scheduled in and out of O'Hare airport.

The hospitality industry has been negatively impacted as well by events of the past 12 months, and although hotel rates for those traveling for business have risen steadily in response, rates for rooms in our housing block have remained low, in most cases at last year's rate level.

There is plenty of parking at the McCormick Place to accommodate those who chose to drive in to the show this year.

We offer show hours on Sunday, for those who are simply unable to get away from the office to attend.

We've heard that travel restrictions on the corporate level have eased somewhat over a year after the September 11 tragedy, and enough graphic arts businesses have built their annual show involvement into their budgets well in advance that economic conditions won't prevent them from participating entirely. To make that even more appealing, we've kept rates for our key vendors of services to exhibitors very close to previous year's prices.

Increased security measures on site can provide an additional level of comfort to attendees and exhibitors while on the premises, and we feel that attendance at an event this important and clearly beneficial to business will only be hampered to a very slight degree by travel restrictions.


WTT: Many printers we have spoken with expect their spending on capital equipment to increase this fall -- regardless of an upturn trend in the economy. Many have waited this year for a clear trend before investing, but now many say they will not be able to wait any longer. Tell us about the process of buying equipment at a trade show.

Regis Delmontagne: GRAPH EXPO and CONVERTING EXPO has traditionally been a "buying" show, where the top buyers from companies of all sizes come to actually make purchases of equipment and supplies for their operations. Many of the exhibiting manufacturers time their product launches for new and developing products around this show, to achieve maximum exposure, and to use the show as a gauge of potential success for the new offerings. If products garner significant attention from show attendees, it usually bodes well for the future of that product in the marketplace in general.

The economics of the marketplace definitely plays a part in the decision-making process for businesses, and there are several factors at work this year that will have an impact on what and how much attendees buy this year. One of those factors is the new legislation allowing for accelerated depreciation of capital equipment. The recently passed accelerated depreciation rules, which NPES aggressively supported, allow purchasers of new capital equipment to depreciate the value of that equipment on an accelerated schedule, allowing for a 40% write-off of capital equipment the first year of ownership, and a 17% write off in the next year, for a total of 57% in the first two years, for equipment purchased from September 10, 2001 through September 10, 2004.

The impact on our show's success should be nominal, but the impact on our attendees and exhibitors should be much more significant, as the new rule acts as an incentive to make purchases now as opposed to waiting. Show visitors who make purchases this year will have over half of their capital investment depreciated in just two short years, while the economy is starting along an upward trend.

Such regulations are not the only reason to buy, but are a significant incentive to buy now, as businesses can save some capital by purchasing this year.

Additionally, there are occasionally special purchases made at a discount at tradeshows for various reasons, so it pays to come and experience the show live if you are in the market for a piece of equipment.


WTT: There has been some discussion in this community about an evolution in the trade show business. Give us your take on the future of such shows. Is there an evolution taking place or have you seen all this before?

Regis Delmontagne: Tradeshows in general, regardless of the economic conditions, are of benefit to the industry they serve, as they facilitate the buying and selling process. By providing a forum for this type of activity and accelerating the transaction process, tradeshows have been shown in the past to provide a jump-starting effect within the industry they serve during less-than-optimal economic conditions. Many firms are looking for the upcoming GRAPH EXPO and CONVERTING EXPO to help them launch new initiatives, introduce new products, and to act as a gauge to help validate their plans for the coming year.

Our role in that process is to act as a catalyst to that buying and selling process, and to provide a forum for manufacturers to showcase their latest product advancements to a qualified audience, to the benefit of both sides, and ultimately to the industry. Visitors to this year's GRAPH EXPO and CONVERTING EXPO will find new products being introduced in a wide variety of areas, each offering something new and more advanced to help them run their operations more efficiently and profitably.

Tradeshows are still the preferred method for businesses gathering information on new equipment to help them stay competitive. Tradeshows are the only place where you can see the equipment in operation, up close, and directly compare it side-by-side with similar equipment made by other manufacturers. Roadshows, display showrooms and other venues don't offer that kind of in-depth information gathering.

Tradeshows have certainly changed over the years, and will continue to evolve as market needs change and technology develops, but the role of the tradeshow as market maker and determiner of successful product development is likely to remain important as electronic technology distances us from each other and depersonalizes transactions even further.


WTT: Regis, you also serve as the president of NPES, the major organization representing suppliers to the print and publishing industry. Specifically, NPES has supported many political actions including the improvement of trade policies for the industry. Tell us about the government representation offered to your members and what are some of NPES' top governmental concerns.

Regis Delmontagne: Working together, the NPES Government Affairs Department and Association members identify public policy issues that affect the industry and develop consensus advocacy positions. NPES staff work with other manufacturing associations and legislative coalitions to achieve NPES' lobbying objectives.

In 2002, NPES staff and members worked very hard lobbying for passage of Trade Promotion Authority (TPA) for the President, George W. Bush. TPA gives the President much more flexibility in negotiating trade deals with other countries. NPES' next effort in the trade area will be to communicate Association members' needs as new trade pacts are negotiated and ratified.

Tax issues are extremely important to NPES members, especially those policies that deal with capital investment and inheritance taxes which affect the ability of family-owned businesses to be perpetuated from generation to generation. NPES has strongly supported the tax relief policies of the Bush Administration, and was especially involved with the economic stimulus legislation enacted earlier this year. A key provision in the new law allows companies to write-off in the year of purchase 30% of investment in new equipment or the cost of refurbishing existing machinery. This has the potential to be a significant incentive for capital investment in the industrial sector of the U.S. economy, which has been hard hit over the past two years. NPES released a special report on the new 30% expensing provisions, which is available from the Association.

NPES is a strong advocate for workplace safety and productivity. One of the most serious threats for NPES' members and their customers is workplace accidents on machinery. Regrettably, these injuries are often the result of poor safety practices in the industrial workplace. This is especially burdensome to NPES members that have product liability lawsuits filed against them due to the alteration and/or misuse of their products in the field. In the vast majority of these cases, the defendant manufacturer is completely without fault, but must still shoulder expensive litigation costs. The only people who really benefit from the way the legal system currently treats these claims are high-paid trial lawyers who often walk away with more money than the injured workers they represent.

Many of these claims stem from over-aged products that have been out of the control of manufacturers for decades and have been improperly maintained or modified creating safety hazards. To address this issue, one of NPES' top legislative priorities is enactment of a national 18-year Statute of Repose for claims arising from injuries involving durable goods used in the industrial workplace. The point of the legislation is to lessen the burden of non-meritorious lawsuits against equipment manufactures while still providing compensation for injured workers.

Other issues of importance to NPES members and the industry are regulatory reform and ergonomic issues. We continue to work on Capitol Hill to favorably advocate issues like these that impact our members and the industry in general, and provide value to our constituents on an ongoing basis.