In December, Regis Delmontagne observed his 25th anniversary as chief executive of NPES The Association for Suppliers of Printing, Publishing and Converting Technologies. He was the Association's first fulltime professional executive. At the time he joined the Association, it had only 37 members. Today, NPES has nearly 500 members which manufacture and distribute equipment, systems, software, supplies used in printing, publishing and converting.

In 1982, Mr. Delmontagne was named president of the Graphic Arts Show Company (GASC), which is owned by NPES, NAPL and PIA. Mr. Delmontagne graduated from Duquesne University in his home town of Pittsburgh, Pennsylvania. After working in newspaper advertising and corporate marketing, he joined the trade association and exhibit management firm Hanson and Shea in 1963.

He and his wife Elena, have two children and three grandchildren.

In part one, Mr. Delmontagne discusses Graph Expo and the many opportunities for attendees and exhibitors. In part two, he talks about the future of trade shows, how 9/11 has affected the industry and the top governmental concerns of NPES' members.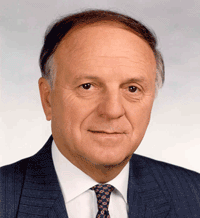 WTT: Tell us about Graph Expo 2002: How many exhibitors, how much floor space and how many people do you expect to attend?

Regis Delmontagne: GRAPH EXPO and CONVERTING EXPO 2002 is expected to be a terrific show, with over 500 exhibitors encompassing over 370,000 square feet of exhibits. We expect over 40,000 printers and graphic arts professionals of all types to be in attendance, taking advantage of the opportunity to learn, grow, network and buy that the show offers.


WTT: What are the key focuses of the conference component of Graph Expo? What are the major panels going to cover?

Regis Delmontagne: The seminar component of GRAPH EXPO and CONVERTING EXPO has been growing steadily in quality and importance over the years. This year we offer over 60 seminar sessions, including general sessions, vendor panels, brunches and specialty exhibitor sessions open to everyone, making this the most comprehensive educational program available this year. Topics this year range from Color Management and Digital Asset Management to Selling Beyond Price, MIS for Printers, and PDF I & II. Vendor Panel sessions include Digital Imaging, Wide Format Imaging, Digital Print, Dealing with Databases, CTP, and Customer Service and others.


WTT: Who are the must-see speakers at the conference? I know you don't want to slight anyone, but maybe you could mention a few names, give us a rundown on the General Session topics and tell us a little about the "Industry Curmudgeons."

Regis Delmontagne: All of our speakers are experts in their particular fields, and not affiliated with any manufacturing efforts, so you know they aren't biased toward any single piece of equipment or technology. Early registration figures show strong interest in (in no particular order) Frank Gualtieri's Top 20 Sheetfed Press Problems, Dick Gorelick's Building New Business, Robert Chung's Producing and Matching Color, Frank Romano's Variable Data Printing, and Ray Prince's Print Production Trends. Julie Shaffer's PDF I & II head the 60+ title list.

The General Sessions are designed to provide visitors a broad overview of industry trends and directions as observed by expert professionals, who have made it their mission to both track and enlighten the industry from within. These sessions are free of charge and are open to all attendees. The "Battle of the Industry Curmudgeons" session should be one of the more enlightening presentations, as the participants are well-respected for their opinions, and well-recognized for their outspoken nature. You're sure to get an honest and well-reasoned answer from any of these industry veterans individually, but together, the impact should be much greater!


WTT: What is the EXECUTIVE OUTLOOK conference? Who would be interested and benefit the most from attending this event on Saturday?

Regis Delmontagne: EXECUTIVE OUTLOOK Conference is the day-before-the-show Conference that provides attendees the overview of industry trends, technology and economic directions that will help them understand the industry. The conference is an opportunity to not only gather the information they need to get the most from their time on the show floor, but also help them plan for the future of their business. EXECUTIVE OUTLOOK is available to all attendees for a very reasonable fee, and will be attractive primarily to those in middle and upper management. Those who make decisions about how their businesses will be run in the future, what equipment they will use, and what new technologies and services to adopt and offer will be especially interested. The information presented will be invaluable to business owners and managers in planning their business' futures. Recipients of MUST SEE 'EMS recognition are also announced at the end of this conference.


WTT: Speaking of the MUST SEE 'EMS program, tell us about the process of selection there.

Regis Delmontagne: The MUST SEE 'EMS program is a recognition program designed to highlight the most innovative, creative of new technologies developed over the previous year and on display at the show. Companies are nominated by industry peers or self-nominated, and the nominations are forwarded to a hand-selected, blue-ribbon panel of industry insiders, consultants, pundits and observers, who sift through the application packages and cull out the best and the brightest for inclusion in the MUST SEE 'EMS recognition program. Another recognition category that is also selected at the same time by this group of experts is the WORTH A LOOKS. These additional technologies include those that may not have received the media attention of the MUST SEE 'EMS recipients, but is worthy of attendee's attention. They are all representative of the best our industry has to offer and attendees should make a point to explore them all before leaving the show.


WTT: Large format printing will receive special attention at GRAPH EXPO and CONVERTING EXPO. What are some of the ways it will be spotlighted and why has GASC chosen this segment to highlight?

Regis Delmontagne: Wide format imaging came to our attention as an emerging market segment over the last 18 months, on the heels of an analysis of the results of an NPES-funded study on that portion of the industry. The study illustrated the pent up demand for the output product at a time when commercial printers are searching for additional opportunities to expand their service offerings using their existing plants and staff. It also indicated that if commercial printers didn't seize the opportunity to offer such a service, their customers would not look to them to supply it, and they would experience a technological lock out.

More compelling is the potential for growth and diversification locked in this emerging market. It is in the industry's best interest to explore this market fully as an opportunity, and we felt the show would be a good place to highlight some of the possibilities for the attendees.

We're doing that in a number of ways at the show this year. We've created the Wide Format Opportunities Pavilion, which offers visitors the opportunity to view actual Wide Format Printing workflows in action in a production environment. We'll be demonstrating the various types of digital image capture using both digital-backed cameras and scanners. The pavilion will display four distinct workflows, using four different output devices in different sizes. They will be printing on different media, using different inks, and the resulting product will be finished and laminated on-site, showing the complete production process from start to finish. While visiting the pavilion, attendees can ask questions of other commercial printers who have successfully set up, run, and sold output from these developing systems, to find out whether this might be a service they want to offer their customers. If it is, they will be interacting with some of the top vendors in the industry and be able to make arrangements for purchases right then and there.

Additionally, in our ongoing effort to provide educational opportunities on the latest developments, we are offering several seminar sessions devoted to the subject, including Wide Format I and II, and a Vendor Panel session featuring the top companies discussing various aspects of setting up, producing, and selling in this growing market. Visitors should be able to gather a vast amount of information about all aspects of wide format imaging, on everything from Image to Output, while at the show.