With the announcement on September 30th of the new Digimaster 9150i, Heidelberg has jumped into the black-and-white digital printing market with both feet. Since the digital b/w market is expected to grow about 20% a year until 2006, Heidelberg's introduction is timely. The Digimaster 9150i will compete head-on in the heart of Xerox' b/w market and against the DocuTech 6180. Together with the Digimaster 9110, Heidelberg has taken aim at the entire line of Xerox DocuTechs and DocuPrints.

The announcement of the 9150i includes information about PDF workflow, a new release of AP/Api Production Software, ImageSmart Document Mastering 2.1, SmartBoard 1.1, DataXceed Data Center Suite, Enhanced Maintenance Option, Inline hole puncher, Automated accounting and support for a multiple stacker and rollfeed, among other items. When my head stopped spinning, I asked Len Christopher to help me summarize the benefits of the 9150i offering for the buyer.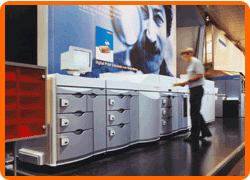 Len Christopher - Vice President of Workflow Solutions, Heidelberg Digital L.L.C

After graduating from Cal Poly with a degree in Graphic Communications, Len Christopher started his career with TRW. There he first became involved with XPLOR. After 3 years, he joined Eastman Kodak as an Application Engineer and, for the next 14 years, held various positions from technical to sales to marketing. All his positions focused on the electronic publishing and printing industry.

In 1999, he became the Director of Worldwide Market Planning for the Black & White Business Unit of NexPress Solutions LLC, a joint venture of Heidelberg Digital L.L.C. and Eastman Kodak Company. In 2001, he was named Vice President of Workflow Solutions for Heidelberg Digital L.L.C.


WTT: Len, in the announcement it was stated that the Digimaster 9150i was modular and customers could build their own solution. Then, 4 particular configurations were highlighted. Can you briefly describe them and give their prices?

Len Christopher: Sure. On the software side, there is really only one configuration. It is a very modular architecture that takes into consideration printers who want to stay with existing workflows, those who aren't willing to replace their front end and those who want to coexist with other digital printing equipment. Four examples of how the machines can be configured we call Basic, Broad Application, Data Center Configuration and Book Publishing.

The Basic is for someone who has a limited set of applications and simple inline finishing requirements, such as stitching. The approximate price is $350K-$450K.

The Broad Applications configuration is for a typical shop with a variety of applications and a variety of paper sizes, (e.g. requires a stacker for 14x18 sheets), uses an offline finishing process and still wants short turnaround applications. This would exclude special purpose accessories. A typical price would be $378K-$400K.

The Data Center Configuration is aimed at customers who are in convergence mode to produce transactional documents and occasionally technical manuals. For very high volume applications were you use one stock heavily, the rollfed options from Roll Systems and Hunkeler are available and provide unattended operation. Rollfed and cutsheet can also be mixed. The price is approximately $400K-$450K.

In the Book Publishing model we are creating 4 page signatures (instead of 64 book pages) and then perfect binding. With the BPRF, four 8.5 x 11 pages of a book are perforated, folded, rotated. The Perfect Binder from Borg will wrap the heavier stock cover around. Imposition can be done with Bookletmaker on the RIP, or ImageSmart, or an existing workflow. Book printing can also be done rollfed for unattended operation and lower cost, and the user can switch between rollfed and cut sheet. The approximate cost is $500K with components.


WTT: With a duty cycle of 3M-5M/mo (24x7 operation) and 36% more output at the same Total Cost of Ownership as the 9110, Heidelberg is clearly going in direct competition with the Xerox DocuTech family, especially the 6180. Is the Xerox DocuTech customer base a primary target?

Len Christopher: Yes. DocuTech and DocuPrint customers. Xerox has been touting a common controller, but I don't know if it's available yet. Heidelberg is offering a standard user interface for different datastreams. It is essential to allow better utilization of the asset. Some tools will even interpret Xerox data so Xerox products can coexist with Digimasters, and you can switch back and forth on the fly. We also offer a common finishing architecture, such as stitching, whether the output is transactional or PostScript.

Competitive stapling is leveraged from a copier that expects the last page first. So, when you have the first page first with another device, you have to collate the pages to accommodate the stapler. This is time wasted. The 9150i does not need a second operation or operator intervention.


WTT: Xerox has a long history in the data center and with data center service bureaus. How will Heidelberg establish credibility in this market? Let's say I'm a data center manager. How will Heidelberg establish credibility with me?

Len Christopher: Excellent question. Credibility will rest with the sales rep and local analyst. They will have to show their ability to be consultants and project their findings with benefits and highlighting growth potential. Heidelberg is hiring people that specialize in transactional printing and beefing up technical support. Another key element is our third party relationships. Our strategic partners CSP in Germany, and RSA and Solimar, have a great deal of expertise in the data center and with data stream conversions. They will offer support.


WTT: Almost 25% of current data center volume is statements and invoices with 20% in direct mail. How familiar is Heidelberg with these applications?

Len Christopher: Heidelberg is hiring field personnel from all major vendors who will be specialists in these applications and will work with the local sales reps and analysts.


WTT: What is Heidelberg's proposal to long-term Xerox DocuTech customers? If I'm a long-term DocuTech customer, what is Heidelberg offering that will make me want to change my vendor?

Len Christopher: It would be different depending who I am talking to. But let's say you are the shop owner or department manager. Heidelberg is offering a wider range of services, tighter turnaround, open architecture that will adapt to whatever is in place and flexibility that can improve problems that may exist in the current process. We have easy upgradability, high quality and productivity with integrated finishing and an infrequency of jams and stoppages.


WTT: I assume that Heidelberg will target its own market of traditional, and just-moving-to-digital, printers. What are you offering these print shops that may be new to digital and unfamiliar with the digital sales cycle, the best digital applications and markets? If I'm a just-moving-to-digital printer, how will I learn about selling digital?

Len Christopher: First, Heidelberg offers a range of capabilities that allows customers to use their strengths. Like the Internet portal. Plus there is education in our market centers, offering courses and seminars, and a set of tools that the customer can utilize. HDIA is our users group that has specialized subgroups for learning. And additionally, we have a Business Development group in Kennesaw that is focused on helping the customer be successful in their digital business.


WTT: Personalized printing in b/w is growing at 36%. What kind of support will Heidelberg be providing 9150i customers with regard to building variable data applications?

Len Christopher: Our strategy is to offer a suite of products around variable print from third party vendors, such as Printshop Mail, Objectif Lune and Planet Press. We have drawn upon tools that make the most sense and used the best suppliers for components. For areas such as database management and mail houses, our sales reps will help customers make the connections on a local basis. The Business Development group can tell you more about this.


WTT: Regarding book publishing, is your target audience existing book publishers or printers who might want to add the application, or both?

Len Christopher: Both. Book publishing can start out on the basic configuration with a low cost perfect binding solution such as Bindexpert. The trend with many printers has been to hire sales reps in different locations, such as remote metro areas. This increases their potential movement to book publishing.


WTT: There are many vendors offering book publishing solutions. How will the new-to-book-publishing customers have an edge if they go with Heidelberg?

Len Christopher: Heidelberg offers the ability to invest in book publishing technology and have other applications too. The 9150i does not have to be dedicated. A shop can start small, such as runs under 1,000. If they want to go higher, Heidelberg can take the same files and go to offset. The same RIP will be feeding multiple forms of output such as digital, CTP and offset. Image quality and the range of image quality is outstanding.


WTT: Regarding your OEM partners -- Canon, IBM, Danka and IKON--should we expect to be hearing announcements from them any time soon?

Len Christopher: All our oems are offered the 9150i product. Let's wait and see what happens.


Len, thanks for your time.