Agfa will be exhibiting and demonstrating their solutions and equipment in Booth # 3823 at Graph Expo '02. The company's booth is 60' X 80'.

Agfa's theme this year is the Graphic Enterprise and they will be showing graphic professionals the immense benefit of this concept. The Graphic Enterprise encompasses the entire operations of a printer. It breaks down traditional walls between customer service, prepress, pressroom and bindery and instead looks at the major processes in a printer—client relations, business systems and production.

Agfa says this view of the Graphic Enterprise allows businesses to integrate equipment and solutions of a design or print house into one system in order to minimize downtime and maximize productivity, allowing remote management of resources, predefined automated workflow, and robust customer management.

For more, we went to Robert Stabler, president of Agfa Graphic Systems and Susan Wittner, Marketing Director of Agfa Graphic Systems.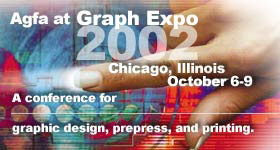 WTT: Susan, first tell us about the activity a visitor can expect when coming to Agfa's booth.

Susan Wittner: The cornerstone of our booth is our theater where we will feature leading technology presentations around the clock. For example, we will discuss our exciting new Sublima screening technology, which is a more practical way to do FM screening. Two of our product highlights at the show will be the demonstrations of the new ApogeeX digital prepress workflow solution, and the Delano digital graphic enterprise network management solution. ApogeeX is the next generation workflow software based on PDF, JDF and digital film. It puts full workflow control into a single user interface while remaining a modular and scalable system.

Delano is an end-to-end solution that helps printers plan prepress and print jobs; maintain a customer database and history; smoothly transition a job from one step to the next; and intelligently drive enterprise resources, such as platesetters, print presses, proofers, etc. With Delano, printers and designers finally have a solution that seamlessly manages the entire graphic enterprise, from job creation through to the final printed product. Here, everything starts and ends with their customers.

In addition, anyone who comes to the booth will be able to see demos for the new Xcalibur 45, the Xcalibur VLF, Galileo, Palladio, Grand Sherpa and Sherpamatic, and prepress workflows for a variety of configurations.


WTT: No doubt your booth will feature a lot of your products, but what are the highlights?

Susan Wittner: In addition to the above, other featured products and solutions that Agfa will exhibit and demonstrate at Graph Expo will be:

- Palladio and LP 82 processor – the newest member in the Agfa family of violet-laser computer-to-plate (CtP) solutions, Palladio is a fully automated, 4-up flatbed platesetter designed for small- to medium-sized printers

- Xcalibur 45 -- Agfa's Next Generation Thermal Platesetter, a High-Speed, 8-up System, will be seen for the first time in the US. The X45 will be running live - imaging and processing plates

- Xcalibur VLF -- The Agfa Xcalibur VLF (very large format) is an innovative thermal platemaking system combining high productivity, image quality, automation and production reliability

- Galileo, with LithoStar plates – the best selling violet platesetter in the world will be demonstrating the automation features of the Platemanager


WTT: On a few business matters, State Street Consulting recently reported that large printers are no longer the number one purchaser of metal CtP. The report also implied that Agfa remained steady in terms of market share in 2001. Do these findings tally with your observations? In either event, what is your read on the CtP market?

Susan Wittner: The mid-sized printer has clearly taken over as the segment most involved with CtP transition. State Street had reported share observations in 2001 recently. In our discussions with them this week, they confirmed that Agfa has certainly picked up CtP marketshare this year and we remain in the #2 market position with share on the rise.


WTT: Agfa has always been interested in educating the industry through seminars and printed materials. Recently, though, the company seems to have stepped up its efforts, particularly with PDF. Tell us about how the company views PDF workflow.

Susan Wittner: As with any industry that wants to increase automation through technology, graphics professionals are realizing that the tools and solutions they use need to be able to communicate to each other in order to take advantage of greater efficiencies. Adobe PDF file format was the first step to bridging the various graphics hardware and software together into a seamless system. Agfa was the first to adopt the Adobe PDF file format and encouraged other manufacturers to follow suit. It was Agfa's belief that open industry standards were the lynchpin to more powerful tools and solutions for the graphic enterprise. The proven success of Adobe PDF has unlocked unprecedented efficiency, reduced waste and cross-platform interoperability.

Agfa examined the deficiencies and delays from redundant tasks and slow routing in the prepress process. The resulting PDF-based Apogee prepress workflow series offered customers a digital network solution that automatically consolidated tasks and instantly routed projects to the appropriate handler. Apogee brought the time savings and efficient resource handling that allowed designers and printers to finish jobs more perfectly, faster and cheaper. JDF is another standard that we are pioneers in utilizing and will continue to provide resources and information on this to our customers.


WTT: Robert, overall this year, Agfa seems to be holding its own in terms of sales and revenue. Is this due to the company's on-going restructuring efforts or have sales been stronger than expected?

Robert Stabler: We are making strides in gaining share in digital solutions. Additionally, restructuring efforts and several continuous business improvement initiatives have indeed put the company in a much better position overall. It is our goal now to build on our success by taking even further steps in customer focus, niche markets, and certain other areas, so that sales and revenue can continue to improve.


WTT: We always like to ask Presidents and CEOs about industry trends. Tell us your views on trends you see as it relates to technology developments.

Robert Stabler: The pace of new developments of tools and solutions for the design and printing industry has been gaining momentum. New generations of ever more advanced solutions are being introduced more and more frequently. Just 10 years ago, one could not have imagined digital laser platesetting, or a fully computer-networked design and printing floor.

Agfa sees that digital technology will continue to offer greater efficiencies and cost benefits to graphics professionals. Powerful software solutions and ever more advanced hardware systems will continue to help them consolidate or eliminate steps within the entire process; better serve customers; decrease turnaround time; and produce more perfect results. As a leading provider of digital solutions, customers can be sure that Agfa will always be there to work with graphics professionals to create the tools and solutions they need in order to differentiate themselves and their services.


WTT: What advice would you have for prepress and printing company owners as the economy remains flat?

Robert Stabler: Agfa is focused on helping our customers to make print more and more attractive for their customers. We need to make it a terrific media choice for buyers to ensure all of our long-term success. This can be done with enhanced quality and differentiation and a continual strive to improve its cost effectiveness. This will help to drive more print.

Agfa understands that the continual state of the economy has put a strain on graphic professionals. However, the pace of new developments in prepress technology, workflow solutions and advanced digital platesetting is increasing. Analogous to the computing revolution, newer solutions and technology can catapult a graphic house ahead of its competition in terms of turnaround, quality and cost.

Graphic houses should, at least, begin exploring and understanding digital plate creation, workflow and networked system management. Then they should consider upgrading their equipment and solutions so that when we finally reach the anticipated economic recovery, designers and printers will be ready and accustomed to new operational processes and be able to effortlessly handle the increased demand. Furthermore, graphic houses can currently find very amicable financing offers that could translate into lower overall equipment costs than if we were in a different economic atmosphere.

Thank you Susan and Robert.