Editor's Note: This article was originally published in Pixel to Parcel.
It takes a highly organized, multi-disciplined supply chain to manufacture apparel for retail in a sustainable format. When we add in on-demand manufacturing, the pressure intensifies. With literally thousands of global touchpoints to navigate for each product, it's a landscape that remains burdened with waste and excess.
In contrast, on-demand manufacturing technology offers new hope for the future of sustainable fashion entwined with a positive impact for the environment and significant commercial gains for the fashion industry. Working together, designers, suppliers and manufacturers can make a significant difference, both creatively and commercially, steering the industry to a viable future.
To succeed, all stakeholders must digitize their supply chains, making every touchpoint both efficient and adaptive plus inherently transparent and traceable. And this is where the technology race and its implementation begin—by connecting the dots from product design to production: The digital imperative.
As e-commerce growth retains its vertical assent, the web has spawned new territories and new technologies, each offering in their own way, significant economic opportunity for designers and retailers.
Unpacking the Phygital Product and 3D Simulation
A wasteless product stream remains the holy grail in fashion. Designing virtual apparel using 3D product simulation has multiple benefits. It enhances creativity and reduces sampling. It's both reactive and adaptive and delivers products that are finely tuned to customer demand. But perhaps most importantly it removes the requirement for landed stock and opens the door to close proximity production and fulfillment. It represents the dawn of the Phygital twin: the Avatar.
Technology in this sector is advancing at a super-fast pace. With generative AI nipping at the heels of reality, seeing is no longer believing for many of the images we now subconsciously absorb. Tank Man is one such example. The unforgettable image of one, single unidentified Chinese student facing off against 59 tanks in Tiananmen Square in 1989—recently resurfacing as a selfie—was generated anonymously by AI. Product simulation, however, is a different story.
Image courtesy of PhygitalTwin showcasing a 3D avatar, designed and created for both digital and physical production.
A product created and retailed using digital technologies must be a true twin, replicating the final physical product with 100% accuracy. Another technical mission is simulating the human that showcases the garment, and the garment's behaviour (drape, stretch, flow) is also an important element of the final marketing story for retail.
Verce: Making Huge Strides Between the Physical and Digital World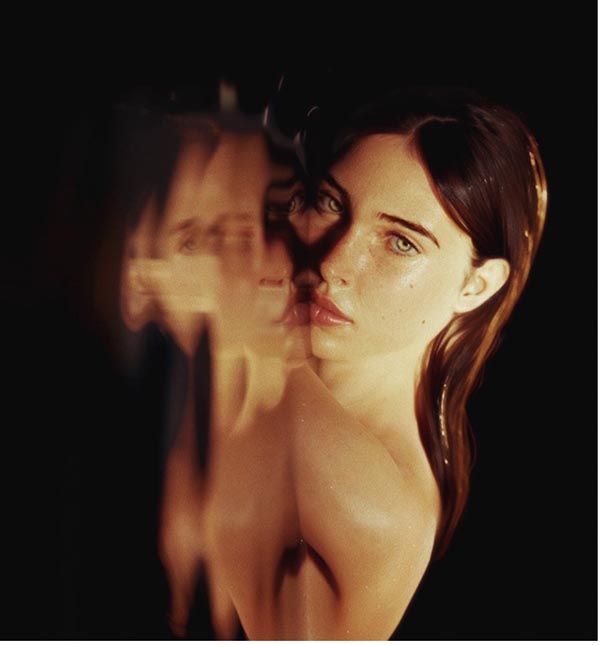 Verce is a leading studio creating virtual models for the Fashion Industry and is making significant moves towards high-quality visualizations of hyper-realistic virtual humans. Their recent project, "Shades of Sense," shows a workflow combining the strengths of industry-leading tools like CLO3D and Unreal Engine with Verce's expertise in developing virtual fashion models.
"The hero of the cinematic project is Ava, Verce's protégé: A virtual human that has been carefully crafted in recent years with a hyper-realistic appearance and a fascinating backstory. In direct interaction with MetaHumans, Ava appears as a previously unseen beauty for the first time, making her the perfect ambassador for the digital age of fashion," Verce states.
Speaking on the collaboration, Arndt Johannes, CEO of Verce, said: "We have entered the next evolution of digital clothing and fashion in general. The approach is to become more human, more real. We are pushing the boundaries of digitalization and opening up unexplored possibilities for content production. That will provide new, innovative opportunities for businesses and artists to create something remarkable."
Generating Phygital Fashion for On-Demand Production
Another company making headway into digital fashion for retail is the team at PhygitalTwin. Louise Laing leads a team of highly skilled technicians that can create digital and physical garments for retail using 3D product simulation. This combines the use of 3D software and digital manufacturing technologies, technologies that aim to seamlessly guide the product through digital design and onto the on-demand manufacturing floor.
The process isn't seamless yet and relies heavily on the skill of the designer and the quality of the data input. However, generative AI has a strong hand to play in this sector of apparel, and developments are accelerative.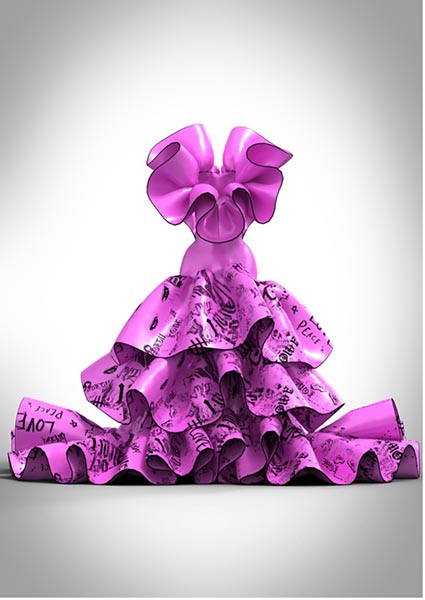 Image features Blanc de Blanc ballgown created in a collaboration between PhygitalTwin and Fashion Enter.
A Phygital Twin collection was recently exhibited at Digital Fashion Week, London, in collaboration with blancdeblanc.com, who commented, "Our London show during Digital Fashion Week was an unforgettable experience! In collaboration with Phygital Twin, we brought 'Breeze of Birth' to life. This collection celebrates the renewal of nature and the rebirth within each of us. We showcased 10 unique designs, blurring the lines between digital and physical fashion."
The garments were manufactured and printed at Fashion-Enter, a high-tech hub and academy for fashion design. Based in the heart of London, the facility operates in partnership Kornit Digital, utilizing their digital textile printing machinery.
Digital Technology Continues to Unlock the Fashion Supply Chain
Smart manufacturing using digital technologies offers the fashion industry an opportunity that cannot be surpassed. In Poland, Print Logistic (renowned pioneers within the apparel manufacturing sector) serves as an impressive portal for on-demand production. By combining 3D design, product customization, and digital print (using Kornit Digital technology) they offer a high-tech solution for printed, sewn fashion production.
Print Logistic spotlights a new template for the manufacture of sewn textiles: their business model is adaptive and primed to revolutionize the manufacture and sale of apparel garments and décor products, both online and offline. Michal Tracz explained, "We offer a full end-to-end service. From receiving the order, we are preparing for production, printing, cutting, stitching, quality control, packaging, and dispatch direct to the consumer, retail store or warehouse."
As always, design is in the detail, and when paired with and activated by digital technology, the future of creation and retailing (online and off) has no limits. Mining the data from deep within the supply chain is the key to high quality production. Collaboration among all stakeholders is essential, and as technology evolves, data must flow seamlessly through the value chain, ensuring that the products we simulate are the products we produce and deliver.