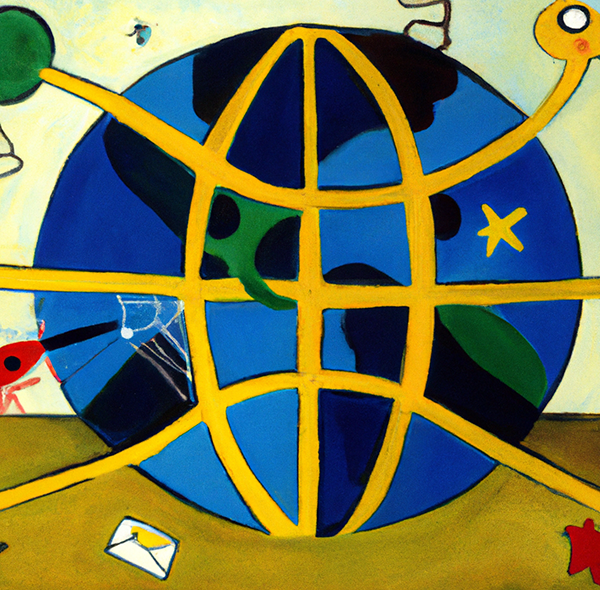 Heavy Reading
If you have ever, like some of us, once read the 1100+-page hardcover version of David McCullouch's Truman biography while straphanging on the New York subway, you know that big books can be great for helping build upper-body strength. However, in other contexts, they can be a bit of a health hazard or impede recovery from surgery. Says Steven Heller in Print magazine:
After enduring spine surgery this past summer, I was told not to lift anything that weighs 10 lbs or more to avoid further injury. Nonetheless, I was alarmed that the ban included books, notably some recently published books that I was looking forward to reading.
It's hard to get a sense of what 10 pounds of book is, so we put David McCullouch's Truman on a kitchen scale….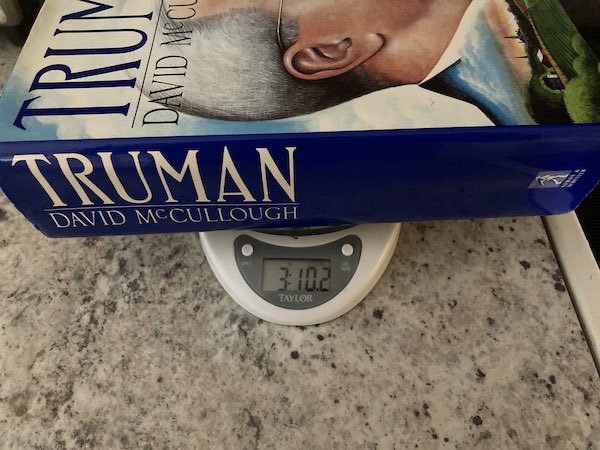 …and it came in at 3 lbs 10.2 oz. So, Mr. Heller would have no problem reading about HST. Which he acknowledges.
Fortunately, hardcover fiction and nonfiction titles do not exceed the weight limit. However, in recent years I've seen more than the usual number of ultra-heavy art, photography, design and typography books which I must read to write about for this column.
Heavy books are, well, as old as books themselves. We'd guess toting a Gutenberg Bible around would be a pretty good workout.
Massive 19th century Holy Bibles, for example, come to mind. My middle-school's library edition of the Oxford English Dictionary, another common heavyweight, was close to 50 lbs; the only way to access its pages was for the librarian to risk a hernia by heaving it onto a reading stand or podium. There were also a number of weighty "coffee-table books," a genre that was introduced in the mid-1950s by legendary art book publisher Harry N. Abrams, whose eponymous imprint pioneered heavy (unconventionally sized and, therefore, not easily shelved) tomes.
It's not surprising that these kinds of books have been proliferating as of late—with competition from ebooks and electronic media, what makes a better gift (to oneself or others) than a lavish, beautifully designed and printed, and heavy book.
It is an old joke that these modern mammoth livres could substitute as doorstops (or, with legs screwed on, as coffee tables). In fact, the heavy genre is now almost as common in the publishing industry as are lower-cost trade paperbacks. During the past three years it appears there are more of them than ever before.
… In post-COVID 2022–2023, the mammoths arrived en masse. Among the best, Letterform Archive released Only on Saturday: The Wood Type Prints of Jack Stauffacher (Deluxe Edition), the University of Texas published The Rob Roy Kelly American Wood Type Collection: A History & Catalog, and Thames and Hudson issued The Graphic Language of Neville Brody 3. Beautiful books all, but oh so unwieldy.
And let us not forget the Seinfeld episode where Kramer publishes a coffee table book about coffee tables—and which it itself a coffee table.
Devil's in the Details
If you find yourself in Stockholm, Sweden, be sure to visit The National Library of Sweden and check out what is believed to be the largest Medieval manuscript in the world. Via Atlas Obscura, the Codex Gigas ("giant book") was created in the 13th century by a single monk then living in Bohemia (in modern Czechia). At 620 pages long and three feet high, it includes—as one would expect—the New and Old Testaments, but also several shorter texts on such topics as exorcism, grammar, as well as containing a calendar. Oh, and it also includes a giant, full-page, full-color portrait of Satan. Say what?
Speculation, plausible and otherwise, abounds as to how the unholiest feature possible made its way into this most sacred text, but answers remain elusive. Precisely because of this tension, everyone loves the Codex Gigas – or, the Devil's Bible, if you prefer. The manuscript originally travelled to Stockholm in the late 16th century, plundered from the Holy Roman Emperor's castle by the Swedish army during the Thirty Years War.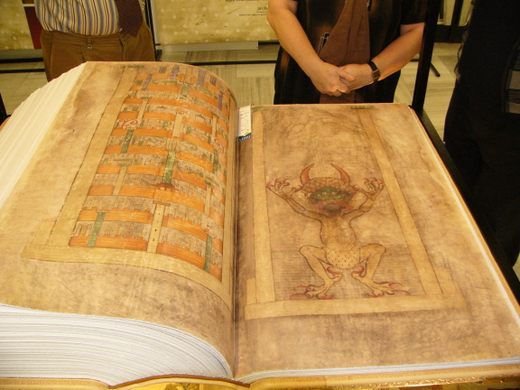 Image: Wikimedia user Michal Mans (Creative Commons)
This massive tome currently resides behind glass in a room on the second floor of the King's Library (also called the National Library of Sweden) in Humlegården ("Humle" meaning "hops," suggesting royalty grew hops there for their own beer, "gården" meaning "courtyard"), a lovely park in the posh Stockholm neighborhood of Östermalm. The manuscript is not kept open and it is kept in a fairly dark room because of possible damage from light. There is a movie describing the history of the Codex in Swedish with English subtitles playing on a loop.
No sign of Satan, which is a good thing.
Let Jimi Take Over
This was Halloween week (which, if you didn't know, explained why your doorbell kept ringing Tuesday night) and an interesting take on the holiday is Japan's Jimi Halloween, where people dress up in costumes so "mundane they have to be explained." Says Spoon & Tamago:
The tradition was started in 2014 by a group of adults at Daily Portal Z who "kind of wanted to participate in the festivities of Halloween, but were too embarrassed to go all out in witch or zombie costumes." So instead of the flashy and flamboyant costumes they had been seeing gain popularity in Japan, they decided to dress up in mundane, everyday costumes.
For example: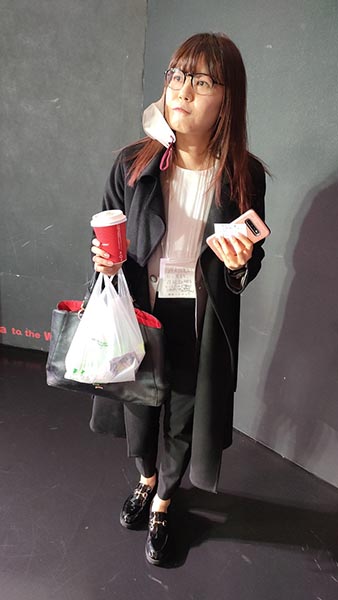 "Person who was late for work but got issued a late pass at the train station and is now feeling more at ease."
And: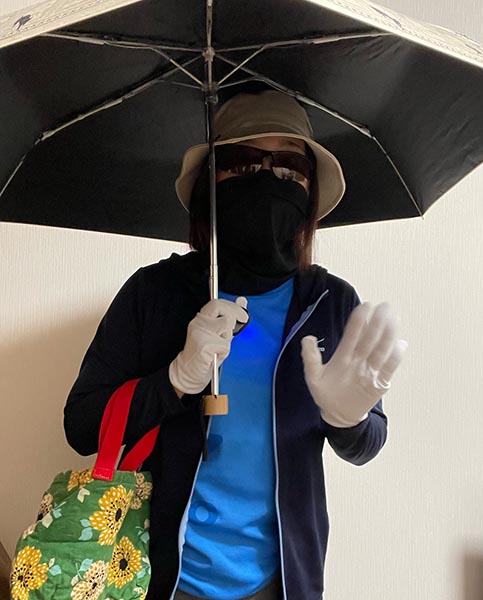 "Probably that mom friend, but not exactly sure."
We'll have to try some of these next year. "Printing analyst at trade show running late for booth meeting"?
ChatARF
What could be creepier than that Boston Dynamics robot dog? Yes: if that Boston Dynamic robot dog could talk. The "dog"—Spot, as it's called—is outfitted with a top hat and moustache and uses ChatGPT to give audio tours and answer questions about the Boston Dynamics facility. Says The Verge:
To make Spot "talk," Boston Dynamics used OpenAI's ChatGPT API, along with some open-source large language models (LLM) to carefully train its responses. It then outfitted the bot with a speaker, added text-to-speech capabilities, and made its mouth — er... gripper — mimic speech "like the mouth of a puppet."
Matt Klingensmith, the principal software engineer at Boston Dynamics, says the team gave Spot a "very brief script" for each of the rooms at its facilities. The bot then combined that script with the imagery it gets from the cameras on its gripper and body, allowing it to "get more information about what it sees before generating a response." According to the company, Spot uses Visual Question Answering models to essentially caption images and answer questions about them.
Pandomonium
What would be creepier than a talking robot dog may well be a talking tree.
But, wait: can trees talk? Aside from Treebeard in Lord of the Rings and the occasional story in the defunct Weekly World News, we would say not. But, via Atlas Obscura, it turns out that one particular aspen in Utah's Fishlake National Forest may just have some words for us—and they may help us save its life.
This one plant actually looks like a forest of 47,000 genetically identical trees, which are effectively branches of the same organism connected by a massive root system. Each stem or ramet is a clone of the original tree, called trembling aspen (species Populus temuloides), all emanating from a single seed that sprouted over 9,000 years ago. Known as "Pando," it is the world's largest tree and one of the largest living organisms on the planet.
Sound artist Jeff Rice, artist in residence with the non-profit Friends of Pando, recorded the inner workings of the tree's root system using a wide array of equipment: stereo and ambisonic microphones, stethoscopes, contact mics, and hydrophones.
The result is a beautiful, otherworldly song of the forest that invites us into the hidden world of Pando. But apart from its artistic value, the recordings present scientific possibilities that can help conserve the tree.
…In the case with Pando, understanding how roots can communicate may help scientists understand what the tree is dealing with and what it needs. Oditt had previously created a 360 degree photographic project to visually map Pando, and Rice's work adds data about the unseen side of the tree. The audio archive, with meticulously recorded dates, times, and locations, can be compared to future audio recordings to track imperceptible changes in the ecosystem above and below the land.
Paint It, Black
Do you need black paint? Not just black-ish, but really black? Like Hotblack Desiato's sun-diving stunt shipblack? Well, via Boing Boing, Stuart Semple has developed a black paint called Black 4.0, almost as black as the blackest known coating, Vantablack, which had been developed for the UK's defense ministry, is massively expensive, and is possibly carcinogenic.
Vantablack has a light absorbance value of 99.965%, with Black 4.0 close behind at 99.95%. Earlier models of Black x.0 were only 99.6%.
Perfect for the devil's laptop.
I covered a laptop (below) in Black 2.0: it was exceptionally dark (and as you can see easily defeats a cellphone camera) but in person still had a faint velvet reflectance that was made worse over time by fingerprints. Even so, I liked the way it made other people in coffee shops look at it with a vague sense of unease. I'm hoping that my Black 4.0 laptop will be genuinely discomfiting for humans to behold.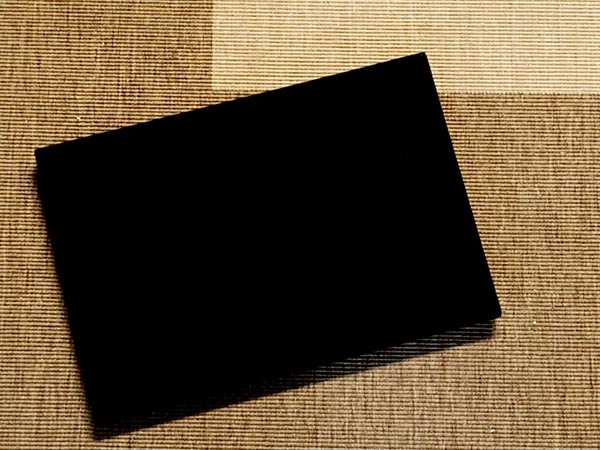 It would be interesting to paint one's car with this.
The Brave Little Toaster
Do you need a toaster but don't have the kitchen counter real estate to support one? Well, give this new toaster design from German company Ritter a chance. Via Core77, it's a "minimalist" approach to toaster design.
"[Our toasters] are incomparably narrow at just under 9 cm wide and impress with their timelessly elegant design. High-quality materials, perfect workmanship and a well-thought-out construction guarantee a long service life. Of course 'made in Germany,' like everything from Ritter."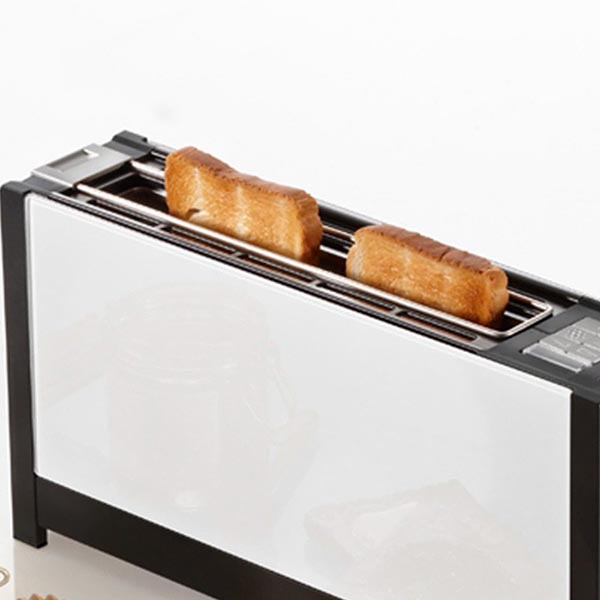 What if you have bagels or other bread-esque materials that need roasting?
"The bread and roll rack is integrated in the toaster and can be easily raised and lowered. This means that sometimes thicker slices of bread or other pastries, such as croissants and rolls, can be quickly warmed up or toasted."
Hmm…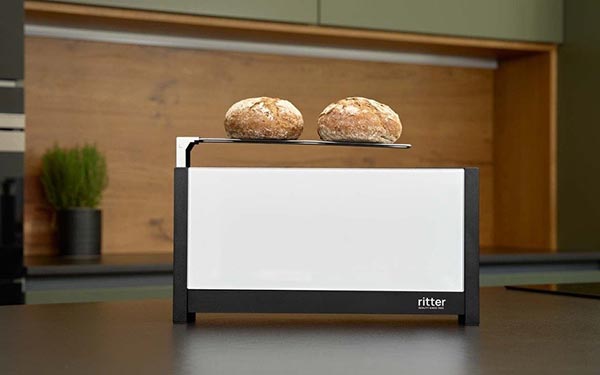 Interestingly, the toaster can be customized—glass panels come in white, red, or black or you can choose aluminum panels. And here's what's cool: you can send them an image and they'll print it on a glass panel—"The glass fronts will then be printed with the desired pattern, and you will have a special toaster which is unique." Just think: on-demand toaster printing could be the next hot application area.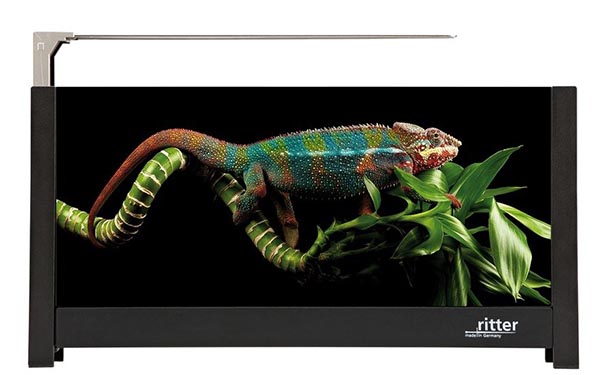 Interesting image choice… A better idea would be to use an image of the wall behind it so that it could be easily camouflaged, to throw off would-be predators.
These run €149 (USD $158), and I believe they're Euro-market only.
Still…
Museum of Appliances
Maybe you don't want a minimalist toaster—maybe you want something maximalist, like, say, something that could five hot dogs at once. If so, you'll want to check out JR's Appliance Museum, located in Diamond, Mo., which bills itself as "The World's Largest Small Electrical Appliance Museum." Its collection currently features more than 10,000 rare electrical appliances including toasters, coffee percolators, razors, waffle irons, and more. Says the museum's website:
Richard Larrison's interest in small electric appliances began over 35 years ago. His brother-in-law, Dennis, collected antique electric fans and ask Richard to look for some in the Midwest. A hobby quickly formed and it was not long before Richard had amassed his own collection of about 125 fans.
As his interest grew, he purchased some books on the appliances and their history. The more he read, the more excited he became over the different small appliances and their manufactures. Richard began shopping at flea markets throughout the Midwest and made use of EBay when it emerged.
Soon his hobby had outgrown his basement. It was moved into the building attached to JR's Western Store. Richard has spent countless hours creating his displays and continuing to grow his collection.
Graphene Cleans Up
Was it a good week for graphene news? It's always a good week for graphene news! Graphene-modified silica aerogels remove more than 76% of trace pollutants from wastewater. From (who else?) Graphene-Info:
Researchers from the Indian Institute of Technology Madras (IIT Madras) and Tel Aviv University in Israel, have developed a graphene oxide-doped silica aerogel adsorbent that can remove trace pollutants from wastewater.
This graphene-modified silica aerogel reportedly removes over 76% of trace pollutants (PPM level) in continuous flow conditions, offering a sustainable path for large-scale water purification. The research team is dedicated to enhancing these results for large-scale applications.
All hail, graphene!
The Graphene-doped modified silica aerogels (GO-SA) were found to exhibit remarkable efficiency in purifying water, attracting and removing contaminants due to graphene's unique molecular structure, which further enhances the available surface area of the aerogel. Under real-life conditions mimicked in their experiments, the material removed over 85% of pollutants in controlled settings and more than 76% in continuous flow conditions.
Faster Food
White Castle is one of the major fast food chains that is gradually adding robot staff. They recently installed (or hired, however you want to refer to this sort of thing) a French fry-cooking robot named Flippy (and its successor Flippy 2) in 17 of its locations—with plans to put Flippy 2s in about a third of its 350 U.S. restaurants. Says Food & Wine:
According to Miso Robotics, the company that produces Flippy and other restaurant-focused robots (including Chippy, Chipotle's automated tortilla chip-maker) the automated worker is meant to take care of "the most repetitive, dangerous, frying work" in the kitchen. Flippy's tasks include filling the fry baskets, dunking the basket into the hot frying oil, and then moving the hot fries into a holding area. QSR reports that when Flippy 2 is allowed to cook, it can produce 30% more fries than its human counterparts.
They say that Flippy is not meant to replace human employees…yeah, and Dewey defeats Truman.
Chipotle is also giving Chippy some cybernetic company:
Chipotle has also started testing Hyphen, a collaborative robot or "cobot" that can make burrito bowls and salads. "Around 65% of Chipotle's digital orders consist of bowls or salads, so with Hyphen on board, team members would be freed up to focus on guest experiences, while increasing the amount of digital orders during peak periods," the company wrote in an Instagram post.
Hyphen? For larger menu items, they'll be deploying robots called En Dash and Em Dash.
Full Metal Jacket
Do you have 1,600 and don't quite know what to do with them all? Well, via Boing Boing, why not make a jacket out of them?
This unique coat of armor weighs 45 pounds, and looks and sounds absolutely gorgeous.
The rest of the get-up is a hoot, as well. And you'll never sneak up on anyone with that on.
Around the Webb, Part the Continuing: King Crab
Ever since its discovery in the 11th century, the supernova remnant known as the Crab Nebula has been a favorite destination of astronomers professional and amateur. So of course the James Webb Space Telescope had to take a photographic nutcracker to the cosmic crustacean to try to gain more information about its origins and composition. Says NASA:
"Webb's sensitivity and spatial resolution allow us to accurately determine the composition of the ejected material, particularly the content of iron and nickel, which may reveal what type of explosion produced the Crab Nebula," explained Temim.
At first glance, the general shape of the supernova remnant is similar to the optical wavelength image released in 2005 from NASA's Hubble Space Telescope: In Webb's infrared observation, a crisp, cage-like structure of fluffy gaseous filaments are shown in red-orange. However, in the central regions, emission from dust grains (yellow-white and green) is mapped out by Webb for the first time.
Additional aspects of the inner workings of the Crab Nebula become more prominent and are seen in greater detail in the infrared light captured by Webb. In particular, Webb highlights what is known as synchrotron radiation: emission produced from charged particles, like electrons, moving around magnetic field lines at relativistic speeds. The radiation appears here as milky smoke-like material throughout the majority of the Crab Nebula's interior.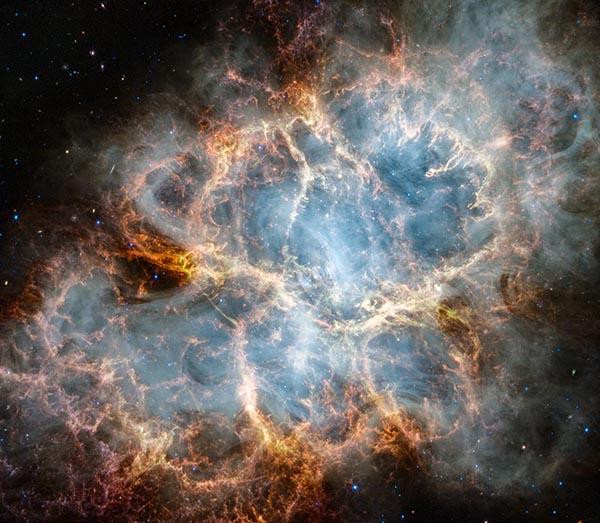 Image: NASA, ESA, CSA, STScI, T. Temim (Princeton University).
The search for answers about the Crab Nebula's past continues as astronomers further analyze the Webb data and consult previous observations of the remnant taken by other telescopes. Scientists will have newer Hubble data to review within the next year or so from the telescope's reimaging of the supernova remnant. This will mark Hubble's first look at emission lines from the Crab Nebula in over 20 years, and will enable astronomers to more accurately compare Webb and Hubble's findings.
The things we can do.
A Pizza the Action
Tabasco—the sauce makers—and Banza—the food maker—have collaborated on a new pizza that gets hotter the more you eat it. Via Food & Wine:
Banza tapped its product team to create a pizza pepped up with two types of Tabasco hot sauce: red pepper sauce and scorpion sauce. Hotter by the Bite is a very apt name; the milder red pepper sauce is near the center, while the scorpion blend (Tabasco's hottest) approaches the edge. That means your taste buds will feel the burn on the way up the Scoville scale as you inch ever closer to the end of the crust.
Scorpion sauce?
"Given the enthusiasm people have for spice, it's unsurprising that more than 50 million people in the U.S. add it to their pizza," Nicole Landesman, vice president of marketing at Banza, said in an exclusive interview with Food & Wine. "Instead of just adding hot sauce on top, we wanted to create an experience that tests peoples' ability to beat the heat."
Get out the antacids.
This Week in Printing, Publishing, and Media History
October 30
1466: German printer Johann Fust dies (b. c. 1400).
1885: American poet Ezra Pound born.
1938: Legitimately fake news—Orson Welles broadcasts his radio play of H. G. Wells' The War of the Worlds, causing anxiety in some of the audience in the United States.
October 31
1795: English poet John Keats born.
1941: After 14 years of work, Mount Rushmore is completed.
1963: English singer-songwriter and guitarist Johnny Marr born.
1993: Italian director and screenwriter Federico Fellini dies (b. 1920).
2000: American journalist and screenwriter Ring Lardner, Jr. dies (b. 1915).
November 1
1512: The ceiling of the Sistine Chapel, painted by Michelangelo, is exhibited to the public for the first time.
1604: William Shakespeare's tragedy Othello is performed for the first time, at Whitehall Palace in London. A few years later...
1611: Shakespeare's play The Tempest is performed for the first time, again at Whitehall Palace in London.
1941: American photographer Ansel Adams takes a picture of a moonrise over the town of Hernandez, New Mexico that would become one of the most famous images in the history of photography.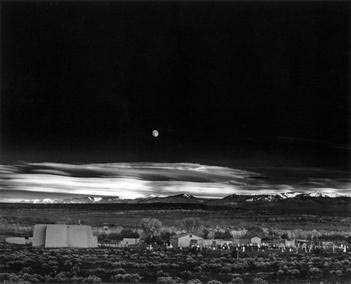 1968: The Motion Picture Association of America's film rating system is officially introduced, originating with the ratings G, M, R, and X.
1972: American poet and critic Ezra Pound dies (b. 1885).
November 2
1920: KDKA of Pittsburgh starts broadcasting as the first commercial radio station.
1936: The British Broadcasting Corporation initiates the BBC Television Service, the world's first regular, "high-definition" (then defined as at least 200 lines) service. It was renamed BBC1 in 1964.
1950: Irish author, playwright, critic, and Nobel Prize laureate George Bernard Shaw dies (b. 1856).
1960: Penguin Books is found not guilty of obscenity in the trial R v Penguin Books Ltd, the Lady Chatterley's Lover case.
1961: American humorist and cartoonist James Thurber dies (b. 1894).
1988: The Morris worm, the first Internet-distributed computer worm to gain significant mainstream media attention, is launched from MIT.
November 3
1838: The Times of India, the world's largest circulated English language daily broadsheet newspaper, is founded as The Bombay Times and Journal of Commerce.
November 4
1922: British archaeologist Howard Carter and his men find the entrance to Tutankhamun's tomb in the Valley of the Kings.
November 5
1499: Publication of the Catholicon, written in 1464 by Jehan Lagadeuc in Tréguier, the first Breton dictionary and the first French dictionary.
1857: American journalist, author, reformer, and educator Ida Tarbell born.
1885: American historian and philosopher Will Durant (The Story of Civilization) born.
1959: Canadian singer-songwriter and guitarist Bryan Adams and, 1974, American singer-songwriter and guitarist Ryan Adams born. The coincidence cuts like a knife.
1979: American cartoonist Al Capp dies (b. 1909).
2007: Android mobile operating system is unveiled by Google.