Don't Call It Cold Type
Over at Print magazine, Steven Heller extols the virtues of learning letterpress printing:
For a designer, learning to set metal and wood type is as essential as learning to drive a car (stick or automatic).
Is it? Anyway, Heller talks with Dikko Faust, co-founder, with Esther K. Smith of Purgatory Pie Press, who offers a hands-on class at the SVA NYC Letterpress studio. Says Faust:
Letterpress is great research and development for any design problem. Change the color, change the paper (or cloth, sheet metal, thin wood, even plastic). Change the angle. Insert ornaments. Add words of different typefaces on the press bed. Add background textures, superimpose type for vibration/emphasis.
…Former students have gone on to print their own products. Some use letterpress display type in branding, signage, advertising, packaging, and on book covers. One uses his hand typographic experience to redesign computer fonts.
…I have seen waves of interest in letterpress over the last 40+ years. Linotype took the pressure off hand-setting multiple lines of straight text, as did photo- and computer type, but letterpress is freed for more interesting purposes. SVA's shop has free photopolymer platemaking (in class) for image-making.
By the way, for those interested in letterpress and hand-setting of type, the Museum of Printing offers occasional wood type printing workshops. Also, in other letterpress-based events, if you are in the Haverhill, Mass., area this month, be sure to stop into the Museum on September 23 for Linotype Day.
Poster Children
You know what they say: less is more. So, via Core 77, Polish graphic designer Michal Krasnopolski has designed a series of minimalist movie posters. And minimalist is right:
"The idea was to create a very simple, modernist poster series for movie enthusiasts," Krasnopolski writes. "The designs rigorously adhere to the same mold: [no more than] a circle overlaid by two diagonals, all inscribed in a square."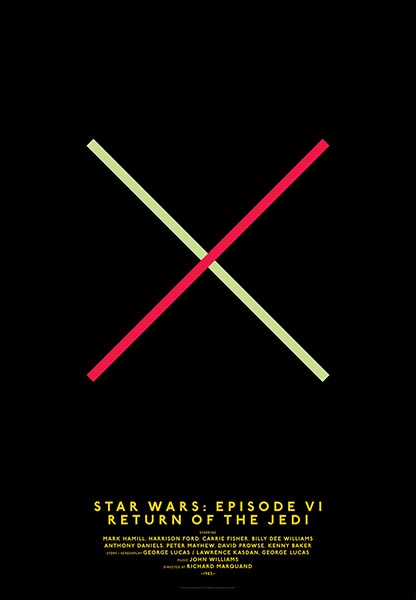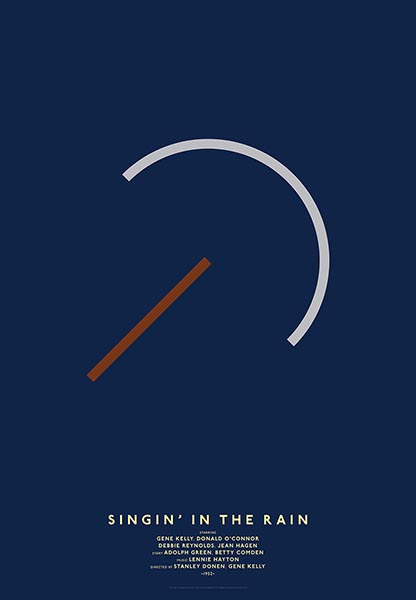 Not As Good as the Book
From movie posters to book covers.
They say that adaptations of novels are rarely if ever as good as the book, but a design project by Matt Stevens has taken some movies (both popular and less well-known) and rendered them as books—specifically old-style books. Well, not the entire book, just the cover. Via Print magazine, Stevens describes the approach he takes to each movie/book cover:
I'd say it's often three components that drive it at varying degrees, depending on the cover. The film itself (and it's perception or my feeling for it), my concept of what I want to communicate about it, and the chosen style. I keep a running list of movies that I want to work on. My only rule is that I have to have a personal connection to it or some degree of affection for it. I won't do a movie I don't like, just because it's popular. I'm constantly doing research and immersing myself in old work and various styles.
Stamped In Concrete
Via Boing Boing, the Swiss postal system, Swiss Post, has been releasing a series of postage stamps called "Commitment to Art" and the final stamp in the series commemorates the use of concrete in architecture. And, well, why not? They even added cement pigments to the ink to give the resulting stamp an appropriate tactile feel.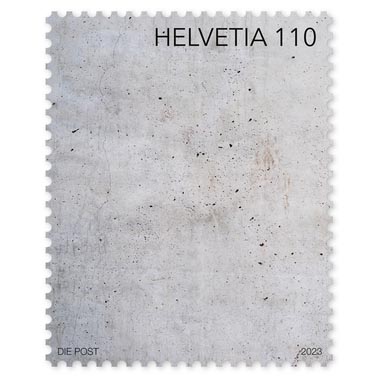 Why concrete as a symbol? This is a material that plays an important role in the history of architecture. Concrete helped art, previously seen by most people as decorative, to attain its independence as an art form. As a stamp design, the symbolic concrete wall represents an artistic pillar that characterizes Swiss Post buildings throughout Switzerland.
Clutching at Straws
Think that paper or bamboo drinking straws are safer or better for the environment than plastic straws? Via Core 77, it turns out that paper drinking straws have been found to contain PFAs. There's no winning.
researchers at Belgium's University of Antwerp have some bad news: They've found paper- and plant-based straws were more likely to contain PFAs (Per- and polyfluoroalkyl substances, a/k/a "forever chemicals," because they take forever to break down) than plastic straws.
Adds Sustainable Plastics:
"For both plant-based straws -made from paper or bamboo - it was not clear whether the contamination with PFAs had occurred during plant growth on contaminated soils. In addition, the scientists noted that the occurrence of PFAs in the paper straws could be due to the use of recycled contaminated paper fibres, the contamination of source materials or the processing water, or the fertiliser used in agriculture. Because so many different contamination routes were possible, pinpointing the exact source of the contamination was difficult."
The researchers looked at 39 different brands of straws made from paper, bamboo, glass, stainless steel, and plastic. All of them except the stainless steel straws contained PFAs.
By the way, we suspect that they did not test Oscar Mayer's hot dog straw—or indeed its precursor, the straw made from an actual hot dog.
Core 77's Rain Noe raises an interesting point: "How badly do we, as a species, really need drinking straws?"
Also, if you consider what the most important and life-sustaining beverages are (water, cold beer, hot coffee) you probably drink any of those without a straw, and have survived long enough to read this.
Hmm…
Graphene Goes on the Road
Was it a good week for graphene news? It's always a good week for graphene news! Graphene is tackling potholes. From (who else?) Graphene-Info:
Researchers from the University of Surrey have developed a new thermo-active road solution that could help prevent potholes caused by freezing and thawing in the winter. A new project that will test this new approach has been awarded a £800,000 research fellowship from the Royal Academy of Engineering. The outcomes could improve how major roads across the United Kingdom are maintained and upgraded, even as climate change increases the challenge of keeping them fit for purpose.
This is the phenomenon known as "frost heaves," signs for which make one wonder if they refer to poet Robert Frost having some kind of gastric distress. We continue.
As part of this five-year research project, the Surrey team will work with advanced materials engineering company Versarien to develop a new graphene-enhanced microcapsule to dig into the soil beneath the surface when roads are resurfaced to improve heat conduction and storage.
Miniature
Via Boing Boing, an Atlas Obscura video takes a short tour of the Dollhouse Museum in Granbury, Tex., which houses more than 6,000 dolls. "You'll find everything from Barbie dolls, to G.I. Joe dolls, miniature dolls figurines and classic baby dolls."
The music makes it sound a little creepy…which may be appropriate since the museum is said to be haunted.
There are stories of dolls appearing in places they weren't left, as if they moved on their own. The lights in the museum eerily flicker on and off, and strange noises echo throughout the building.
If you're a ghost or doll enthusiast—or perhaps both—and find yourself in Granbury, Tex., be sure to check it out.
Autogeddon
Looking to buy a car? If so, are you looking to get the latest and greatest? Well, now that most new cars today are Internet-enabled, prepare to give up any sense of privacy whatsoever. Via Boing Boing, the Mozilla Foundation just released a comprehensive review of the latest models and have concluded that today's cars are a "privacy nightmare."
We reviewed 25 car brands in our research and we handed out 25 "dings" for how those companies collect and use data and personal information. That's right: every car brand we looked at collects more personal data than necessary and uses that information for a reason other than to operate your vehicle and manage their relationship with you.
… They can collect personal information from how you interact with your car, the connected services you use in your car, the car's app (which provides a gateway to information on your phone), and can gather even more information about you from third party sources like Sirius XM or Google Maps. It's a mess. The ways that car companies collect and share your data are so vast and complicated that we wrote an entire piece on how that works.
It gets worse:
they can collect super intimate information about you -- from your medical information, your genetic information, to your "sex life" (seriously), to how fast you drive, where you drive, and what songs you play in your car -- in huge quantities. They then use it to invent more data about you through "inferences" about things like your intelligence, abilities, and interests.
Looking to buy a Nissan? Think again:
They come right out and say they can collect and share your sexual activity, health diagnosis data, and genetic information and other sensitive personal information for targeted marketing purposes. We absolutely aren't making that up. It says so in their Nissan USA privacy notice. And that's not all! They also say they can share and even sell "Inferences drawn from any Personal Data collected to create a profile about a consumer reflecting the consumer's preferences, characteristics, psychological trends, predispositions, behavior, attitudes, intelligence, abilities, and aptitudes" to others for targeted marketing purposes. Yes, Nissan says they can infer things like how smart you are, if you have a predisposition to drink, if you are acting depressed, and if you are any good at chess (we're guessing that's what they can infer..it could be even worse than that), and then they say they can make as much money off that very personal information as they can.
We think we'll go to a used car lot and look for a 1975 Dodge Dart.
The Words Will Make You Out 'n' Out
Laughing Squid takes a look at an intriguing question: "why traffic roundabouts aren't popular in the US." They link to an interview at Context with Kevin Beresford of the UK's Roundabouts Appreciation Society—yes, his official title is "Lord of the Rings."
it's a bunch of guys who meet in a pub once every two months to talk about roundabouts. But they are on a mission to save the world. This is where it all started. This wonderful piece of round architecture that makes the traffic filter safely with less emissions.
He does have a point; rather than idle for a few minutes at a traffic light—or even while trying to figure out whose turn it is to go at a four-way stop—roundabouts do keep things moving. Beresford has concerns about the lack of roundabouts in the US and he awarded the "International Roundabout of the Year" to the city of Carmel, Ind., honoring Mayor Jim Brainard who does believe they are a positive for traffic, safety, and emissions.
We found out that roundabouts move 50% more traffic per hour than a traffic light, resulting in tremendous amounts of fuel savings. The city's engineers estimated that each roundabout saved about 20,000 gallons of fuel a year, which they calculate to be 25 and a half thousand metric tons of CO2, which would have otherwise gone up into the atmosphere.
Beresford should come to Malta, N.Y. (just south of Saratoga Springs), which has more roundabouts per square mile than likely any other place on the planet (or at least it can seem that way), and they are much more efficient than traffic lights. The trouble comes when stuck between the timid and the hyper-aggressive. And roundabouts are great when traffic is light, but at rush hours…ugh.
Malta also has a Roundabout Runners Club and the course for tomorrow's Malta 10K road race will involve running around several of the town's roundabouts—and centripetal force can help boost one's pace…
Spaghetti Squashed
Pablo Picasso once said that "Every act of creation is first of all an act of destruction," but Norwegian visual artist Jan Hakon Erichsen takes that perhaps a bit too literally. Previously showcasing all the ways that balloons can be destroyed, he now turns his attention to dried pasta, with this compilation of a variety ways that dried pasta can be smashed. Some of these look really painful!
Totally Crackers
Here's an interesting new way to rank the 50 U.S. states: by how easy they are to nibble out of graham crackers. Via Boing Boing, the top 4 are:
Wyoming
Colorado
Ohio
Idaho
…
…
Maryland
Alaska
He singled out Minnesota as especially challenging: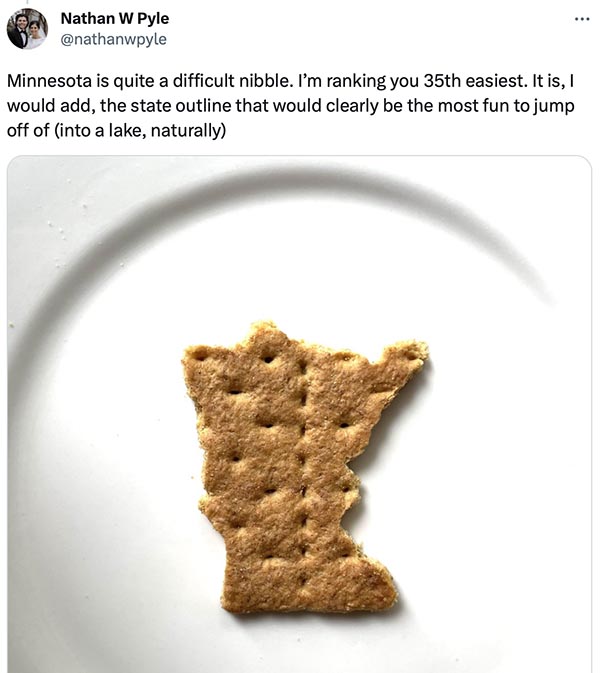 It's unclear that he made it through all 50, but we imagine Hawaii would have been an interesting challenge.
Dishing It Out
Are you one of Those People that, when eating out, love to take pictures of their food? If so, there could be a career in it. Or at least a gig. Via Food & Wine, Yelp! is hiring its first-ever food photographer.
The company is in search of a passionate foodie photog who whips out their phone to capture creative content of their meals while dining out, whether it's a carefully curated flat lay at brunch or a slow-motion, drool-inducing video clip of the juiciest burger in town.
There are actual rewards involved.
The person who snags this role will visit local hidden gem restaurants across the United States, photographing their favorite dishes to share on Yelp's website and social handles during a two-month period, stretching from December 1, 2023, to January 31, 2024. In addition to winning the title of this coveted position, the brand's food photographer will receive a hefty $10,000 stipend for their efforts.
Interested in applying?
You can apply for the position here through October 7, 2023. Submit one entry of up to 10 photos and a 30 to 60-second video sharing why you should be chosen for the job, and boom, you're in the running. It should be noted that the photos entered have to be images that you've already uploaded to Yelp.
Full rules are here.
If you get the gig, it seems only fair that Around the Web get a finder's fee…
This Week in Printing, Publishing, and Media History
September 4
1888: George Eastman registers the trademark "Kodak" and receives a patent for his camera that uses roll film.
1908: American novelist, short story writer, essayist, and poet Richard Wright born.
1951: The first live transcontinental television broadcast takes place in San Francisco, from the Japanese Peace Treaty Conference.
1972: The Price Is Right premieres on CBS. As of 2019, it is the longest running game show on American television.
1998: Google is founded by Larry Page and Sergey Brin, two students at Stanford University.
September 5
1977: NASA launches the Voyager 1 spacecraft. Voyager 1 (like the other voyager probes) contained what was called the "Golden Record," a gold-plated audio-visual disc that contains photos of the Earth and its lifeforms, scientific information, spoken greetings from people such as the Secretary-General of the United Nations and the President of the United States, a medley of "Sounds of Earth" (the sounds of whales, a baby crying, and waves breaking on a shore, in case aliens are into New Age music), and a collection of musical works by Mozart, Blind Willie Johnson, Chuck Berry, and Valya Balkanska. In 2013, Voyager 1 became the first manmade object to leave the Solar System.
1929: American comedian and actor Bob Newhart born, who did more for the telephone than Alexander Graham Bell.
1945: Scottish singer-songwriter and guitarist Al Stewart born.
1946: Tanzanian-English singer-songwriter and producer Freddie Mercury born.
September 6
1642: England's Parliament bans public stage-plays.
1928: American novelist and philosopher Robert M. Pirsig (Zen and the Art of Motorcycle Maintenance) born.
1943: English singer-songwriter and bass player Roger Waters born.
September 7
1559: English-French printer and scholar Robert Estienne dies (b. 1503).
1911: French poet Guillaume Apollinaire is arrested and put in jail on suspicion of stealing the Mona Lisafrom the Louvre museum.
1912: American engineer and businessman and co-founder of Hewlett-Packard David Packard born.
1927: The first fully electronic television system is achieved by Philo Farnsworth.
1978: English drummer (The Who) Keith Moon dies (b. 1946).
2003: American singer-songwriter Warren Zevon dies (b. 1947). Life'll Kill Ya.
September 8
1504: Michelangelo's David is unveiled in Piazza della Signoria in Florence.
1930: 3M begins marketing Scotch transparent tape. The idea seemed to stick.
1966: Star Trek premieres.
1971: In Washington, D.C., the John F. Kennedy Center for the Performing Arts is inaugurated, with the opening feature being the premiere of Leonard Bernstein's Mass.
September 9
1828: Russian author and playwright Leo Tolstoy born.
1839: John Herschel takes the first glass plate photograph.
1947: The first computer bug is found when a moth lodges in a relay of a Harvard Mark II computer at Harvard University.
2006: American businessman, founder of Ziff Davis William Bernard Ziff Jr. dies (b. 1930).
September 10
1846: Elias Howe is granted a patent for the sewing machine, setting the stage for digital textile printing more than 170 years later.
2008: The Large Hadron Collider at CERN, described as the biggest scientific experiment in history, is powered up in Geneva, Switzerland.
1839: American minister, publisher, and co-founder of Funk & Wagnalls Isaac K. Funk born. Look that up in your Funk & Wagnalls.
1941: American paleontologist, biologist, and author Stephen Jay Gould born.