Kernference Call
Do you geek out over type? Did you get the "kernference" pun? If so, good news! Mark your calendar for November 1­–3, when GoodType—an online type lovers community— will be hosting a virtual conference called The Kernference. From Print magazine:
The Kernference is a three-day virtual summit from November 1st through 3rd that will bring the global type community together. The three days will be filled with talks, workshops, and panels from industry professionals, experts, and rising stars in the type space. All accessible through the comfort of your own home!
Who are the featured presenters?
They range from various corners of the design world, coming together to offer a breadth of experience and perspectives. One exciting headliner is Annie Atkins, a Welsh graphic designer and prop maker for film and television, whose worked on a handful of Wes Anderson films (The Grand Budapest Hotel, Isle of Dogs, The French Dispatch). Phoebe (Cornog) Nelson is another, the founder of Pandr Design Co in San Diego. Sam Roberts, the founder of the world's only print and online publication dedicated to sign painting called BLAG, will lead a panel on publishing a magazine, and Arley Torsone Morgan Calderini of Ladyfingers Letterpress will share their experience running a product-based business. Plus many others!
The $247 Conference Pass gets you access to the three days of offerings and an additional $100 will get you a Workshop Pass for extra hands-on learning. Tickets are available now!
Signs of the Times: To Paint and Dye in L.A.
Sign painting by hand is today a bit of a niche craft—replaced almost entirely by channel letters, CNC routing, and of course wide-format printing—but once upon a time hand-painted signs stood proudly next to neon and wood and metal signs, and nowhere was this better on display than in Los Angeles. Via Printmagazine, custom letterer Bryan Yonki has been a fan of hand-painted signs for years and began posting images of L.A. signage on his Instagram account @handpaintedinLA. Now, he's converted this into a book, Hand-Painted in L.A., which was released last month.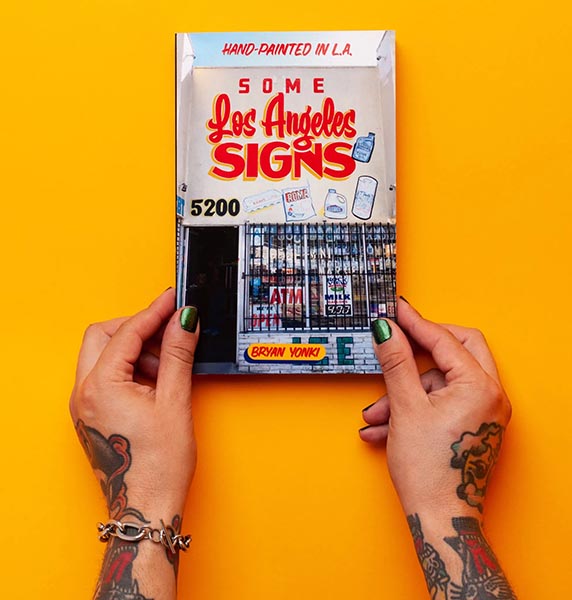 I love books and have a fascination with physical ones, so it felt like a natural thing to do after going through my archive and realizing I had collected over 1,500 signs between 2014 and 2022. I had been posting fairly consistently on the account, and now I wanted those signs to have a life of their own outside the Instagram grid— something I could hold in my hands.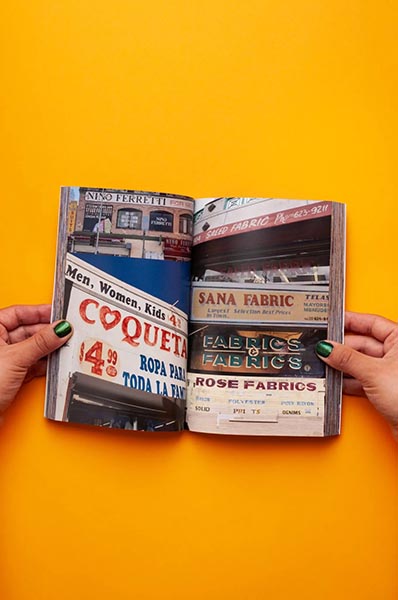 There's a charm to these signs. I believe it relates to the fact that usually it's the small imperfections that serve as evidence of how it was made, and the way it was made is evidence of how much the owner cares about their business. Today it's cheaper and easier to get something printed on vinyl, and businesses are becoming more and more aesthetically corporate, so perfection has become the standard.
There's something of value in the small imperfections that a human hand can add when conveying a message for a business. It's emotional, it's visceral, and that's how this art form can help businesses thrive in a way other mediums can't. The medium is part of the message.
Mind the Gap
Have you ever stood on the platform in the London Underground, looked at the arrivals board, and said to yourself, "I wish I had that as a font"?

Well, if so, good news! Via Boing Boing, Sean Petykowski has created a type family based on Transport for London's Underground notification displays: the London TFL Dot Matrix Typeface.
Available in Regular, Medium, Bold, and Heavy, characters "were sourced from original photographs of dot matrix arrival boards found across London Underground stations during late-2019/early-2020." Medium characters in particular were sourced from videos found on YouTube.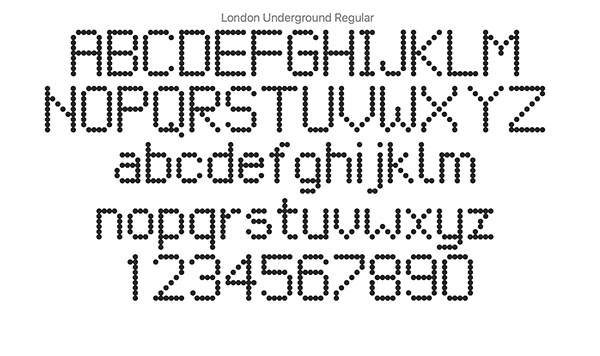 Thousands of uses!
Old Friends
Bookends. They're often needed, but they can take up valuable shelf real estate. But, via Core 77, Japanese office goods brand Sogu has designed the 9° Book Stopper, a minimal bookend that lets the book itself do all the work.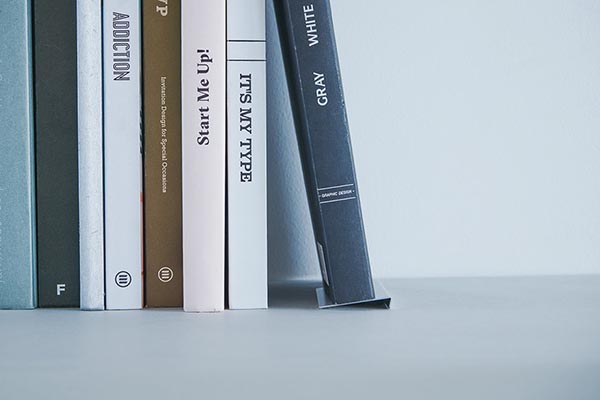 Hmm… It would really depend on the book you use. A thin paperback just wouldn't cut it.
Clear the Air
Watertown Teen Correspondent Lucy the Bee Girl recently infiltrated the Around the Web Cultural Accretion Bunker and pointed us to this…gift idea: customized car air fresheners. Yes: you select a scent (there are 16 to choose from, including Bacon, Arctic Blast, Dark Ice, Watermelon, etc.), choose how to crop the photo (just the head, entire body, just the car), and upload the photo of your choice. What you get back is a car air freshener, ready for rear-view mirror dangling.
The website emphasizes its use for pet photos (identifying the source of the odor problem atop its solution, perhaps), but customers also upload their children's photos (again…), and, potentially more upsettingly, significant others.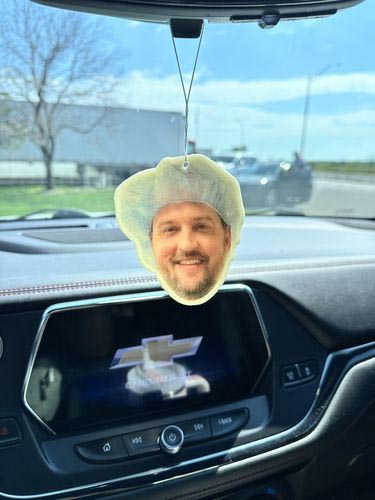 This seems like it would be asking for trouble, especially if you gave your girlfriend one with her photo on it having the scent "Dark Ice." This would be great for passive-aggressive types.
According to the reviews, they also seem to be tapping into the helicopter parent market: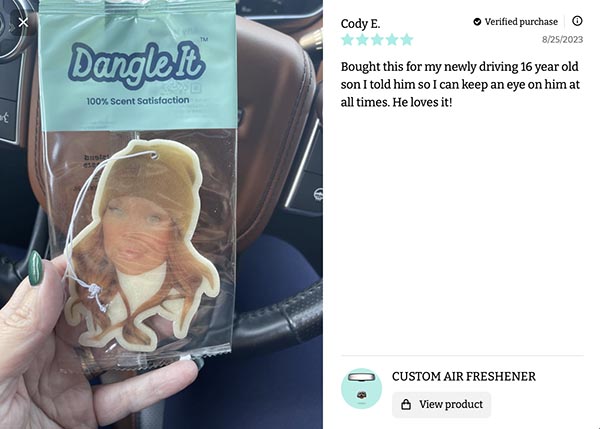 Uh huh. What are the odds it doesn't get buried in the glove compartment as soon as he's out the driveway?
Or, if air fresheners aren't your thing, really get your freak on: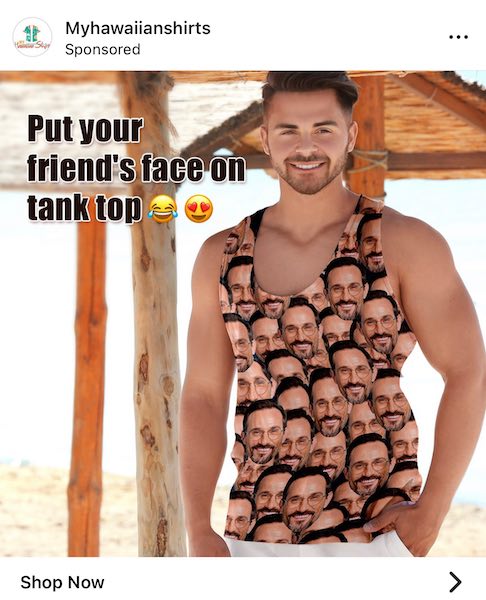 Is that his friend or his dad?
You're No God to Us, Mister!
CNN introduces us to Apollo, a humanoid robot designed to do all the tasks that humans don't want to do—those deemed "dull, dirty and dangerous."
The robot is on the same scale as a human being, standing at 5 feet, 8 inches (1.7 meters) tall and weighing 160 pounds (72.6 kilograms).
Apollo can lift 55 pounds (25 kilograms) and has been designed to be mass-produced and safely work alongside humans. The robot utilizes electricity, rather than hydraulics that aren't considered to be as safe, and has a four-hour battery that can be changed out so it can operate for a 22-hour workday.
It has been designed to appear approachable and friendly, to alleviate the uneasiness some people feel when they are around robots.
The initial goal for Apollo is to put it to work in logistics, taking on physically demanding roles inside warehouses to improve the supply chain by addressing labor shortages. But the Apptronik team has a long-term vision for Apollo that extends for at least the next decade.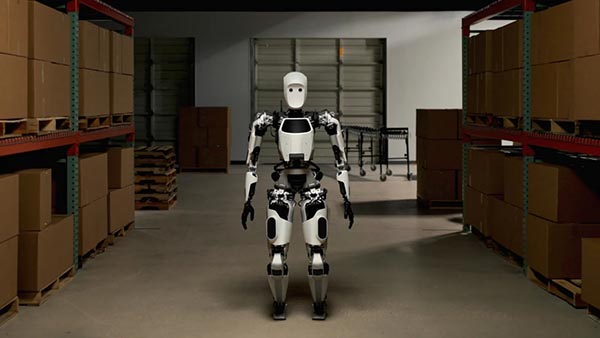 "Our goal is to build versatile robots to do all the things that we don't want to do to help us here on Earth, and eventually one day explore the moon, Mars and beyond," said Jeff Cardenas, cofounder and CEO of Apptronik.
Its primary difference from robots of the past is that rather than being designed for one specific task, it can take on a number of different jobs.
Apptronik wanted Apollo to be the "iPhone of robots," Cardenas said.
We think it will very soon start channeling Marvin the Paranoid Android. "Here I am, brain the size of a planet, and they ask me to pick up a piece of paper. Call that job satisfaction, 'cause I don't."
Graphene…In…Spa-a-a-a-ace….
Was it a good week for graphene news? It's always a good week for graphene news! Researchers are using International Space Station (ISS) National Laboratory to produce higher-quality graphene aerogel than is possible on Earth. From (who else?) Graphene-Info:
It was announced that this week, the Crew-6 astronauts onboard the space station completed work on the team's investigation, which was funded by the U.S. National Science Foundation (NSF). The results could provide new insights into the underlying physics of graphene aerogel synthesis and lead to the development of novel material products.
Such as?
Because graphene is electrically conductive, researchers are hopeful graphene aerogel can be used for energy storage in batteries and supercapacitors. Additionally, graphene aerogel is a promising thermal insulator that could be used in heat shield technology or embedded in fabrics for aerospace applications. It could also be used as a chemical sensor or even to help absorb certain chemical constituents, which could be beneficial for applications like oil spill cleanup.
First to Fall Over When the Atmosphere Is Less Than Perfect
Back in the early 20th century, coal miners would bring canaries down into the mines to check for toxic air quality. If the bird passed out or dropped dead, that signaled time to get out of the mine.
Those of us who spent the summer downwind from the Canadian wildfires found ourselves in somewhat of a similar situation. However, sacrificing live canaries to check air quality isn't the most humane thing in the world, so, via Laughing Squid, the Birdie Fresh Air Monitor comprises a mechanical dial that features a plastic bird that keels over when the air quality is poor and pops back up when it has improved, as detected with a built-in CO2 monitor.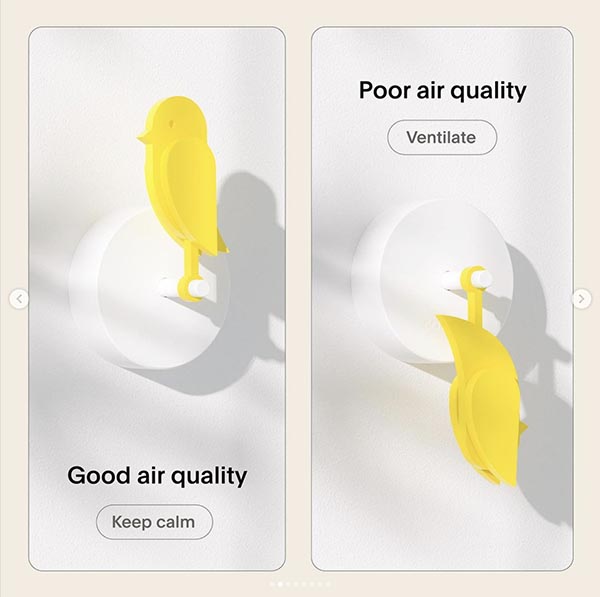 Where's the Beef? Oh…
Anyone out there who has driven with a cat or dog in the car may sympathize…
Yesterday, police in Norfolk, Neb., about 120 miles northwest of Omaha, answered a call concerning a "vehicle with a cow inside." Granted, we don't spend a lot of time in Nebraska, so that may or may not be an unusual call, but even the police were a bit taken aback when they discovered that it was not so much a cow as "a full-sized bull riding shotgun in a Ford Crown Victoria," said NBC News. Now there's something you don't see every day, Chauncey.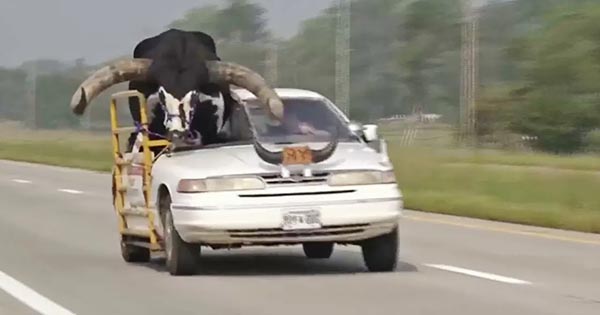 The roof of the car had been removed to make room for the big bovine, who is named Howdy Doody.
Howdy Doody is apparently a regular attraction at parades and fairs throughout the Cornhusker State.
We're not surprised, especially if it arrives in a sedan. And it seems there is no law against such a thing: "police just asked the driver to be careful and keep moving."
Now, if it had been in LA and trying to use the carpool lane, that'd be another story entirely (which by definition it would be…).
Mellow Tron
Over at Jstor, a close look at one of the most influential musical instruments ever invented: the Mellotron. Casual listeners to classic rock may recognize it from The Beatles' "Strawberry Fields Forever," David Bowie's "A Space Oddity," and virtually any Moody Blues song. It was also a go-to instrument for the nascent progressive rock acts of the early 1970s like King Crimson—and bands today still try to replicate its unique sound. But it also served other purposes than just imitating the sound of a string section for bands that couldn't afford one:
In essence, the Mellotron was a primitive sampler, born as a blatant rip-off of the Chamberlin, an instrument introduced in the late 1940s in California by its inventor Harry Chamberlin. The Chamberlin was an orchestra-in- a-box; meant for home entertainment, it featured a black and white, piano-like keyboard, each key of which was linked to a piece of audio tape. The different pieces of tape held varied musical samples—a single note on a flute, for instance, or a trio of violins running a scale. Users could select a setting—a pre-set backing track—and press keys to create a rudimentary kind of synthesized music.
In the early 1960s, Bill Fransen, a Chamberlin employee, traveled to Birmingham, England, initially just to procure machine parts. At some point, he went into business with Frank, Norman, and Les Bradley, three brothers who ran Bradmatic, a manufacturer of machine parts, and ended up producing a British version of the Chamberlin: the Mellotron. The first model, the Mk I, debuted in 1963, and the analog strips of tape it used held recordings from bandleader Eric Robinson from his London studio.
But the MkI was delicate. Its outer casings didn't adequately protect the tape inside from heat and humidity—making the Mellotron a tough sell to owners of smoky bars and cramped studios—and replacement parts were hard to come by. After some tinkering, the more reliable, tricked-out Mk II was released. And there its story really begins.
By the way, the Jstor article doesn't mention this, but Moody Blues founder and keyboardist Mike Pinder worked in the Mellotron factory and suggested ideas for the follow up model, the Mk II. Ergo, the Mellotron would become essential to the Moodies' sound.
Despite its difficulty to tour with, the Mellotron would become a go-to instrument for many classic rock bands.
The Mellotron's popular flute setting is unsettling in its imperfections but can also be described as "pastoral"—as in the gentle, lilting introduction to "Strawberry Fields Forever." On another Mellotron-powered album from the late '60s, The Kinks Are the Village Green Preservation Society, the flute tape helps weave together Ray Davies' idyllic world of small-town churches, steam trains, and other emblems of treacly nostalgia. These examples in addition to The Who Sell Out (a concept album containing fake radio jingles for real British products), and even, to a degree, high fantasy-inspired works by Led Zeppelin and Pink Floyd have informed how many Americans see the United Kingdom today—a place of rolling green hillsides, cozy pubs, and coal-stained cities where people speak in rhyming slang. It goes without saying that there's far more to the country than what's reflected on the Village Green. The dreamy sounds of the Mellotron provided the perfect vehicle to export a British sense of self, however one-dimensional.
Alas, synthesizer technology was developing quickly throughout the 1960s and the first Moog synthesizer was released in 1964 and would come to dominate keyboard-heavy bands in the 1970s.
But what the Mellotron did clearly do is help automate the art of sampling. Sure, you can hand-select your music samples, as was done in the early days of hip-hop. But these days, most musicians opt to use pre-programmed recordings contained in a single instrument as the Mellotron did, reflected in today's synths, samplers, and loop pedals. Within a few years of the Mellotron's disappearance from pop music, inventors harnessed digital technology to create tools like the Fairlight CMI, an all-encompassing digital sampler, synthesizer, and workstation favored by Stevie Wonder, and the TR-808, the drum machine that revolutionized '80s hip-hop.
All hail the Mellotron.
Flash in the Pan
Looking for a good, well-designed, multipurpose cooking pan? Via Core 77, the Flagship is a combination of skillet and Dutch oven that has been a crowdfunding smash, drawing $223,000 in pledges on Kickstarter on a $5,000 goal.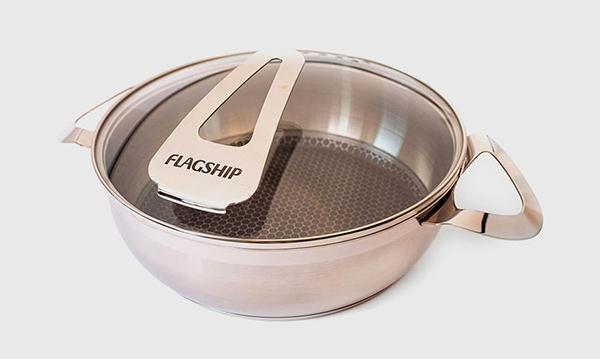 The cleverly-designed "Yoga Lid," which can be sealed to the pan with a twist, has holes for straining or steam escape; it also has a handle that allows it to stand vertically, serving as a see-through splatter guard, and dripping any condensation back into the pan.
Other features include an optional detachable handle, as well as a doohickey for plugging the steam holes.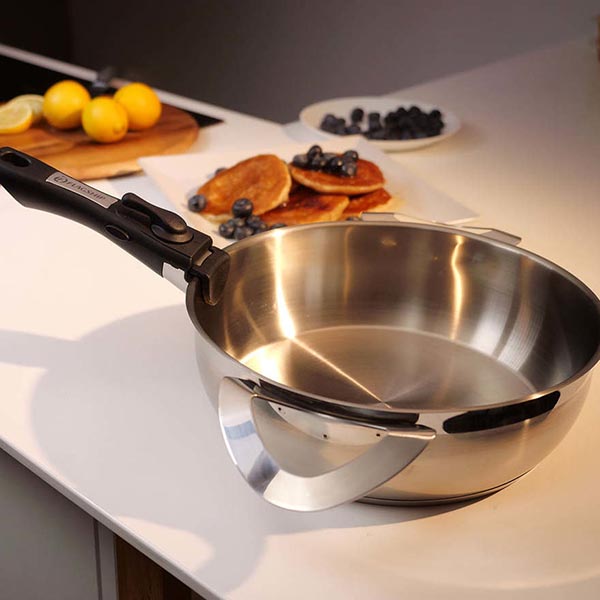 It Was a Very Goodyear
Do you like Subway sandwiches? Blimps? If yes, good news! Subway is launching, quite literally, a new eating experience: "Subway in the Sky," which involves taking customers 1,000 feet above the ground in a 180-foot-long blimp. Says Food & Wine:
And yes, that inflatable aircraft does actually look like one of Subway's recently launched sandwiches, one of the new Deli Hero subs called "The Beast."
We do not know what "The Beast" is, but we suspect we don't want to even know what the nutritional data involves.
According to Subway, the blimp's gondola is big enough to carry six sub-lovers at a time, and each guest will be given the chance to sample all four Deli Hero subs as they float silently above the city. The Connecticut-based sandwich chain says it estimates that around 40 Subway fans per day will be given the opportunity to ride this giant sub skyward.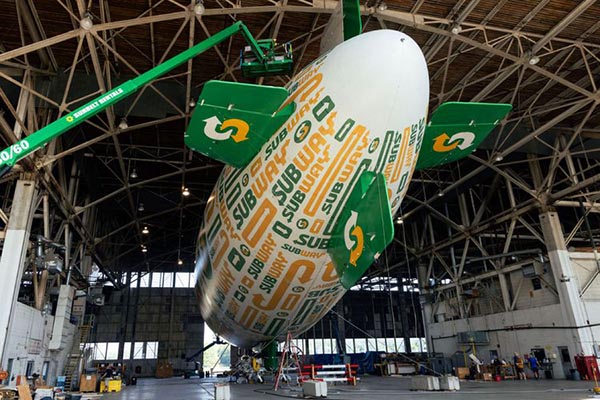 The flights are scheduled between 8 a.m. and 2 p.m. each day and last around 30 minutes from liftoff to landing. "Subway does note that the dates and times could change due to weather or 'other atmospheric conditions'"—so if there's a hurricane, be sure to being extra napkins. So, where is it flying?
Subway plans to offer flights in four U.S. cities throughout September. It will be in Kansas City, Missouri, from Tuesday, September 5 through Thursday, September 7; Atlanta, Georgia on Wednesday, September 13 and Thursday, September 14; Orlando, Florida on Tuesday, September 19, and Wednesday, September 20; and will round out the month in Miami, Florida on Sunday, September 24 and Tuesday, September 26.
Fortunately, Lakehurst, N.J., is not on the schedule.
If this sounds like your kind of thing, you can register on a city-by-city basis on the Subway in the Sky website.
Still, we feel this represents a real missed opportunity for Blimpie.
This Week in Printing, Publishing, and Media History
August 28
1749: German novelist, poet, playwright, and diplomat Johann Wolfgang von Goethe born.
1845: The first issue of Scientific American magazine is published.
1898: Caleb Bradham's beverage "Brad's Drink" is renamed "Pepsi-Cola."
August 29
1831: Michael Faraday discovers electromagnetic induction.
1997: Netflix is launched as an internet DVD rental service.
August 30
1797: Mary Shelley, English novelist (Frankenstein) and playwright, born.
1909: Burgess Shale fossils are discovered by Charles Doolittle Walcott, which would serve as the subject for one of the best science books ever written: Stephen Jay Gould's Wonderful Life.
1956: Comedian, actor, producer, and screenwriter Frank Conniff ("TV's Frank" from Mystery Science Theater 3000), born.
August 31
1688: English preacher, theologian, and author (Pilgrim's Progress) John Bunyan dies (b. 1628).
1867: French poet and critic Charles Baudelaire dies (b. 1821).
1895: German Count Ferdinand von Zeppelin patents his navigable balloon. It went over like a...well, actually it went over rather well (for a bit).
1897: Thomas Edison patents the Kinetoscope, the first movie projector.
1944: English illustrator Roger Dean born.
September 1
1795: American publisher, founder of the New York Herald James Gordon Bennett, Sr. born.
1878: Emma Nutt becomes the world's first female telephone operator when she is recruited by Alexander Graham Bell to the Boston Telephone Dispatch Company. (Appropriately, Lily Tomlin was born on this same day in 1939. The over-50-year-olds out there will get the connection.)
1991: German graphic designer and typographer Otl Aicher dies (b. 1922).
September 2
1752: Great Britain, along with its overseas possessions, adopts the Gregorian calendar.
1963: The CBS Evening News becomes U.S. network television's first half-hour weeknight news broadcast, when the show is lengthened from 15 to 30 minutes.
1973: English novelist, short story writer, poet, and philologist J. R. R. Tolkien dies (b. 1892).
2013: American author and publisher Frederik Pohl dies (b. 1919).
September 3
1802: William Wordsworth composes the sonnet "Composed upon Westminster Bridge, September 3, 1802."
1883: Russian author and playwright Ivan Turgenev dies (b. 1818).
1962: American poet and playwright e. e. cummings dies (b. 1894).
1967: Dagen H in Sweden: Traffic changes from driving on the left to driving on the right overnight.