Background
Kyocera is a Japanese multinational ceramics and electronics manufacturer headquartered in Kyoto, Japan. It was founded in 1959 as Kyoto Ceramic Company and renamed Kyocera in 1982. Kyocera manufactures industrial ceramics, solar power generating systems, telecommunications equipment, office document imaging equipment, electronic components, semiconductor packages, cutting tools, and components for medical and dental implant systems. Kyocera is a well-known global brand in the print industry and a leader in the development and production of inkjet printhead technologies used by many of the production inkjet presses in the market today.

Traditionally recognized as a hardware provider, Kyocera is now ready to establish itself as a system and solution provider. Today, similar manufacturers like Fujifilm and Ricoh are also dependent on integrators of their technologies. Meanwhile, Kyocera continues to devise complete products to be closer to the market in order to better understand what customers are looking for. "Our intention is clear, Kyocera is moving into the production print industry. We see an opportunity for improvement that we cannot ignore," they said in 2020.
TASKalfa Pro 15000c
Since that announcement, Kyocera has been developing a new business unit to deliver on their promise. The 2020 announcement was hot on the heels of the launch its game-changing sheetfed inkjet press: the TASKalfa Pro 15000c. This press was developed to directly target a specific niche area: an affordable entry point into inkjet together with the productivity and output quality to go toe to toe with its laser rivals. Considering that printheads and inks are the costliest components in a production inkjet press, Kyocera is in a strong position to leverage its proprietary technology which also includes its own water-based inks. Driven by an EFI Fiery Controller, this SRA3 format press runs at 146 letter pages a minute at a resolution of up to 600 x 1200 dpi with a duty cycle that has proven to extend up to 3 million images per month.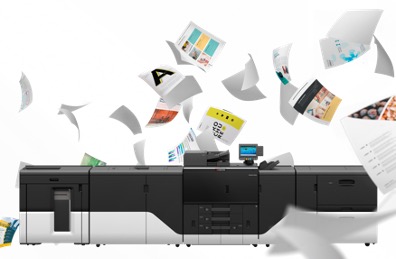 Launched in November 2019, the capabilities of the TASKalfa Pro 15000c have caught the eye of PSPs in the direct mail and transactional printing spaces. It handles consistent full-color output from high-pigment ratio and high-permeability water-based Kyocera inks, although it is also suited to overprinting variable-data black or spots onto pre-printed offset shells. This, along with the competitive acquisition cost, makes it very attractive to a wider audience that has been hesitant to jump into the inkjet production print space.
According to David Loos, President, MCS: "MCS has found Kyocera to be a partner that underpromises and overdelivers. The experience of bringing the TASKalfa Pro 15000c to market has been very positive. We expect to be a Kyocera partner for many more years."
Growing an Industrial Print Unit
In order to enter a new global business with the opportunities of industrial print, Kyocera needed a way to fast-track the process, something that they achieved with the April 2023 acquisition of NIXKA. The France-based producer of inkjet print engines and systems had previously used Kyocera's flagship inkjet printhead products and the acquisition represented a unique opportunity for Kyocera to expand its business into new markets, including print engines, systems, and integrated services. As a result, this will be the foundation of a new Kyocera industrial print unit led by Paul Morgavi. NIXKA already has a number of projects in textile, flexible packaging, and very high-quality printing, along with a few more in the pipeline. To date, the founders of NIXKA have a background of more than 500 inkjet systems installed printing over 20 billion pages per year in more than 40 countries.
This new development organization will have two main tracks they will be following. The first track is a complete system with flow data management, data pass with a cabinet, and a print engine. The first of these is the GENIX (Graphic Engine NIXKA) full-color print engine, with everything embedded in a complete unit plus a cabinet. In one implementation, this full-color 1200 dpi press is already installed and running producing napkins and decorations.
They also have a larger system called LENIX (Large Engine NIXKA). This is based on a print bar that is 866 mm (34 in.) with the same 1200 dpi resolution. This print bar system will be targeted at flexible packaging and other industrial applications. Initially, they were using a precoat on the non-permeable substrates with water-based inks, but they have been developing a new generation of ink without the need for any primer. They are currently running at 100 mpm, with or without primer and a new generation drying system. Their previous experience with food and pharma product production will ensure that they meet all the necessary ink regulation requirements.
The second track is a full system. In one of their initial products, they are developing a complete system for the very high-quality photoprinting industry. They have been working on this for a while and expect that this full-color 1200 dpi system should be ready for its introduction during drupa 2024. There is a lot of interest in this product since it will replace the existing chemical process with digital inkjet technology while maintaining the same image quality. According to Paul Morgavi, President of Kyocera Nixka Inkjet Systems "it was a big challenge, but we will have the quality, productivity, and ecological sustainability to make it attractive".
For this second track, very high-quality printing, packaging, and other applications are just at the beginning of the story. There are plenty of opportunities, but they need to provide the right product with the right performance and cost. If they want to be really successful and help the customer to switch from analog to digital, not necessarily all at once, but even gradually, they need to build market confidence, and "this is our philosophy."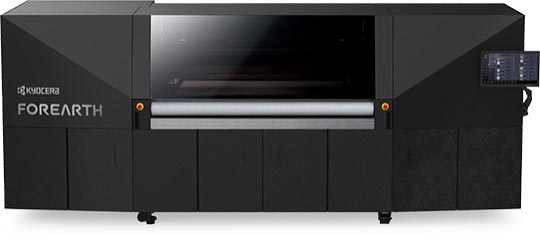 Since the initial introduction of the TASKalfa Pro 15000c, Kyocera has also announced FOREARTH, its debut inkjet textile printing solution. Developed with sustainability at its core, this device incorporates an all-in-one textile printing system, KIPS, proprietary Picfy pigment ink, pre-treatment liquid, and finishing agent, for water-free production. FOREARTH even recycles cleaning water used for the conveyor belt.
Go-to-Market Organization
Kyocera is a successful document solution provider and understands the importance of establishing a direct market connection. They want to come to the market with very reliable solutions that can be used immediately so that they can see instant benefits. If they deliver the right product, ultimately that means the customer will be happy and provide good feedback to the industry, which will allow the development of new technologies for other applications and other markets.
In order to ensure success, they need to have a strong go-to-market program to support their expanding product line. As seen with its inkjet innovation, Kyocera has this down to a T. They bring in experienced lead people to create a strong and efficient global organization. That means, in order to promote the product across the world, and not just in Japan or the US, they will need to approach each country's market with the right method and the right channel, but also with the right package in terms of marketing, sales, and training.
"The TASKalfa Pro 15000c is our first entry into the production market, although we are no stranger to production because, as you know, our printheads are in everything out there. So basically, what we did was to look at the available business, see a customer need, and decided to take those heads and develop our own engine and ink to wrap around it," says Fred Morrone, Senior Marketing Manager, Production Inkjet Marketing for Kyocera Document Solutions America. With about 30 years in the production print business, and over five with Kyocera, he is ready for the challenge of expanding Kyocera's market footprint.
The marketing team currently consists of eight industry professionals, including product managers, marketing managers, workflow integration, production print specialists (PPS), and a business development manager. Moreover, each sales operation has a production print specialist on board, and they are working on pairing each of those with an analyst. Additionally, they have a PPS team out in the field to work with both dealers and direct for pre and post-sales support.
As demand for the TASKalfa Pro 15000c continues to ramp up, Kyocera is distributing through a variety of channels. They have a nationwide direct organization and also have distributors and dealers. Currently, BlueCrest, MCS, and Ricoh distribute their production print products. The dealers require a strict vetting process and have to meet all requirements to ensure that the high standards associated with the Kyocera brand are consistently met. Kyocera distributors all have their own service staff that are provided with Kyocera training. The support they receive is ongoing as evidenced by the fact that Kyocera joins them on site for every install. After the installation, if dealers encounter difficulties, they will go out on-site to help support them. "We are very proactive about getting the machines up and running as quickly as possible. We understand that downtime is a bad concept in the production world, so we want to make sure that we provide as much help as possible," says Morrone.
Lots of Growth Opportunities
Inkjet is facilitating many new bespoke solutions that are moving print from a standalone process to become a part of the product manufacturing process. Everything suggests that its role in packaging, direct object printing of bottles, cans, and other containers on the production line will continue to grow. The digital production of corrugated and flexible packaging will provide FMCG (Fast Moving Consumer Goods) manufacturers with the content and time flexibility required to support changing market requirements. While many commercial print applications are served by standalone presses, they are also seeing the benefits of bespoke solutions in the form of complete inline production systems. If designed well, purpose-built solutions provide more cost-effective and timely solutions with fewer setups and less handling.
The needs of packaging print are different than that of a standalone commercial printing press, imaging on ceramics, or the dispersion of biomedical materials and even printed electronics. This is why maintaining an agnostic, yet holistic view of the application use is the key to an optimal solution. Kyocera is not the only company that is developing inkjet solutions for print applications, but they are also bringing to the market significant experience and an established go-to-market team. It will be interesting to see what they create in the future.
For more information, visit Kyocera.
More to Come…
2023 is starting to move at an increased pace, with drupa 2024 beginning to shine its light. I would like to address your interests and concerns in future articles as it relates to the manufacturing of Print, Packaging, and Labels, and how, if at all, it drives future workflows including "Industry 4.0." If you have any interesting examples of hybrid and bespoke manufacturing, I am very anxious to hear about them. Please feel free to contact me at [email protected] with any questions, suggestions, or examples of interesting applications.