Our Type of Town
Although more people lay claim to having invented the typewriter than there are keys on an average typewriter, the first commercially successful typewriter was patented by Christopher Latham Sholes, Frank Haven Hall, Carlos Glidden, and Samuel W. Soule in 1868 in Milwaukee, Wis. And last month, the city of Milwaukee finally acknowledged itself as the birthplace of the typewriter by holding the inaugural QWERTYFEST. Says Atlas Obscura:
Held from June 23 to June 25, QWERTYFEST was an inky paradise for collectors, artists, history buffs, and word nerds alike. The event featured live music, typewriting workshops, typewriter poetry 'busking,' and a local market featuring honey made by cemetery bees and a typewriter autographed by well-known typewriter enthusiast Tom Hanks. There was also brunch, open mics, and a scripted "Clackathon" performance. Developed alongside local theater company Quasimodo Physical Theater, the Clackathon featured fight scenes, crowd interaction, and a nefarious Chat GPT "villain." The weekend culminated in a ceremony recognizing a signed decree from Milwaukee Mayor Cavalier Johnson declaring June 24 "QWERTY MKE Day." The local celebration follows National Typewriter Day on June 23.
Did you know there was a National Typewriter Day? You do now! The fest also included a performance by Milwaukee folk punk band Nineteen Thirteen featuring a guest musician, poet Monica Thomas, playing backup percussion on a vintage Remington.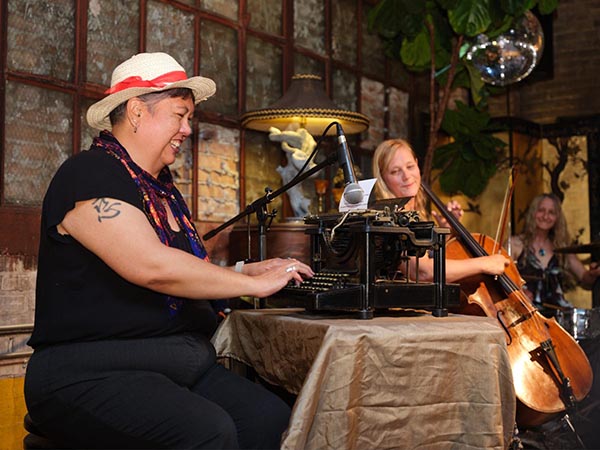 Snyder and Krulos were both pleasantly surprised by the wide range of QWERTYFEST attendees, from older enthusiasts who had been typing for years, to people who had never used a typewriter before. "I was really struck by the diversity of the age range and different types of people," Krulos says. "They showed up from all walks of life, because they have an interest in this history and these machines."
They're already planning next year's QWERTYFEST.
The Image Has Gone
Oh, Vienna… Some bad news for fans of print journalism: via The Guardian, the world's oldest national newspaper has produced its final print edition. The Wiener Zeitung, a Vienna-based daily newspaper, started publishing in August 1703, and covered such stories over the years as a 1768 concert featuring an "especially talented" 12-year-old (that would be Mozart) and published the abdication letter of the last Habsburg emperor, Kaiser Karl, following Austria's defeat at the end of the First World War. Although owned by the Austrian government, the paper was editorially independent.
Interestingly, it was not the usual suspects that led the publisher to discontinue the print edition, but rather a recent law change that led it to become unprofitable.
The law, which was passed in April by Austria's coalition government, ended a legal requirement for companies to pay to publish public announcements in the print edition of the newspaper, terminating Wiener Zeitung's role as an official gazette.
This change resulted in an estimated €18m (£15m) loss of income for the publisher, according to Der Spiegel, and has forced the paper to cut 63 jobs, including reducing its editorial staff from 55 to 20.
("Requiring companies to pay to publish public announcements." Hmm…looking at our Newsfeed…hmmm.…) Anyway, the publisher was not happy about it.
In its last daily print edition on Friday, it ran an editorial blaming the government's new law for the end of its print run and said: "These are stormy times for quality journalism … On more and more platforms, serious content vies for attention with fake news, cat videos and conspiracy theories."
Wiener Zeitung will continue to publish online, sans cat videos, and hopes to produce a monthly print edition, although they have not worked out the details of that yet.
Smashing Success
Here's an alarming headline. From the Washington Post: "People are paying to break printers with sledgehammers in smash rooms." We just cannot condone that kind of violence against people in our industr— What? Oh, they mean desktop printers. Oh, well that makes sense…
That sort of rage against the machine has spawned an entire industry. Across the United States, customers can book sessions at a smash rooms and pay anything from dozens to hundreds of dollars to smash dishes, furniture and — most of all — printers.
… Why do Americans loathe printers so much they're paying actual money to hit them with sledgehammers? So many reasons, say smashers. Printers jam and run out of ink and confuse the interns, not to mention more serious offenses like their irreplaceable components and short life cycles. (HP, the largest printer maker by shipments, declined to comment.)
To be honest, of all the devices that complicate our lives, printers are probably among the least egregious. A smash room full of iPhones? Now you've got something.
Graphene Has Skin in the Game
Was it a good week for graphene news? It's always a good week for graphene news! Graphene-based "e-skin"! From (who else?) Graphene-Info:
Researchers at Queen Mary University, University of Sussex and University of Brighton have integrated graphene into seaweed to create nanocomposite microcapsules for highly tunable and sustainable epidermal electronics. When assembled into networks, the tiny capsules can record muscular, breathing, pulse, and blood pressure measurements in real-time with ultrahigh precision.
The scientists used seaweed and salt, two very commonly used materials in the restaurant industry, to create graphene capsules made up of a solid seaweed/graphene gel layer surrounding a liquid graphene ink core. This technique is similar to how Michelin star restaurants serve capsules with a solid seaweed/raspberry jam layer surrounding a liquid jam core.
Do they?
Unlike the molecular gastronomy capsules though, the graphene capsules are very sensitive to pressure; so, when squeezed or compressed, their electrical properties change dramatically. This means that they can be utilized as highly efficient strain sensors and can facilitate the creation of smart wearable skin-on devices for high precision, real-time biomechanical and vital signs measurements.
And you can eat them when you're done.
Aqualamb, My Friend
Those of us of a certain age fondly remember the album cover—a 12x12-inch artistic canvas that displayed some of the most iconic images in pop culture history. (And a fair chunk of those iconic images were the work of one design firm, Hipgnosis, the subjects of a new documentary.) When vinyl records were replaced by CDs, the canvas became all that much smaller, and now in the age of streaming and iTunes, there is barely any visible art at all, or what there is is now the size of a postage stamp.
One design firm, however, is out to make music visual again. Via Print magazine, Brooklyn-based Aqualamb is a combination record label/design firm run by a duo of graphic designers and musicians who release printed books of artwork that are intended to complement the music they produce. At first creating the artwork for their own bands Descender and…another band name…, they also began creating artwork for other bands in their orbit. Said Aqualamb's Johnathan Swafford:
Eric and I are both graphic designers. We talked extensively about labels we admired and how one could function. Being designers, we were heavily influenced by visual design and books. I can trace my interest in art and design from staring at my dad's vinyl record covers as a kid while listening to music.
At that point in time, music listening shifted from physical mediums to downloadable MP3s and streaming services. With a flat 800 x 800 square, music was becoming invisible. CDs were dead and although vinyl was becoming popular, we felt that creating cheap 100-page paperback books about the records could allow fans to interact with the music tangibly.
Is it a viable business model?
It is a very long road to the middle. Running a record label and publishing books is also like owning a boat. You can always sink more money into it. Aqualamb is break-even. Honestly, it's still a crapshoot whether something takes off, even with a lot of money behind it.
Aqualamb puts out a lot of esoteric bands, but these are acts we feel deserve bigger audiences. All our artists deserve to break it big, but whether it cuts through the noise to something bigger takes a combination of talent, touring, PR, marketing, branding, design and luck.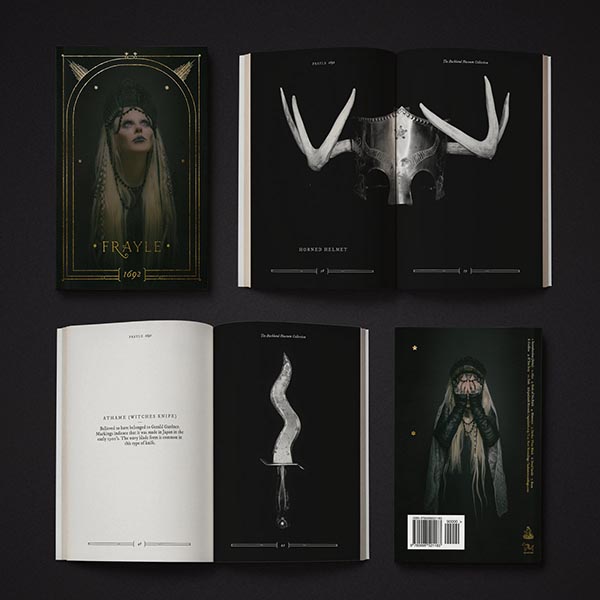 Album cover/book for "witchy doom band" Frayle's "1692."
Pretty neat. Aqualamb has released 35 albums/books this far, and is now working on its first hardcover book. Their catalog can be found at Aqualamb.com.
Dog Gone
We hope you had a fun Fourth of July, but most of all we hope your dog had a relatively good Fourth. For many dogs and their owners, July 4th can be a traumatic time, as many dogs get very upset by fireworks, firecrackers, and other loud noises. If your dog is easily traumatized by scary noises (and thunderstorms can also be an issue), Pawnix has come out with a line of noise-canceling headphones for dogs.
PAWNIX Noise-Cancelling headset works for many other noises, not just thunderstorms and fireworks. It takes any loud noise and reduces the volume. When dogs wear PAWNIX, the decibel level of loud noises is reduced up to 30 decibels. That means that loud firework shows become the loudness level of a dyson vacuum, or a running dishwasher.
The headphone volume can be controlled with a phone or tablet, perhaps even by the dog itself.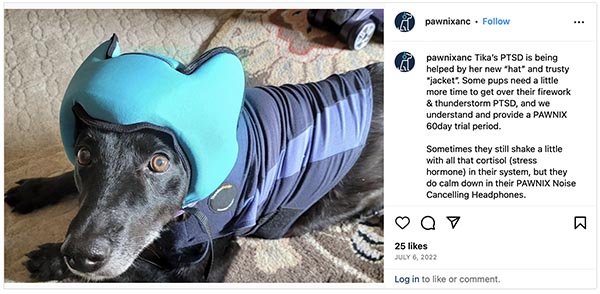 Flying Past
One of the key elements of the science-fiction of the past's vision of the future (i.e., the present) has been the flying car. After all, that's when we know that the future we've been promised finally arrives: when we have flying cars. Well, that future could very well be the present before long, as the FAA has just granted Alef Aeronautics, a California automaker that has indeed been developing a flying car, approval for test flights. Says Insider:
Alef Aeronautics, a Californian automaker, said in a press release it had received a Special Airworthiness Certification from the Federal Aviation Administration (FAA) for the Model A.
It's the first such approval for a flight-capable car, according to the startup, which has been backed by the likes of SpaceX.
Hmmm…
Due to evolving FAA restrictions tied to the unprecedented capabilities of flying cars, Alef said its certification limits the locations and purpose for which it is permitted to fly.
One would hope so.
The flying car is able to take off vertically or horizontally, and can carry up to two people. It's expected to have a road range of 200 miles and a flying range of 110 miles.
It's an electric car, so you really want to make sure you are fully charged before you take off.
The company aimed to produce the first flying car with both street driving and vertical take-off capabilities. It's designed to fit within existing urban infrastructure for driving and parking.
Try to envision a flying car taking off from—or landing on—a New York City street. That would be pretty amusing—or terrifying.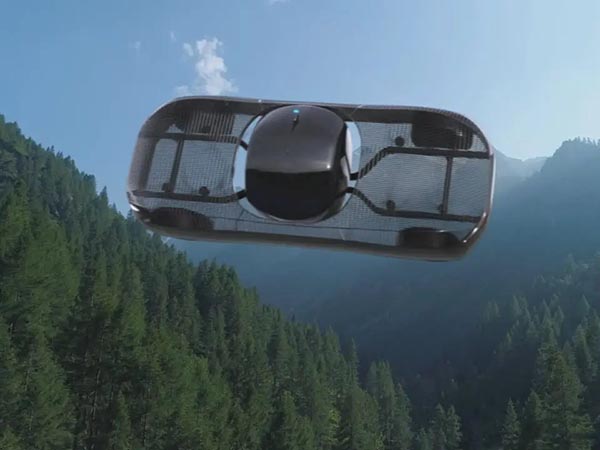 It will set you back about $300,000. At the moment, you can pay a $150 deposit to be put on the list for when deliveries start—a date which is, well, up in the air.
Low Rider
If you've ever wanted to limbo in a car, here is the one for you. Via Core77:
Carmagheddon, an Italian collective of automotive hackers, took the trend of lowering cars to its most extreme possibility.
That's a trend? OK. At any rate, they took a Fiat Panda and removed as much of it as they could to create the lowest drivable car.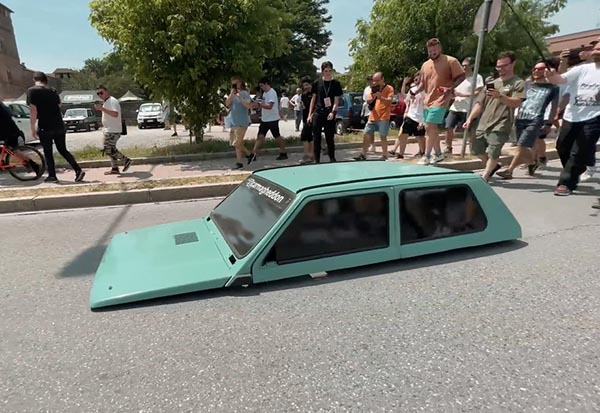 There is actually a driver in there. Pretty neat—but does it fly?
Watch how they made it, although the video is better if you know Italian.
Are You a Fungi?
Many of us try to make eco-conscious choices in many areas of our lives, but some have even made Earth-friendly choices in their deaths. Indeed, "green burial" is now a thing, and there is even a Green Burial Council dedicated to "caring for the dead with minimal environmental impact that aids in the conservation of natural resources, reduction of carbon emissions, protection of worker health, and the restoration and/or preservation of habitat." Now, via AP, Loop Biotech is taking a more sustainable approach to coffins by producing them from mushrooms. Essentially, they put mycelium, the root structure of mushrooms, in a mold, add some hemp fiber and in about a week, they have a mushroom casket.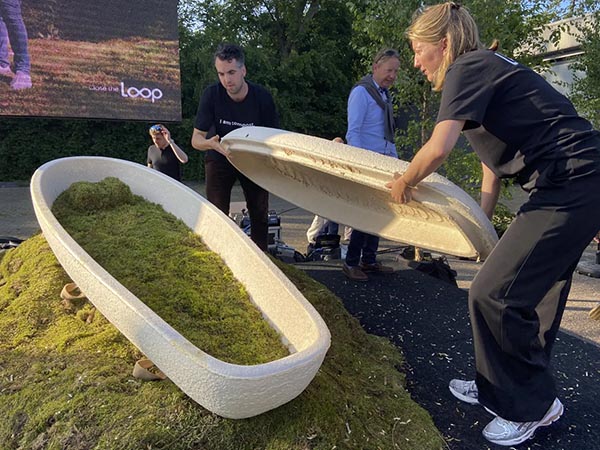 Either they need to be a little longer or that woman is enormous.
And while traditional wooden coffins come from trees that can take decades to grow and years to break down in the soil, the mushroom versions biodegrades and delivers the remains to nature in barely a month and a half.
Faster than its contents, we suspect.
And for those preferring cremation, there is also an urn they grow which can be buried with a sapling sticking out. So when the urn is broken down, the ashes can help give life to the tree.
"Instead of: 'we die, we end up in the soil and that's it,' Now there is a new story : we can enrich life after death and you can continue to thrive as a new plant or tree," Hendrikx said in an interview. "It brings a new narrative in which we can be part of something bigger than ourselves."
So when Barbara Walters famously asked Katharine Hepburn what kind of tree she was, she was way ahead of her time.
A Maze-ing
If you happen to be in Paris at all the summer, we bet the first item on your agenda is going to be "Tim Burton's Labyrinth," an immersive tour of the director's various surreal universes.
Currently on the second leg of a global tour, "Tim Burton's Labyrinth" is being staged at Paris's Parc de la Villette through August 20.
This is not, however, an immersive experience of panoramic screens and dazzling projection mapping. It's the physical kind—a button press, door push, down-the-rabbit hole maze—one Burton calls a "weird funhouse." Under a giant tent inside Villete Park, visitors stumble along one of more than 300 possible labyrinth routes encountering Burton's full filmography along the way.
For example?
For Charlie and the Chocolate Factory, there's a mirror room of contorted candy canes, for The Joker, a wall scrawled with demonic neon laughter, and for The Nightmare Before Christmas, an enormous Jack Skellington looming over a doorway. From the flooring to the soundscape, each space is a detailed miniature of a Burton universe. No matter the chosen route, organizers promise that visitors will encounter their favorite film—Burton's early, lesser-known titles included.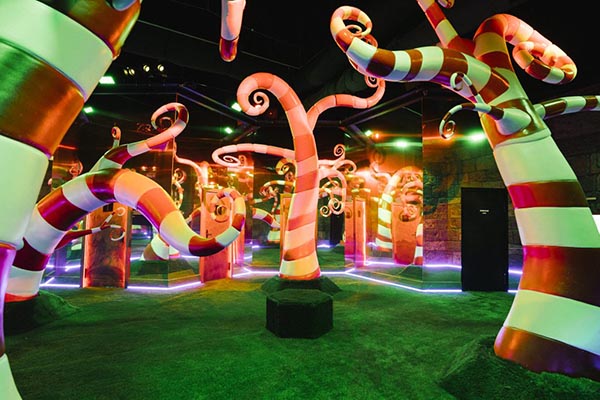 Hold the Mayo
If you're like most of us, you have an inordinate collection of condiment packets stashed away in the fridge or a drawer—the various soy sauces, ketchups, mustards, mayos, or more exotic substances that came with our takeout or delivery orders of yesteryear. So what do you do when they hit a certain critical mass? Yes, you open a museum. And thus we give you…the Condiment Packet Gallery.
I began collecting condiment packets in November of 2003. Initially the purpose of the collection was a more practical one. I came to the conclusion that ketchup was no longer a reasonable thing to spend money on. A handful of packets here and there would do just fine. I began to pick up other condiments as well. I stopped at a variety of locations in order to gather new types of condiments. It was around this time that I discovered how many different condiment packets existed. A collector by nature, the only logical thing for me to do was attempt to get every different packet design I possibly could.
The distinction between "collector" and "hoarder" is a very fine one indeed. The Gallery is divided by type of condiment—Ketchup, Mustard, Mayo, Asian, Seafood, etc.—and even by company (Heinz) or fast food chain.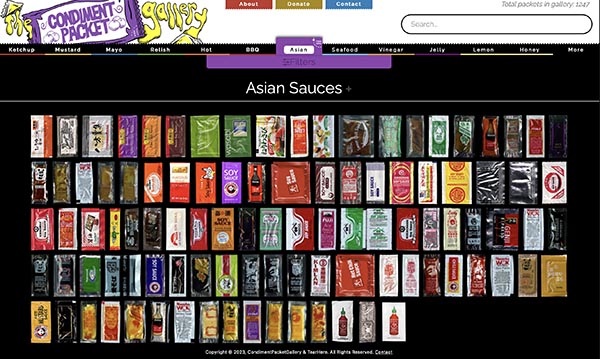 And clicking on each packet gives you a closer look: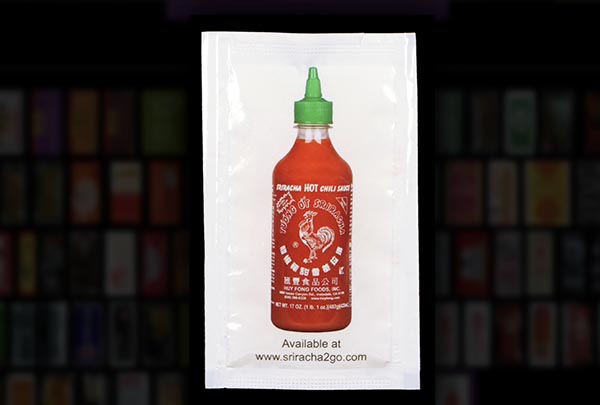 There are currently 1,247 packets in the gallery—and the curator is always looking for more. Some caveats, though: they must only be squeezable "tear-off-the-corner" style packets, and they do accept salt, pepper, sugar, or other "dry" paper packaging-based condiments (that's probably another gallery somewhere).
Big Cheese
Do you like Burger King? Do you like cheeseburgers, but could do without the burger? Well, if yes to both, hop on a plane to Thailand, where Burger King has introduced a "real cheeseburger"—well, two buns containing no meat but up to 20 slices of American cheese. Says CNN:
The item launched on Thai menus Sunday, at a reduced price of 109 Thai baht ($3.1), compared with the usual price of 380 baht ($10.9). It quickly went viral on social media in Thailand, with many users on TikTok posting videos of them trying the new sandwich.
A joke perhaps?
"This is no joke. This is for real," Burger King said in a Sunday social media post.
Ah.
The menu addition is an example of how fast food franchises around the world are seeking to gain traction by rolling out zany or eye-catching menu options that they hope will spread across social media.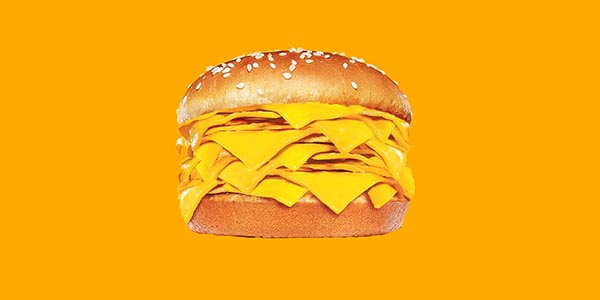 And apparently cheese is big among the Thai youth—although maybe not quite that much.
Burger King's menu in the country also includes salmon katsu burgers, an apparent nod to consumers' preference for a healthy alternative to beef.
Ooh…could we get that here in the US?
This Week in Printing, Publishing, and Media History
July 10
1851: French photographer and physicist, inventor of the daguerreotype Louis Daguerre dies (b. 1787).
1856: Serbian-American physicist and engineer Nikola Tesla born.
1863: American author and educator Clement Clarke Moore dies (b. 1779).
1871: French novelist Marcel Proust born. In Remembrance of Things Past, he probably wrote as many words in one novel as Cartland wrote in 722.
1888: Greek-Italian painter and set designer Giorgio de Chirico born.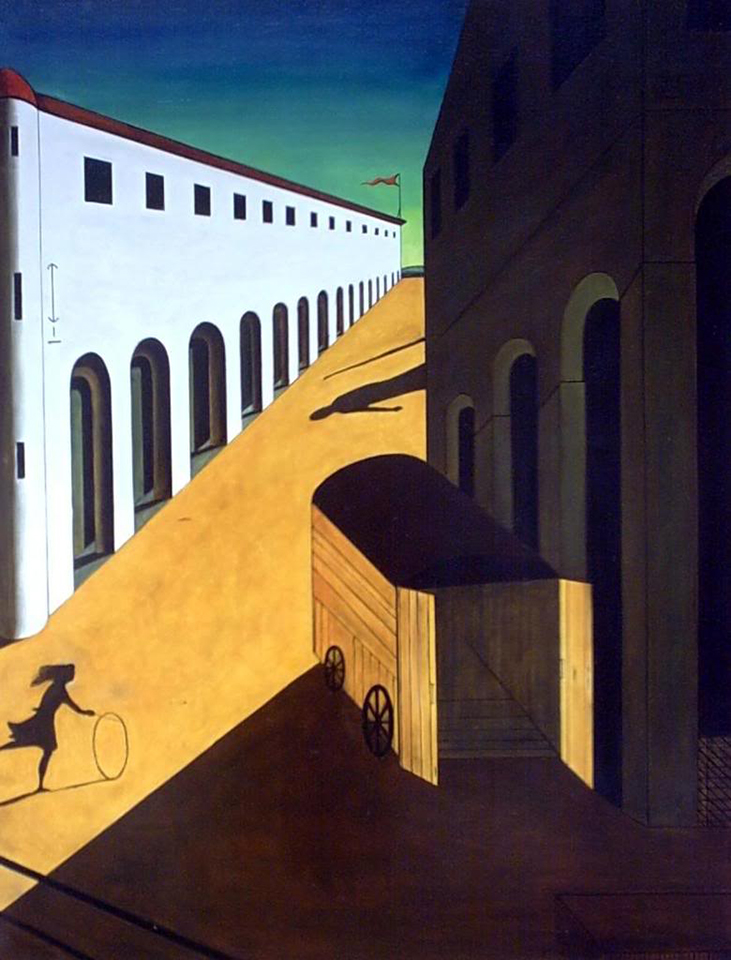 1962: Telstar, the world's first communications satellite, is launched into orbit.
1978: ABC World News Tonight premieres.
2008: Apple's AppStore opens.
July 11
1804: He did not throw away his shot: U.S. Vice President Aaron Burr (spoiler alert) mortally wounds Alexander Hamilton in a duel.
1899: American essayist and journalist E. B. White born.
1927: American-Canadian physicist and engineer, inventor of the laser, Theodore Maiman born.
1960: To Kill a Mockingbird by Harper Lee is first published in the United States.
July 12
1493: Hartmann Schedel's Nuremberg Chronicle, one of the best-documented early printed books, is published.
1580: The Ostrog Bible, one of the early printed Bibles in a Slavic language, is published.
1804: American general, economist, and politician, 1st United States Secretary of the Treasury Alexander Hamilton dies (b. 1755).
1817: American essayist, poet, and philosopher Henry David Thoreau born.
1854: George Eastman, founder of Eastman Kodak, born.
July 13
1793: Journalist and French revolutionary Jean-Paul Marat is assassinated in his bathtub by Charlotte Corday, a member of the opposing political faction.
1956: The Dartmouth workshop is the first conference on artificial intelligence.
1985: The Live Aid benefit concert takes place in London and Philadelphia, as well as other venues such as Moscow and Sydney.
July 14
1798: The Sedition Act becomes law in the United States making it a federal crime to write, publish, or utter false or malicious statements about the United States government.
1853: Opening of the first major US world's fair, the Exhibition of the Industry of All Nations in New York City.
1910: American animator, director, producer, actor, and co-founder of Hanna-Barbera William Hanna born.
1912: American singer-songwriter and guitarist Woody Guthrie born.
1965: The Mariner 4 flyby of Mars takes the first close-up photos of another planet.
1974: British comedian David Mitchell born.
2015: NASA's New Horizons probe performs the first flyby of Pluto, and thus completes the initial survey of the Solar System.
July 15
1606: Dutch painter and etcher Rembrandt van Rijn born.
1779: American author, poet, and educator Clement Clarke Moore born.
1799: The Rosetta Stone is found in the Egyptian village of Rosetta by French Captain Pierre-François Bouchard during Napoleon's Egyptian Campaign.
1930: Algerian-French philosopher and academic Jacques Derrida born.
1947: American singer-songwriter and musician Roky Erickson born.
1956: English singer-songwriter and guitarist Ian Curtis born.
2003: AOL Time Warner disbands Netscape. The Mozilla Foundation is established on the same day.
2006: Twitter is launched.
July 16
1661: The first banknotes in Europe are issued by the Swedish bank Stockholms Banco.
1862: American journalist and activist Ida B. Wells born.
1907: American farmer and businessman Orville Redenbacher popped out.
1935: The world's first parking meter is installed in Oklahoma City, Oklahoma.
1956: American playwright and screenwriter Tony Kushner born.
1969: Apollo 11, the first mission to land astronauts on the Moon, is launched from the Kennedy Space Center at Cape Kennedy, Fla.
In 2019, CBS News livestreamed the Apollo 11 launch on its YouTube channel: