WhatTheyThink: Kyocera is a well-known producer of inkjet heads. What drove the company to launch its first production inkjet press, the TASKalfa Pro 15000c?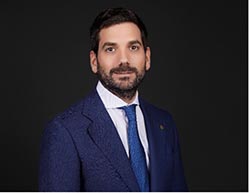 Jose Maria Estebanez: At Kyocera, our history inspires our future. While some considered us to be a rookie in the production print market, our inkjet printheads have been used by manufacturers in the industry for decades. The TASKalfa Pro 15000c represented the perfect opportunity for Kyocera to take its inkjet technology to the next level. We are meeting the needs of a clear niche in the production print market: an affordable entry point for PSPs that also offers a fantastic balance between productivity, quality, and media flexibility.
WTT: Digital production color printing is a very competitive market. Which benefits of the TASKalfa Pro 15000c gained the most interest? How did those help overcome the recent challenges of printing companies?
JME: The benefits of the TASKalfa Pro 15000c are evident from its arrival on site all the way through the finishing process at the device. Installation is easy and no special power outlets are required. Businesses want to be able to use their technologies pretty much straight out of the box—that's what they get with the TASKalfa Pro 15000c. Moreover, the robustness of this device and the few moving parts that it incorporates means that maintenance visits are both rare and quick. The TASKalfa Pro 15000c allows our customers to get on with the job at hand, without the need for service calls. The extremely competitive price point of the device is proving to be attractive for PSPs seeking to take advantage of the benefits of sheet-fed inkjet and growing market for more personalized, short-run printing. This has also been the case for organizations with higher-end devices—they are now able to add on-demand printing to their printing and drive new business in areas such as transpromotional, direct mail, and book publishing.
WTT: Service and support are crucial in production print. How did Kyocera make sure that customers are getting the best support?
JME: Service is everything here at Kyocera—it's why we invest so much in terms of time and resources making sure that our dealers get the best possible sales and service training and support. We also hold a training competition each year whereby dealers are evaluated on their capabilities to offer service.
The TASKalfa Pro 15000c proves the old mantra of "prevention is better than cure" to be absolutely true. For example, our inkjet printheads include a proprietary cleaning solution. It uses a unique cleaning solution, which is released from a special nozzle at the end of the head to a cleaning blade while keeping the printhead dry. Any dried ink dissolves and the surface is wiped clean. This means less manual maintenance and quicker service visits because only ink cartridges, cleaning liquid, and waste ink tanks need to be replaced—uptime has been calculated to be more than 96%. The confidence in the robustness of the TASKalfa Pro 15000c is evident with the additional 5-year warranty we offer on our printheads.
At Kyocera, we are lucky to count upon an exceptional dealer community. They've been a fundamental part of the success of this product. But that's not all, with the TASKalfa Pro 15000c we send our own specialists to the site for installation even if the device is purchased through a dealer when required.
WTT: Inkjet is still relatively new in the sheetfed digital printing market. What do you tell prospects reluctant to move from toner to inkjet when looking into inkjet?
JME: Previously in production print, commercial printers pretty much had two choices: offset or laser. Traditionally, laser was associated with high quality, but the technology itself was complex and challenging to maintain. What we are bringing to the table is a third option: technology that simplifies the complex. With inkjet we are offering a completely new set of benefits: brilliant quality on a lighter device. A device with our own Kyocera water-based inks making it even more environmentally friendly. Users of the TASKalfa Pro 15000c are finding the quality of the TASKalfa Pro 15000c comparable to laser printer output. With an initial estimated duty cycle of one million pages per month, results from the field show that this number is up to three million!
WTT: Let's talk a bit about the success you had. How many printers have been installed since launch and what types of companies invested in a TASKalfa Pro 15000c?
JME: We are very happy with how the product has performed to date. We now have over 200 units in the field here in the US—we shouldn't forget that the pandemic impacted sales for almost two years. Our portfolio of customers is diverse: commercial printers in marketing, direct mail, and transactional print, book publishing, and in-plant operations.
WTT: Does the TASKalfa Pro 15000c help users to expand into new application areas as well?
JME: Absolutely. JHL Direct in the Midwest, for example, has been able to leverage the versatility and variable data applications of the TASKalfa Pro 15000c to drive business growth in the political fundraising industry. By simplifying complex variable data workflows, they have been able to enjoy overall savings of between 30%-50% on what they would normally run.
WTT: The TASKalfa Pro 15000c is quite fast given its size and investment. Are customers taking advantage of the productivity?
JME: Absolutely, it quickly became apparent that this machine is for print volumes north of half a million images each month. You can imagine the reaction of customers when they realized they could hit up to three million pages a month! On average, our customers are printing around 700,000 images per month, and it's surpassing expectations in many respects. To facilitate this big productivity, we also offer three-liter ink containers. And if we consider the fact that this extra productivity comes without having to compromise on quality or uptime it's easy to understand why the TASKalfa Pro 15000c customers consider it to be an outstanding business investment.
WTT: Are there any upcoming milestones prospects should be watching out for?
JME: Last year, our PRINTING United Expo debut exceeded all expectations, and we're already counting down the days to wow the world again at the 2023 edition. Personally, I had the privilege of seeing first-hand the amazing reaction to the TASKalfa Pro 15000c in Las Vegas, and I have no doubt that we're ready to go one better in Atlanta, Georgia as even more professionals in our industry get to see why the hype is real. We've also been at a series of events across the US, including the Inkjet Summit and the In-Plant Printing and Mailing Association's In-Print event, to spread the word about this device, and we continue to see a huge amount of interest not only from customers and dealers, but even from our competitors!
Our colleagues at Kyocera Document Solutions Europe, meanwhile, have been showcasing the device at major industry events such as the Hunkeler Innovationdays and the feedback has been exceptional. The device has just been launched in Canada and the team was blown away by how much interest they received at the Graphics Canada Expo for a brand new solution on the market. The TASKalfa Pro 15000c isn't just taking the US by storm, but it's having the same impact all over the world.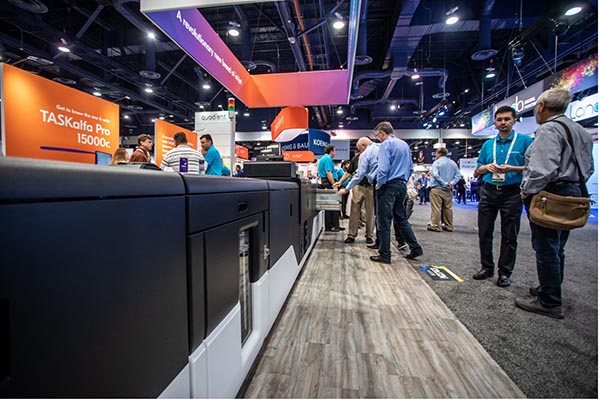 Kyocera TASKalfa Pro 15000c.
In terms of projects in the pipeline, what I can say is that we have been able to leverage the versatility of our inkjet technology. In the coming weeks and months, we will be able to reveal more details about new innovations in areas such as graphic arts and textile printing. As always with Kyocera, the next exciting announcement is never far away!
For more information, visit Kyocera.