Turning the Tables
If you still subscribe to print magazines (and we highly recommend one in particular), you probably take the table of contents for granted. Sure, they're often seen as just a quick way to find a particular article, but, as Print magazine rightly points out, the ToC is more "a distillation of the essence of the publication." The magazine recently had a feature looking at experimental tables of contents pages from publication from around the world. For example, Year Zero is a Turkish publication (although designed in Berlin, Germany) that focuses on underground music, fashion, art and more. One particular issue had the theme of "process":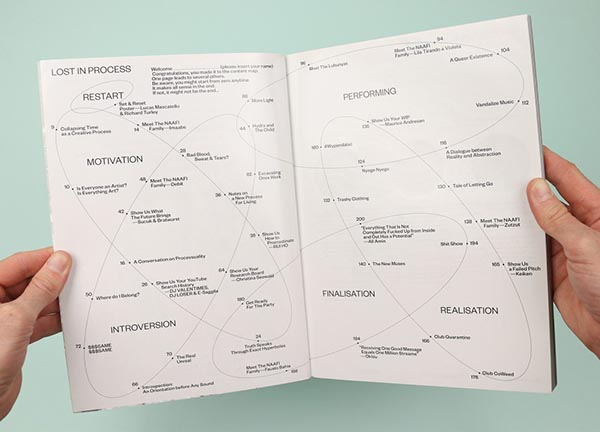 deconstructing the concept and breaking it into six stages that are visualized on the contents page as a sort of lunatic Venn diagram, showing the places where the processes overlap one another.
And Interview magazine (which we didn't even know was still around!) has a bit of fun with an otherwise fairly straightforward ToC.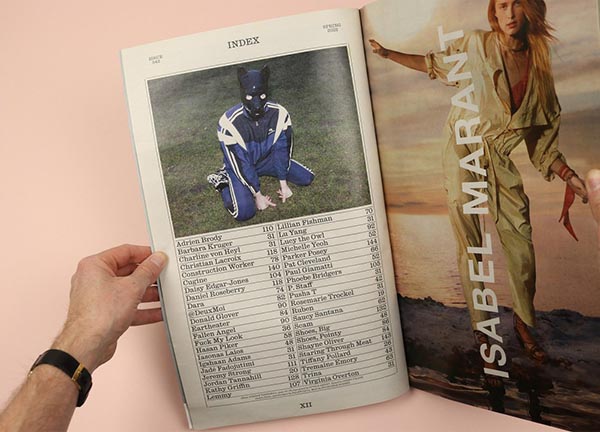 Interview's contents page opts for a simple alphabetical order that means you can jump straight to the star interviewee or interviewer of your choice. Of course this isn't all about straight-up practicality, though, and alongside the parade of famous and cool people is a sprinkling of funny and characterful additions, like Lucy the Owl, from Donald Glover's cover shoot; Shoes, Big (page 48); and Shoes, Pointy (page 86).
If you're looking for inspiration in designing your own table of contents, check it out.
Letterimpress
WhatTheyThink contributor Mark V (heir to the throne of Mark IV) points us to this local news feature on Bay View Printing Company in Milwaukee. Founded 105 years ago, the company still uses an old 1930s-era letterpress press to print invitations and other specialty items.
These days, printers can create some amazing prints and graphics, but what was the world like before they existed? Brian Kramp is at Bay View Printing learning how to use a letterpress where a print surface is pressed against a piece of paper to create the print and impression.
We assume they mean desktop printers and not people operating printing presses. The press runs 40 hours a week. They also host weekly "Drink & Ink" workshops. Pretty neat.
Watch it:
https://www.fox6now.com/video/1227593
Take Two Tablets a Day
It's hard to imagine that the everyday, humdrum documents we generate will someday end up in a museum, but it's possible the ancient Egyptians thought the same. However, their everyday, humdrum documents actually have ended up in museums. After all, the Rosetta Stone, perhaps the most visited item in the British Museum, is little more than a press release—it was a decree a decree establishing the divine cult of new ruler King Ptolemy V.) Another ancient Egyptian tablet in the British Museum's collection is basically an employee punch clock. Says My Modern Met:
Calling in sick to work is apparently an ancient tradition. Whether it's the sniffles or a scorpion bite, somedays you just can't make it. As it turns out, Ancient Egyptian employers kept track of employee days off in registers written on tablets. A tablet held by The British Museum and dating to 1250 BCE is an incredible window into ancient work-life balance. The 40 employees listed are marked for each day they missed, with reasons ranging from illness to family obligations.
The tablet, known as an ostracon, is made of limestone with New Egyptian hieratic script inked in red and black. The days are marked by season and number, such as "month 4 of Winter, day 24." On that date, a worker named Pennub missed work because his mother was ill. Other employees were absent due to their own illnesses. One Huynefer was frequently "suffering with his eye." Seba, meanwhile, was bit by a scorpion. Several employees also had to take time off to embalm and wrap their deceased relatives.
So someday our Slack channel posts will be on display for our descendants to marvel at and study. What a terrifying thought…
Nobody Walks in LA
Well, actually they do, but it's not always safe. Which is why, via Boing Boing, a group of "crosswalk vigilantes" are taking matters into their own hands and are painting crosswalks at busy or dangerous intersections. Called Crosswalk Collective they solicit requests for intersections on their website and secretly and quickly go out and paint crosswalks to help reduce car-pedestrian accidents. The city sometimes erases them—xing them out, if you will.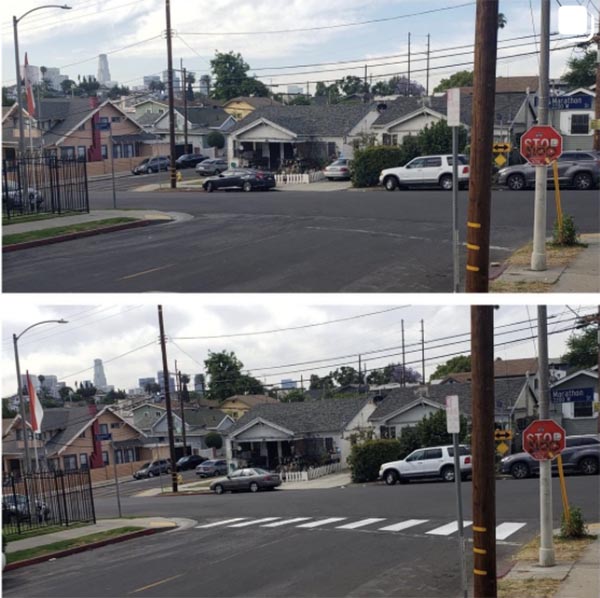 AI-Yi-Yi, Part the Infinity: The Long Goodbye
Fiction and mythology have long been rife with cautionary tales about bringing the dead back to life. From the myth of Orpheus and Eurydice, to the classic tale of horror "The Monkey's Paw," to the Stephen King novel (and Ramones song) Pet Sematary, it never comes to a happy conclusion. And now, AI is getting involved, so you know bad s**t is gonna go down. Says Futurism, in what could be (and may actually have been) an episode of Black Mirror:
most companies operating in the grief tech space market their work as a means of preservation, as opposed to resurrection. Upload your writings, memories, and voice recordings into a service, and it creates an algorithmic version of you that surviving friends and family can interface with.
After all, you can't resurrect someone you've never actually lost. Right?
But fascinatingly, that's where an upcoming service called Seance AI — yes, it's actually called that — sets itself apart. It's built by a software development lab called AE Studio, where its creator, a designer named Jarren Rocks, isn't shy about the straightforwardness of the product's name. While other companies often talk around any implication of resurrection, Rocks leans full-tilt into the ghoulishness — and according to him, it's very intentional.
… If a user is looking for a final conversation with someone they've lost, maybe it is better to give them a product that blatantly claims to allow them a brief conversation with the deceased, rather than imply that the soul of a dead friend or parent is trapped in ChatGPT. (Seance AI is powered by OpenAI's API.)
They do point out that it is not intended to be a permanent replacement for a loved one.
"It's essentially meant to be a short interaction that can provide a sense of closure. That's really where the main focus is here," said Rocks. "It's not meant to be something super long-term. In its current state, it's meant to provide a conversation for closure and emotional processing."
What could possibly go wrong?
A Plague of Lighthouse Keepers
Feel like getting away from it all, abandoning the hurly burly of the city or suburbs and living alone by the sea? If so, why not buy a lighthouse? Once a necessity for maritime safety, today in the age of GPS they are pretty much obsolete. But there is a certain beauty in a lighthouse and they are very much a part of our heritage worth preserving. So the US Government has been auctioning off lighthouses on the Eastern seaboard ever since passage of the National Historic Lighthouse Preservation Act of 2000—some for free. Says AP:
About 150 lighthouses have been transferred, 80 or so given away and another 70 auctioned, raising more than $10 million.
This year, six lighthouses are being offered at no cost to federal, state or local government agencies, nonprofits, educational organizations or other entities that are willing to maintain and preserve them and make them publicly available for educational, recreational or cultural purposes.
Although, as Dr. Joe could tell you, if you are planning to live in a lighthouse, you may want to avoid the "Three Skeleton Key" episode of the old-time radio show Escape (later broadcast on Suspense).
The Graphene Games
Was it a good week for graphene news? It's always a good week for graphene news! Asus has introduced a gaming monitor that uses graphene for heat management. From (who else?) Graphene-Info:
Asus has unveiled the Asus ROG Swift OLED PG49WCD, a gaming monitor that uses graphene for thermal management.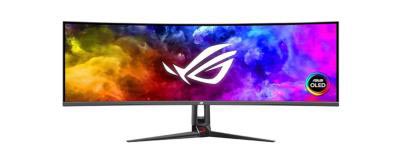 Further details—price, shipping date—are sketchy but, hey, a graphene gaming display.
Second Skin
Ah, skin. It's so much more than just a big sack for holding all our innards. It's largely how we interact with the world. For decades, scientists have tried to develop artificial skin, and while they have managed to come up with soft flexible skin-like material that can mimic the various senses and functions of natural skin—the sense of touch, temperature sending, etc.—they have not been able to get it to communicate directly with the brain. Until now. Says Stanford News:
researchers at Stanford University have produced soft integrated circuits that convert sensed pressure or temperature to electrical signals similar to the nerve impulses to communicate with the brain. The researchers hope someday that those signals might be directed to implanted wireless communication chips in the peripheral nerve to allow amputees to control prosthetic limbs. Other potential uses might include new-age implantable or wearable medical devices.
The tricky bit was getting it to function on as little power as possible.
Wang's first attempts demanded upwards of 30 or more volts and could not realize enough circuit functionality. "This new e-skin runs on just 5 volts and can detect stimuli similar to real skin," he said.
And it doesn't even involve graphene. The e-skin is about 25–50 microns thick—about as thin as a sheet of paper, and roughly the thickness of proper skin, although we all know that some people have thinner skin than others.
Reservoir Dog
We've all accidentally dropped our phones in various places that involve varying amounts of unpleasantness to retrieve. However, Rajesh Vishwas, a food inspector in India, went a little out of his (and other people's) way to get his phone back. Says the New York Times:
Rajesh Vishwas, 32, was picnicking with friends in central India on May 21 when he dropped his Samsung Galaxy S23 Ultra into the Paralkot reservoir in Chhattisgarh State, where he lives.
It was a brand-new $1,200 model and, he claimed, it contained valuable government data. So what did he do? Yes—he drained the reservoir.
Initially, some villagers he knew spent two days diving in the reservoir in an attempt to retrieve the phone, Mr. Vishwas told The Indian Express newspaper. No luck. So he rented a diesel pump and drained about three feet of water over another two days — by some estimates, enough to irrigate 1,500 acres of farmland.
Perfect in a drought-stricken country. He has since been suspended—and the retrieved phone didn't work anyway. Doh!
Lighter than Aircraft
Just when you thought flying couldn't get more intrusive and personal (heck, there are some TSA agents who owe us dinner and flowers), here comes Air New Zealand. Says CNN:
New Zealand's Civil Aviation Authority is asking that its national airline weigh passengers departing on international flights from Auckland International Airport through July 2, 2023.
Why would they be doing this? The airline claims it is just gathering data on weight load and distribution.
"We weigh everything that goes on the aircraft – from the cargo to the meals onboard, to the luggage in the hold," Alastair James, the airline's load control improvement specialist said in a statement. "For customers, crew and cabin bags, we use average weights, which we get from doing this survey."
Or is this a prelude to what Samoa Air pioneered in the 2010s—charging passengers according to their weight?
A Samoan airline that has become the world's first carrier to charge passengers according to their weight has defended its policy. People wishing to travel with Samoa Air have to submit their weight, including their luggage, when booking to calculate their fare.
Hmm…
Hammer Time
Core77's Rain Noe is understandably bewildered by this…interesting approach to a hammer. Called the Hammer Fist, it was apparently designed by someone who doesn't understand physics, as a handle is what gives the hammer its striking force.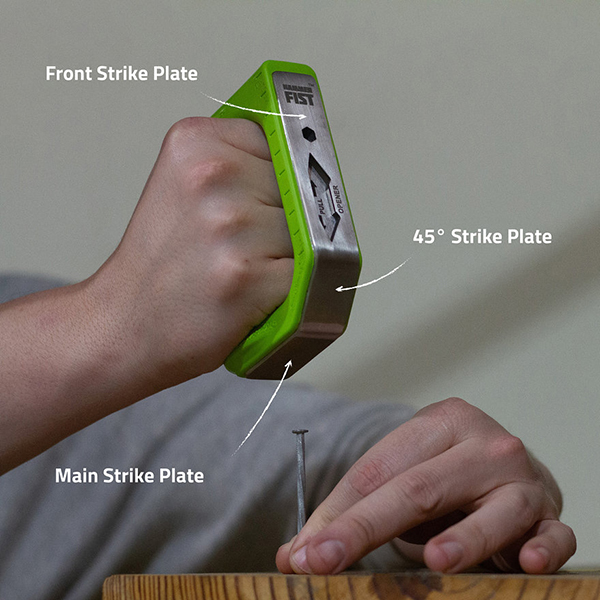 After all, without a handle, you are using just your own strength—which may be considerable, but still… It also looks like it would be painful. Interestingly, it's sold at Home Depot and some of the customer comments are…interesting. Are we sure this isn't meant as a weapon or some kind of self-defense tool?
The Night They Invented Plastic Champagne Bottles
We're not sure we need more plastic bottles in the world, but, via Core77, it looks like plastic sparkling wine and maybe even champagne bottles are on their way.
Having won Milan Design Week's 2023 Best Packaging contest, SIPA Packaging's design for a PET sparkling wine bottle will reportedly be coming to market. The recyclable bottle "maximizes logistics efficiencies, minimizes handling risks, runs on existing glass-filling lines, and has a lower carbon footprint," says SIPA.
Apparently, says the company, there has been a glass shortage due to "supply chain problems." Indeed, the average cost of a glass wine bottle increased 23% from April 2020 to April 2023, and even doubled in some European markets. They are bringing the bottle to market just in time for International Wine Day.
The bottles are said to be fully recyclable. We're not sure how hardcore oenophiles are going to take to them. And it would certainly make ship christenings a bit silly.
Did anything catch your eye "around the Web" this week? Let us know at [email protected].
This Week in Printing, Publishing, and Media History
May 29
1874: English essayist, poet, playwright, and novelist G. K. Chesterton born.
1886: Pharmacist John Pemberton, inventor of Coca-Cola, places the first advertisement for his product in The Atlanta Journal. It would not be the last.
1911: English playwright and poet W. S. Gilbert dies (b. 1836).
1913: Igor Stravinsky's ballet score The Rite of Spring receives its premiere performance in Paris, France, provoking a riot.
2019: The YouTube channel T-series (an Indian music record label and film production company) is the first YouTube channel to reach 100 million subscribers.
May 30
1631: The first French newspaper, Gazette de France, makes its début.
1744: English poet, essayist, and translator Alexander Pope dies (b. 1688).
1960: Russian poet, novelist, and literary translator, Nobel Prize laureate Boris Pasternak dies (b. 1890).
May 31
1669: Samuel Pepys records the last event in his famous diary, due to failing eyesight.
1790: The United States enacts the Copyright Act of 1790, the country's first copyright statute.
1819: American poet, essayist, and journalist Walt Whitman born.
1894: American comedian, radio host, game show panelist, and author Fred Allen (né John Florence Sullivan) born.
2005: Vanity Fair reveals that Mark Felt was "Deep Throat."
June 1
1495: John Cor, a Scottish monk and servant at the court of James IV, records the first known batch of Scotch whisky.
1857: Charles Baudelaire's Les Fleurs du mal is published.
1872: American publisher, founder of the New York Herald James Gordon Bennett, Sr. dies (b. 1795).
1890: The United States Census Bureau begins using Herman Hollerith's tabulating machine—the first "computer"—to count census results. They may still be using it.
1936: English illustrator and animator Gerald Scarfe born.
1980: Cable News Network (CNN) begins broadcasting. And thus begins the decline of newspaper circulation.
June 2
1840: English novelist and poet Thomas Hardy born.
1896: Guglielmo Marconi applies for a patent for his wireless telegraph.
June 3
1140: The French scholar Peter Abelard is found guilty of heresy.
1889: The first long-distance electric power transmission line in the United States is completed, running 14 miles (23 km) between a generator at Willamette Falls and downtown Portland, Ore.
1924: Czech-Austrian lawyer and author Franz Kafka dies (b. 1883).
1929: American game show host and producer Chuck Barris born.
1961: American lawyer, academic, author, and founder of the Creative Commons Lawrence Lessig born.
1965: The launch of Gemini 4, the first multi-day space mission by a NASA crew. Ed White, a crew member, performs the first American spacewalk.
June 4
1783: The Montgolfier brothers publicly demonstrate their montgolfière (hot air balloon).
1876: An express train called the Transcontinental Express arrives in San Francisco, via the First Transcontinental Railroad only 83 hours and 39 minutes after leaving New York City. (Insert your own Amtrak joke here.)
1907: American actress Rosalind Russell born. Russell starred with Cary Grant in His Girl Friday, one of the best—and funniest—newspaper movies ever made.
1917: The first Pulitzer Prizes are awarded. Laura E. Richards, Maude H. Elliott, and Florence Hall win the first Pulitzer for biography (for Julia Ward Howe); Jean Jules Jusserand wins the first Pulitzer for history for his work With Americans of Past and Present Days; and Herbert B. Swope receives the first Pulitzer for journalism for his work for the New York World.