Digital textile dye-sublimation printing is a rapidly growing sector within the large-format print industry. The desire to keep up with customer demands and growing expectations is taken into consideration with the ever-changing landscape print providers find themselves operating in. With costs up across the board, print providers must invest in technology that offers the highest quality and the quickest turn around time, while reducing touchpoints and additional steps to produce a completed product. These requirements inspire innovation, and Durst has delivered a solution in the form of the P5 TEX iSUB.
A member of the Durst P5 Production Excellence family, the P5 TEX iSUB is built with five core attributes: productivity, reliability, workflow, versatility, and print quality. The high flexibility, versatility and efficiency of these printers are advanced by Durst Software solutions to get the maximum out of print production. All Durst P5 hybrid printers feature a maximum print width of 3.3 meters, state-of-the-art, touchscreen user interfaces, and leading-edge remote service capabilities. Everything is designed to maximize performance and uptime of the printer, creating the most optimal printer for every print environment.
The P5 TEX iSUB is an industrial grade dye-sublimation printer with an integrated inline fixation for a one-step direct-to-fabric printing process. This press is not limited to direct printing, but also allows transfer papers to be printed and further processed in the usual way. The P5 TEX iSUB sees productivity up to 1,850 sq. ft./hr. with direct printing inline fixation and up to 4,122 sq. ft./hr. for transfer paper printing. In addition to single-roll printing, the P5 TEX iSUB can print two rolls via the Multi-roll option and the Dual-roll option. Other features such as the built-in sewing unit, optimized dye-sub ink, and specialized software round out the full spectrum of features on the P5 TEX iSUB.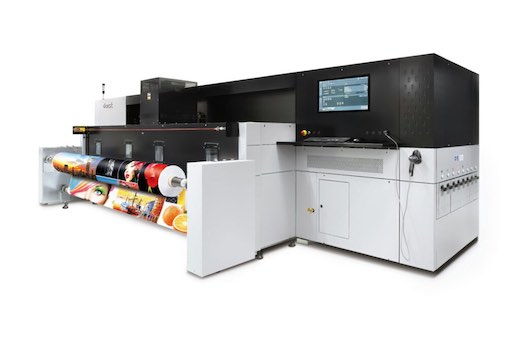 Easily the most innovative feature of the P5 TEX iSUB is the integrated IR inline fixation for direct printing. This process allows for speed, while still ensuring excellent color consistency as well as extreme sharpness of detail in images and eliminating blurring or bleeding of color. This is accomplished by heating equally along the whole width and having high precision sensors for temperature control. In addition, the dryer includes a Smart-Exhaust System (SES), which efficiently exhausts evaporation while printing and prevents ink mist and color set-off. This feature allows for printing and fixing in one step, eliminating the need for an external heat press, and allowing the entire print process to be handled by one operator.
One of the many versatile features of the P5 TEX iSUB is the ability to print both directly to fabrics while still offering printing capabilities to traditional transfer paper. To optimize transfer paper printing, light weight vacuum print plates can be easily mounted, giving the perfect amount of suction to deliver accurate and repeatable drop placement, and sharp details every time.
The roll configurations available on the P5 TEX iSUB adds versatility to the printer. Multi-roll capability allows machine operators to prep and stage the next roll while the first one is printing, allowing for a faster material change (reducing downtime). In addition, the Dual-roll option allows two rolls with a width of 64-in. each to be printed. Dual-roll printing allows operators to take full advantage of the system and run two jobs simultaneously, increasing efficiency. To further enhance these printing capabilities, our sewing station allows operators to attach the next roll to the one loaded in the system during a changeover, saving money by reducing web lengths.
The Sublifix dye-sublimation ink developed by Durst provides optimum performance for a wide range of soft signage and fabric applications. For use with both direct and transfer paper printing, the Sublifix ink set delivers vivid colors, even on difficult media such as blackback or backlit for light boxes or flags. This fast-drying ink offers a wide color gamut and consistency, no bleeding, and is Oeko-Tex Standard compliant.
Durst Software Solutions elevate the printing experience by maximizing the functionality of the printer. Durst Workflow is a browser-based prepress and print production solution combining data, output preparation, and color management to ensure efficient production with optimal results in the shortest possible time. Durst Analytics helps to increase transparency of your production output and to monitor your printing systems. Durst Smart Shop is an innovative online shop system for the complete handling of your print and internet orders. Offer and sell your products and printing services on the internet. These make the printer into a production unit from day one.
The benefits of the P5 TEX iSUB can aid print providers in the soft signage, tradeshow, retail, POP, event, and entertainment industries, due to the vast opportunities that exist in these areas. The typical applications include decorative fabrics with strong, brilliant colors and exact reproduction of details, such as banners, stretch graphics for exhibitions, retail point of purchases and many others. Other applications include traditional flags, requiring excellent passthrough on both sides, blackback applications, and anything including polyester. The Print-On-Demand industry has adopted dye-sublimation for many products due to its versatility and ease of use and has seen tremendous growth over the last few years.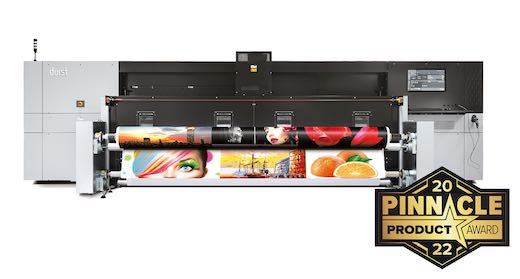 Since its introduction in 2021, the P5 TEX iSUB has been an award winner. The P5 TEX iSUB has won every year it has been entered in the Printing United Alliance Pinnacle Product awards, being awarded the RTR Dye Sublimation on textile category and RTR Direct Disperse Ink on textile category in 2021, as well as the RTR Direct Disperse Ink on textile category in 2022. It was also awarded the Pinnacle InterTech award in 2021. The Pinnacle InterTech Awards exemplify the most advanced development of technologies that are predicted to have a major impact on the printing industry. In addition to these, the P5 TEX iSUB was granted the 2021 EDP Award in Europe, which honors the best technological developments within the last 12 months.
The P5 TEX iSUB has been designed from the ground up to maximize uptime and efficiencies with very low operational cost. With several tools to reduce downtime between jobs, material changes and printer maintenance, while maximizing quality and print speeds, the Durst P5 TEX iSUB is the obvious solution for today's textile dye-sublimation printer. From pixel to output, Durst keeps you printing.