Montclair Moment
Starting a print newspaper in 2017 may not have been the best business idea in the world, but when Montclair, N.J., tech executive Heeten Choxi and his wife, Thalla-Marie Choxi, had a Charles Foster Kane moment and thought it would be fun to run a newspaper, they launched the Montclair Local. A 20-page weekly newspaper that covered local news, it had an annual subscription cost $12, and the paper soon added a website and a weekly email newsletter. And it was actually successful, with the print run growing to 3,500. (It was sent via USPS rather than kids with paper routes—assuming kids even have paper routes anymore, or if there are even paper routes anymore.) But, alas, they soon fell victim to the plague hitting print newspapers everywhere. Says the NY Times:
But print circulation costs were eating 40 percent of the budget, so last week, the Local's board announced it would go online-only and merge with another online outlet, Baristanet. Its last print edition would come out the following Thursday, April 27.
So they planned a big, final, 64-page print edition that would be delivered to every house in Montclair. Copy was written and edited, pages were laid out, and it was scheduled to ship to the printer in Rockaway, N.J., at midnight on Tuesday. But then, tragedy struck: there had been a fire at the printing plant.
The printing plant is run by Gannett, the newspaper chain behemoth that publishes USA Today and bought up a slew of community newspapers in and around Montclair, including the Montclair Times, a community staple printed since 1877.
Gannett would not comment on the Local's situation but did release a statement saying that there were no injuries in the fire. "Two printing presses sustained damage and some production schedules were impacted," it said.
But, help came.
Then word came through that the presses that print The Star-Ledger could handle the Local's print run — perhaps as soon as Wednesday — preserving hope that the final issue might still hit Montclair's mailboxes on time.
Ms. Baranauckas plans to leave the paper after the merger. On Wednesday, after the pages had been sent to print, she called the mini-drama a testament to the persistence of a gritty local newspaper.
"It's a weekly miracle," she said. "Come hell or high water, we get the paper out."
One interesting theme of the story is how much the community liked the print edition.
Update: the print edition will hit sometime over the weekend.
Wicked Cool
In other local newspaper news, WhatTheyThink contributor Mark V (heir to the throne of Mark IV) points us to a video news report from Fenwick High School (Oak Park, Ill.) regarding the printed future of its 90-year-old student newspaper, The Wick. (That is, the paper is 90 years old, not the students.) As we have been hearing throughout the publishing industry, the cost of paper is making print publications increasingly unviable, even as traffic on the school paper's website spikes (thanks largely, it seems, to the story about the "boys locked in the second floor bathroom"), and yet the student body still sees a lot of value in a printed publication.
Interestingly, no mention that the Front Page Editor was apparently one of the stars of Stranger Things.
Super Calendar
Calendars. Most people these days use a calendar app and there is no doubt that being able to sync a single calendar across a computer, a phone, and/or any other device is not without its convenience. But no one will ever consider a calendar app to be a thing of beauty like a printed calendar can be.
To that end, the NY Times takes a deep dive into what it considers "the world's most beautiful calendar," which is obviously not an app. Not really a wall calendar either, it was what is known as a "book of hours." It was created in the 1410s for royal bibliophile and patron Jean, Duc de Berry. "At different times in the early 15th century, he was the second most powerful person in France—first after his brother, King Charles V, then after his nephew, the 'Mad' Charles VI."
The Très Riches Heures du Duc de Berry, as it's known, is a book of hours, a devotional volume. It contains passages from the Gospels, venerations of the saints, psalms, Masses. Between its covers are 206 sheets of fine calfskin, profusely illustrated by three Flemish artists, the Limbourg brothers: Herman, Johan and Paul. It's the finest surviving manuscript of the 15th century, a monument of International Gothic book arts.
More than anything, I find myself engrossed in the discrepancies it lays bare in the workings of clocks and calendars. It shows two ways of understanding our lives in time: both still with us today, anxiously rubbing against each other.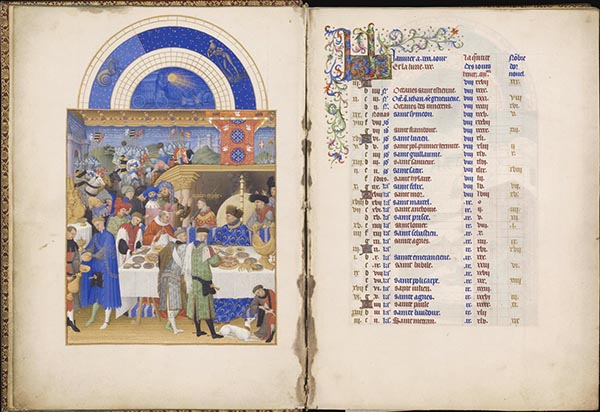 You could use a calendar to keep track of the amount of time you could spend digging into this manuscript.
Mayan Super Calendar
Speaking of calendars, you may recall that about a decade ago or so there was some doomsday angst over the fact that the Mayan calendar ended on December 21, 2012, and that as a result this meant the world was going to end. (Our Far Side Off-the-Wall Calendar ended on December 31, 2012, as it does every year and we had no such doomsday fears.) None of this was true, of course, and a lot of the angst was the result of a) media hype and b) scholars not really understanding the Mayan calendar.
However, via Popular Mechanics, scientists have finally cracked the code of the Mayan calendar.
The Mayan calendar's 819-day cycle has confounded scholars for decades, but new research shows how it matches up to planetary cycles over a 45-year span. That's a much broader view of the tricky calendar than anyone previously tried to take.
In a study published in the journal Ancient Mesoamerica, two Tulane University scholars highlighted how researchers never could quite explain the 819-day count calendar until they broadened their view.
Just like we do today, the Mayans had a number of different calendars.
While ancient Mayan culture offered various calendar types, the one that baffled scholars the most was this 819-day calendar discovered in glyphic texts. Researchers have long believed this calendar was associated with planetary movements, especially the synodic periods—when a planet appears visually to return to the same location in the sky, as seen from Earth—of key planets. However, each planet moves quite differently and matching up multiple planets into an 819-day span didn't seem to make sense.
But it does when you look at it over 16,380 days (roughly 45 years), not just 819 days. That's a total of 20 819-day timelines.
No word on doomsday, though.
AI-Yi-Yi, Part the Infinity: Formula One for Disaster
If you follow Formula One racing, you may be aware of seven-time champion Michael Schumacher's 2013 skiing accident that resulted in a traumatic brain injury, and his family have been trying to keep him out of the public eye ever since.
Weirdly, on April 15, German magazine Die Aktuelle, published by publishing house FUNKE, published an "interview" with Schumacher. Says CNN:
On April 15, Die Aktuelle published a smiling picture of the 54-year-old on the front cover with the headline: "Michael Schumacher, the first interview," and a subheading that reads: "It sounded deceptively real."
The fake interview appears on page eight of the magazine with the headline, "My life has changed completely," and includes fictitious quotes attributed to Schumacher, discussing his family life since the accident and his medical condition.
The subheading should have been a giveaway:
Only toward the end of the article does it become apparent that the interview was produced by AI.
Needless to say, Schumacher's family was not amused and is planning legal action against the magazine. Editor-in-chief Anne Hoffmann has been "relieved of her duties."
"This tasteless and misleading article should never have appeared. It in no way meets the standards of journalism that we – and our readers – expect from a publishing house like FUNKE," FUNKE magazine managing director Bianca Pohlmann said in the statement.
The NY Times adds, "The article explained that all the quotations attributed to Mr. Schumacher had been generated by artificial intelligence."
The question we have is why would any magazine of any repute do something like this? OK, maybe an experiment in AI-based "journalism" à la some of Heidi Tolliver-Walker's experiments with AI writing assistants is a viable story idea, but that just seems like the wrong way to go about it.
Shreds of Decency
Last month, in one of his Friday videos, Frank rightly decried the recent resurgence of book banning, and we also do not condone the banning of books, and especially not related activities such as book burning or book shredding. However, via Print magazine, the catalog for The Center for Visual Arts Berlin exhibition Another Reading—Contemporary Book Design From China (March 24–May 12), is a shredded book that is actually designed to be read, albeit not easily.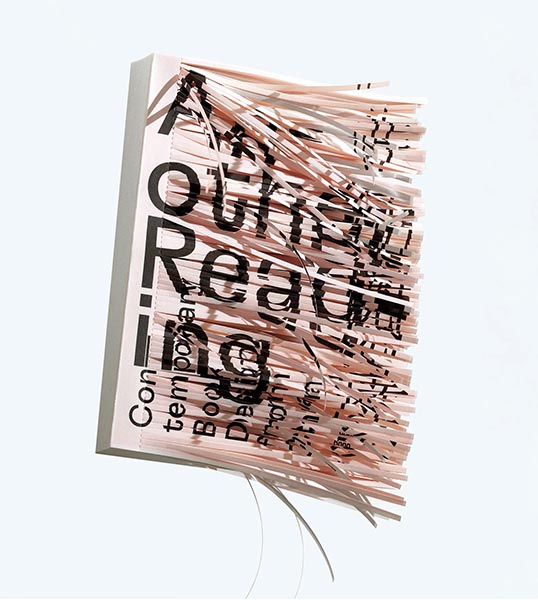 This book, however, is not being censored, but is deliberately testing the limits (and patience) of the reader to accept novel printing and radical binding in the name of art.
…This specific volume will test your resolve and force the question: What is a book? Is it reading, showing, or blowing apart convention?
As for the Berlin exhibition itself:
[it] introduces 20 masters of the form who are currently working in Germany. Nearly 150 outstanding books with the finest Chinese printing and binding techniques are on hand for close viewing. Topics range from traditional crafts and Chinese character design to modern literature and contemporary art.
If you're in Berlin this spring, you may want to check it out.
PARC Way
How many of you remember Xerox's Palo Alto Research Center (aka Xerox PARC)? Founded in 1970, it was a collective of computer geniuses who created many of the technological innovations that made modern computing—and the Internet—possible: the first personal computer, the laser printer, the graphical user interface, Ethernet, and more. And the sad thing is that all these things were rejected by the parent company and left for others to develop. (Steve Jobs and Bill Gates had toured PARC and got no small number of ideas…) The Xerox PARC story is chronicled in Michael A. Hiltzik's excellent 1999 book Dealers of Lightning, but this week, the next chapter of the PARC story was announced by Xerox: it was being donated to SRI International, a nonprofit research institute "behind some of the world's most impactful deep tech advancements." These include computer mouse, robotic surgery, cancer treatments—checkout their timeline of innovations stretching back to the 1940s.
Xerox's donation of PARC to SRI will open new doors of opportunity for both organizations. With its rich history rooted in scientific excellence, SRI is the optimal partner to usher in the next evolution of growth for PARC.
…As part of the donation, Xerox will enter into a preferred research agreement, called the Technology Exploration and Innovation Program, in which SRI will provide contracted research and development services to Xerox and its clients. Through the collaborative program, Xerox and SRI will identify topic areas relevant to Xerox's core print, digital and IT Services business, with the final goal of creating proofs-of-concept and roadmaps to implementation. Xerox will also retain a branded Innovation Hub at PARC to host meetings, demonstrations and annual conferences for its clients.
Sounds like a great fit.
Epson on the Brain and Body
Epson is coming for both your mind and body. Earlier this week, parent company Seiko Epson announced that it and its subsidiary company Epson X Investment Corporation have invested in startup company Neurable, a University of Michigan spinout company founded by Dr. Ramses Alcaide and Adam Molnar that develops brain-computer interface (BCI) technology.
Research projects involving BCI technology, which connects the brain to an external device such as a computer or an IoT device, were initially limited to certain areas such as medical treatment and rehabilitation. In recent years, however, with improvements in the accuracy of brain-wave sensors and the quality of signal detection, promising new applications are emerging in the healthcare and consumer electronics fields. For wellness applications, BCI technology may be used to boost concentration, improve sleep quality, or alleviate stress. BCI can also improve gaming as well as augmented and virtual reality when embedded into consumer electronics.
… Epson seeks to give people more lifestyle options and improve their mental and physical health by using pulse sensors and other biosensing technologies. This investment decision was made based on the potential of Neurable's algorithms and hardware technology in the growing well-being and healthcare markets, as well as on the promise of their platform business.
Hmm…could we someday connect our brains to an Epson printer and print our thoughts?
Epson is also involved in other health and wellness technologies, having announced that they have updated their Epson Wellness SDK (software development kit), although the headline sounds a little suggestive: "New Epson Wellness SDK Supports Biological Measurements on More than Just the Wrist."
Wrist-worn smart watches and fitness bands are growing in popularity due to rising demand for self-care as people seek to extend healthy life expectancy and prevent lifestyle diseases. At the same time, measurement device options are expanding with the emergence of smart earphones, smart rings, and other devices that take biological measurements and track activity at various locations on the body.
This SDK supports biological measurement and activity tracking on the head, upper arm, torso, and legs, as well as the wrist. This enables people whose job makes it difficult for them to wear an activity tracker on the wrist to monitor their health and activities.
The SDK uses pulse wave data to output a wide variety of biological data, including heart rate, oxygen saturation (SpO2), pulse to pulse interval, heart rate variability (HRV). It also uses pulse wave data to provide activity data, including calories burned, sleep analysis, stress analysis, steps, behavior discrimination, and sedentary detection.
Biometric tracking on the torso gives new meaning to Epson's PrecisionCore technology.
Graphene Batteries
Was it a good week for graphene news? It's always a good week for graphene news! The Graphene Batteries Market Report (Edition April 2023) is now available! From (who else?) Graphene-Info:
This Graphene Batteries Market Report (Edition April 2023), brought to you by the world's leading graphene experts, is a comprehensive guide to graphene technologies for the batteries market. Graphene materials has exciting applications in battery devices to enable high energy density and quick charging capabilities.
A steal at $299.99.
Checkmate
Do you like to play chess in the dark? If yes, then good news! Via Core77, Lithuania-based startup Masteek has come out with a chess set in which all the pieces are illuminated from within—without batteries, at least in each piece.
each piece contains an LED that uses wireless induction to draw power from the board (which does contain a battery). The designers rigged it up so that the pieces only illuminate when they're vertical, and go dark if horizontal.
Presumably the arrangement is so players can have the dramatic "lights out" moment when they take an opponent's piece.
And who among us doesn't make a horsey noise when moving one's knight?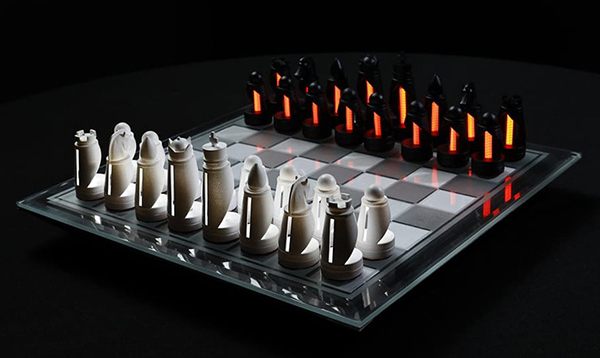 The default color scheme is red for the black pieces, white for the white pieces, but you can also select blue, green. or pink.
The Light-Up Chess Set is currently up on Kickstarter, and as of "press" time, they had exceeded their goal of $24,000.
Chess is apparently very popular at the moment, especially among younger folks, so this would be a perfect gift.
For the Birds
Are you looking for a new job, one that gets you outdoors? And do you dislike seagulls? If so, good news! England's Blackpool Zoo is hiring. The position? "Seagull deterrent." The only drawback? You'll have to dress as a giant bird. Blackpool is a seaside resort town that, like many seaside towns, attracts hordes of gulls, which have a tendency to terrorize tourists. Via Insider:
"At Blackpool Zoo it goes without saying that we love all animals! And as a seaside resort, Blackpool is not short of seagulls," the zoo said. "However, the seagulls are proving to be a bit of a nuisance when it comes to trying to steal food from our visitors and our animal enclosures!"
…The Blackpool Zoo posted a job opening for a Seagull Deterrent/Visitor Services Assistant position, saying the seasonal gig requires a "friendly" and "outgoing" applicant — who should be comfortable wearing a bird costume.
And, yes, this is the photo from the zoo's job-posting site: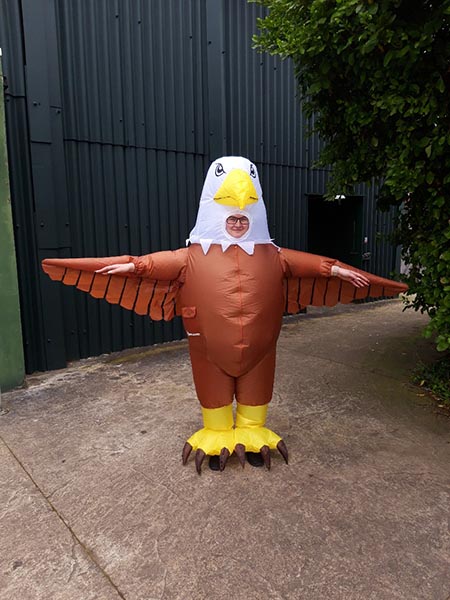 If Tippi Hedren is available, it could be a good opportunity for some revenge.
S'More Better Blues
Were you aware that color-changing foods and beverages were currently a thing? No, nor were we, but according to Food & Wine: "Color-changing foods continue to be a major trend from spirits and beer to cereal and even noodles…" OK, color us intrigued. Anyway, the latest color-changing comestibles, just in time for campfire season, are Jet-Puffed's color-changing marshmallows. Yes, it could be argued that all marshmallows change color when they are roasted, but that's not what they mean.
Jet-Puffed's new limited-edition marshmallows will actually change colors when met with direct heat. While Jet-Puffed is remaining tight-lipped about what the secret ingredient is and how it works, we do know that the marshmallows are now available in two color-changing varieties: pink marshmallows that will turn orange and blue marshmallows that will turn green. The transformation occurs about 10 seconds after being exposed to a flame.
"With color-changing foods and beverages on the rise, we knew this was a trend we could lean into and introduce to campfires across the country, just in time for those summer night s'mores," Megan Sommerdyke of the Jet-Puffed team said. "As a brand who is here to puff up any moment, we are always looking for new and exciting ways to bring our fluffy puffy marshmallows to fans."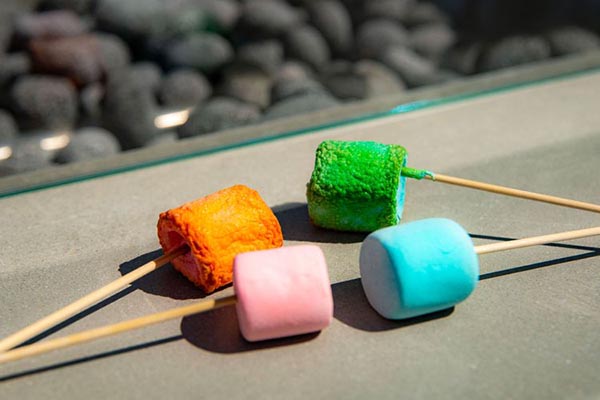 Pick up a bag for $2.99 at grocery stores nationwide. No word on whether they include a spectrophotometer so you can color-manage your marshmallows.
Did anything catch your eye "around the Web" this week? Let us know at [email protected].
This Week in Printing, Publishing, and Media History
April 24
1704: The first regular newspaper in British Colonial America, The Boston News-Letter, is published.
1731: English journalist, novelist, and spy Daniel Defoe dies (b. 1660).
1800: The United States Library of Congress is established when President John Adams signs legislation to appropriate $5,000 to purchase "such books as may be necessary for the use of Congress."
1905: American novelist, poet, and literary critic Robert Penn Warren born.
1940: B is for Birthday—American author Sue Grafton born.
1990: The Hubble Space Telescope is launched from the Space Shuttle Discovery.
April 25
1901: New York becomes the first U.S. state to require automobile license plates.
1908: American journalist Edward R. Murrow born.
1953: Francis Crick and James Watson publish "Molecular Structure of Nucleic Acids: A Structure for Deoxyribose Nucleic Acid" describing the double helix structure of DNA.
1954: The first practical solar cell is publicly demonstrated by Bell Telephone Laboratories.
1961: Robert Noyce is granted a patent for an integrated circuit.
April 26
1564: Playwright William Shakespeare is baptized in Stratford-upon-Avon, Warwickshire, England (date of actual birth is unknown).
1785: French-American ornithologist and painter John James Audubon born.
1889: Austrian-English philosopher and academic Ludwig Wittgenstein born.
1970: The Convention Establishing the World Intellectual Property Organization enters into force.
1989: People's Daily publishes the April 26 Editorial which inflames the nascent Tiananmen Square protests.
2019: Marvel Studios' blockbuster film, Avengers: Endgame, is released, becoming the highest grossing film of all time, surpassing the previous box office record of Avatar.
April 27
1667: Blind and impoverished, John Milton sells the copyright of Paradise Lost for £10. (He never regained it.)
1791: American painter and inventor Samuel Morse born.
1882: American poet and philosopher Ralph Waldo Emerson dies (b. 1803).
1896: American chemist and inventor of nylon Wallace Carothers born.
1981: Xerox PARC introduces the computer mouse.
April 28
1926: American novelist Harper Lee born.
1948: Igor Stravinsky conducted the premiere of his American ballet Orpheus at the New York City Center.
1973: The Dark Side of the Moon by Pink Floyd, recorded in Abbey Road Studios, goes to number one on the US charts, beginning a record-breaking 741-week chart run.
April 29
1863: American publisher and politician William Randolph Hearst born.
1953: The first U.S. experimental 3D television broadcast showed an episode of Space Patrol on Los Angeles ABC affiliate KECA-TV.
1968: The musical Hair opens at the Biltmore Theatre on Broadway.
1980: English-American director and producer Alfred Hitchcock dies (b. 1899).
1986: A fire at the Central library of the City of Los Angeles Public Library damages or destroys 400,000 books and other items.
1996: The off-Broadway musical Rent opens on Broadway at the Nederlander Theatre. No day but today.
April 30
1897: J. J. Thomson of the Cavendish Laboratory announces his discovery of the electron as a subatomic particle, over 1,800 times smaller than a proton, at a lecture at the Royal Institution in London.
1927: Douglas Fairbanks and Mary Pickford become the first celebrities to leave their footprints in concrete at Grauman's Chinese Theater in Hollywood.
1938: The animated cartoon short Porky's Hare Hunt debuts in movie theaters, introducing Happy Rabbit, an early version of Bugs Bunny.
1939: NBC inaugurates its regularly scheduled television service in New York City, broadcasting President Franklin D. Roosevelt's N.Y. World's Fair opening day ceremonial address.
1993: CERN announces World Wide Web protocols will be free.