The Last Two Computer Magazines Byte the Dust
How many of you remember Byte magazine? PC World? Or, across the aisle, Macworld? The venerable Computer Shopper? The 1970s, 80s, and 90s saw the Golden Age of the printed computer magazine. Not only were there a slew of titles, but they were all massive publications. (Remember when magazines were perfect bound?) Subscriptions were robust, newsstand sales (remember them?) were big, and ad sales were plentiful. Most importantly, all this success funded a lot of really good tech journalism.
Remember this?
As we all know, the era of the print computer magazine is now over, and with the recent demise of Maximum PC and MacLife, the last two printed computer magazines have shuffled off this mortal coil. Former PC World editor Harry McCracken looks back at those halcyon days of computer publishing:
I take the loss personally, and not just because computer magazines kept me gainfully employed from 1991-2008. As a junior high student and Radio Shack TRS-80 fanatic, I bought my first computer magazine in late 1978, three years after Byte invented the category. It was an important enough moment in my life that I can tell you what it was (the November-December 1978 issue of Creative Computing) and where I got it (Harvard Square's Out of Town News, the same newsstand that had played a critical role in the founding of Microsoft just four years earlier). Even before I purchased that Creative Computing, our mailman had misdelivered a neighbor's copy of Byte to our house, an error I welcomed and did not attempt to correct. From the moment I discovered computer magazines, I loved them almost as much as I loved computers, which is why I ended up working in the field for so long.
I spent most of that time at PC World, which I joined in late 1994 at almost precisely the moment it launched its first web presence. From the start, the web was a terrific way to keep tabs on tech news. Eventually, it would make the whole idea of a publication about computers that came out once a month feel more than a little silly. It also let merchants reach customers directly, a gut-punch to the ad business that had made PC World and its biggest rivals so profitable.
But the web didn't render printed computer magazines obsolete overnight. PCW had some of its fattest, happiest years as a business in the late 1990s. Even in 2008, when I left, the print magazine was a profit center, not an albatross.
But we all knew that the writing was on the wall, and it seems weirdly ironic for technology publishing to have been done in by technology. But it's the same story as all of us in publishing wrestle with: how to develop a business model for online publishing when everything is expected to be free (and people love to complain about paywalls).
Should we mourn the end of computer publications printed on paper? No—and yes. What was great about the computer magazine age wasn't that the information was printed on dead trees and delivered by truck once a month. In most respects that matter, the web is a far superior way to keep people informed about the technology in their lives.
But as timely and efficient a means of communication as online media is, the entire computer publishing industry failed to figure out how to turn it into a business that was remotely as vibrant as print had been. And those vast quantities of full-page ads paid for some amazingly ambitious service journalism.
And even tech writers have had to adapt to new ways of doing things.
There is still fine work being done at the online incarnations of former print publications and newer outlets that were digital from the start. I haven't even mentioned the fact that today's tech media spans the written word, video, audio, and community—and that it's possible for an individual journalist to partake in all of the above without being employed by a giant company. Bottom line: If there was a magic switch that would let us ditch present-day computer journalism for what we had in, say, 1995, I wouldn't flip it.
Of course, our own industry is no stranger to the slings and arrows of publishing technology. Look at how many printing industry publications existed throughout the 20th century compared to how many exist now. All of us in publishing are in pretty much the same boat—and looking at how other markets of fared can help us perhaps steer that boat together.
Grotesque Sweaters
Graphic arts experts know that the word "grotesque" means something different in the world of typography than it does to laypeople, but now a new typeface designed for knitting can encompass both meanings. Says Print magazine:
Rüdiger Schlömer pushes the limits of what's possible in the type world with Knit Grotesk: a typeface meant for knitting. This pixelated font works both onscreen and on fabric, and it's ideal for bright color combinations and interesting textures. Plus, Knit Grotesk is based on the simple structure of Futura, adding a high legibility to this flexible typeface.
It's not often we find typefaces that work in the tangible world, so the possibilities are magnificent. I'm imagining this on a yellow sweater with a neon pink secondary hue, spelling out something as beautifully unexpected as "bumfuzzle."
KNIT GROTESK first letters were inspired by a low-res adaptation of Futura (FuturX by Laucke Siebein), while translating it into a hand knitting pattern. Through this formatting process originated a whole set of typographic details which evolved into a typeface of its own. The most characteristic element – the vertical line grid – derives from the alternating two tone double rows used slipstitch knitting.
Inking System
WhatTheyThink contributor Mark V (heir to the throne of Mark IV) points us to a new bioink that solves some of the problems inherent in 3D-printed organs and tissues. Says ScienceBlog:
commonly used hydrogel-based bioinks can cause cytotoxicity due to the chemical crosslinking agent and ultraviolet light that connect the molecular structure of photocuring 3D-printed bioink.
However, Dr. Song Soo-chang's and his research team at the Korea Institute of Science and Technology's Center for Biomaterials has developed a "poly(organophosphazene) hydrogel-based temperature-sensitive bioink that stably maintained its physical structure only by temperature control without photocuring, induced tissue regeneration, and then biodegraded in the body after a certain period of time."
Current hydrogel-based bioinks must go through a photocuring process to enhance the mechanical properties of the 3D scaffold after printing, with a high risk of adverse effects in the human body. In addition, there have been possibility of side effects by transplanting externally cultured cells within bioink to increase the tissue regeneration effect. Accordingly, the research team developed a new bioink material using a temperature-sensitive poly(organophosphazene) hydrogel, which existed in a liquid form at low temperatures and changed to a hard gel at body temperature. This enabled the regeneration of tissues only by temperature control without chemical crosslinking agents or UV irradiation and the manufacture of a three-dimensional scaffold with a physically stable structure, minimizing the possibility of immune adverse effects in the human body.
The new bioink thus far has only been used to regenerate bone tissues, but the goal is to allow it to be used in the regeneration of other types of tissues and organs.
Discovering Japan
Are you interested in Japanese rare books? Will you be in Washington, DC, in August? If yes to both, good news! While August is not an ideal time to be in Washington if you happen to have sweat glands, the Association for Asian Studies is hosting a three-day Japanese rare book workshop in August 9–11 at the Asian Division, Library of Congress. The goal of the workshop is for attendees to gain advanced bibliographic knowledge of the books printed in Japan's Edo period. This workshop is funded by the Toshiba International Foundation (TIFO) with support provided by the Library of Congress and the Library of the National Museum of Asian Art. Says Humanities and Social Sciences Online:
The Instructor, Professor Takahiro"Sasa'I of Kei? University Shid? Bunko, will give a two-day lecture on the Edo hanpon, including definitions of specialized terms, sources of printing information, determination of printing date, and other aspects of printing culture in the Edo period (1603-1867). During his lecture, Professor Sasaki will discuss some of the books from LC's vast collection of Japanese rare holdings. A tour to LC's Asian Reading Room and Main Reading Room and the Pulverer Collection and the Library of the National Museum of Asian Art will be held on the third day. The Subcommittee on Japanese Rare Books previously offered a one-day general workshop on Japanese rare books at the Art Institute of Chicago in 2015 and a three-day specialized workshop on the Edo printed books at the Library of the Freer Gallery of Art and Arthur M. Sackler Gallery, Smithsonian Institution in 2018, both with Prof. Takahiro Sasaki as the instructor. The 2023 workshop will be a sequel to those, and the individuals who have completed either workshop or similar training, and/or those with immediate needs of handling Edo printed books for their work or research will be prioritized for selection of participants.
FYI, all lectures will be given in Japanese, although tours will be given in English. Registration ($30) is required and attendance is limited to 20. If you're interested, register here.
Physical Graffiti
Just what we needed: a robot that paints graffiti. Graduate students at Georgia Tech have built the first graffiti-painting robot system. Called GTGraffiti, it "uses motion capture technology to record human painting motions and then composes and processes the gestures to program a cable-driven robot that spray paints graffiti artwork." Says Georgia Tech:
Some of the most typical industries for robotics applications include manufacturing, biomedicine, automobiles, agriculture, and the military. But the arts, it turns out, can showcase robotics in an especially powerful way.
"The arts, especially painting or dancing, exemplify some of the most complex and nuanced motions humans can make," Chen said. "So if we want to create robots that can do the highly technical things that humans do, then creating robots that can dance or paint are great goals to shoot for. These are the types of skills that demonstrate the extraordinary capabilities of robots and can also be applied to a variety of other applications."
On a personal level, Chen is motivated by his hope for people to perceive robots as being helpful to humanity, rather than seeing them as job-stealers or entities that cause feelings of fear, sadness, or doom as often depicted in film.
AI-Yi-Yi, Part the Infinity: For the Dogs
Via Axios, a new device from a company called Companion has been developed which is an AI-based dogsitter. (It is referred to as a "nanny" and "tutor" which—sorry—are not terms that should be applied to dogs. And the term "furbaby" is just deeply wrong.)
The stationary device — which dispenses treats — "provides all day scheduled and on-demand engagement for your dog with games, behavioral programs and training," the company says.
It simultaneously monitors your dog's health, looking for "sudden or subtle shifts in your dog's movement or posture that can indicate pain, anxiety or stress."
All possibly heightened by interacting with an AI-based robot.
The device uses "AI hardware, machine learning and best-in-class positive reinforcement techniques," Companion says.
For instance, by playing commands like "sit" using an owner's voice, the Companion teaches the dog obedience — while noticing any physical changes that might signal disease. (See a video here — scroll down to "mission and vision.")
And one of the oddest lines we have ever quoted on AtW (which is saying something):
"It's almost like starting a chatbot with your dog."
Taking Graphene to Heart
Was it a good week for graphene news? It's always a good week for graphene news! Researchers at Northwestern University and the University of Texas at Austin (UT) have developed a graphene-based cardiac implant. From (who else?) Graphene-Info:
Similar in appearance to a temporary tattoo, the new graphene "tattoo" implant is thinner than a single strand of hair yet still functions like a classical pacemaker. But unlike current pacemakers and implanted defibrillators, which require hard, rigid materials that are mechanically incompatible with the body, the new device softly melds to the heart to simultaneously sense and treat irregular heartbeats. The implant is thin and flexible enough to conform to the heart's delicate contours as well as stretchy and strong enough to withstand the dynamic motions of a beating heart.
It is also transparent, which allows researchers to enable it to perform optocardiography—using light to monitor and control heart rhythm.
While electrical stimulation can correct a heart's abnormal rhythm, optical stimulation is more precise. With light, researchers can track specific enzymes as well as interrogate specific heart, muscle or nerve cells.
Film at 100
On Wednesday, we celebrated the centenary of the advent of 16-millimeter film. That is, on April 18, 1923, Eastman Kodak introduced a revolutionary new motion picture camera, that just happened to be based on an equally revolutionary new film format. Says the NY Times:
The company had been selling filming devices for more than two decades by then, but this novel contraption — the Ciné-Kodak camera, sold with the Kodascope projector — offered a new thrill: the ability to make and screen movies at home, with no special expertise.
The technical marvel, however, wasn't just the camera but also the film inside. Until 1923, the film used most commonly in motion pictures was 35 millimeters wide. That year, Kodak produced a new format that was only 16 millimeters. The image wasn't as sharp when you blew it up on the big screen, but it allowed for smaller, cheaper and more portable cameras.
The new film format opened up filmmaking not just to those looking to shoot home movies, but to indie filmmakers who wanted to make movies outside the Hollywood system and journalists who could now capture live events.
Regular folks could now record their own lives, journalists and soldiers could film in the midst of war, and activists could shoot political documentaries in the street. Until digital video arrived in the late 1990s, 16-millimeter film was the mainstay of the amateur or independent filmmaker, requiring neither the investment nor the know-how of commercial cinema.
Times change, but not that much.
Today, 16 millimeter is no longer optimal for the amateur filmmaker. Analog film is increasingly expensive, fewer and fewer labs can process it, and the format doesn't allow the nearly unlimited shooting and instant playback that video does. But even as it turns 100, 16 millimeter still has a unique look that neither 35-millimeter film nor video can rival.
If you are familiar with filmmaker Darren Aronofsky, he has used 16-millimeter film by choice, such as for "The Wrestler" (2008), "Black Swan" (2010), and "Mother!" (2017).
Pearly Gates
Do you like gates? And we don't mean Bill Gates, various political -gates, or even Gates McFadden. We mean actual latching gates. Well, if you are a gate aficionado, we have a group for you. Yes there is a Gate Appreciation Society, and it has almost 120,000 members. And they have identified the "world's greatest gate." It is hand-carved, with magnificent Celtic spirals etched into it and a hand-forged spring fastener latch that was designed to look like a shepherd's crook. It leads into (or out of, depending which side you're on) Ynys Llanddwyn, a small tidal island just off the west coast of Anglesey, Wales. You'd be inclined to think it was an old structure, but it's actually fairly new, having bene carved by Dafydd Davies-Hughes, a gatemaker whose work can be seen throughout north Wales. According to his website, he once made an oak balcony designed to look like a human hand.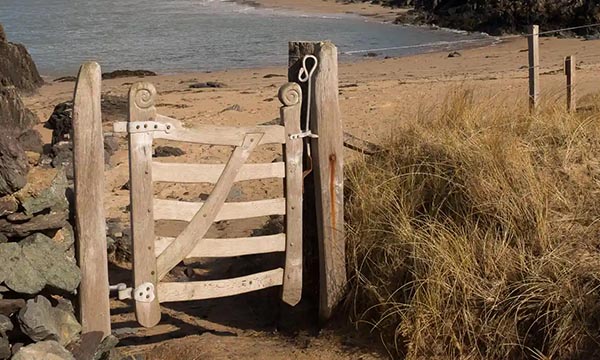 So what makes it the world's greatest gate? Says The Guardian:
the Gate Appreciation Society [is] a Facebook group with 118,000 members. The Ynys Llanddwyn gate has gone down so beautifully with the society that a photo of it has 42,000 likes.
… I'm afraid the Ynys Llanddwyn gate's title is unofficial, offered simply as a breathless description by a society member. Really any gate that manages to elevate humdrum functionality by means of individualism and artistry could have won. As such, the world's second best gate should be the gate that you personally happen to cherish the most. You definitely have one.
Gates. Go figure.
Around the Webb, Part the Continuous: Galactic M&A
This week, the James Webb Space Telescope turned its eyes toward two galaxies merging. Yes, even the universe experiences consolidation. Says NASA:
Actually two spiral galaxies in the process of merging, Arp 220 glows brightest in infrared light, making it an ideal target for Webb. It is an ultra-luminous infrared galaxy (ULIRG) with a luminosity of more than a trillion suns. In comparison, our Milky Way galaxy has a much more modest luminosity of about ten billion suns.
Arp 220 is located 250 million light-years away in the constellation of Serpens and is the 220th object in Halton Arp's Atlas of Peculiar Galaxies.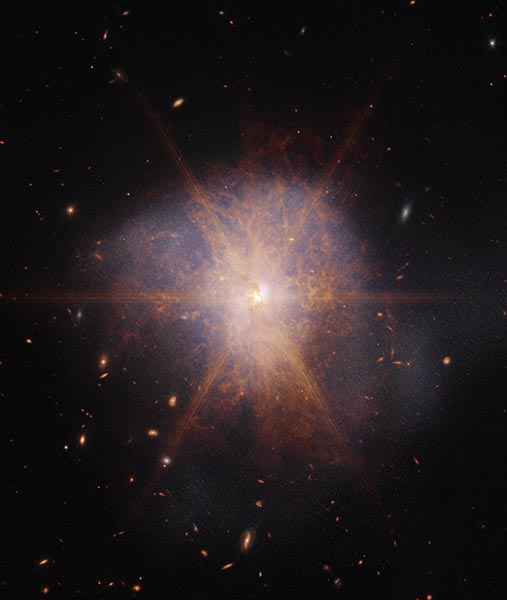 The collision of the two spiral galaxies began about 700 million years ago. It sparked an enormous burst of star formation. About 200 huge star clusters reside in a packed, dusty region about 5,000 light-years across (about 5 percent of the Milky Way's diameter). The amount of gas in this tiny region is equal to all of the gas in the entire Milky Way galaxy.
The things we can do.
Candy Crush
Like 16-millimeter film, confectioner Russell Stover is also celebrating its 100th anniversary this year, and what better way to mark the occasion than with a potential diabetic coma? Says Food & Wine:
Russell Stover's massive chocolate box — a replica of Russell Stover's classic assorted gift box — measures 30 feet and 4.5 inches wide by 15 feet 5 inches tall, and was conceptualized and created by a Kansas City-based design firm Dimensional Innovations.
But the Guinness World Records title for the "Largest Box of Chocolates" is based on the total weight of the chocolate held inside. So, a team of Russell Stover employees weighed and loaded over 5,000 pounds of large novelty chocolates — weighing 11 to 38 pounds each — into the box to surpass the weight of the then-current title holder. (When empty, Russell Stover's box itself weighs roughly 2,300 pounds.)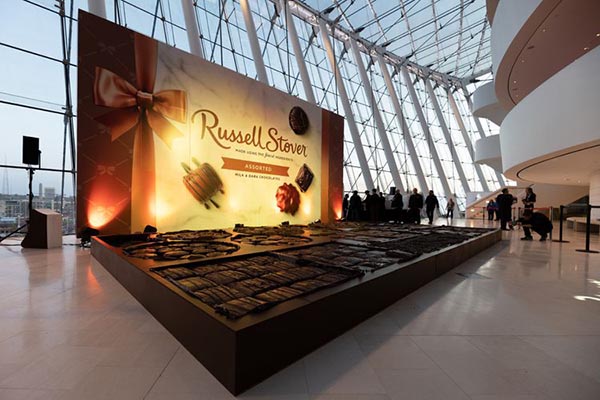 Photo courtesy of Russell Stover
Russell Stover plans to display its Guinness World Records title-winning box at one of its retail locations, and the colossal novelty chocolates themselves will be gifted, donated, or raffled in partnership with Feed the Children later this fall.
Hopefully they're feeding the children something other than 5,000 pounds of candy.
Signs of the Times, Part the Ongoing: Signatherapy
These are very tense and stressful times, and we take solace wherever we can find it. For some, it could be consuming 5,000 pounds of chocolate. For others, watching filthy street signs get power washed is highly therapeutic.
Andrew Newton is the owner of Carfresh Valeting and has been cleaning road signs for the past six years. He power-washes off algae, moss, dirt, and tree sap.
Enjoy!
Did anything catch your eye "around the Web" this week? Let us know at [email protected].
This Week in Printing, Publishing, and Media History
April 17
1397: Geoffrey Chaucer tells The Canterbury Tales for the first time at the court of Richard II. Chaucer scholars have also identified this date (in 1387) as the start of the book's pilgrimage to Canterbury.
1524: Giovanni da Verrazzano reaches New York harbor. ("If only there were a bridge here," he is thought to have remarked.)
1790: American inventor, publisher, and politician, 6th President of Pennsylvania, Benjamin Franklin dies (b. 1706).
1897: American novelist and playwright Thornton Wilder born.
1955: English singer-songwriter and guitarist Pete Shelley born.
1957: English novelist, essayist, lyricist, and screenwriter Nick Hornby born.
2014: Colombian journalist and author, Nobel Prize laureate Gabriel García Márquez dies (b. 1927).
April 18
1918: American publisher, creator of CliffsNotes Clifton Hillegass born.
1930: The British Broadcasting Corporation announced that "there is no news" in their evening report.
2020: Europe surpasses 100,000 COVID-19 deaths.
April 19
1824: English-Scottish poet and playwright Lord Byron dies (b. 1788).
1927: Mae West is sentenced to 10 days in jail for obscenity for her play Sex.
1971: Launch of Salyut 1, the first space station.
1987: The Simpsons first appear as a series of shorts on The Tracey Ullman Show.
2013: American journalist, author, and publisher, founder of USA Today, Al Neuharth dies (b. 1924).
April 20
1535: The sun dog phenomenon observed over Stockholm and depicted in the famous painting Vädersolstavlan.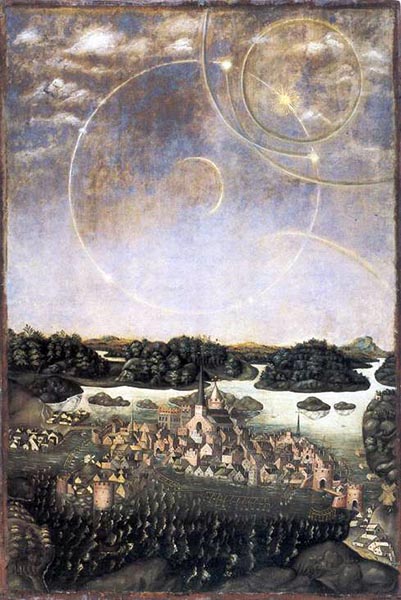 1893: Spanish painter and sculptor Joan Miró born.
1912: Anglo-Irish novelist and critic, creator of Count Dracula, Bram Stoker dies (b. 1847).
April 21
753 BC: Romulus founds Rome (traditional date), but not in a day.
1816: Cornish-English novelist and poet Charlotte Brontë born.
1838: Scottish-American environmentalist and author John Muir born.
1910: American novelist, humorist, and critic Mark Twain dies (b. 1835).
1934: The "Surgeon's Photograph," the most famous photo allegedly showing the Loch Ness Monster, is published in the Daily Mail. (In 1999, it was revealed to have been a hoax.)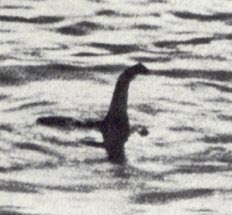 1977: Annie opens on Broadway.
April 22
1616: Spanish novelist, poet, and playwright Miguel de Cervantes dies (b. 1547).
1707: English novelist and playwright Henry Fielding born.
1724: German anthropologist, philosopher, and academic Immanuel Kant born.
1876: The first game in the history of the National League was played at the Jefferson Street Grounds in Philadelphia. This game is often pointed to as the beginning of Major League Baseball.
1899: Novelist and critic Vladimir Nabokov born.
1977: Optical fiber is first used to carry live telephone traffic.
April 23
1616: English playwright and poet William Shakespeare dies (b. 1564).
1850: English poet and author William Wordsworth dies (b. 1770).
1985: Coca-Cola changes its formula and releases New Coke. The response is overwhelmingly negative, and the original formula is back on the market in less than three months.
2005: The first ever YouTube video, titled "Me at the zoo," was published by user "jawed."