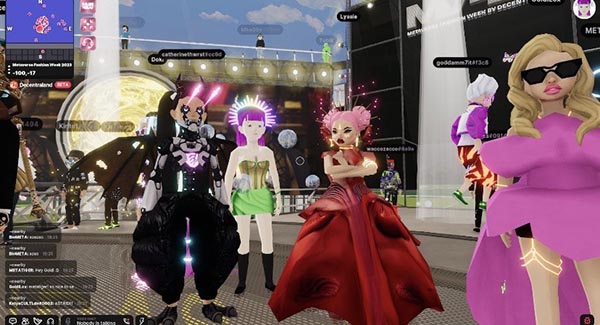 Dolce & Gabbana, Tommy Hilfiger, COACH, adidas, DKNY, Vogue Singapore, Monnier Paris, DUNDAS, Phygicode Dress in collaboration with Rubin Singer, and others led an all-star lineup at Metaverse Fashion Week 2023
Decentraland, the world's largest user-owned and operated virtual social world, presented the schedule and lineup for the sophomore edition of Metaverse Fashion Week (MVFW), held March 28–31, 2023. Pioneered by Decentraland and UNXD, a leading immersive art and culture platform, and in collaboration with the Spatial and OVER metaverses, MVFW23 demonstrates the potential of interoperability and the newest advancements in digital fashion.
"This year, we are honored to continue the legacy of Metaverse Fashion Week. We saw the return of many fashion houses, and also the refinement and elevation of digitally-native fashion. We are excited to see some of the world's greatest fashion minds engaging in the future of fashion," said Dr. Giovanna Graziosi Casimiro, Head of MVFW at Decentraland.
The curatorial theme Future Heritage of MVFW23 is dedicated to engaging digital designers with fashion institutions and illuminating the connection between innovation and tradition.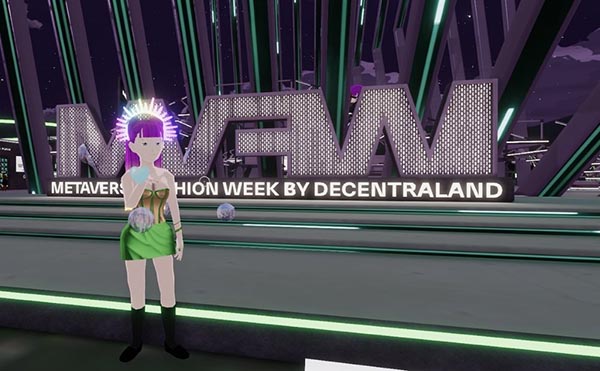 Home Of Digital Fashion: The UNXD Luxury Fashion District
MVFW23 took place across multiple metaverses inside Decentraland's Luxury District, developed by Metaverse Group, where global brands have chosen to house virtual storefronts. Here's what attendees witnessed this year:
Dolce & Gabbana's metaverse space featured an exhibition of the winning designs from its Future Reward competition. Led by Domenico Dolce and Stefano Gabbana, the digital design competition spotlighted emerging talent, supporting them with the creation of a new co-branded digital wearables collection.
Tommy Hilfiger's MVFW experience included daily product drops, AI-generated fashion, unique collaborations and a community competition—with the winner hand-picked by Mr. Tommy Hilfiger himself.
Miami Fashion Week (MIAFW) became the first globally recognized Fashion Week to participate in a digital fashion week. MIAFW's L'Atelier in Decentraland hosted events, panels, and runway shows.
DKNY created a dedicated venue—DKNY.3—that hosted an art gallery, pizzeria, and rooftop lounge, and brought its SoHo landmark wall into the metaverse.
DUNDAS teamed up with DressX for Wearables creation and UME for avatar design, showcasing the latest looks from Paris Fashion Week and offering a new range of wearables.
Amorepacific introduced "New Beauty Land," inspired by its Seoul headquarters.
Ben Bridge, the popular US jewelry maker, opened its first store in the metaverse, featuring a quest with exclusive wearables that come with in-store benefits.
Monnier x Republic returned to MVFW with a soon to be announced Creators Prize celebrating the unleashed creativity of Web3.
Fashion brands, technology pioneers and community-designed activations took place in various locations throughout the week:
Texintel invited Estelle Pearce to review MFW. Here she details her virtual experience.
Metaverse Fashion Week Adventures By Estelle Pearce
Metaverse Fashion Week 2023 was the event every digital fashion enthusiast had been waiting for; the four-day event from March 28th to the 31st saw over 60 iconic brands, digital fashion houses, artists, and independent designers showcase their latest creations in an unforgettable extravaganza of runway shows, immersive experiences, shopping, after-parties, and live discussions with this year's theme Future Heritage.
For its second year, MVFW23 was bigger and better than ever, transporting us to a true Web3 experience where designers showcased their collections in unique virtual spaces on Decentraland (DCL), Over, and Spatial. It was the perfect opportunity for fashion lovers to hop between events, experience specially created wearables, and show our appreciation from the comfort of our own homes, and let's not forget, the worldwide attendees making it all the more inclusive and accessible.
Logging into DCL, I connected my wallet (you know I can't resist freebies!), created my personal look, checked the map and schedule of events, and set off to explore. Teaming up with Dressx and UME, the Dundas show was one of the highlights of the week, which saw models emerging from portholes wearing the latest looks hot from Paris Fashion Week, as they strutted their stuff, leaping and spinning high into the air.
Other shows included Adidas, House of Barth, Haus of Feugo, Dhingia, and the "Anti Fashion" catwalk to celebrate the spirit of Vivienne Westwood, as well as daily community events with creators invited to walk the runways.
Moving Into the Newly Created Neo Plaza Area
Saw Neo Designer focused on the next generation of fashion designers and included The Fabricant, Known Origin presenting Stephy Fung, Institute of Digital Fashion (IDOF), Meta Fashion House, alongside Cristobal Balenciaga, Adidas, and newcomer to MVFW Coach, who created a pink town and transported us inside the Tabby bag as we tirelessly danced to cool tunes.
Transporting To the Luxury District
Here is where you found the main runway and high-end boutiques including Dolce & Gabbana, DKNY, and Dundas alongside digital fashion superstars Auroboros, as well as the Tommy Hilfiger Monolith which held a creator challenge in partnership with Dressx to create AI-generated Hilfiger looks.
Tired of shopping, hitting The Fabricant's space and doing the gabber time dance was a must; and for those who needed to take a break, Alo Yoga was on hand to offer expertise in yoga and reiki sessions. Parties were hosted by Diesel, Mango, The Fabricant, Mercury Dasha, and Roland Lifestyle with live DJ sets from the latest and hottest music heavyweight; and if you could get in DKNY held the official closing party hosted by MVFW Supermodel Tangpokok and DCLBabydolls.
Reflecting on other's experiences in DCL, I asked fellow digital designer and web3 enthusiast Alexandra, aka astroporcelain, to give me a round-up on their experience; and here's what she had to say :
"One of the major pulls for me was not only the return of reputable brands entering the digital fashion space but also the rise in independent digital fashion designers selling their wearables on the DCL marketplace; Blanc De Blanc, Ilona Song, and GoldiLox were just a few up-and-coming designers selling incredible wearables. Hanging out with DCL veterans and friends Lyss, Goldilox, and Catherine the Worst helped me to navigate the platform and challenges, gaining a front-row experience at the Dundas show, a Coach pink Tabby AR filter prize, and a Tommy Hilfiger puffer; and it was amazing to spot Stephy Fung in the crowds and meet DCL Legend SUPERNINA, responsible for creating the gabber time dance emote for The Fabricant where I spent the final hours at the closing party before being kicked off the server due to heavy traffic. I loved every minute of MVFW23, and I cannot wait for next year."
Jumping Into Spatial
I felt more at ease with the realistic graphics and unique environments, and it was incredible to see Hugo Boss and Tommy Hilfiger trending alongside Artisant, Exclusible X Polycount, and Metaverse Fashion House showrooms.
Artisant X Red Dao's message "Artisant for Everyone" was evident in their super cool space packed full of collaborative work from independent designers and artists.
Hugo Boss gave us a beautiful immersive showroom complete with digital outfits that allowed us to shop the looks; and as you explored the space, complete with screens showing the latest SS23 catwalk show from Miami, you stood a chance to enhance your digital wardrobe.
The Tommy Hilfiger Monolith showroom invited us to hop between platforms and have a chance to own our own piece of digital Hilfiger.
I loved exploring the many spaces and collections from Altr, Digital Fashion Week, Honey, Mutani, and Valaclava and watching live panel discussions from fashion innovators Amber Jae Slooten, Shayli Harrison, Paula Sello, and Alissa Auldekova alongside looping video clips of moments of fashion history, artwork, portals, and digital garments displayed everywhere you looked. And I must give a shoutout to Clare Tattersall of Digital Fashion Week, who made it possible for many independent designers like myself to showcase their work.
I was especially thrilled to be showcased across multiple spaces on Spatial and DCL, and it was the coolest to dress my Ready Player Me (RPM) avatar in my Euphoria Dress as part of a special collection of limited-edition wearables in partnership with RPM whilst I navigated and explored the many spaces.
Held during MVFW, the highlight of the week for me was "Legacy of Tomorrow" created by Artificial Rome and held on the Soil platform. It was simply mind-blowing! From the moment I selected my personalized look, to walking on the snow that crunched under my feet, to taking in the breath-taking scenery, I was transported to another world as day turned to night.
Beautifully curated by Kadine James of the Immersive kind, I stood mesmerized by the giant walking garments from The Fabricant, h?l studio, Altr, and Metara which were accompanied by an intriguing dialogue that further enhanced the sensory experience. This was truly an outstanding display of innovation and creativity that left me thoroughly impressed, and I urge everyone to experience it for themselves!
Overall, Metaverse Fashion Week was an incredible four-day event that left me feeling inspired and energized; seeing my design come to life. Being part of such a multicultural music, fashion, and art space was amazing; and my digital wardrobe is now full of cool new looks. I'm already looking forward to what next year will bring.
Image Credits: Estelle Pearce and Astroporcelain