Books that Pop
WhatTheyThink contributor Mark V (heir to the throne of Mark IV) points us to a new exhibit at Chicago's Newberry Library: "Pop-up Books Through the Ages." It may seem quaint in these days of AR and VR to think of the humble pop-up book as an "immersive" experience, but there was a great deal of artistry and craft to creating compelling pop-up books. Says Chicago Reader:
what these humble illustrated papers allow is engagement of imagination and a chance at physical interactivity rather than the passive submission that is the only reaction to much of today's multimedia technology.
The exhibit concentrates on examples from the museum's own collection.
the show charts the many creative ways artists have contributed to books on art, cartography, fairy tales, life sciences, and more.
Highlights include a colorful 1932 pop-up version of Pinocchio, a bookmark from the Middle Ages comprised of string and a paper dial that allows a reader to note how far down the page they last left off, and a variety of mix-and-match illustrations that allow heads, torsos, and extremities to swap out like a very early version of FaceApp.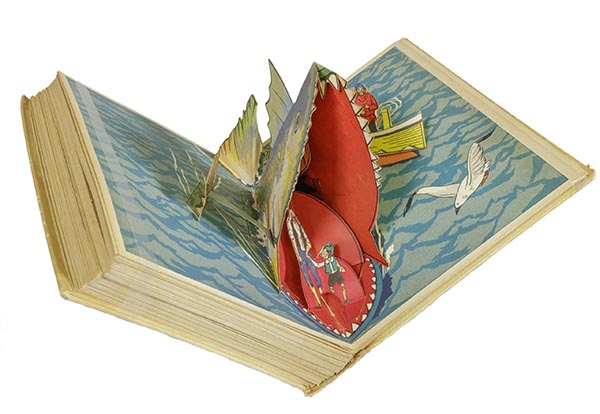 Harold B. Lentz, The "Pop-Up" Pinocchio, 1932 Credit: Courtesy Newberry Library
The exhibit runs through July 15. More info here.
You Handle It
Core 77 asks, "what is the object we touch the most?" The smartphone? Probably. But design/architecture expert and author Barbara Glasner has published a book called Most Touched, a pictorial showcase of more than a thousand door handles from around the world.
In the book, the handles are shown next to each other on an equal footing. Following a strict graphic concept, this archival publication itself becomes a contemporary art object. To complement the visual layer, four texts by renowned authors are published on the diverse cultural facets of the door handle.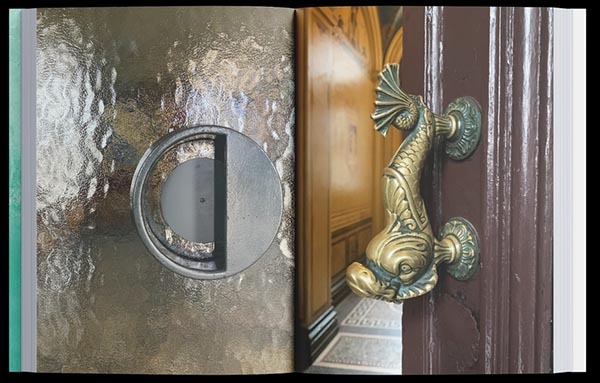 The 1,100-page (!) book is in both English and German and is a steal at €50 (US $54) here.
Phizzy Wigs
If you have read the novels of Charles Dickens—and a complete collection lines the walls of the Around the Web Cultural Accretion Bunker—you are familiar with the delightful and evocative line drawings and watercolors that illustrated the books, a great many drawn by Hablot Knight Browne (aka "Phiz"). Now, Dr. Michael Goodman has created a comprehensive Charles Dickens Illustrated Gallery, from Sketches by Boz and The Pickwick Papers…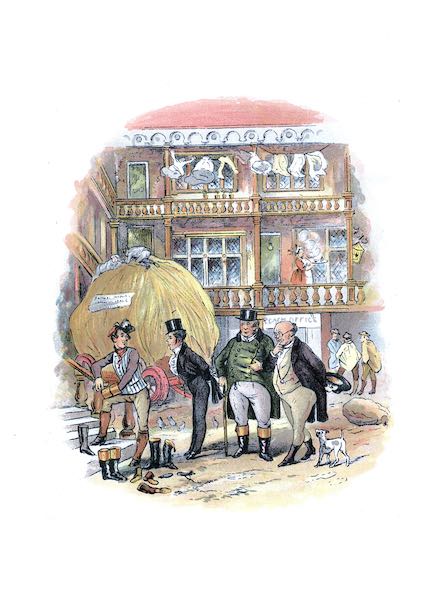 …to David Copperfield…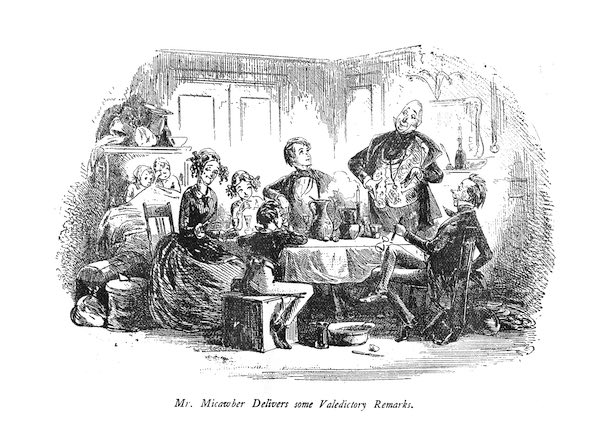 …to The Mystery of Edwin Drood.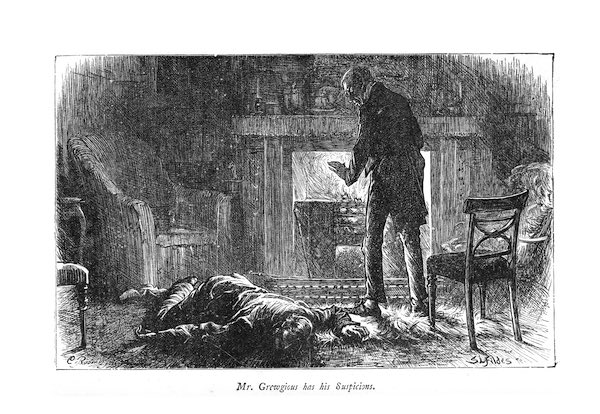 Print magazine's Daily Heller talks with Goodman about the project:
It seems that the illustrators captured the ethos of the times as well as Dickens did, if not moreso. Am I leaning too much on the artists?
No, I think this is such a good point, Steven. The Victorians very much were living in a visual culture where images were everywhere. New printing techniques and technology meant that images could be produced and disseminated widely and cheaply. A consequence of this is that the visual material from the period reflects back to us the values and ideologies of that time in all its dynamism and complexity, revealing anxieties as well as aspirations. Dickens' illustrators, embedded in this culture, cannot help but capture some of these concerns and desires.
The Can-Do Spirit
Do you like beer? Recycling? If yes to both, craft brewers in Colorado have some advice. Via Axios:
Craft beer can labels are often stickers or plastic wrap that can contaminate infinitely recyclable aluminum or lead recyclers to throw cans into the landfill.
So:
Telluride Brewing and other Colorado beer makers are asking consumers to "peel the label" before recycling their empty cans. The message is printed prominently on the label as part of an effort to boost sustainability and limit waste.
Small brewers can't print directly on cans as the run lengths are too small, so they print short-run labels or shrink sleeves and apply them to the cans. Of course, while it makes the aluminum more recyclable, a removed stocker is still waste. But:
Some breweries are even making the stickers collectibles.
That's one idea…
AI-Yi-Yi, Past the Infinity: Cookie Misfortune
OK, now it's getting serious. Says Food & Wine: "Fortune Cookie Writers May Be Losing Their Jobs to A.I."
Despite not being a real Chinese tradition, an entire industry is dedicated to the fortune cookie, with approximately three billion manufactured each year. From predicting lottery numbers to telling jokes and repurposing ancient proverbs, manufacturers have written millions of fortunes, hoping that customers will never get the same one twice. Now, some of them are turning to A.I. to carry on the copywriting tradition.
OpenFortune, a company that combined advertising with fortune cookies, is one of the first to invest in ChatGPT tech to create fortune cookie messages. Co-founder Shawn Porat tells The Wall Street Journal that the robot-generated messages are virtually "indistinguishable" from those written by industry veterans.
Charles Li, owner and CEO of fortune cookie factory Winfair Foods Inc., has already begun using OpenFortune's cookie-writing software as a timesaver. Li previously employed freelance writers to create fortunes for the 11,000 restaurants his company supplies nationwide and often spent hours writing fortunes himself.
Not everyone is a fan:
Wonton Food Inc., supplier to more than 40,000 restaurants nationwide, has a database of over 15,000 fortunes that it cycles through in order to prevent customers from opening repeats. VP of Sales, Derrick Wong, admits the task of fortune writing can be challenging, but worries that bot-generated fortunes might be either offensive or boring. For now, Wonton Food continues to rely on the creativity of freelance writers and their existing fortune database.
Graphene Is in the LOOP
Was it a good week for graphene news? It's always a good week for graphene news! Graphene is being used in a European decarbonization effort. From (who else?) Graphene-Info:
Levidian's LOOP device uses a patented low temperature, low pressure process to crack methane into its constituent atoms, hydrogen and carbon, without the need for catalysts of additives. The carbon is locked away in the form of graphene. Stugalux will be deploying LOOP to process biomethane produced from food and agricultural waste. This gas will be cracked into its constituent atoms by LOOP, with the resultant hydrogen-rich blend combusted in a turbine to generate electricity while reducing carbon emissions. The graphene produced by LOOP will be integrated into the building products used by Stugalux to improve performance and drive further decarbonization.
… Stugalux owner, Joel Schons, explains: "Together, the three LOOP systems will process nearly 250,000 cubic meters of waste gas per year, producing more than 30 tonnes of graphene and preventing 572 tonnes of CO2e every year. Moreover, the application of graphene enhanced materials in our residential constructions will significantly drive the reduction of the carbon footprint."
Uneasy Lies the Head that Wears a Cardboard Crown
King Charles III's coronation isn't until next month, so he is still sans crown. However, during a recent trip to Germany, he was offered a temporary replacement. Via Food & Wine:
His Majesty and Camilla, the Queen Consort, took their first state visit to Germany earlier this week, and during a stop in Berlin, someone in the crowd offered him… a Burger King crown.
A group of spectators — all wearing cardboard BK crowns — shook hands with Charles, and one man tried to give him a crown of his own. "That's for you, if you want it," he said. Charles laughed and said "I'm alright."
Safety in Numbers
Collective nouns occupy one of the more colorful and creative corners of the English language—you know, things like a gaggle of geese, a murder of crows, a school of fish, a pride of lions, and—here's a great one—a skulk of foxes. But where did these terms originate?
AtW favorite Rob Watts of RobWords looks at the origins these descriptive terms, the majority of which were coined in the 15th century in a series of publications called "courtesy books," having titles like The Compleat Gentleman, all of which were a kind of proto-Miss Manners, describing how to behave in polite company (hmm…someone should revive these…). One particular book called The Boke of Saint Albans, which was printed in the late 1400s on, it was believed, the third printing press installed in England, contained more than 160 terms for collections of animals and people—not all of them flattering (a "drunkenness of cobblers"?)—in one massive list.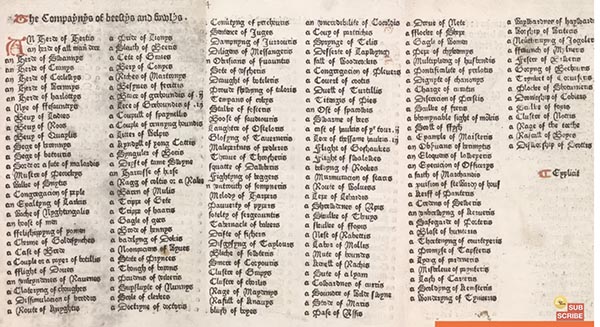 At any rate, like all of Rob's videos, endlessly fascinating:
Around the Webb, Part the Continuous: Mama Cas
It's been a while since we checked in with the James Webb Space Telescope. What has it been up to? Well, it turned its eyes toward a supernova remnant called Cassiopeia A (Cas A) that had been created by an exploding star 340 years ago (from Earth's perspective). Says NASA:
"Cas A represents our best opportunity to look at the debris field of an exploded star and run a kind of stellar autopsy to understand what type of star was there beforehand and how that star exploded," said Danny Milisavljevic of Purdue University in West Lafayette, Indiana, principal investigator of the Webb program that captured these observations.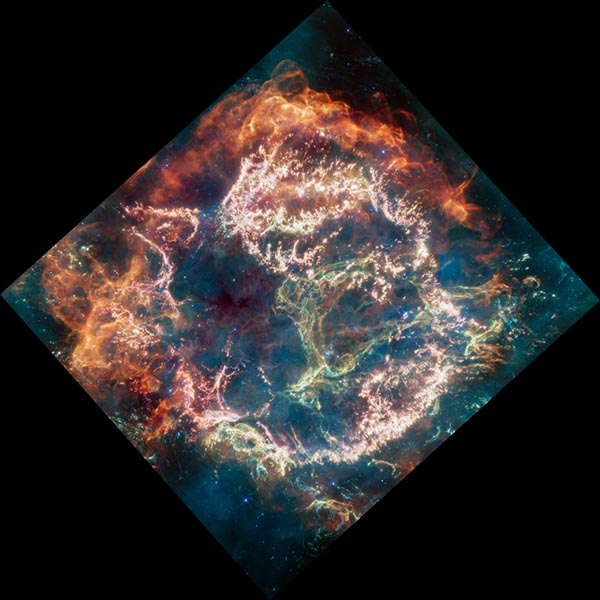 The striking colors of the new Cas A image, in which infrared light is translated into visible-light wavelengths, hold a wealth of scientific information the team is just beginning to tease out. On the bubble's exterior, particularly at the top and left, lie curtains of material appearing orange and red due to emission from warm dust. This marks where ejected material from the exploded star is ramming into surrounding circumstellar gas and dust.
Interior to this outer shell lie mottled filaments of bright pink studded with clumps and knots. This represents material from the star itself, which is shining due to a mix of various heavy elements, such as oxygen, argon, and neon, as well as dust emission.
…Perhaps most prominently, a loop represented in green extends across the right side of the central cavity. "We've nicknamed it the Green Monster in honor of Fenway Park in Boston. If you look closely, you'll notice that it's pockmarked with what look like mini-bubbles," said Milisavljevic. "The shape and complexity are unexpected and challenging to understand."
Ultimately, Cas A may help astronomers solve the riddle of where cosmic dust comes from.
By studying Cas A with Webb, astronomers hope to gain a better understanding of its dust content, which can help inform our understanding of where the building blocks of planets and ourselves are created.
The Tupperware Party's Over
If you were around in the 1960s, 70s, and 80s, it is entirely possible you witnessed one of the cultural touchpoints of the era: the Tupperware Party. It was an interesting sales and distribution model: housewives (hey, it was the 1960s and 70s) would gather at someone's home and get live demonstrations of what were actually very high-quality food storage containers. The host of the party kept a portion of the proceeds, so it was win-win. It was a successful model for decades, but you can probably see how it became a bit of an anachronism.
Tupperware is actually still around, although a story this week at the BBC suggests that it may not be for much longer.
Tupperware, the US maker of food storage containers, has warned that it could go bust unless it can quickly raise new financing.
The 77-year-old firm said there was "substantial doubt about its ability to continue as a going concern".
Tupperware has been attempting to reposition itself to a younger audience but has failed to stop a slide in its sales.
Its shares plunged nearly 50% on Monday before recovering slightly on Tuesday.
They have resorted to a variety of strategies—selling in Target, selling online, even introducing new products such as a grill that works in the microwave (?).
[Neil Saunders, managing director of retail at the consultancy GlobalData] said that the method of selling direct to younger customers through Tupperware parties "was not connecting" and that even older customers who "remembered Tupperware in its heyday" have moved on - customers can now buy cheaper or more fashionable containers in shops or online.
… Mr Saunders said it was doubtful whether Tupperware could do enough now to turn itself around. He said that if the company had made changes 10 years ago, such as selling in shops or through wholesale, it may be in a different position now.
They were just late to the party…
Al Jaffee Folds It In
For those of us who grew up with Mad magazine, few figures loom as large in our memories as the classic writers and especially cartoonists, most of whom, alas, have left us—Mort Drucker, Don "Blorp!" Martin, and now Al Jaffee, who passed away last Monday at the tender age of 102. He wrote and drew many of the magazine's classic recurring features—"Snappy Answers to Stupid Questions" was always a favorite—but he will always perhaps be associated with the "fold-in." Usually located on the inside back cover, it was a full-page illustration with some text that, if you tri-folded it, displayed a new illustration and new text with a topical, often politically satirical bent. Says the Guardian:
Speaking to the Guardian in 2016 at the age of 95, Jaffee said he believed satire was becoming harder in the face of politicians who felt no shame about lying. "I think they're defeating Mad, because they're going beyond anything we can think of doing to show the clownish nature of their claims," he said. "It used to be that politicians claimed that they would make jobs for everybody in the country within two years or something like that; now they claim that they're going to make jobs for everybody on Mars."
It's hard to demonstrate the fold-in properly online (the NY Times tried, but it was based on Flash player), but here are 13 classic Al Jaffee fold-ins.
The Can-Do Spirit Redux
As summer vacation time is coming, the unlikely partnership between the National Park Service and Bush's Beans is offering a unique camping experience: inside a giant can of beans. We kid you not. Says Food & Wine:
Bush's is offering up its one-of-a-kind "Canper" — aka a camper trailer that's shaped like its famed cans for the excursions. And each one comes fully stocked with all the beans you'd ever want to eat during your adventure.
Anyone ever seen Blazing Saddles? We continue:
The camping trips will take place near three national parks over the summer: Big Bend National Park in Texas, Grand Teton National Park in Wyoming, or the Great Smoky Mountains National Park in North Carolina and Tennessee. The trip includes all expenses (flights, ground transport, and a $200 travel stipend) for the winner and their lucky plus one (though maybe make it someone you love and trust, as there will likely be a lot of beans consumed). The winners will sleep inside the can, which comes complete with full-on bean decor, including Bush's bedding, wallpaper, posters, and even a mural that reads "Roll That Beautiful Bean Footage."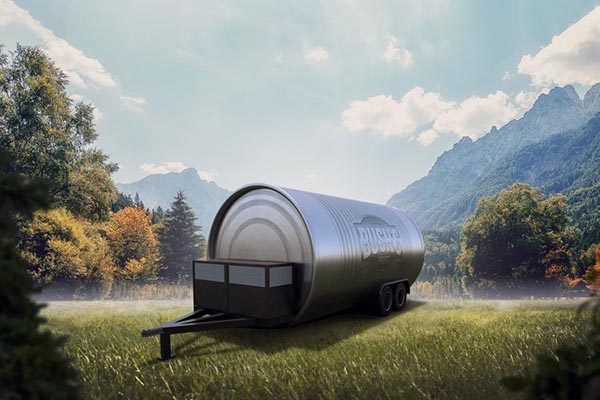 Photo: Courtesy of Bush's X National Park Foundation
Up for it? Enter now through April 26 at www.bushscanper.com.
Did anything catch your eye "around the Web" this week? Let us know at [email protected].
This Week in Printing, Publishing, and Media History
April 10
1710: The Statute of Anne, the first law regulating copyright, comes into force in Great Britain.
1847: Hungarian-American journalist, publisher, politician, and founder of Pulitzer, Inc. Joseph Pulitzer born.
1925: The Great Gatsby by F. Scott Fitzgerald is first published in New York City, by Charles Scribner's Sons.
1934: American journalist and author David Halberstam born.
2019: Scientists from the Event Horizon Telescope project announce the first ever image of a black hole, located in the center of the M87 galaxy.
April 11
1976: The Apple I is created.
2007: American novelist, short story writer, and playwright Kurt Vonnegut dies (b. 1922). So it goes.
April 12
1932: American singer and ukulele player Tiny Tim (né Herbert Khaury) born.
1981: The first launch of a Space Shuttle (Columbia) takes place: The STS-1 mission.
1990: Jim Gary's "Twentieth Century Dinosaurs" exhibition opens at the Smithsonian Institution National Museum of Natural History in Washington, D.C. He is the only sculptor ever invited to present a solo exhibition there.
1992: The Euro Disney Resort officially opens with its theme park Euro Disneyland; the resort and its park's name are subsequently changed to Disneyland Paris.
April 13
1742: George Frideric Handel's oratorio Messiah makes its world-premiere in Dublin, Ireland.
1743: American lawyer and politician, 3rd President of the United States Thomas Jefferson born.
1860: English-Belgian painter James Ensor born.
1870: The New York City Metropolitan Museum of Art is founded.
1899: American architect, game designer, and creator of Scrabble Alfred Mosher Butts born.
1901: French psychiatrist and academic Jacques Lacan born.
1923: Would you believe... American actor and director Don Adams born.
1906: Irish novelist, poet, and playwright, Nobel Prize laureate Samuel Beckett born.
1960: The United States launches Transit 1-B, the world's first satellite navigation system.
1974: Western Union (in cooperation with NASA and Hughes Aircraft) launches the United States' first commercial geosynchronous communications satellite, Westar 1.
April 14
1629: Dutch mathematician, astronomer, and physicist Christiaan Huygens born.
1828: Noah Webster copyrights the first edition of his dictionary.
1894: The first ever commercial motion picture house opened in New York City using 10 Kinetoscopes, a device for peep-show viewing of films.
1939: The Grapes of Wrath, by American author John Steinbeck is first published by the Viking Press.
April 15
1452: Italian painter, sculptor, and architect Leonardo da Vinci born.
1755: Samuel Johnson's A Dictionary of the English Language is published in London.
1888: English poet and critic Matthew Arnold dies (b. 1822).
1924: Rand McNally publishes its first road atlas.
1980: French philosopher and author, Nobel Prize laureate Jean-Paul Sartre dies (b. 1905).
April 16
1844: French journalist, novelist, and poet, Nobel Prize laureate Anatole France born.
1871: Irish author, poet, and playwright John Millington Synge born.
1889: English actor, director, producer, screenwriter, and composer Charlie Chaplin born.
1947: Scottish singer-songwriter Gerry Rafferty born.
1994: American novelist and critic Ralph Ellison dies (b. 1913).
2012: The Pulitzer Prize winners were announced, it was the first time since 1977 that no book won the Fiction Prize.