Fogging Up
If you're in London later this month, you'll want to stop by the excellent Charles Dickens Museum and check out a new Dickens exhibition: "A Great and Dirty City: Dickens and the London Fog" from March 29 until October 22.
In the 19th century, London was wreathed in a legendary "pea soup" fog, caused by coal smoke from domestic and industrial chimneys which combined with the mists and fog of the Thames to create an at-times lethal atmospheric brew. The "London fog" permeated much of Dickens' life (and may have contributed to his death) and he used fog repeatedly throughout his novels, most notably his masterpiece Bleak House. The exhibition looks at the role and use of fog in his life and his work. From The Guardian:
Through letters, original partworks of his writing, illustrations and domestic objects, the exhibition will illustrate the extent and impact of fog in 19th-century London, caused by burning coal in industrial and domestic settings. It will also draw parallels with contemporary issues of air pollution.
"Charles Dickens was surrounded by fog his whole life. It affected him – and his characters – from childhood to his final days and became an inspiration and a looming presence in his books," said Frankie Kubicki, the museum's senior curator.
"Fog and smoke were not always seen negatively though; while pollution is often used by Dickens to represent a malevolent force or a shady character, London's coal fires and twinkling gas street lamps can be heartwarming, nostalgic sights, which comforted Londoners."
The exhibition will also include original first edition parts of Bleak House, as well as a "beautiful lace handkerchief" owned by the Dickens family.
"People used handkerchiefs to cover their mouth and nose in dense fog, so it has interesting parallels today with the use of masks both to protect from air pollution and the Covid pandemic," said Kubicki.
Graphene Socks It to Me
Was it a good week for graphene news? It's always a good week for graphene news! Antibacterial graphene-infused socks. From (who else?) Graphene-Info:
Zhejiang Textile New Material Technology, located in Zhuji, Zhejiang, China, is currently testing its new graphene-enhanced antibacterial socks. The Company explained that the socks are first manufactured in a traditional way, then treated with a graphene antibacterial multifunctional finishing agent.
… "As far as socks are concerned, the entire market size is at least tens of billions." Zhang Qi said and explained that next, they will work on lowering costs so that they can make high-end and fashionable products popular and affordable.
A Scanner, Darkly
Here's one reason you may be finding it difficult to hire younger people to run your printing equipment: non-intuitive interfaces. Via The Guardian, digital natives raised on user-friendly mobile apps, can have a tough time navigating office equipment.
Garrett Bemiller, a 25-year-old New Yorker, has spent his entire life online. He grew up in front of screens, swiping from one app to the next. But there's one skill set Bemiller admits he's less comfortable with: the humble office printer.
"Things like scanners and copy machines are complicated," says Bemiller, who works as a publicist. The first time he had to copy something in the office didn't exactly go well. "It kept coming out as a blank page, and took me a couple times to realize that I had to place the paper upside-down in the machine for it to work."
…Gen Z workers tend to be well equipped to edit photos and videos all from their phones, or use website builders like Squarespace and Wix. They grew up using apps to get work done and are used to the ease that comes with Apple operating systems. Their formative tech years were spent using software that exists to be user-friendly.
But desktop computing is decidedly less intuitive. Things like files, folders, scanning, printing, and using external hardware are hallmarks of office life. Do they know what button to press to turn on a bulky computer monitor, when many simply close their personal laptops when they're done with them?
… The tech company HP coined the phrase "tech shame", to define how overwhelmed young people felt using basic office tools. According to the study, one in five young office workers reported "feeling judged for having tech issues", which made them less likely to ask for help.
No one should be "tech shamed"—we recall, 40 years ago, one of the world's leading experts on the commercial printing industry had to be repeatedly shown by a 15-year-old how to operate a photocopier—so we can't all be masters of everything right off the bat. And shaming for any reason is just wrong.
Big Bang
What was the loudest sound ever made—or at least that we know about? Via Laughing Squid, Great Big Story has a look, if not a listen, at "the singular natural event that caused the loudest sound in the world." Registering at 310 decibels, it was the 1883 eruption of Krakatoa, a volcano in the Sunda Strait of Indonesia. "The eruption could be heard in locations as far as western Australia and caused horrific tsunamis and tidal waves."
It was reportedly heard in more than 50 different locations and the sound wave traveled three and a half times around the planet. …It caused deadly tsunamis as far as Hawaii and South America, major drops in temperature in the Northern Hemisphere, and deeply tinted sunsets.
Monkey Business
Julius Henry Marx may not be a name that people day may still remember, although hopefully a few still remember his stage name: Groucho Marx who, with his brothers Harpo and Chico (and, early on, Zeppo) made some of the funniest movies ever made. After the Marx Brothers stopped making movies in the 1940s, Groucho was still a mainstay on television, and even hosted the successful quiz show You Bet Your Life that ran, first on radio, then on TV, from 1947 to 1961. Groucho had a distinctive look, especially in the movies (based on the Brothers' vaudeville act) with his bushy, expressive eyebrows, glasses, greasepaint moustache, and omnipresent cigar.
As a result, there was a novelty item that used to be sold in stores (and may still) called "Groucho Glasses." Believe it or not, these were very popular and even became something of a cultural icon. (In Woody Allen's first movie, the 1969 crime spoof documentary Take the Money and Run, interview subjects disguised themselves by wearing Groucho Glasses.)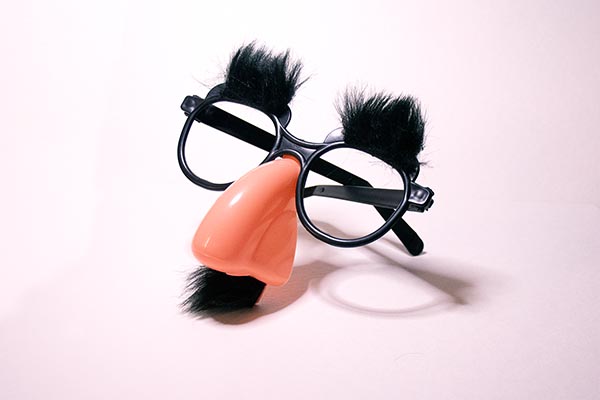 At any rate, Print magazine take a look at the history of the Groucho Glasses, which came from a time, the early 1900s, when vaudeville ushered in tie-in products.
Many notable objects of comedy date back to the early 1900s. As vaudeville and slapstick comedy infected audiences across the United States, so did props— lots and lots of props. Simple gags like breakaway furniture, funny foley, and bowler hats were lauded for their brilliance onstage, and entrepreneurs seized opportunity to usher in an era of novelties.
…As Groucho Marx rose to fame, novelties swept the nation. By the mid 1940s, joke shops and novelty shops were a common sight across the United States. According to Mark Newgarden's Cheap Laffs, approximately 4,000 shops peppering the landscape by the 1940s, annually grossing around $3 million— even with the majority of items retailing for 25 cents or less. Mail-order catalogues from Johnson Smith & Co. were blazoned with "novelties" and advertised in the tabloids. A booming industry of joke fingers, false teeth, funny glasses, sleight of hand magic tricks, and witty "things you never knew existed" became mainstream.
When NBC-TV started airing You Bet Your Life in 1950, they turned Groucho's iconic image into a brand: the prop duck that would pop down if a contestant "said the secret word," the title card, and, yes, tie-in merchandise.
As a publicity effort to cross-promote the series, the network authorized the production of official Groucho Goggles. First appearing on the market in the late 1950s, these toys were the next variation of today's disguise glasses. Groucho Goggles were one piece of heavy plastic with a block mustache, cigar attachment, and thick eyebrows fixed to two white donut-shaped eyes, with free black "pupils" which spun around when you blew into a whistle on the back of the toy.
The Groucho Glasses may have been lost to the mists of time, but let's hope Groucho Marx never is.
Jeans Therapy
Do you ride a motorcycle? Are you prone to crashing or taking a spill? Do you wish that a motorcycle had an airbag like cars do? (Actually, as far as we know, only the Honda Goldwing has airbags built in.) If so, good news! Via Boing Boing, Swedish firm Mo'Cycle has developed a line of Airbag Jeans. Deflated, they look like regular jeans, but in an impact, they inflate to pad the knees and thighs.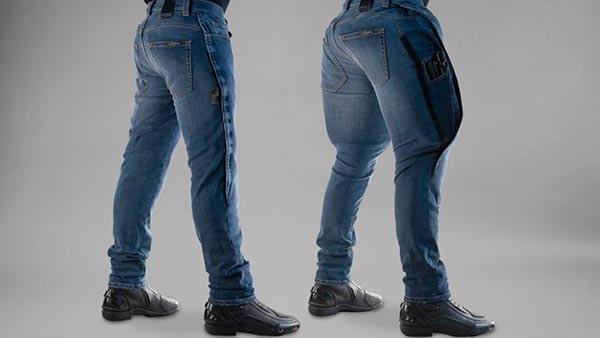 A steal at $499.
Plowed
It's winter and that can only mean one thing: snowplow naming contests. This year, NBC15 reports from Madison, Wis., where they have just announced the winners of the Wisconsin Salt Wise snowplow naming contest.
According to the City of Madison, each of the pieces of equipment received over 3,000 votes from dedicated supporters. The Quad Axle Brine Truck beat, now known as Saltimus Prime, edged out 15 other candidates, including Barbara Salters and Sweet Carolbrine.
The name in the race for the Bike Path Plow, Snowbi Wan Kenobi, won in a landslide victory, earning over 1,000 votes with the runner up, Austin Plowers, earning an admirable 352.
The voting was set up as ranked choice system where voters select their top five picks. The top five candidates in the race for the Double Wing Plow Truck were Kung Plow Chicken, Pushy McDriftyflakes, Snowsferatu, Blizzo and the winner, Dolly Plowton.
Rock Music
The surreal sound of rock music from an actual rock

This phonograph that can 'read' the surface of a rock pic.twitter.com/dBvQCJ24mj

— Science girl (@gunsnrosesgirl3) March 1, 2023
Didn't John Cage do something like that?
Bananas
Vegans and vegetarians very often get a raw deal (if not a raw meal) when presented with menu options, especially on airplanes, but one business class passenger flying on Japan Airlines from Jakarta, Indonesia, to Tokyo discovered that the "vegan meal" consisted of a single banana. From Food & Wine:
In a post on the FlyerTalk forum, Kris Chari wrote about his experience, asking other users if they had a similarly "underwhelming" meal service on that particular route. "Before takeoff today, my flight attendant confirmed that I ordered [a Vegetarian Vegan Meal] and that my breakfast was a banana, by which I mistakenly assumed she meant that breakfast included a banana," Chari wrote. "When she served the banana after takeoff, I thought it was just an underwhelming appetizer, but it was, in fact, the entire meal service!"
Now, mind you, he was quick to point out that the banana was "one of the best I've had recently," and adding, "It was cute of the crew to serve the banana with chopsticks, though."
Olive Twist
We're not exactly sure when it was decided that we needed to add olive oil to every manner of foodstuff, but now Starbucks is introducing an olive oil-infused coffee, for reasons passing understanding. From CNBC:
The coffee giant will launch its "Oleato" line in its roughly two dozen Italian locations on Wednesday and plans to bring it to Southern California this spring. The United Kingdom, Japan and the Middle East will follow later this year.
Oleato means "with oil," according to Starbucks.
The idea was born from a trip that outgoing CEO Howard Schultz took to Italy this summer, where he witnessed Sicilians drinking olive oil as a daily ritual. He, too, began drinking olive oil alongside his daily coffee and decided that Starbucks should try to mix the two together.
Like…oil and water? Don't they famously not mix? That's great for lithography, but beverages?
Oleato drinks could also appeal to health-conscious consumers, Brewer said. Studies have suggested that consuming olive oil can reduce inflammation and help heart health. Celebrities including Kourtney Kardashian have endorsed drinking it—
Sorry, just did a coffee spit-take there. We'd sooner get health advice from the Cardassians.
Ford Escalate
Here's yet another sign of our potentially dystopian future: a car that can punish you if you miss a payment. From Boing Boing:
Ford has applied for a patent for a "repossession system computer" (RPC) that can turn your car into a self-driving vehicle if you fall behind on payments. But that's not all — the RPC will also put you through a series of increasingly unpleasant experiences to encourage you to pay up.
Such as? Well, deactivating GPS navigation, the audio system, the remote key fob, and even the air conditioning. It will then escalate, making an "incessant and unpleasant sound" that you can't turn off, and locking you out of your car on weekends or preventing non-essential driving (how it determines that will remain to be seen).
And if you still haven't learned your lesson, the RPC will take matters into its own hands. It can direct your car to a waiting tow truck, a dealership, or even a scrapyard if it deems your car worthless.
Perfect for a modern remake of Repo Man.
Car Jamming
What do you do when your neighbor's car alarm goes off and won't stop? Well, if you're musician Tony Ann, you use it as inspiration for a piano composition. Via Laughing Squid: "The piece, which is appropriately called 'My Neighbour's Car Alarm', is a multi-layered, soundtrack composition that mimics the rhythm of the alarm."
Drummer Deelen Bhatti found the video on Instagram and added drums. Any guitarists or bassists out there want to add further layers?
So when the Ford Escalate starts making its "incessant and unpleasant sound," at least someone can do something with it.
Did anything catch your eye "around the Web" this week? Let us know at [email protected].
This Week in Printing, Publishing, and Media History
February 27
1691; English publisher, founder of The Gentleman's Magazine Edward Cave born.
1807: American poet and educator Henry Wadsworth Longfellow born.
1812: Poet Lord Byron gives his first address as a member of the House of Lords, in defense of Luddite violence against Industrialism in his home county of Nottinghamshire.
1891: American businessman and founder of RCA David Sarnoff born.
1902: American journalist, author, and Nobel Prize laureate John Steinbeck born.
February 28
1683: French entomologist and academic René Antoine Ferchault de Réaumur born. After observing wasps building their nests, Réaumur was the first to propose making paper out of wood.
1827: The Baltimore and Ohio Railroad is incorporated, becoming the first railroad in America offering commercial transportation of both people and freight.
1935: DuPont scientist Wallace Carothers invents nylon.
1939: The erroneous word "dord" is discovered in the Webster's New International Dictionary, Second Edition, prompting an investigation.
1940: Basketball is televised for the first time (Fordham University vs. the University of Pittsburgh in Madison Square Garden).
1944: English graphic designer and cofounder of Hipgnosis Storm Thorgerson born.
1954: The first color television sets using the NTSC standard are offered for sale to the general public.
1970: American journalist, author, and accordion player Daniel Handler born. Under the name Lemony Snicket, he is the author of the children's book series A Series of Unfortunate Events.
1983: The final episode of M*A*S*H airs, with almost 106 million viewers. It still holds the record for the highest viewership of a season finale.
March 1
1790: The first United States census is authorized.
1869: Dmitri Mendeleev finishes his design of the first periodic table of elements and sends it for publishing.
An alternative version of the periodic table, as designed by Theodor Benfey in 1964. pic.twitter.com/RTWgQ4jQK8

— Quite Interesting (@qikipedia) February 27, 2019
1872: Yellowstone National Park is established as the world's first national park.
1873: E. Remington and Sons in Ilion, N.Y., begins production of the first practical typewriter.
1893: Electrical engineer Nikola Tesla gives the first public demonstration of radio in St. Louis, Mo.
1896: Henri Becquerel discovers radioactive decay.
1914: American novelist and literary critic Ralph Ellison born.
1917: American poet Robert Lowell born.
1917: The Zimmermann Telegram is reprinted in newspapers across the United States after the U.S. government releases its unencrypted text.
1922: American publisher and founder of MAD Magazine William Gaines born.
1998: Titanic became the first film to gross over $1 billion worldwide. (It is worth checking out this site that adjusts the highest-grossing movies for inflation.)
2006: English-language Wikipedia reaches its one millionth article, Jordanhill railway station.
March 2
1545: English diplomat and scholar, founder of the Bodleian Library Thomas Bodley born.
1717: The Loves of Mars and Venus is the first ballet performed in England.
1791: Long-distance communication speeds up with the unveiling of a semaphore machine in Paris.
1904: American children's book writer, poet, and illustrator Dr. Seuss (né Theodor Seuss Geisel) born.
1930: English novelist, poet, playwright, and critic D. H. Lawrence dies (b. 1885).
1933: The film King Kong opens at New York's Radio City Music Hall.
1942: American novelist and screenwriter John Irving born.
1942: American singer-songwriter, guitarist, producer, and actor Lou Reed born.
1982: American philosopher and author Philip K. Dick dies (b. 1928).
1983: Compact discs and players are released for the first time in the United States and other markets. They had previously been available only in Japan.
1995: Yahoo! is incorporated.
2010: Hailey Dawson, an American girl a with 3D-printed robotic hand, born.
March 3
1847: Scottish-American engineer and academic and inventor of the telephone Alexander Graham Bell born.
1873: The U.S. Congress enacts the Comstock Law, making it illegal to send any "obscene, lewd, or lascivious" books through the mail.
1875: Georges Bizet's opera Carmen receives its première at the Opéra-Comique in Paris.
1875: The first ever organized indoor game of ice hockey is played in Montreal, Quebec, Canada.
1882: Italian swindler, con artist, and "businessman" Charles Ponzi born. He was a practitioner of what eventually became known as the "Ponzi scheme."
1885: The American Telephone & Telegraph Company is incorporated in New York.
1904: Kaiser Wilhelm II of Germany becomes the first person to make a sound recording of a political document, using Thomas Edison's phonograph cylinder.
1920: Canadian-American actor and purported inventor of transparent aluminum James Doohan born.
1923: TIME magazine is published for the first time.
1931: The United States adopts "The Star-Spangled Banner" as its national anthem.
1949: American historian, journalist, and author Ron Chernow born.
1951: Jackie Brenston, with Ike Turner and his band, records "Rocket 88," often cited as "the first rock and roll record," at Sam Phillips's recording studios in Memphis, Tenn.
1953 English singer-songwriter and guitarist Robyn Hitchcock born.
March 4
1852: Ukrainian-Russian short story writer, novelist, and playwright Nikolai Gogol dies (b. 1809).
1882: Britain's first electric trams run in east London.
1913: The United States Department of Labor is formed.
1957: The S&P 500 stock market index is introduced, replacing the S&P 90.
1974: People magazine is published for the first time in the United States as People Weekly.
March 5
1512: Flemish mathematician, cartographer, and philosopher Gerardus Mercator born.
1616: Nicolaus Copernicus's book On the Revolutions of the Heavenly Spheres is added to the Index of Forbidden Books 73 years after it was first published.
1953: American screenwriter and producer Herman J. Mankiewicz dies (b. 1897).