Orazio "O.Mike" Fichera passed away on January 17, 2023, at 91.
Frank Romano remembers O.Mike:
At one time there was a group of suppliers to the printing industry called "graphic arts dealers." They supplied everything from adhesives to X-Actos. That's where printers bought film for cameras and phototypesetters. There were 400 of them with the Pitman Company as the largest. The face of that industry was Orazio "O.Mike" Fichera who published the publications Dealer Communicator, The Eagle, and Trade Show Times.
Mike and The Eagle spawned the National Graphic Arts Dealers Association in 1983 from among its dealer-subscribers. Later, at The Eagle's urging, NGADA merged with a more manufacturer-oriented trade group, GASA, to form NAGASA. The Eagle was then made the official publication of NAGASA and served in this capacity for several years before going independent.
Mike was born in Brooklyn, N.Y., but lived most of his life in Florida. He attended almost every trade show and was always promoting something. I met him in 1977 at a trade show held at the New York Coliseum, which no longer exists. Every now and then he would hit me up for an article.
In 2006, NAGASA held its last meeting in Grapevine, Tex., and that was the last time I saw Mike. He is now gone as are graphic arts dealers.
Dr. Joe Webb remembers O.Mike: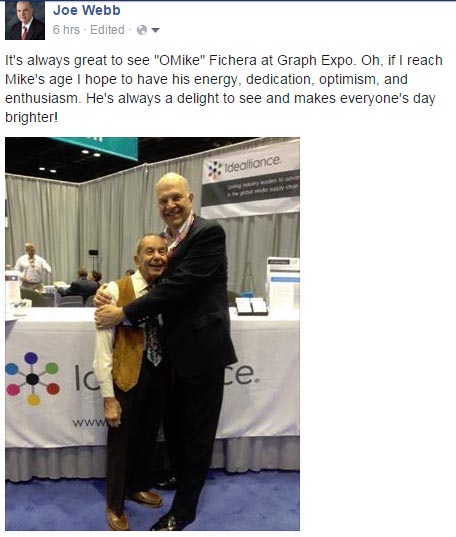 Dealer Communicator was in the midst of the dealer restructuring of the late 1980s and early 1990s, and the switch from GAESDA to NGADA, which was independent and helped a lot of family dealers negotiate their manufacturer contracts, fight back against their contract cancellations, and aålso provide a grapevine for a word here and there about who might be interested in selling or buying their family businesses.
But most of all O.Mike was a champion of the little dealers and manufacturer representatives who worked for so many small manufacturers or so many small geography dealers.
Nobody hugged like O.Mike. He always had a kind word for everyone and about everyone. He did pretty well for a paper sales guy from Brooklyn who started Dealer Communicator in the depth of a recession.
Richard Romano remembers O.Mike:
I met Mike when I was in middle or high school and worked for TypeWorld over school breaks and when I was occasionally dragooned to work various shows. Many years later when I got into the industry professionally, he remembered me and I would run into him at shows—Joe was right about the hugging. He was always smiling as well. When wide-format printing equipment started to become a hot commodity, he asked me to write a few wide-format trend articles for him, which I was always happy to do. I last ran into Mike at (I think) PRINTING United 2019 and he had not changed a bit—and had more energy than I did!
We will all miss Mike for brightening up his corner of the industry.
His official obituary: https://obituaries.neptunesociety.com/obituaries/plantation-fl/orazio-fichera-11112301