Not Their Type (Anymore)
In case you missed the announcement, via Type Network, Adobe has officially ended support for Type 1 fonts. Unless you have been working with type for a while (and, hey, who in the printing industry has?), this probably won't affect you all that much. But it may.
Type 1, the venerable font format, was once the linchpin of desktop publishing, but decades ago the demands of technology and global design made the OpenType font format necessary. If you think this might affect you, the easiest place to start is by looking at your fonts. If you have font files without a suffix of either ".otf" or ".ttf," then they're probably the Type 1 format. Apple's macOS will identify them as a "PostScript Type 1 outline font," and on Microsoft Windows you'll see a file with a ".pfb" suffix (possibly with a ".pfm" companion file). You can also look at the icon next to the name in an Adobe application's font menu. If your fonts aren't handy, but you suspect they might turn up later, just think about the timeline: Fonts or documents you were using before (roughly) the turn of the century are from the pre-OpenType era.
If you do still use Type 1 fonts, what do you do?
…can they be replaced by newer, OpenType versions? For popular typefaces, it's likely. Type Network has partnerships with Adobe, Font Bureau, and many other foundries and designers whose work goes back to the days of Type 1 fonts, and our staff has plenty of combined experience with them. A search of the Type Network library is the easiest way to determine if we have an OpenType replacement for you.
Otherwise, you may need to set up a dedicated computer that only runs legacy software. (You laugh…)
Groovy Decoy
Remember back in 2020 during the Summer of COVID when sporting event spectators were largely composed of cardboard cutouts of fans? Well, Jameson Whiskey does and they are using wide-format printing capabilities to give people a way to skip out of work on St. Patrick's Day. Order your "Desk Decoy" now! From Food & Wine:
To encourage us to skip out on our 9-to-5s for the day, the whiskey-maker has created the "Jameson Desk Decoy," a life-sized cardboard cutout that you can set up at your workstation while you're off doing…literally anything else.
"We've all been there before — your boss forgot you took an SPTO [St. Patrick's Day Time Off] and swings by to meet one-on-one. Or your finance department didn't get your SPTO memo and requests your latest expense report while you're out of the office," Johan Radojewski, Jameson's vice president of marketing, said in a statement. "That's why in the true spirit of Jameson, we are introducing the Jameson Desk Decoy: a comical, life-size version of yourself for the office, so the real you can take that planned SPTO and go celebrate St. Patrick's Day."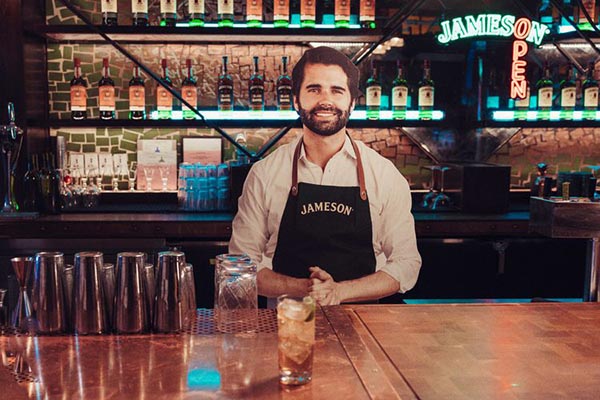 Photo: Courtesy of Jameson
If you'd like to get your own cardboard likeness, you can order them through the Jameson SPTO website. You'll have to upload a photo of your face, select which Jameson-themed outfit you'd like Cardboard You to wear and decide whether it should stand 5'6" or 5'11" tall. It costs $17.80 (plus tax) for each Jameson Desk Decoy, a price point chosen because Jameson was founded in 1780.
And, who knows? It may end up being more productive than you.
0% Inflation
Gizmodo asks, "How many times has a game of basketball been thwarted by a ball that was too flat to bounce?" We don't know, as we don't play many pickup games here in the Around the Web Bunker, but assuming it's a fairly common occurrence, Wilson apparently has solved the problem by creating a 3D-printed basketball that doesn't need inflating.
Although calling the basketball "airless" is a bit of a misnomer given air is still able to pass right through it, it's the most common term that's been used to describe this technology that replaces the need for pressurized bladders in objects designed to bounce or absorb impacts.
…Wilson partnered with a company called EOS which specializes in the use of 3D printing for industrial uses including medical and aerospace applications, to manufacture the unorthodox basketball design that's covered in a pattern of open hexagons instead of sealed leather panels.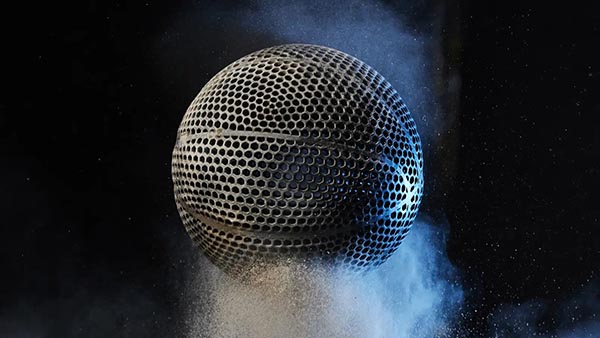 EOS relied on additive 3D printing technology which, instead of building up layers of extruded melted plastic, uses a powdered resin that's hardened by a laser to create ultra-thin stacked layers with even more detail. The result is a completely hollow basketball that nearly matches the "performance specifications of a regulation basketball, including its weight, size and rebound (bounce)." The 3D-printed ball can even be dyed in various colors, with the prototype being made all-black for its debut during the 2023 NBA All-Star Game festivities this past weekend.
The NBA has no plans to adopt it, at least for now, but Wilson plans to continue developing and improving it.
Fold Fashion
Via Boing Boing, Uyen Nguyen is an origami artist and fashion designer who recently used the Fibonacci sequence as an inspiration for a skirt, which they discuss in this video via the Museum of Mathematics:
Check out this video by @mental_floss about the #math behind #origami, featuring MoMath's "Math Unfolded" exhibition! Watch the full video at https://t.co/1e15QtS688 pic.twitter.com/jzaGTzF3Tm

— National Museum of Mathematics (@MoMath1) December 17, 2019
You can also learn more about Uyen Nguyen on their Instagram, and via a series of YouTube videos demonstrating origami fashion. Check out Part 1:
AI-Yi-Yi, Part the Infinity: First, Digitize All the Lawyers
In a wreck and need your check? Call 1-800-CHATGPT! Says Wired:
The rise of AI and its potential to disrupt the legal industry has been forecast multiple times before. But the rise of the latest wave of generative AI tools, with ChatGPT at its forefront, has those within the industry more convinced than ever.
London-based law firm Allen & Overy started experimenting with OpenAI's law-focused generative AI tool Harvey (not a giant invisible rabbit, although it may as well be) to answer simple questions about the law, draft documents, and take first passes at messages to clients.
The trial started small, [David Wakeling, head of Allen & Overy markets innovation group] says, but soon ballooned. Around 3,500 workers across the company's 43 offices ended up using the tool, asking it around 40,000 queries in total. The law firm has now entered into a partnership to use the AI tool more widely across the company, though Wakeling declined to say how much the agreement was worth. According to Harvey, one in four at Allen & Overy's team of lawyers now uses the AI platform every day, with 80 percent using it once a month or more. Other large law firms are starting to adopt the platform too, the company says.
It proves useful in some legal applications.
But the problems with current generations of generative AI have already started to show. Most significantly, their tendency to confidently make things up—or "hallucinate." That is problematic enough in search, but in the law, the difference between success and failure can be serious, and costly.
It'd make a great episode of Better Call Saul, though.
DJ Graphene
Was it a good week for graphene news? It's always a good week for graphene news! Graphene helps spin the records. From (who else?) Graphene-Info:
Using Haydale's HDPlas technology, the graphene-enhanced prepreg
Prepreg is not a character in Moby-Dick. We continue.
has been applied into the manufacturing process for Rega's award-winning turntables. The mechanically enhanced prepreg has been combined into the stressed skin design of the plinth and bonded to the core material to increase the stiffness of the part by 11% reducing resonance and improving sound quality.
The technology Rega uses develops the same as developed for the manufacture of jet aircraft wings that both require light weight and strength. The addition of graphene continues to place high-tech materials at the forefront of Rega's audio equipment development to achieve low mass and high rigidity.
Yeah, but can it play records on a jet's wings while in flight?
Corral OK
It's a term we use all the time, yet its origins are murky at best. But Smithsonian magazine traces the origins of the term "OK." Dating from 19th-century Boston, it was apparently a joke that went viral.
It all began in the office of Charles Gordon Greene at the Boston Morning Post, Good Magazine writes. The year was 1839, and among writerly folk, abbreviations were all the rage (think LOLZ, OMG or NBD today). "This trend," Good continues,"produced many unsuccessful terms such as OW—an OK-like term for "oll wright" (all right) that flopped."
OK first appeared as an abbreviation for "Oll Korrect," printed in a satirical article about grammar, the Economist continues. The word's origins were only revealed in the 1960s, however, when etymologist Allen Read did some digging—through suggestions that the word might come from Europe, a Civil War nickname for biscuits, or an abbreviation for the telegraph term Open Key. Still others falsely thought that president Martin Van Buren had invented the term in his presidential campaign, which used the slogan "Vote for OK" in reference to both his hometown and his nickname, Old Kinderhook, the Economist writes. But Van Buren only popularized the term, Read found, not invented it.
OK, then.
Unplanned Obsolescence
Via Laughing Squid, Rhetty for History has put together a list of consumer items that have become obsolete since the beginning of the 2000s. Well, we should say largely obsolete. They include the corded telephone, busy signals, VCRs, fax machines (unless you work in health care, in which case they are more prevalent than email), and the AOL login screen. We wonder, in 10–15 years, how many of the items we use now on a daily basis will be compiled into a video like this.
(No, this is not a strung-together collection of Frank's videos.)
Design as Annoyance
Here in the Bunker we often link to clever examples of industrial design, usually via the site Core77. However, via Print magazine, meet Architect Katerina Kamprani who has launched a new project that features deliberately annoying examples of bad industrial design. The project is called The Uncomfortable, and it came about after she failed to finish her studies in industrial design at the University of Aegean in Greece.
But Kamprani wasn't done failing just yet. After dropping out of her Master's program after one semester, she got hired at an advertising firm in Athens, but was fired after just one month. "It was an epic failure that left me devastated," she shared with the audience of her TED Talk. This all sounds pretty bleak, but don't worry— cue the resurrection!
With this heap of blunders in her wake, Kamprani had the idea of intentionally applying failure to the design of everyday objects. "I started thinking, what if objects were actually designed for a bad user experience instead of a good user experience? That was my eureka moment," her presentation continued. "I finally found something smart and funny that has no responsibility to be practical. That was the core idea: to not be practical."

While The Uncomfortable has these light-hearted underpinnings, it simultaneously achieves an impressive level of profundity. "By showing faulty design, we can appreciate the objects we use everyday," said Kamprani. "I hope this project stimulates an appreciation for the complexity and depth of interactions with the simplest of objects around us."
It looks like what AI would come up with if it were asked to design everyday objects. Actually she should go work for the tech industry, where they seem to embrace annoying design as a matter of course.
While You Were Art
Sign of the Apocalypse? Could be. Anyway, via Boing Boing, The Smithsonian has partnered with MTV (huh?) for a new illiterate programming reality TV series: The Exhibit.
Seven artists compete for a show at the Hirshhorn and $100,000 cash money. And your time starts….. NOW!
The Exhibit premiers on The Smithsonian Channel on March 3rd.
Watch a promo here. Sounds horrifying.
Droning On
Looking for a reliable design for a drone that is sure to fly? Why reinvent the wheel wing when billions of years of evolution have done all the heavy lifting? That is to say, use actual birds. Or, more specifically, taxidermied birds. Sound creepy? Well, read on, Tippi Hedren. Via Gizmodo, researchers from the New Mexico Institute of Mining and Technology are building drones from actual dead birds.
In a study recently presented at the American Institute of Aeronautics and Astronautics SciTech 2023 Forum, the researchers highlight the benefits of using actual bird parts over artificial materials that have been engineered to behave like them. With their lightweight bodies and flexible feathers, birds can easily out maneuver even the most capable aircraft we've ever built, and that includes compact drones that can deftly zip through bowling alleys.
At least in their current form, the drones the New Mexico Tech researchers created are nowhere near as agile in the air as the real thing. Birds use their muscles to bend and contort the shapes of their wings to perform amazing aerial maneuvers, while these drones simply flap their stiff wings up and down to stay up in the air.
Of course one advantage of building an aerial drone from an actual bird is that since it looks like, well, a bird, it would be great for espionage or other applications where you don't want anyone to know it's a drone—such as freaking out the Birds Aren't Real folks.
Peepsi
Just in time for Easter, the partnership between Pepsi and Peeps—you know, the marshmallow-like treats that are great fun to microwave—has been renewed, and those eager to spend the last days of Lent in a diabetic coma can now once again get Peeps-flavored cola. Says Food & Wine:
According to the two companies, Pepsi x Peeps will be sold in both 7.5-ounce mini-can multipacks and 20-ounce bottles. (To find a retailer near you that stocks the new soda, you can check the Pepsi product locator.)
"The Peeps brand is always looking for new and exciting ways to bring our delicious Marshmallow flavor to fans, and the partnership with Pepsi is truly a groundbreaking way for them to express their Peepsonality," Peeps Brand Manager Caitlin Servian said in a statement. "After the astonishingly positive response from our fans to the first Pepsi x Peeps collaboration, we are thrilled to bring back the offering just in time for spring."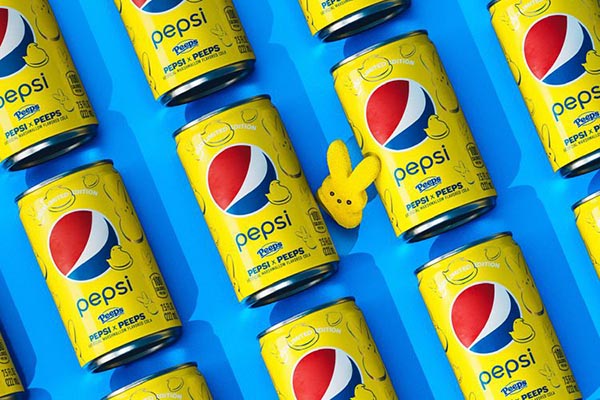 We think they missed a real opportunity by not calling it Peepsi.
Did anything catch your eye "around the Web" this week? Let us know at [email protected].
This Week in Printing, Publishing, and Media History
February 20
1792: The Postal Service Act, establishing the United States Post Office Department, is signed by United States President George Washington.
1816: Rossini's opera The Barber of Seville premieres at the Teatro Argentina in Rome.
1872: The Metropolitan Museum of Art opens in New York City.
1877: Tchaikovsky's ballet Swan Lake receives its premiere at the Bolshoi Theatre in Moscow.
1902: American photographer and environmentalist Ansel Adams born.
1926: American author and screenwriter Richard Matheson born. He was legend.
1933: The U.S. Congress approves the Blaine Act to repeal federal Prohibition in the United States, sending the Twenty-first Amendment to the United States Constitution to state ratifying conventions for approval. And there was much rejoicing throughout the land.
1943: The Saturday Evening Post publishes the first of Norman Rockwell's Four Freedoms in support of United States President Franklin Roosevelt's 1941 State of the Union address theme of Four Freedoms.
1946: American singer-songwriter and guitarist J. Geils born.
1962 : While aboard Friendship 7, John Glenn becomes the first American to orbit the earth, making three orbits in four hours, 55 minutes.
February 21
1804: The first self-propelling steam locomotive makes its outing at the Pen-y-Darren Ironworks in Wales.
1821: American publisher and founder of Charles Scribner's Sons Charles Scribner I born.
1828: Initial issue of the Cherokee Phoenix is the first periodical to use the Cherokee syllabary invented by Sequoyah.
1842: John Greenough is granted the first U.S. patent for the sewing machine.
1848: Karl Marx and Friedrich Engels publish The Communist Manifesto.
1874: The Oakland Daily Tribune publishes its first edition.
1878: The first telephone directory is issued in New Haven, Conn.
1903: French-American essayist and memoirist Anaïs Nin born.
1925: The New Yorker publishes its first issue.
1947: In New York City, Edwin Land demonstrates the first "instant camera," the Polaroid Land Camera, to a meeting of the Optical Society of America.
1958: The CND symbol, aka peace symbol, commissioned by the Direct Action Committee in protest against the Atomic Weapons Research Establishment, is designed and completed by Gerald Holtom.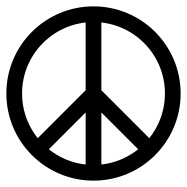 1962: American novelist, short story writer, and essayist David Foster Wallace born.
1967: American author and screenwriter Charles Beaumont dies (b. 1929).
February 22
1632: Galileo's Dialogue Concerning the Two Chief World Systems is published.
1857: German physicist, philosopher, and academic Heinrich Hertz born.
1878: In Utica, N.Y., Frank Woolworth opens the first of many of five-and-dime Woolworth stores.
1924: U.S. President Calvin Coolidge becomes the first President to deliver a radio address from the White House. We bet it was riveting.
1925: American illustrator and poet Edward Gorey.
1983: The notorious Broadway flop Moose Murders opens and closes on the same night at the Eugene O'Neill Theatre.
February 23
1455: Traditional date for the publication of the Gutenberg Bible, the first Western book printed with movable type.
1633: English diarist and politician Samuel Pepys born.
1821: English poet John Keats dies (b. 1795).
1898: Émile Zola is imprisoned in France after writing J'Accuse…!, a letter accusing the French government of antisemitism and wrongfully imprisoning Captain Alfred Dreyfus.
1904: American journalist and historian William L. Shirer born.
1927; U.S. President Calvin Coolidge signs a bill by Congress establishing the Federal Radio Commission (later replaced by the Federal Communications Commission) which was to regulate the use of radio frequencies in the United States.
February 24
1582: With the papal bull Inter gravissimas, Pope Gregory XIII announces the Gregorian calendar.
1607: L'Orfeo by Claudio Monteverdi, one of the first works recognized as an opera, receives its première performance.
1711: The London première of Rinaldo by George Frideric Handel, the first Italian opera written for the London stage.
1854: A Penny Red with perforations was the first perforated postage stamp to be officially issued for distribution.
1921: American actor Abe Vigoda born.
1955: American businessman and co-founder of Apple Inc. and Pixar Steve Jobs born.
1968: American comedian and actor Mitch Hedberg born.
1989: Ayatollah Ruhollah Khomeini issues a fatwa and offers a USD $3 million bounty for the death of Salman Rushdie, author of The Satanic Verses.
February 25
1644: English pastor, engineer, and inventor of the first practical steam engine Thomas Newcomen born.
1899: German-English journalist and businessman, founder of Reuters Paul Reuter dies (b. 1816).
1928: Charles Jenkins Laboratories of Washington, D.C. becomes the first holder of a broadcast license for television from the Federal Radio Commission.
1943: English singer-songwriter, guitarist, and producer George Harrison born.
1983: American playwright, and poet Tennessee Williams dies (b. 1911).
February 26
1564: English playwright, poet, and translator Christopher Marlowe born.
1616: Galileo Galilei is formally banned by the Roman Catholic Church from teaching or defending the view that the earth orbits the sun.
1802: French author, poet, and playwright Victor Hugo born. (We had a hunch.)
1909: Kinemacolor, the first successful color motion picture process, is first shown to the general public at the Palace Theatre in London.
1918: American author and critic Theodore Sturgeon born.