WhatTheyThink: Haim, before diving into the specifics of PRINTING United, and what HP brings to it, I want to start with a more macro-level question. We are all seeing financial instability and uncertainty in the global markets. How does it affect the Industrial Print business and the overall market?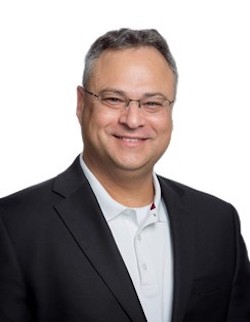 Haim Levit: This is a very important question to address. You are right. The current global economy is going through a challenging time as stock markets are down, inflation and energy prices are up, shipping costs are still high, and China which significantly affects the global economy has not really recovered from COVID. Russia's invasion of Ukraine is threatening to destabilize the region and that hurts the confidence of PSPs in eastern and central Europe.
In the printing market, we see some initial slowdown in demand for labels production capacity. On the other hand, the commercial market seems to be recovering well on the cut-sheet high value, high-end production, and even more so on the high-speed webfed arena. From HP's perspective, while we are facing multiple headwinds like all vendors, we are doing very well and successfully steering our business forward.
We are seeing historical demand patterns across our portfolio in the past twelve months. We took proactive and smart steps to address the supply chain challenges so that we can deliver, install, and support our customers' growth as the market continues its recovery from COVID. We resumed many customer face-to-face activities and continued with our innovative virtual experiences to significantly strengthen our funnel, which gives us a strong line of sight for another successful year. We also announced quite a few mega deals in the last twelve months that further demonstrate our strength and resilience. Overall, we continue to lead the digital print transformation with agility, creativity, and technology that are second to none.
WTT: What can you tell us about your portfolio as we enter into PRINTING United, and can you share with us in more detail about the recovery you are witnessing in the commercial market?
HL: We are coming into PRINTING United with the most comprehensive ready-to-go portfolio in our history. Driven by our LEP and Thermal InkJet technologies and strengthened by recent product launches, we now offer the most advanced product portfolio on the market. Our sheetfed Indigo and webfed PageWide Industrial solutions meet the needs of every customer in the industry, and we are able to focus each technology on the applications where it performs best.
We just announced a game-changing new product with the PageWide Advantage 2200 that brings a new blend of versatility, modularity, and quality that is rare in the market. With the new Brilliant Ink, the smaller footprint, the drying modularity, and overall improved productivity, the A2200 is the Swiss army knife of the market targeted for printers looking for high-speed continuous feed commercial production in publishing, commercial print, and direct mail. The demand we are seeing for this press are unprecedented.
At PRINTING United, we are announcing two more additions to our portfolio. The first is the new PageWide Web Press T485 HD, which adds Brilliant Ink to our flagship T400 platform, increasing its quality and versatility for our customers. The second addition we are announcing is a new capability on the PageWide Web Press T250 HD to run in mono at up to 800 fpm, which is 60% faster than its current mono speed. Both of these machines can be purchased new and for existing customers can be upgraded to this latest capability.
With regards to our commercial growth, we closed FY'21 with 59% market share and are back to pre-pandemic levels of our B2 platform unit sales. This is the only platform in the market to offer a complete portfolio of B2 presses. When we look at high-end commercial sheet-fed production, we are seeing record-breaking B2 page impressions driven by the successful launch of the flagship HP Indigo 100K Digital Press just two years ago. With the end of FY'22 just around the corner, we expect to see double-digit B2 volume growth from FY'21, bringing about another record-breaking year. This strong growth is driven by our B2 portfolio which caters to PSPs seeking sheetfed digital productivity with the 100K as well as those PSPs who are looking for the widest range of print applications provided by the HP Indigo 15K Digital press which we widely released to the market earlier this year.
In addition, the productivity and growth of our customers is outpacing market growth across the board, I'm pleased to share that our customers are producing more pages now than they did before the shutdown. Indigo customers grew 6x faster than the market and this week we are celebrating a new milestone in our A4 inkjet page volume by hitting an unprecedented 750B impressions.
WTT: How important are quality and speed in relation to running costs?
HL: Running costs are obviously important, but winning the market today means PSPs have to look beyond price competition. Growth comes from creating value and being able to leverage advantages that deliver high coverage, increase overall speed and quality with automation as well as the ability to print on a wide variety of substrates.
This is especially important in difficult market environments. We saw during the early days of COVID that our most successful customers were those that took advantage of the exclusive capabilities of the Indigo presses provided by Print OS which allows for cloud computing and remote operation management, as well as the unique inks and ability to print on synthetics and special media.
Take for example photo applications where we still maintain 80% market share, despite the numerous sheetfed commercial solutions that exist on the market today. Our customers consistently return to Indigo presses, especially the HP Indigo 15K and the HP Indigo 7K in A3 format, because they provide both high quality and versatility in a full production environment which is not something that anyone else can currently offer.
Our PageWide customers embrace versatility which enables them to grow where they see market opportunity whether that is in publishing, commercial print, or direct mail. For example, IWCO, one of the largest direct mailers in the U.S., purchased seven high-volume HP PageWide Web Presses as part of their $50 million investment to grow their performance. These presses deliver color quality and speed for a wide range of direct mail products including letters, postcards, catalogs, and folded mailers.
WTT: Do you believe this value proposition will be enough to maintain long-term market leadership?
HL: Market leadership goes beyond digital-to-digital competition, and our vision has always been to create something new in the market—a digital transformation in which a 100K digital press and a PageWide Press sit next to every offset press on the production floor. This streamlines our customers' operations to put the right work on the right device. We offer a full portfolio of workflow and finishing solutions as well as technical ramp and business development services to enable customers to meet their unique value propositions in the market. For the first time, we are seeing noteworthy offset conversion to digital in which we are growing the overall digital pie.
The 100K is leading this conversion in sheetfed with 45% of its volume being generated from former offset jobs or new applications. This is the real value proposition for our customers and offers a clear strategy for growth and long-term leadership. New business generation yields higher results than a strategy focused on price competition. PSPs are generating new business by leveraging the 100K which delivers the quality of offset while allowing for productivity and cost reduction by running the high volumes that digital provides. The majority of 100K customers have been able to print more than 100,000 impressions per shift which translates into a 70% net printing time.
WTT: Continuing with the theme of providing customer value, what can you tell us about the impact of XRServices which was launched last year?
HL: HP xRServices was designed to transform the way we approach customer care through the use of mixed reality technology. It offers immediate access to support and experts with the touch of a virtual button and we recently reached a major milestone with 200 HP customers now using the technology. From initial customer data, we see that customers are gaining an additional 10–12% productivity with xRServices.
xRServices is setting the industry standard with faster onboarding, simplified support, and drastically reduced repair times. It is also a new way for operators to acquire knowledge for increased productivity, increasing PSP self-sufficiency and the need for them to have highly skilled operations as well as increasing our own coverage of the entire HP press portfolio.
Overall, when we measure customer feedback on our experience programs through the Net Promoter Score (NPS) which also predicts business growth, we have received an NPS of 62 which is +7 y/y growth and puts us among the world leaders in delivery of customer services. It confirms the perception of Indigo's super technology and how we enable our customers to have the competitive advantage.
WTT: Can you expand upon the various strategies you offer to customers to enable that competitive advantage?
HL: One of the pillars of our growth strategy is we believe in helping our customers create instead of compete. Our brand education program is a unique example of this in the industry. It accelerates the Indigo adoption journey by demonstrating to PSPs how to increase page growth by driving brand ROI via HP's personalization platforms. We are enabling our customers to cultivate new business by working with brand agencies to integrate creativity into their value propositions.
Another defining factor of our growth strategy is our commitment to building an ecosystem for our solution partners that we find in the DSCOOP community. DSCOOP serves as a platform for education, networking, sharing best practices and forming partnerships that would normally be unattainable. This unique structure allows our partners to stay closely connected to our customers and interact with other partners. These relationships fuel growth and innovation and go beyond transactional sales and foster connections based on trust and common goals. HP's bond with DSCOOP is the most significant growth generator we have had in our history and our customers benefit from and appreciate that.
WTT: Switching gears for a moment, let's talk about some of the recent developments in the Labels and Flexible Packaging segments?
HL: Labels and flexible packaging are two huge markets with a lot of untapped potential for true analog to digital transformation. In a highly anticipated marketing event, we just launched the HP Indigo V12 Digital Press which has attracted overwhelming interest from customers as they look to expand their operations in label production. The V12 is based on the new LEPX print technology—the most transformative technology leap since the launch of Indigo's LEP technology. We expect to expand this technology in the future into a myriad of products in all print segments.
In addition, we recently signed the largest single order in HP Indigo history with our long-term partners, and industry leaders in flexible packaging, ePac to install 50 HP Indigo presses including the HP Indigo 20000 and HP Indigo 25Kin 36 global sites. These presses incorporate our latest technologies and will accelerate epac's record-breaking production capacity as they continue to disrupt the flexible packaging market.
WTT: How would you summarize HP's view and approach to the future?
HL: I'm very excited about the future of the industry. We collaborate closely with our customers, and I am grateful to be their partners in this journey. We never take them for granted and we are committed to hearing their needs and delivering innovative solutions that allow them to grow.
Events like PRINTING United are helping the print industry continue its journey to recovery and our teams are ready to execute and write another incredible chapter in our growth and the future of digital print.