Words Count
One of the questions we wrestle with at WhatTheyThink is how long articles should be. Well, actually, we don't really. But the question remains: what is the optimal word count of an article? Naturally, that depends on the subject. While one could argue that 5,500 words may be a bit much for a feature on, say, carpet printing, someone looking for a technology deep dive may not even find that detailed enough. But a news update on some new printer features may not even need 500 words. A potentially Pulitzer-winning piece of investigative journalism is probably not going to be 250 words of mostly bullet points.
In theory, an article should be long enough to tell the story properly. And let's not even get into the difference between an article published in print vs. online, where the latter often lend itself to shorter, more easily scannable content—which is ironic ion a way, because online publishing has far fewer space constraints than print, as those of us who publish a print magazine are acutely aware.
All this may be academic, but academics have actually conducted studies on the relationship between word count and reader engagement. Chartbeat, a content analytics firm, sought to quantify the ideal article length. Via What's New in Publishing:
Chartbeat's data team analyzed millions of articles published between January 2019 and April 2022, focusing on those with a word count of 10,000 words or less. In examining average engaged time by word count, two patterns became clear:
Between 0 and 2,000 words, average engaged time increased as word count increased.
Beyond 4,000, the variability in engaged time grows and the return on additional word count is less certain.
… Chartbeat concludes that, beyond 4,000 words, performance will depend more heavily on how well optimized a page is for engaged time after publication.
They also found that, maybe counterintuitively, articles between 2,000 and 4,000 words got more engagement than shorter ones, although their data may be skewed a little as few of the articles they analyzed had more than 2,000 words while the majority had fewer than 500. Still:
Chartbeat found that, while the average engaged time for 500-word articles was in line with recent global engagement benchmarks, 2,000-word articles were registering almost 30 seconds more engaged time.
It probably depends less on the word count per se and how engaging the articles actually are. A 5,000-word article by a great writer taking on a compelling topic will be far more engaging than a 1,000-word article from a hack writing about a tedious subject.
A more pressing question, though, is what is the optimal length of an Around the Web entry? We have no data, but we feel certain we have far exceeded it.
Parasite Lost
Here's a term we rather like: "parasitic signage." No, it's not a derogatory term for too many billboards, but rather a technical term for lighted displays that, rather than electricity, use nearby lighting for illumination. Via Core77:
Industrial designer Jacques Averna, one half of Paris-based design firm Canel-Averna, which specializes in signage, created this sign that uses no electricity. Instead, it uses dots made of polymethyl methacrylate, a transparent thermoplastic that, here, is used to reflect nearby streetlights: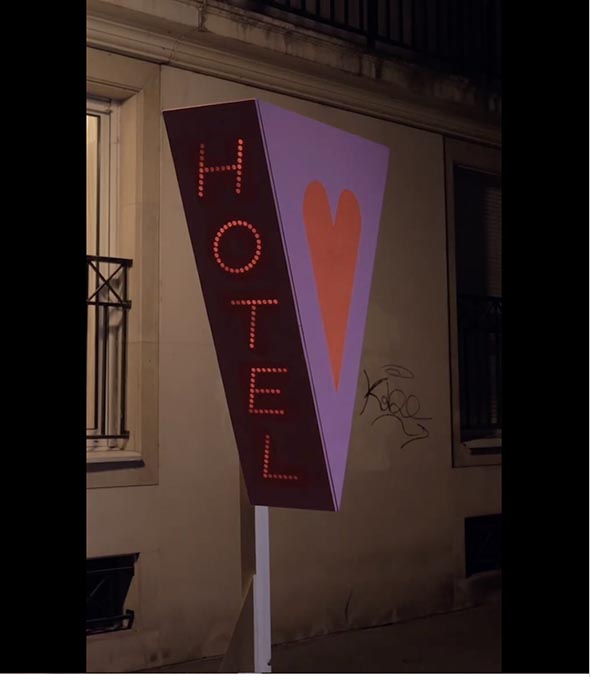 Unfortunately, the Canel-Averna's website is down (maybe the streetlights haven't come on yet) but it seems like an intriguing idea.
Flop Flips
How many of you remember floppy disks? (Bonus question: how many of you—other than Frank—remember when they were actually floppy?) It turns out that the floppy disk—the 3.5-inch hard-shell version—is still very much alive. AIGA's Eye On Design featured an interview—excerpted from the improbably titled forthcoming book Floppy Disk Fever: The Curious Afterlives of a Flexible Medium—with Tom Persky, founder of floppydisk.com, a company that sells and recycles floppy disks.
When people ask me: "Why are you into floppy disks today?" the answer is: "Because I forgot to get out of the business." Everybody else in the world looked at the future and came to the conclusion that this was a dying industry. Because I'd already bought all my equipment and inventory, I thought I'd just keep this revenue stream. I stuck with it and didn't try to expand. Over time, the total number of floppy users has gone down. However, the number of people who provided the product went down even faster. If you look at those two curves, you see that there is a growing market share for the last man standing in the business, and that man is me.
… Another thing that happened organically was the start of our floppy disk recycling service. We give people the opportunity to send us floppy disks and we recycle them, rather than put them into a landfill. The sheer volume of floppy disks we get in has really surprised me, it's sometimes a 1,000 disks a day.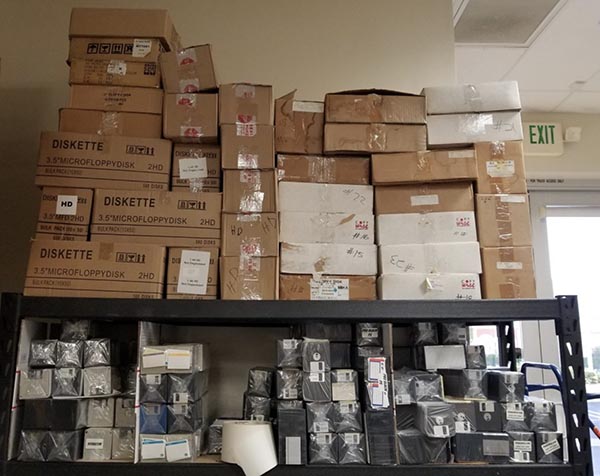 He also has customers who buy floppy disks.
The customers that are the easiest to provide for are the hobbyists – people who want to buy ten, 20, or maybe 50 floppy disks. However, my biggest customers — and the place where most of the money comes from — are the industrial users. These are people who use floppy disks as a way to get information in and out of a machine. Imagine it's 1990, and you're building a big industrial machine of one kind or another. You design it to last 50 years and you'd want to use the best technology available. At the time this was a 3.5-inch floppy disk. Take the airline industry for example. Probably half of the air fleet in the world today is more than 20 years old and still uses floppy disks in some of the avionics.
For those who might be skeptical, we do point out that literally two months ago a Delta airport gate agent printed something out on tractor-feed paper on a dot-matrix printer. This stuff just lasts.
There's also medical equipment, which requires floppy disks to get the information in and out of medical devices. The biggest customer of all is probably the embroidery business though. Thousands and thousands of machines that use floppy disks were made for this, and they still use these. There are even some industrial companies that still use Sony Mavica cameras to take photographs.
Graphene Is in the Details
Was it a good week for graphene news? It's always a good week for graphene news! From Graphene-Info:
Applied Graphene Materials (AGM) has signed a supply agreement with a global leader in the car detailing industry for an exclusively developed graphene-based solution. The partnership with an undisclosed 'global household name brand' is said to represent a significant milestone for AGM in the car care sector, where it has already announced multiple product launches with smaller participants.
Basically, adding AGM's Genable graphene nanoplatelet dispersion into car detailing products can improve the barrier performance of waxes, polishes, and finishing sprays.
In Stitches
Do you like books? And embroidery? If yes to both, you might enjoy A Stitch Out of Time by Anaïs Beaulieu, an experimental book that is itself embroidered. From Print magazine:
This herbarium of photographs depicts plastic bags that the artist embroidered with endangered species of plants, and even features an actual embroidered plastic bag on its cover.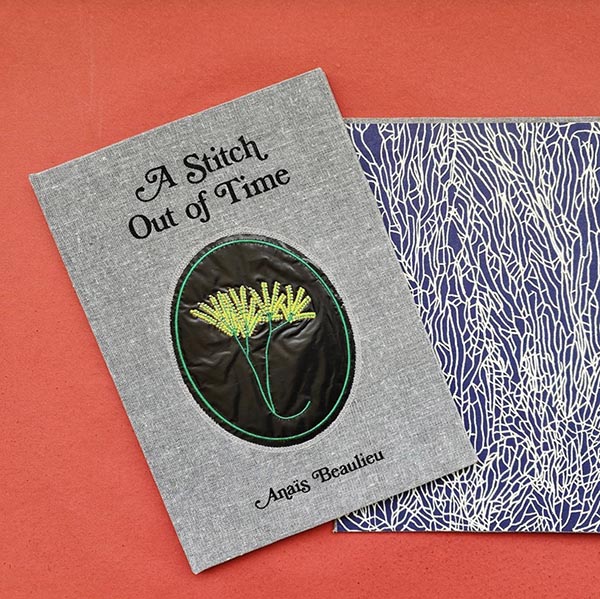 It was published by Tara Books, based in Chennai in South India and known for handmade and experimental books.
Tara Books has a reputation for preserving handcrafted book production, which includes making their own paper as well as silkscreen-printing and binding their publications by hand. They also work with environmentally sustainable Riso printing and old-school letterpress, and they hope to bring the physical book back into focus in a digital age keen on casting it aside.
…This unique project combines multiple artisanal processes, including embroidery, tailoring, book-binding, and screen-printing. To keep the thread going, Beaulieu and the Tara Book team also created a special embroidered bag for the book. "We wanted the delicate cover of the book to be protected, and at the same time offer readers a chance to try their own hand at embroidery— this they can do on one side of the bag," writes Beaulieu.
A Stitch Out of Time is can be purchased through Tara Books for $44.95.
Chop Sticks
We occasionally post here in Around the Web about solutions for dealing with discarded plastic utensils like forks. However, in Asia, among other regions, the preferred eating implements are chopsticks. Indeed, one-third of the global population uses chopsticks and, like forks and spoons, many of those are single-use and pose environmental issues. Says Atlas Obscura:
Every year, around 80 billion pairs find their way to landfills. Activists in China, by far the world's largest producer, have documented rates of deforestation as high as 100 acres a day in order to keep up with demand. For years, the Chinese government has levied taxes on manufacturers and promoted reusable chopsticks. Yet the problem persists, primarily because the disposable options made of aspen, birch, and bamboo are so eminently practical.
So one company, Vancouver-based startup ChopValue, is finding a way to upcycle used chopsticks into new items.
Since 2016, [founder Felix] Böck has been on a mission to rethink disposable chopsticks. Rather than try to eliminate them, the engineer has been building a circular economy by giving them a second life. In their homebase of Vancouver, company staff pick up around 350,000 used chopsticks from 300-plus restaurants every week, all of which become book shelves, cutting boards, coasters, desks, and custom decorations. According to Böck, the startup has saved more than 50 million pairs of chopsticks from landfills since its launch.
So how do you transform chopsticks into, essentially, lumber?
Transforming a teriyaki sauce-slicked piece of bamboo into a rolling cabinet takes quite a bit of work. To remove any trace of food waste, the chopsticks are first coated in a water-based resin, then sterilized at 200 degrees Fahrenheit in a specialized oven for five hours. A hydraulic machine then breaks the wood down into a composite board, which is sanded, polished, and lacquered as necessary. "This material is then the core piece for everything from desks and table tops to home décor," Böck says.
The company's online ordering site also lets you know how many chopsticks were used. For example, one of ChopValue's bestsellers, a work desk, was produced from 10,854 discarded chopsticks.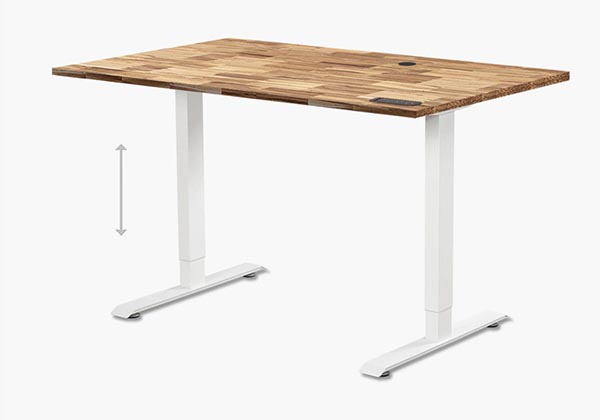 A smaller version was made from 9,600 chopsticks. The desk goes for $1,497.
Game On
An eye-catching headline at Core77: "Sneakers Made from Carbon Emissions." Say what? Yes, Switzerland-based sneaker company On has unveiled the Cloudprime, parts of which were manufactured using industrial pollution.
Here's how it works. LanzaTech captures carbon monoxide from steel mills, landfill sites and other industrial-scale polluters. They then combine those emissions with bacteria first identified in rabbit droppings (not kidding), which ferments the mixture into liquid ethanol. The company says the process is similar to what happens at a brewery, with sugar and yeast swapped out for carbon monoxide and the rabbit-poopy bacteria.
That's a thought that's going to fester next Happy Hour. We continue.
The ethanol is then handed over to Technip Energies, who have the technology to dehydrate the ethanol into ethylene. That ethylene is then given to Borealis, who polymerizes it into EVA (ethyl vinyl acetate) foam, which On dubs CleanCloud™.
(A more detailed look at the chemical process is here if you want to go down that, um, rabbithole.)
The Cloudprime is currently being tested by elite Swiss and German athletes, who are evaluating it for performance. On hasn't mentioned a specific release date, and will only say "Our ambition is to bring the CleanCloud™ technology to as many consumers as possible in the near future."
If they're good for running, we may have to get a pair.
Pullet Surprise
The strangest sentence we have come across in a while is oddly enough from the FDA, which issued a warning: "Do not cook your chicken in NyQuil." Is there a danger of that? Well, supposedly it is one of those dorky online challenge things—like the neck-breaking milk crate challenge. Aside from probably being disgusting, what is the problem with chicken à la NyQuil?
Boiling a medication can make it much more concentrated and change its properties in other ways. Even if you don't eat the chicken, inhaling the medication's vapors while cooking could cause high levels of the drugs to enter your body. It could also hurt your lungs. Put simply: Someone could take a dangerously high amount of the cough and cold medicine without even realizing it.
Ah. We're not sure that makes for compelling video, but what do we know? Although CNN reported that "It's apparently all the rage among some kids," Mediaite points out that it might not actually be a thing:
It's not entirely clear how widespread this online challenge truly was. A quick search of social media for "Nyquil chicken" and "#nyquilchicken" did not find many posts, although it seems likely that platforms have blocked or removed content if the FDA is issuing warnings about it. Instagram had a handful of posts sharing screenshots of the below image, mostly with mocking or critical comments.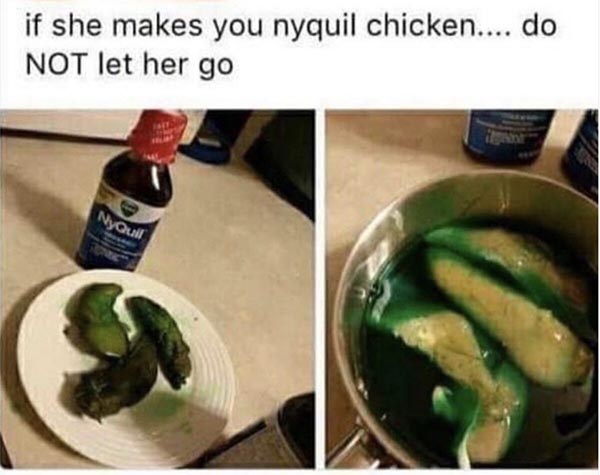 You'd need to follow that with Pepto-Bismol-cream pie for dessert.
Going Apricot
Looks like Pantone has a little competition. Via Sourcing Journal, trend forecasting firm WGSN and its sister color system company Coloro have announced their own "color of the year" for 2024 which they decree to be Apricot Crush.
While dopamine dressing has spread like wildfire since 2020—resulting in a veritable explosion of pink this year—the vitamin-rich orange hue was chosen for its restorative and refreshing qualities.
Dopamine dressing? Is that what you would put on a salad to accompany chicken à la NyQuil? Actually, it is apparently "choosing clothes that make us feel good," although unless you're an emo kid, isn't that what most people do? Anyway, back to Apricot Crush:
"Apricot Crush signifies the importance of nourishing the mind and body," said Clare Smith, WGSN color strategist. "It is the perfect hue for a world seeking calm and optimism, bringing a necessary pick-me-up as consumers continue to grapple with a range of emotions and uncertainty about the future."
… "It's an energetic, vibrant color while at the same time it preserves a nourishing, reassuring and familiar quality; it's extremely versatile as it works across seasons, as well as genders, market levels and product categories."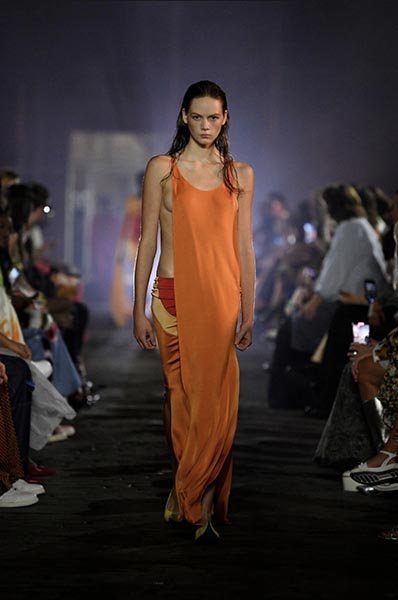 PRINTING United, here we come.
Now, you may have noticed that Apricot Crush is the Color of the Year for 2024 (they do think ahead in the world of fashion, don't they?). For those of us who are still thinking about 2023, their Color of the Year for next year is Digital Lavender.
Digital Lavender's restorative properties connect to healing rituals, which are increasingly becoming a part of everyday life as consumers place a stronger focus on physical and mental health coming out of quarantine and social distancing restrictions. Research shows colors with a shorter wavelength, such as Digital Lavender, evoke calmness and serenity, according to WGSN.
Put down whatever you're drinking: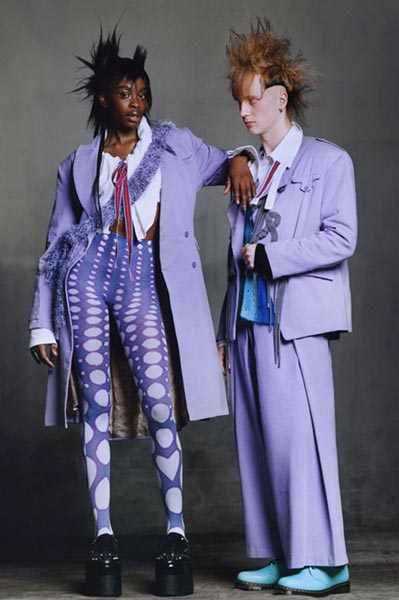 OK, now to clean up the coffee we accidentally spit all over the computer…
Circle in the Sky
Not everybody who works in buildings likes heights, so one Dubai architecture form has decided instead of building up, build around. Or just round. Via Core77, architecture firm ZN | Era proposed The Downtown Circle, a huge elevated circular building that would surround the Burj Khalifa, currently the world's tallest building.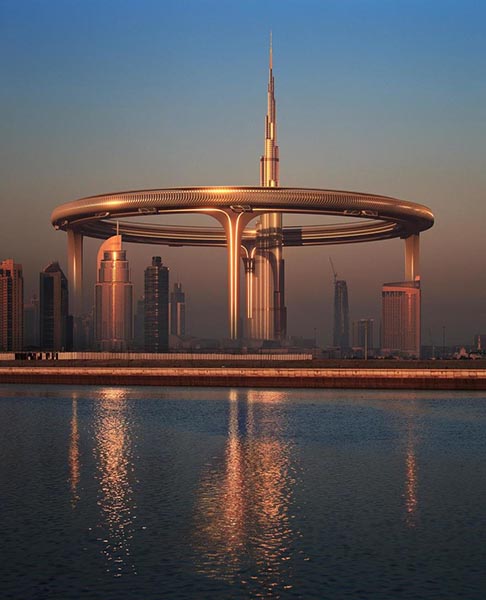 "As a response to the dilemma of how to build densely while retaining liveability, the Downtown Circle project establishes a sustainable and a self-sufficient vertical urbanism. As a singular mega building complex, it aims to create a hyper efficient urban center that gives back to the environment. The proposed 550 meter tall mega structure offers an alternative to the singular and unconnected high-rises found in most metropolitan areas."
And there would be no more fighting over who gets a corner office.
Keeping Hole
Do you like manhole covers? Well, it's hard not to like them as the alternative would be gaping holes in city streets, but if you have an interest in the aesthetics of manhole cover design, we have the site for you: The ultimate manhole covers site.
Under the city's surface there is an underground city, a city that its only purpose is to serve the upper city. In this city there are miles of tunnels, sewerage pipelines, communications lines etc. The manhole covers in this site are the bridge between the upper and lower city and come in various shapes, sizes, writing and graphics.
The site so far contains a catalog of 8,111 different covers from 577 cities in 64 countries.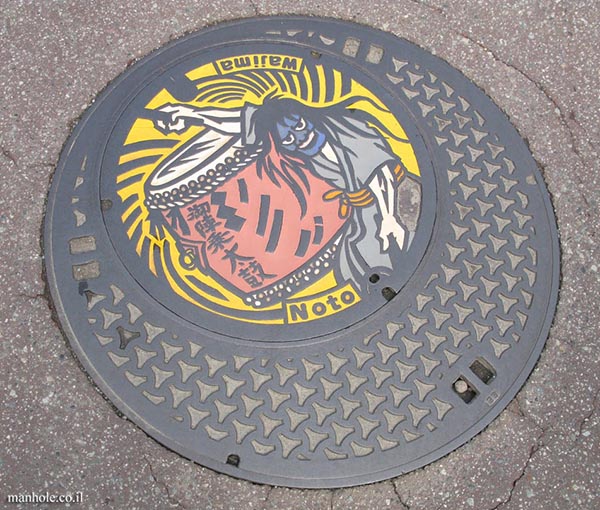 Location: Wajima-shi, Ishikawa-ken, Japan
Around the Webb, Part the Continuation: Rings Around Neptune
NASA's James Webb Space Telescope is up and running and has captured new images of Neptune—including its rings.
NASA's James Webb Space Telescope shows off its capabilities closer to home with its first image of Neptune. Not only has Webb captured the clearest view of this distant planet's rings in more than 30 years, but its cameras reveal the ice giant in a whole new light.
Most striking in Webb's new image is the crisp view of the planet's rings – some of which have not been detected since NASA's Voyager 2 became the first spacecraft to observe Neptune during its flyby in 1989. In addition to several bright, narrow rings, the Webb image clearly shows Neptune's fainter dust bands.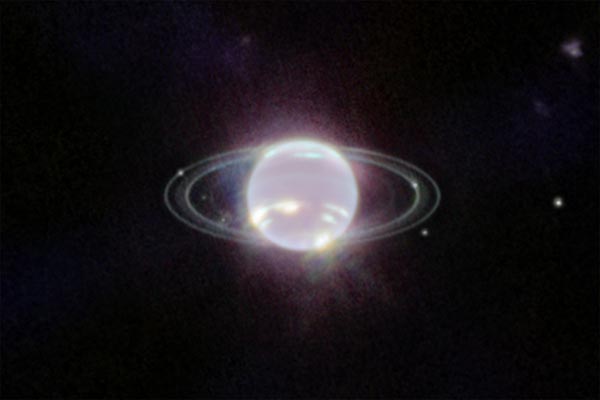 Caption from NASA: What do we see in Webb's latest image of the ice giant Neptune? Webb captured seven of Neptune's 14 known moons: Galatea, Naiad, Thalassa, Despina, Proteus, Larissa, and Triton. Neptune's large and unusual moon, Triton, dominates this Webb portrait of Neptune as a very bright point of light sporting the signature diffraction spikes seen in many of Webb's images. Credits: NASA, ESA, CSA, STScI
Neptune normally appears blue, thanks to heavy concentrations of methane in its atmosphere, but
Webb's Near-Infrared Camera (NIRCam) images objects in the near-infrared range from 0.6 to 5 microns, so Neptune does not appear blue to Webb. In fact, the methane gas so strongly absorbs red and infrared light that the planet is quite dark at these near-infrared wavelengths, except where high-altitude clouds are present. Such methane-ice clouds are prominent as bright streaks and spots, which reflect sunlight before it is absorbed by methane gas.
The things we can do.
Airline Disaster
Sounds terrifying.
We teamed up with @guitarcenter to surprise a flight full of Customers flying out of Long Beach with a ukulele and a lesson. By the time they arrived in Honolulu they were pros. pic.twitter.com/XsEx10sRJK

— Southwest Airlines (@SouthwestAir) September 20, 2022
This Week in Printing, Publishing, and Media History
September 19
1796: George Washington's Farewell Address is printed across America as an open letter to the public.
1985: Italian novelist, short story writer, and journalist Italo Calvino dies (b. 1923).
September 20
1878: American novelist, critic, and essayist Upton Sinclair born.
September 21
19 BC: Roman poet Virgil dies (b. 70 BC).
1934: Canadian singer-songwriter and poet Leonard Cohen born.
1937: J. R. R. Tolkien's The Hobbit is published.
1866: English novelist, historian, and critic H. G. Wells born.
1947: American author and screenwriter Stephen King born.
September 22
1789: The office of United States Postmaster General is established.
1791: English physicist and chemist Michael Faraday born.
1888: The first issue of National Geographic magazine is published.
1991: The Dead Sea Scrolls are made available to the public for the first time by the Huntington Library.
September 23
1911: Pilot Earle Ovington makes the first official airmail delivery in America under the authority of the United States Post Office Department.
1889: American journalist, publisher, and co-founder of The New Republic Walter Lippmann born.
1889: English novelist, short story writer, and playwright Wilkie Collins dies (b. 1824).
1889: Nintendo Koppai (later Nintendo Company, Limited) is founded by Fusajiro Yamauchi to produce and market the playing card game Hanafuda.
1909: The novel Le Fantôme de l'Opéra (The Phantom of the Opera), by Gaston Leroux, is published as a serialization in Le Gaulois.
1926: American saxophonist and composer John Coltrane born.
1930: American singer-songwriter, pianist, and actor Ray Charles born.
1949: American singer-songwriter and guitarist Bruce Springsteen born.
Wow—what a day for musical births!
1962: The Lincoln Center for the Performing Arts opens in New York City.
2002: The first public version of the web browser Mozilla Firefox ("Phoenix 0.1") is released.
September 24
1852: The first airship powered by (a steam) engine, created by Henri Giffard, travels 17 miles (27 km) from Paris to Trappes.
1896: American novelist and short story writer F. Scott Fitzgerald born.
1906: U.S. President Theodore Roosevelt proclaims Devils Tower in Wyoming as the nation's first National Monument. (The aliens would arrive 71 years later.)
1936: Muppet creator Jim Henson born.
1991: American children's book writer, poet, and illustrator Dr. Seuss (né Theodor Seuss Geisel) dies (b. 1904).
September 25
1690: Publick Occurrences Both Forreign and Domestick, the first newspaper to appear in the Americas, is published for the first and only time.
1897: American novelist, short story writer, and Nobel Prize laureate William Faulkner born.
1906: Leonardo Torres y Quevedo demonstrates the Telekino, guiding a boat from the shore, in what is considered to be the first use of a remote control.
1912: Columbia University Graduate School of Journalism is founded in New York City.
1929: English actor and screenwriter Ronnie Barker born.
1951: American actor and producer Mark Hamill born.
1956: TAT-1, the first submarine transatlantic telephone cable system, is inaugurated.