Accelerated Printing
Here's an interesting experiment: researchers at the SLAC National Accelerator Laboratory in Northern California have gathered original pages from an original Gutenberg Bible, a 15th-century Korean Confucian text, a page from Chaucer's 14th-century epic poem The Canterbury Tales, and other western and eastern documents and are going to blast them with X rays. Why? Says CNet:
"What we're trying to learn is the elemental composition of the inks, the papers, and perhaps any residues of the typefaces that are used in these Western and Eastern printings," said imaging consultant Michael Toth.
For centuries, it was commonly believed Johannes Gutenberg invented the printing press around 1440 AD in Germany. He's thought to have printed 180 Bibles (fewer than 50 are known to exist today). But more recently, historians have uncovered evidence that Korean Buddhists began printing around 1250 AD.
"What is not known is whether those two inventions were completely separate, or whether there was an information flow." said Uwe Bergmann, a professor of physics at the University of Wisconsin. "If there was an information flow, it would have been, of course, from Korea, to the west to Gutenberg."
So, was Gutenberg's invention original? (Actually, it wasn't Gutenberg's "printing press" that was novel, it was his advent of movable type.) Anyway, enter the synchrotron, which sounds like it was just beamed down from the Enterprise.
A synchrotron is a particle accelerator that fires electrons into a massive ring shaped tunnel in order to generate X-rays (as opposed to SLAC's more famous linear particle accelerator, the two-mile long LCLS). These X-rays give scientists the ability to study the structural and chemical properties of matter. To see exactly how they're using SSRL to study the priceless documents, watch the video above.
By firing the SSRL's thinner-than-a-human-hair X-ray beam at a block of text on a document, researchers can create two-dimensional chemical maps that detail elements present in each pixel. It's a technique called X-ray fluorescence imaging, or XRF.
By comparing the chemical "signatures" of Western and Eastern documents, they may be able to determine if there was indeed an exchange of ideas from East to West.
Sign Solutions that Stick
In Mexico City, Chilangos, local street food vendors, have long advertised their wares with colorful folk art signage applied to their stalls or trucks. However, recently, the mayor of Mexico City's Cuauhtémoc district ordered the removal of those signs and required they be replaced by generic signage promoting the municipality. Advertising agency WPP's Grey unit teamed up with TimeOut Mexico to come up with a clever workaround: magnetic signs that could be removed and replaced, which apparently the sign code did not prohibit.
"The idea consisted in working hand-in-hand with classic master sign makers, who were also economically affected by the mayor's decision, to re-create the iconic graphics of the stalls that had been removed, but this time on large magnets that can be placed and removed every day on the facades of the stalls and given free of charge to the juice, cake, taco or newspaper vendors," the agency said in a statement describing the campaign, adding, "The signs not only advertise the offer of thousands of street stalls but also dress the streets of Mexico with identity and ingenuity. This iconic and diverse expression of popular art is a cultural heritage and therefore its defense is present."
Packaging Solutions that Stick
One way to reduce packaging waste is to make the packaging a functional part of the product itself. Ergo, via Core77, industrial designer Wyatt Coe has come up with the idea of the Scotch Flip Dispenser, in which the tape's package become the actual dispenser.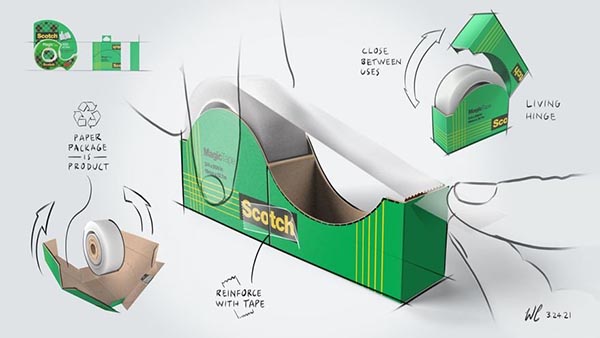 Of course, you still throw it out when the tape runs out, but do many of us run out of Scotch tape that often these days?
Get a Charge Out of Graphene
Was it a good week for graphene news? It's always a good week for graphene news! Dell has patented a graphene-enhanced detachable clip for laptop computers designed for wireless charging. Says Graphene-Info:
The clip uses a printed graphene charging coil built with a ferrite sheet as well as magnetic elements to hold the clip in place. This reportedly avoids increasing the size and thickness of the laptop. When the clip is installed on the laptop, charging circuitry is configured to supply inductive power to charge an auxiliary device such as a smartphone. The charging coil may include multiple graphene layers and the clip may include a second surface and a third surface including the connector through which input power is received from the information handling system.
Making Flippy Floppy
Yikes—some of us actually had these! If memory serves, the "Limited Edition" of Photoshop in its early days was designed (and priced) to be more consumer-based, so didn't support CMYK and other features that graphic professionals required.
Adobe Photoshop Version 2.5 (1992) pic.twitter.com/JyAmoxTrOI

— Eternity :: Archive (@PureLifeEternal) August 13, 2022
Dog Face
On Japanese Calligrapher Takumi's YouTube channel, he normally teachers viewers how to do calligraphy. However, in one recent video, he took a break and instead created a canine-based typeface on which every letter is a dog.
Wrap Music
Via Laughing Squid, inventor Simone Giertz built a hand-cranked music box that plays "songs" by popping Bubble Wrap into a pan flute. It's rather clever.
We've heard worse.
Unhappy Meal
In a recent episode of the National Pest Management Association's "Will They Eat It?" series, host Dr. Mike Bentley unleashes 100,000 termites on a fast food meal consisting of a hamburger, french fries—and its packaging. Will they eat it? Well, they didn't like the fries, but really chowed down on the packaging.
The termites quickly tore through the brown bag, expertly breaking down all of the wrapping and reducing them to practically nothing. Termites are undiscerning pests and will eat any cellulose in sight.
We're with the termites on this one.
Inside View
Inside the Biocomputer VOL. 2
generated in #midjourney #aiart #digitalart
animated with #davinciresolve and #photoshop pic.twitter.com/sthDQR4IG7

— Markos R. Kay (@mrk_ism) August 1, 2022
What a Pumpkin
Autumn is almost upon us and that can only mean one thing: pumpkin spice. Whilst not everyone is a fan of pumpkin, if you do consider yourself a pumpkin spice aficionado, $1,000 could be yours. Via Mental Floss, FinanceBuzz—a personal finance advice site—is looking for a "Pumpkin Spice Pundit," or a taste-tester to evaluate Trader Joe's fall-flavored foods. The lucky (if that's the word to use) taster will receive a $500 gift card to use at Trader Joe's to acquire and sample all their autumnal foods.
Your task is to sample them all between September 2 and September 18, and then "take a photograph of each item, write a brief description, and rate the food on several criteria," according to the job description. FinanceBuzz will pay you $1000 for your efforts (separate from the $500 gift card).
The application deadline is August 28, and is open to any U.S. resident at least 18 years old and living close enough to a Trader Joe's to shop in person. More information here.
Waxing Poetic
What could be better than a candlelit dinner? How about a dinner where the candles were the dinner—or at least resemble it. Via Laughing Squid, Atlanta, Ga.-based tattoo artist-turned-candlemaker Chavonna "Bang" Ross specializes in realistic food-themed candles. "The eco-friendly candles are made from soy wax, take two to three hours to make, and burn for 15 to 40 hours, depending on their size."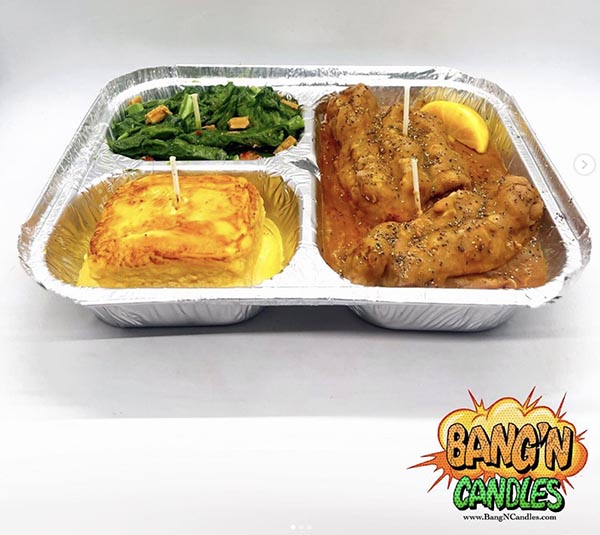 Our candles, soaps, and body products make great gifts for your friends and family members, but don't forget to treat yourself! At Bang'N Candles, we understand the love for art, food, and the finer things in life. That's where we shine! We specialize in creating hyper realistic artisan food, drink, and dessert themed products for the art lovers and the real foodies. …
Octobaby
If you are looking for a cute way to keep your toddler immobilized, head over to Walmart and pick up Musuos' plush octopus baby costume.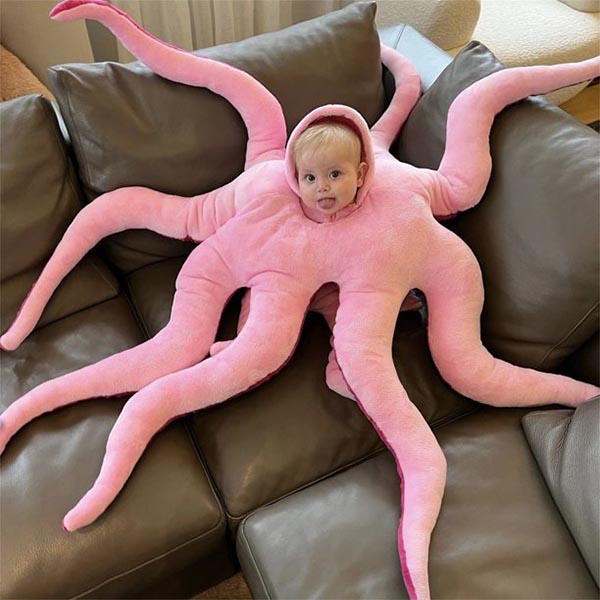 A steal at $64.78.
This Week in Printing, Publishing, and Media History
August 15
1843: Tivoli Gardens, one of the oldest still intact amusement parks in the world, opens in Copenhagen, Denmark.
1912: American chef and author Julia Child born.
1914: The Panama Canal opens to traffic with the transit of the cargo ship SS Ancon.
1915: A story in the New York World reveals that the Imperial German government had purchased excess phenol from Thomas Edison that could be used to make explosives for the war effort and diverted it to Bayer for aspirin production.
1939: The Wizard of Oz premieres at Grauman's Chinese Theater in Los Angeles, Calif.
1965: The Beatles play to nearly 60,000 fans at Shea Stadium in New York City, an event later regarded as the birth of stadium rock. This would lead to...
1969: The Woodstock Music & Art Fair opens in upstate New York.
August 16
1858: U.S. President James Buchanan inaugurates the new transatlantic telegraph cable by exchanging greetings with Queen Victoria of the United Kingdom. However, a weak signal forces a shutdown of the service in a few weeks.
1930: The first color sound cartoon, called Fiddlesticks, is made by Ub Iwerks.
1954: The first issue of Sports Illustrated is published.
1977: American singer, guitarist, and actor Elvis Presley dies (b. 1935)—or so they said.
August 17
1549: The Prayer Book Rebellion is quashed in England.
1607: French lawyer and mathematician Pierre de Fermat born.
1807: Robert Fulton's North River Steamboat leaves New York City for Albany, N.Y., on the Hudson River, inaugurating the first commercial steamboat service in the world.
1908: Fantasmagorie, the first animated cartoon, created by Émile Cohl, is shown in Paris, France.
1932: Trinidadian-English novelist and essayist, Nobel Prize laureate V. S. Naipaul born.
1945: George Orwell's novel Animal Farm is first published.
1970: Venera 7 launched. It will later become the first spacecraft to successfully transmit data from the surface of another planet (Venus).
August 18
1850: French novelist and playwright Honoré de Balzac dies (b. 1799).
1868: French astronomer Pierre Janssen discovers helium.
1922: The German Institute for Standardization (DIN e. V.) publishes the standard DIN 476 "Paper Formats"—which standardized formats such as "A4" and "A5."
1958: Vladimir Nabokov's novel Lolita is published in the United States.
August 19
1631: English poet, literary critic, and playwright John Dryden born.
1646: English astronomer and academic John Flamsteed born.
1662: French mathematician, physicist, and philosopher Blaise Pascal dies (b. 1623).
1839: The French government announces that Louis Daguerre's photographic process is a gift "free to the world."
1906: American inventor (the Fusor) Philo Farnsworth born.
1921: Star Trek creator Gene Roddenberry born.
1939: English drummer and songwriter Ginger Baker born.
1964: Syncom 3, the first geostationary communication satellite, was launched.
1977: American comedian and actor Groucho Marx dies (b. 1890).
August 20
1858: Charles Darwin first publishes his theory of evolution through natural selection in The Journal of the Proceedings of the Linnean Society of London, alongside Alfred Russel Wallace's same theory.
1882: Tchaikovsky's 1812 Overture debuts in Moscow, Russia.
1890: American short story writer, editor, novelist H. P. Lovecraft born.
1920: The first commercial radio station, 8MK (now WWJ), begins operations in Detroit.
1926: Japan's public broadcasting company, Nippon H?s? Ky?kai (NHK) is established.