The most quickly-evolving printing technology coming to the production printing market is inkjet and growth rates in recent years have been dramatic. Inkjet addresses some of the core needs of today's businesses: smaller runs or batches, just-in-time production, customization, and streamlining of processes.
Inkjet presses have been launched for many applications so far and more are expected. Press manufacturers take great care to design printers that can produce excellent prints. Unfortunately, only press components like inkjet heads, inks, and drying can be well-defined by the press manufacturer. The production and selection of the printing substrate are not. Substrates may be specified by the printing company or the print buyer. They keep changing, either voluntarily or involuntarily, due to paper shortages or batch-to-batch variations from the mill. In any case, a given substrate might not be very receptive to inkjet inks.
A primer can help to overcome receptivity and inconsistency problems by preparing the substrate surface. For porous substrates, a primer keeps the ink, specifically the colorants, on the surface while the carrier fluid soaks into the bulk of the substrate. This is achieved by chemically binding the pigments to the chemicals in the primer layer. On non-porous substrates, the primer creates a surface that holds the colorants in place before the solvent can spread or coalesce.
While a primer can be a necessity for good print quality, an overprint varnish can either embellish a product, by giving it a distinct gloss level, or protect the surface. A varnish can be formulated to be sturdier than an inkjet image, as it does not have the restrictions of being able to hold colorants or to pass through ultra-fine nozzles. It can protect the print from damage in finishing, transport or from sunlight.
In commercial print, the advantages of priming and coating for inkjet printers are already well documented, but probably still not well-known enough. A primer is used to keep the colorants at the surface to achieve good color strength and reduce the amount of ink. Compatibility with standard offset coated paper is especially critical and does not generally receive inkjet ink well without being treated.
Test prints on coated stock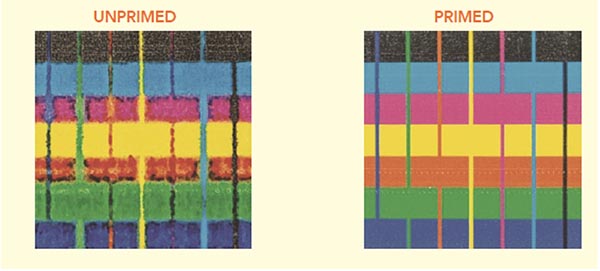 Image source: Mark Bale DoDxAct Ltd. on InkjetInsight.com
If priming and coating are each important in commercial printing, both are crucial for quality inkjet printing in labels and packaging segments. While in commercial printing, the paper is usually selected based on appearance and price, substrates in packaging print have another function to fulfil: to safely hold and transport products. Finishing, assembly, and transport can be quite detrimental to durability of the print image. The required surfaces for the various packaging segments may be challenging to print on as well.
Folding carton is a prime example of a packaging application where every container needs to look alike and pristine on the shelf. Product manufacturers want the same image, brand colors, and level of gloss on their packaging, however it is produced. Matched priming and coating are key ingredients in achieving consistency. As substrates are optimized for usage as a sealed packaging material, they are made more difficult to print on in general.
This is particularly true of substrates for corrugated boxes and displays. Surfaces for corrugated materials are usually very absorbent and would require large amounts of ink to achieve a decent color strength, while low-grade fibers or recycled materials cause unevenness. The use of optimized primers for the multiple substrates used has made the corrugated box market one of the latest, and biggest success stories in inkjet adoption.
In label printing, inkjet is already well established. As inkjet is increasingly moving from secondary to primary labels, requirements in quality and durability increase. A primer can improve both, especially when moving to aqueous inkjet. Even UV inks benefit when the primer stops the ink from soaking into the bulk of the substrate, thus preventing curing problems and unwanted odor from uncured ink.
Inkjet press providers for flexible packaging already made the move to aqueous inks, due to the many food products in flexible packaging. However, without a primer making inkjet inks adhere well to flexible packaging material, this would be very challenging.
Customers, design, and distribution requirements are getting more demanding. Priming and coating make fulfilling the application requirements in many print segments much easier. However, it is by no means an easy task to design a good primer or coating. A good primer or coating should not be judged by the price of the liter either, but by the print quality achieved, the improved efficiency, the reduced inventory and waste, and the flexibility added to the whole print manufacturing process. Even for cost-sensitive projects, it pays to investigate how a primer or coating can improve results—considering the diverse requirements in the many application areas for print
To learn more, download the recent white paper I wrote, "Improving TCO and customer satisfaction with priming and coating." In researching the topic, I had the opportunity to speak with renowned inkjet technology specialists Mark Bale from DoDxAct Lt. and Jeff Wettersten from Karstedt Partners about their experience with the development and application of priming and coating. The full white paper, which encapsulates their insights on the importance and implications of priming and coating can be downloaded from Inkjet Insight here. The white paper was sponsored by Michelman, Inc. well-known for their expertise in the development of barrier and functional coatings, as well as digital printing-press primers and overprint varnishes.