Your Friday Bagpipe Made from a Smiling Rubber Duckie Pool Float
Print Against War
We try to keep Around the Web fairly lighthearted, but every once in a while we need to strike a serious note. In this case, we are highlighting the site Print Against War, a collection of testimonials from the global printing industry standing with Ukraine. From Stefano De Marco, General Manager of Tecnau:
I would like to express my closeness to all the people in Ukraine for the situation they are living in, which is just unbelievable.
Every day, we hear news and we see images which are just against our core values, those big and small values that, as parents of young kids, we try to teach them every day to let them become good adults.
From a distance, we would like to do more. We are doing what we can. But we would like to let all the printers working and living in Ukraine know that we are here today and we will be here tomorrow.
Our prayers are that true peace will be here as soon as possible.
…to Sabine Geldermann, director of drupa:
Where we normally bring together global players from the print industry, we are now offering shelter to people seeking refuge from violence and destruction.
The tragic situation in Ukraine is in contradiction with the values of Messe Düsseldorf and drupa, which stand for internationality, free exchange of ideas, working in partnership, and shaping a positive future.
For us at Messe Düsseldorf, it is essential to show our solidarity to the people of Ukraine. Via our fairgrounds and infrastructure, we are currently supporting and hosting 1,500 people in Hall 6.
…to Viktor Artyuschenko, Owner of New Media, an Odessa, Ukraine-based printing company:
We were closed for just nine days when the war began. It was because some rockets or some bombs landed maybe 500 meters from our workshop. That's why we closed everything and asked our people to stay at home or to move near the border.
But it's not very good for our nervous system to sit at home and listen to the news and scroll all this Facebook news and news magazines. That's why we can start working and doing something. We must socialize in our small group.
We were working half a day under the curfew. Then we called all our customers. We are working now. In Odessa, our mayor and our government asked everybody to start working, go to their offices, go to their workshop and start doing something. So, people and employees understand that situation is controlled. It's more therapeutic to work, to speak with our customers.
Everybody said their sales dropped from 100 to 10. It's 90% less than their regular sales. But everybody is in their workplaces. It's a therapeutic effect.
…We can be an affordable partner in terms of price. We don't want to relocate our facilities to Europe because we are patriots of Ukraine, and we think our country after the war has a significant outlook for growth. That's why we want to stay here and work here. But we should support our employees for three to five months, or till the end of this year.
…and to WhatTheyThink's own Cary Sherburne and Eric Vessels:
We've been able to develop a platform that has some level of attention both in North America and globally. So, whatever we can do to raise awareness for the types of things that will help, we're willing and able to leverage that platform for the better. I just want to tell the global print publishing community that WhatTheyThink is here to help, and we also encourage the suppliers to the industry to be thinking about how they can help you. Whether it's grant programs or it's donation of equipment to replace the ones destroyed by the illegal bombing and other devastation.
There's an ongoing need for financial donations for rebuilding the entire country. If we can focus on the printing industry and really help get them back on their feet, I think that's a very admirable goal, and I have to say personally that whether the Ukrainian people are in the country or not right now, their strength and their bravery are just astounding, and their leader President Zelenskyy is doing an amazing job leading the country, and keeping their spirits up and trying to push back the illegal invasion that's going on there.
We encourage everyone to read these stories and testimonials and contribute and help where you can.
Hearts of Glass
Last week, we linked to a story about the world's impending sand crisis—that we're running out of it. On the other hand, a lot of municipalities, like New Orleans, don't recycle glass containers. Glass is made of sand…so is there a way to convert discarded glass containers back into sand? A couple of recyclers in New Orleans are giving it a shot. Via Gizmodo:
A glass recycling and shoreline restoration project in New Orleans was inspired by a bottle of wine. Cofounders Franziska Trautmann and Max Steitz met as students at Tulane University. One night, over drinks, they lamented about how their wine bottle would just end up in the trash, because New Orleans does not recycle glass.
…After that fated wine bottle, Trautmann and Steitz launched a GoFundMe in order to buy a small machine that would turn glass into sand one bottle at a time back in February 2020. Glass Half Full was born.
We know what happened a month later, but Glass Half Full continued to develop and gain supporters during the pandemic.
They now have over 260,000 followers and who watch their videos about recycling food-grade glass that would have otherwise lay in a landfill for thousands of years.
Glass Half Full wasn't able to jump into coastal restoration right away, but last year it received a grant of $700,000 to help them study whether their recycled sand would work in natural environments. Louisiana's rapid shoreline erosion presents a multitude of issues for the state.
… The sand created from the recycled bottles is useful for several climate resilience needs, like filling sandbags to hold tarps onto a home without having to use nails that could later rip material. Coarse sand can be put back into natural coastal areas that have eroded. Reinforcing the shoreline with recycled sand can prevent flooding from going farther inland.
If you're wondering how the process works, check out this video. Essentially, the machine pulverizes the glass into a coarse powder. A filter removes extraneous matter—like larger chunks or bits of bottle label—and the sand is ready for deployment.
Plastic People
Let's hope Glass Half Full has a better track record recycling glass than we as a nation have when it comes to recycling plastic. Last week, a dire report was released by environmental activist organizations Beyond Plastics and The Last Beach Cleanup. Called "The Real Truth About the U.S. Plastic Recycling Rate: 2021 U.S. Facts and Figures," it draws on data from the National Academies of Science, Engineering, and Medicine, as well as statistics on U.S. exports and figures obtained from the waste industry, to discover that only 5–6% of plastic was recycled in the U.S. in 2021. That's down from 2018, when the EPA found that 8.7% of plastic was recycled.
The ultimate conclusion is that plastic recycling simply does not work.
The paltry 5-6% U.S. plastic recycling rate in 2021 should be a wake-up call to the false promise that plastic recycling is a credible solution to plastic waste and pollution. It's time to implement real solutions, particularly the reduction of single-use plastic food service items that have the highest likelihood of polluting our environment.
Other solutions they have found to be effective include:
Bans on single-use plastics.
Water refilling stations.
Reusable container programs for food and beverage service.
They also advocate using paper, noting that "the U.S. paper recycling rate increased from 21.3% in 1980 to 68.2% in 2018."
Graphene Gets the Shaft
Was it a good week for graphene news? It's always a good week for graphene news! And, boy howdy, was it! Advanced Graphene Products (AGP) has signed a deal to supply large amounts of graphene to Nanosphere for an anti-corrosion paint powder used in the production of next-generation automotive driveshafts. These are destined to be installed in vehicles by a variety of European manufacturers, including BMW, Mini, Mercedes-Benz Group AG, Volkswagen, and Ford. Says Graphene-Info:
"The contract we signed is part of a wider project carried out by the driveshaft manufacturer NEAPCO Europe. Its goal was to implement a new type of driveshafts for electric and hybrid vehicles. An important element of the project was to improve the anti-corrosion properties and reduce the weight of this component, which was achieved, among others, by thanks to the pioneering use of graphene in the production of paint covering the driveshafts. Our graphene has met the high quality expectations and will soon be used in the production of driveshafts for the largest automotive concerns. It is a contract with which we place great hopes. It is long-term in nature and will provide us with a strong development impulse", added the president of AGP.
To Die Cut For
While we have issues with the term "staple-less stapler," the concept of a paper-fastening device that eschews staples is an intriguing one. Via Core77, the Harinacs Staple-Less Stapler instead uses a small die-cutting mechanism to cut a small flap in the corners of the sheets to be attached, and then folds it back into a notch to secure the sheets. It can secure up to 10 sheets, presumably of normal copier/laser printer paper. This rather sedate video shows how it works:
Or you can get yelled at in Japanese for two minutes:
Seems like it does a fair bit of damage to the sheets, like the old technique of folding and tearing the corners of sheets to make them secure, but then apparently it can also be used as a paper shredder. Interesting dual usage…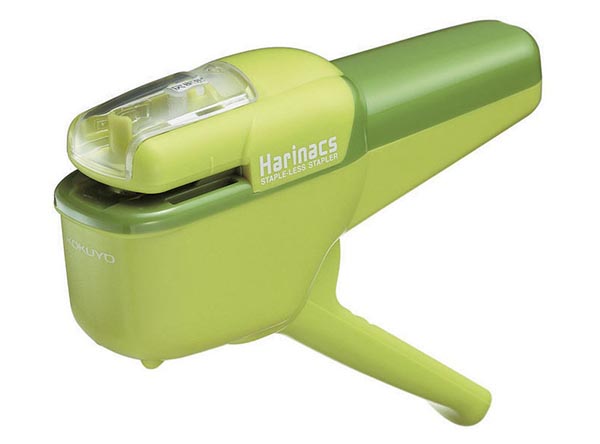 At no point does the ecommerce site tell you how much it costs, even after you add it to your cart and click Checkout, which is annoying. We'll stick with our trusty Swingline.
Oh, See Are!
While researching today's Data Analysis feature, we came across an archived story from the New York Times that was digitized from the print edition with apparently post-scan correcting.
The President was strongly against wage and pricel Con troli,—but with a war being fought Asia, and inflation at home the Congress granted Standby powers.
Within months after obtain ing Congressional?approval, the White House reversed Its stand and impased, ektensive and mandatory contorls
Contorls never work.
The Times does offer a disclaimer:
This is a digitized version of an article from The Times's print archive, before the start of online publication in 1996. To preserve these articles as they originally appeared, The Times does not alter, edit or update them.
Occasionally the digitization process introduces transcription errors or other problems; we are continuing to work to improve these archived versions.
They need to exercise greater editorial contorl.
Saucy
It's not often that packaging makes it into the Museum of Modern Art, but the iconic Kikkoman soy sauce bottle is one example of MOMA-worthy packaging. Designed in 1961 by Japanese industrial designer and former Buddhist monk Kenji Ekuan, the bottle was deemed a thing of beauty by MOMA and added to its collection. Says the museum:
The bottle had to fit in with the minimalist Japanese aesthetic and be comfortable to hold— goals he achieved by designing a wide-bottomed bottle that tapers at the neck and ever so slightly funnels out at the very top. The see-through glass, functional in that it allows the consumer to see how much soy sauce is left and beautiful in its simplicity, contrasts with a bright red cap that adds visual depth to the dark sauce. The spout posed the greatest dilemma, as soy sauce has about as much viscosity as wine: none at all. Ekuan developed close to one hundred models, none of which succeeded in both preventing drip and controlling flow. An inward angle on the tip of the spout proved the right solution, preventing the sauce from pooling in the spout and dripping onto the table. More than three hundred million of these bottles have been sold worldwide.
Does anyone dare tamper with perfection? Matthew Clark of Odachi Design saw room for improvement—specifically, the lid. He wrote (via Boing Boing):
Soy sauce's greatest enemy is oxygen. So, with my design, I harnessed the capabilities of 3D printing to integrate a gravity valve within the lid itself. This is achievable with 3D printing, but costly or much more difficult otherwise. The valve is printed within the top when it's produced. This was created to effectively maintain the flavor and shelf-life. After every pour, the remaining liquid aids the seal.
It looks pretty identical to the original, but we'll have to get MOMA to chime in. More importantly, though, he'll need to get Kikkoman to chime in if he intends to go into mass production (which he does). As Fabbaloo points out, "Odachi Design may face troubles if Kikkoman enforces legal restrictions on their design, as Honda have recently done to other 3D designers."
The Swarm
Do you enjoy being chased through a forest by a swarm of surveillance drones, but worry that they'll crash? If so, good news! Via Core77:
help is here thanks to a team of researchers at Zhejiang University. As New Scientist reports, this research team has been working on drone swarms composed of ten tiny, fully autonomous drones that use off-the-shelf components, a camera and an algorithm to navigate through a forest without crashing into anything, or one another.
And they don't need to be connected to GPS to navigate, so this solves your rural surveillance problem. These little guys could chase you no matter where you ran, and as a bonus, that alien whining noise they make is liable to make your run more exciting:
Well, that's terrifying. Be sure to check out the entire study, "Swarm of micro flying robots in the wild." Coming soon to a dystopia near you!
This Week in Venn Diagrams
From The Guardian:

AI-Yi-Yi, Part the Infinity: Ring the Cheese Alarm
An interesting AI-based app from French engineers that can identify cheese. Says the Daily Mail:
There's nothing more annoying than indulging in a delicious cheese board at a restaurant, only to forget what the varieties in front of you are.
Honestly, there are many many things more annoying than this. We continue.
But the days of scrambling to find the menu could be a thing of the past, thanks to a new app called Cheezam.
Cheezam was inspired by the music-finding app, Shazam, and uses artificial intelligence (AI) to identify different cheeses from a single photo.
… The Cheezam app works by comparing photos against its database of 9,000 images of different cheeses.
It looks to identify key features, including the size and shape of the mould, and the way that any spots are arranged in the cheese.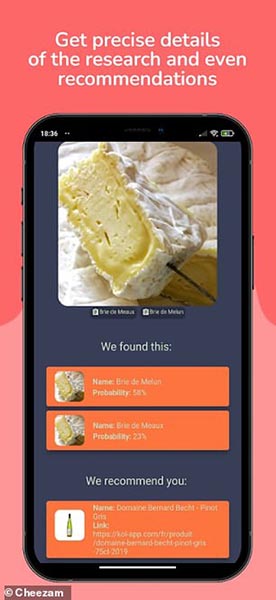 We're not sure that simply matching an image to a database is true AI—is the Search and Replace function in Word AI-based?—but still, it's a cool idea. Is there an app that will identify a wine? (There probably is.)
Going Out with a Bang
Via Boing Boing, perhaps the most disturbing product we've seen in a long time: the Loved One Launcher, a "cremation cannon." Says manufacturer Cremation Solutions:
The Loved One Launcher is the only device of its kind that will shoot earthly remains over seventy feet into the air!!, allowing for a wide dispersal of ashes that can be observed by all in attendance. To add to the celebration, ashes can be mixed with confetti or even streamers for a dreamy visual effect, creating a beautiful, joyful scene that sets the perfect tone. Paying homage to a loved one's life is simple and intimate with what feels almost like a daytime fireworks display in their honor.
They add:
The Loved One Launcher is the ultimate way to send a loved one out with the same passion they had in life. This hand-held ash scattering cannon is perfect for life celebration parties and memorial services, allowing the earthly remains of any beloved human or pet to be shot into the air to be scattered. A life lived to the fullest is not something to mourn—it warrants celebration, and the Loved One Launcher is the perfect way to easily and gracefully bid them farewell.
Not sure "gracefully" is the word to use for being shot out of a cannon, but we get the general idea.
Watch the video, if you dare…
It can be yours for $375. Confetti sold separately. Loved one not provided.
RIPod
Like other groundbreaking products—the Sony Walkman comes to mind—the Apple iPod is a device that, at least as far as Apple is concerned, has reached its end of life. So it goes. As Gizmodo and many other news sources reported this week, Apple has announced that it has officially discontinued the iPod, as soon as current supplies of the iPod Touch run out, that is the end of the venerable MP3 player. While it wasn't by any means the first MP3 player, for those of us who grew up on LPs and then migrated to CDs, it was our entry into digital music. (Some of us still buy CDs, and some of us know people—really young people!—who prefer LPs.)
When it was first revealed by Jobs in 2001, the original iPod was described as a portable hard drive with CD-quality music that let you purchase songs at a low price and store them in your pocket. It's hard to make that sound revolutionary in today's world, but it was groundbreaking at a time when people were carrying around CD players, changing out discs to go from one album to another.
Hey, some of us had a Sony Walkman which required you to turn the tape over to hear the other side. The number of songs you could fit on even the original iPod and the ability to easily curate playlists—what used to be called mix tapes—was also a great feature.
Sure, the iPhone and Apple Watch (or non-Apple versions of these devices) are more practical given all the other things they can do, but there was nothing like that original click wheel. (Here in the AtW Cultural Accretion Bunker, we still have an old-ish iPod Nano which is a nice small and lightweight music player to use when running. When it dies, we suppose we shall have to figure out how to play music via a smart watch.)
At any rate, here's to the iPod!
This Week in Printing, Publishing, and Media History
May 9
1911: The works of Gabriele D'Annunzio are placed in the Index of Forbidden Books by the Vatican.
1958: Alfred Hitchcock's film Vertigo has its world premiere in San Francisco.
May 10
1824: The National Gallery in London opens to the public.
1869: The First Transcontinental Railroad, linking the eastern and western United States, is completed at Promontory Summit, Utah with the golden spike.
1902: American director and producer David O. Selznick born.
1954: Bill Haley & His Comets release "Rock Around the Clock," the first rock and roll record to reach number one on the Billboard charts.
1962: Marvel Comics publishes the first issue of The Incredible Hulk.
1975: Sony introduces the Betamax videocassette recorder in Japan.
May 11
868: A copy of the Diamond Sutra is printed in China, making it the oldest known dated printed book.
1811: Thai-American conjoined twins Chang and Eng Bunker born.
1854: German-American engineer, invented the Linotype machine Ottmar Mergenthaler born.
1904: Spanish painter and illustrator Salvador Dalí born. (Fish.)
1942: William Faulkner's collections of short stories, Go Down, Moses, is published.
2001: English novelist and screenwriter Douglas Adams dies (b. 1952). So long, and thanks for all the fish.
May 12
1593: London playwright Thomas Kyd is arrested and tortured by the Privy Council for libel.
1812: English poet and illustrator Edward Lear born.
1828: English poet and painter Dante Gabriel Rossetti born.
1846: The Donner Party of pioneers departs Independence, Mo., for California, on what will become a year-long journey of hardship and cannibalism.
1937: American comedian, actor, and author George Carlin born.
1941: Konrad Zuse presents the Z3, the world's first working programmable, fully automatic computer, in Berlin.
May 13
1842: English composer Arthur Sullivan born.
1907: English novelist and playwright Daphne du Maurier born.
1922: German graphic designer and typographer Otl Aicher born.
1937: American author and poet Roger Zelazny born.
1944: American author, screenwriter, and actor Armistead Maupin born.
1954: The original Broadway production of The Pajama Game opens and runs for another 1,063 performances. It will later receive three Tony Awards for Best Musical, Best Performance by a Featured Actress in a Musical, and Best Choreography.
May 14
1925: Virginia Woolf's novel Mrs Dalloway is published.
1944: George Lucas born. (May the 14th be with you....)
1952: Singer-songwriter, producer, and actor David Byrne born.
1993: American journalist and publisher William Randolph Hearst, Jr. dies (b. 1908).
May 15
1813: Danish philosopher, author, and poet Søren Kierkegaard born.
1856: American novelist L. Frank Baum born.
1858: The present Royal Opera House in Covent Garden, London, opens.
1886: American poet and author Emily Dickinson dies (b. 1830).
1905: Las Vegas is founded when 110 acres, in what later would become downtown, are auctioned off.
1905: American businessman, amateur photographer, and creator of the "Zapruder film" Abraham Zapruder born. (Funny, he never made another movie after that.)
1923: American photographer Richard Avedon born.
1926: English playwright and screenwriter; works included Equus and Amadeus Peter Shaffer born.
1928: Walt Disney character Mickey Mouse premieres in his first cartoon, "Plane Crazy."
1948: English singer-songwriter, keyboard player, and producer Brian Eno born.