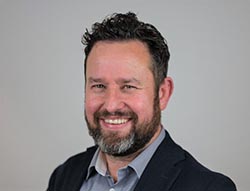 The FESPA Global Print Expo 2022 will take place from May 31 to June 3, 2022, at the Messe Berlin in Germany. The event is Europe's leading exhibition for screen, wide-format, and textile printing. WhatTheyThink spoke with Michael Ryan, Head of Global Development & FESPA GPE, FESPA, to preview the show and some prevailing trends and applications attendees can expect to see in Berlin.
WhatTheyThink: What are some of the hot technologies and application areas you're anticipating to be showcased at FESPA this year?
Michael Ryan: What we're seeing from a manufacturer point of view is that efficiency issues have been addressed, so you're seeing faster technologies. And automation is playing a massive role in wide format. Over the last three years, especially in that period when we were in lockdowns throughout the world, manufacturers were focusing on how they can make print faster and better and more cost-effective as well.
WTT: When we talk about automation for wide format, what specifically are we talking about? There was a time when automation for wide format was little more than nesting optimization. How has automation evolved?
MR: More manufacturers in the software area are focusing on the whole process. A lot of the front end, such as order fulfillment, has improved. Especially in customized e-commerce workflows, that's an area which, for wide-format professionals and for specialty printers, which is the FESPA community, this process is getting more efficient and faster. And then there is the finishing. From our perspective in speaking to the FESPA community, we're seeing production bottlenecks in the finishing process. If your machines are going to print faster, you don't want to lose any time when it comes to finishing. So there are many cutting and finishing solutions at FESPA this year, so that's something which we're looking forward to as well.
WTT: Do you think the trend going forward is going to be more bespoke and custom workflow solutions rather than an out-of-the-box or off-the-shelf kind of approach?
MR: When we were sitting down and planning the FESPA event, suppliers were talking to each other and saying, 'We need this company here because we're going to showcase this new solution and we're going to showcase all these areas.' So it's part of that jigsaw that comes together. To get to automated production, the entire industry needs to come together and speak, and that's happening right now. If you look at all the major manufacturers in terms of how they're managing workflow, what they're introducing is not just new machinery, but new software. It's all of these areas which can make more profitable printing moving forward.
WTT: What other types of new applications are attendees going to be seeing on the show floor? I know wall coverings and décor are big. Are there any other new products and applications?
MR: If you're like me, you're always astounded when you go to these kinds of events. You think, I didn't realize that you could print on these substrates and these fabrics. There are still challenging applications to print in terms of priming materials, etc., but manufacturers are opening up lots of new application areas. Interior décor has got huge growth potential, as it's still in the early stages of people understanding the process. Especially with UV ink, printed wallpaper hasn't got any solvent smells—it's customer-ready right on production. In Amsterdam [FESPA Amsterdam, held in October 2021], there was a car company from Belgium who attended the event and they were looking at a swissQprint machine and they said, 'This can print on leather. Can we use this in our production?' So it's not just print on paper and you are always going to be fascinated by what you see at these events.
WTT: Digging down into the specifics of the show, some past FESPA features like Printeriors and World Wrap Masters are returning. Are there any other events returning this year?
MR: Returning this year—you've mentioned Printeriors for interior décor and the World Wrap Masters for the car wrapping industry. Of course we've got Club FESPA, the FESPA Federation stand where all of our members and all the community come together. Some of the features which we've had in the past, like the Colour L*a*b* series for color management, take a lot of time to organize and didn't fit the timeline we had, but those events will return in the future. And we didn't really know what guidelines were going to be in place. Can people work together? Those are questions that we couldn't answer literally six months ago. The focus this year will be on people coming back and doing business on the stands.
WTT: I know you that there are some new features, like the Sustainability Spotlight. What will that comprise?
MR: Like the entire industry, one of the major focuses for FESPA is sustainability. All of the content, all the talks during the event will be taking place in Hall 25. When you start talking about sustainability, it is an open game. Everybody has an opinion about sustainability, especially in print and what it entails. Then there's greenwashing, and so on. So the Sustainability Spotlight, sponsored by HP, is going to be sustainably built in the first place—working together with our partner Re-board, we're building it entirely out of Re-board. It's being curated by Graeme Richardson Locke, who is our Head of Associations & Technical Lead at FESPA, so you've got a person there who who takes sustainability to the core when it comes to print. All of the content, all of the speakers will talk in detail about how printers can be sustainable. Where do they start? How do they look at their carbon footprint, for example. We're also working with manufacturers to showcase some of the materials which are now available to printers. In 2019, many people coming to the event were asking us how they could find all the companies who are supplying sustainable products. So we're pulling this together in that showcase area where we have speakers come talking about wide format, talking about textiles, talking about certification.
WTT: That's great. And the Associations Pavilion is also new this year, right?
MR: Every FESPA exhibition, we showcase the finest in our FESPA community. As a Federation, we have our member associations and for those members, it's one of the highlights of the year where we can showcase the very best in print from our community in a wide range of areas. We really wanted to showcase what they've been doing over the last couple of years and those incredible projects which they've been printing for their customers. It's also designed to inspire people when they arrive at FESPA.
WTT: Are there any other new features or events this year?
MR: We're launching the Print Census once again. The Print Census was released in 2018, so it's time to see what everybody's been doing post-pandemic time, where everybody is at in the world, how businesses are doing, and get feedback from the entire industry. The Census will be launched in Berlin it will be available for people to fill in during the event. If you can't make it in person, you'll be able to complete the Census online and then that data, it helps everybody in the industry—printer manufacturers and printers—and it helps FESPA move forward with what we do as we are first and foremost a Federation for the industry. A lot of what FESPA does is based on the information that we get from the Census.
We'll also have FESPA Direct, which is going to be live at the exhibition this year for people to engage with the FESPA community. If you are not represented by an association in the FESPA federation, then you can directly become members of FESPA, which gives you free access to the event, but also to all the FESPA technical guides and education.
WTT: Sounds like it's going to be a great show. Anything else potential attendees should know?
MR: We've got lots of exciting exhibitors for people to see. There are new technologies like, for example, DTF which stands for "direct to film." I like to call it "direct to FESPA" because it's going to be the motto for this year, and I think everybody's going to be talking about DTF at the end of May when it comes to the event.
But it's really about getting back to face-to-face events. It's great to see everybody opening up across the world. People can see now that we've got no COVID restrictions in Berlin, we've got no health checks, you don't have to wear masks. It means that we can get back to enjoying events again. People want to see printing machinery in action, and they want to connect. We're already seeing great registration and we're really looking forwarding to welcoming everybody to Berlin.