The world is watching in horror as the unprovoked war in Ukraine continues to unfold. A multitude of companies, from Apple to Adidas, from coffee to credit card companies, have pulled out of Russia to protest Russia's actions. In fact, as of March 8, the count was 124 companies that have announced partial or full halts to operations in Russia, with more expected to follow. At WhatTheyThink, we are reaching out to some of the companies in our industry that are doing business with Russia to understand their positions, but have yet to receive responses. When we do, we will communicate them. Meanwhile, Igor Agarkov, Publisher of Print+ magazine, Polygraphy of Ukraine directory (Ukraine), and administrator of the social network of printers, shares his experience, views, and request to the world, and those of some of his colleagues. As a side note, this is one of the most difficult articles I have had to write/publish in my career. Just coming up with questions was difficult and emotional. Our hearts go out to the people of Ukraine, and we hope this brutal war comes to an end soon. Once it does, the country—and its printing industry—will need our help to recover. Our thanks to Igor for sharing his on-the-ground view.
WhatTheyThink: How are you and your family and employees holding up?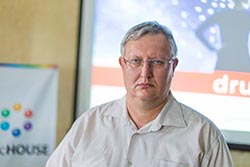 Igor Agarkov: I and all my close relatives are in Borispol (near Kyiv). Several editorial staff members went to safer regions, including Poland. One of the managers continues to stay in Kyiv.
WTT: I understand your town is already being attacked. Are evacuations underway?
IA: Compared to the barbaric bombardments and total destruction of the civilian population in Gostomel, Bucha, Irpin, Borodianka, Makariv, Sumy, Mariupol, Kharkiv and other cities, Borispil is relatively calm. We are not talking about evacuation as such yet. Everyone who had such an opportunity has already left for the Western part of the country or outside of Ukraine.
Yesterday [March 8], Boryspil was attacked by cruise missiles (this is easy to look up in the news). Most were shot down. Active combat is taking place not far from the city - the aggressor is rushing into the left-bank part of Kyiv.
WTT: You indicated that many if not most printing companies in Ukraine have closed or been destroyed. Ukraine had a vibrant printing industry, and this is a big loss to the country and the world.
IA: Printing in Ukraine has indeed developed quite well, especially in the sectors of flexographic printing, carton, and corrugated packaging. Although commercial printing, book production, and especially production of self-adhesive labels have been developing quite dynamically in the last two years.
Today we are talking rather about the suspension of work by many printing houses. However, some companies have changed their profile and are actively engaged in volunteer activities. One of the Odessa printing houses has mastered the production of so-called "hedgehogs" (devices that prevent the advance of the invader's armored vehicles). One of the printing houses from Dnipro is engaged in the production of sleeping mats.
Many make cartographic products, stickers, packaging, signs for the needs of the armed forces, territorial defense, volunteers, government agencies. Colleagues in cities where it is still possible to work help printers from temporarily occupied cities to cover the needs of their clients.
There is no data on the total destruction of printing houses, although judging by the scale of destruction due to enemy air raids and cruise missile attacks on such cities as Kharkiv and Sumy (where there are a lot of printing houses), there are certainly such cases.
Many printers were forced to urgently save their families and continue to do so. There are cases when printers suffered as a result of hostilities (for example, in Bucha). A big problem for the printing industry in Ukraine after everything is over will be the restoration of human resources—many specialists, especially women, have left the country, to the EU countries. For men, there is practically no such opportunity, since general mobilization has been announced, and there are restrictions on leaving to the EU.
Nevertheless, women are leaders, managers, post-press operators, whose role in the printing industry is difficult to overestimate. Many are asking for help in finding a job in our social network channels and in personal correspondence. Colleagues from Italy and Poland are helping in this matter. At the same time, Poles and Latvians are realizing how many professionals have left Ukraine and offer them work themselves (such vacancies constantly appear in our public channels).
WTT: How can the industry step up and help, during the invasion and after to help rebuild?
IA: I am sure that the Ukrainian printing industry will endure again. Some printing houses work and even carry out commercial orders where it is possible to do. Even in a partially occupied state, the economy continues to work. We are a proud nation and are not ready to live only on subsidies from the West and the EU. Printers which have the opportunity to work continue to do so and pay taxes to the budget. For example, we managed to attract some funds from our European colleagues, which will be used to restart our paper publications (we will, of course, pay taxes on them).
I note that our government has come up with some initiatives that facilitate the work of private entrepreneurs (there are many of them in the printing industry of Ukraine). For example, they were exempted from paying some taxes for themselves and mobilized employees for the period of martial law and a year after martial law. In addition, there are small, targeted payments to entrepreneurs and employees of printing houses.
Printers have already consolidated. I just got a call from the head of one of the Kyiv printing houses—they have cooperated with colleagues nearby and are doing packaging for the Armed Forces of Ukraine on a volunteer basis. Yes, there is not enough carton, laminate, and other materials, but colleagues share their leftovers.
Of course, we are not talking about systematic supplies of consumables to Ukraine today. Much here depends on the position of distributors, their willingness to volunteer to ship the rest of the materials so that the printing houses continue to work.
Restoring Ukraine's printing industry after the invasion will be difficult. The most pressing issues will be the problems of personnel and consumables. However, in this matter, we hope for the assistance of suppliers from the European Union, many of which issued press releases in support of Ukraine. Some refused to work with the aggressor country.
WTT: It's hard to even imagine what the country is going through even though we see it on the news. Can you share a couple stories about the bravery you have seen?
IA: There are a lot of stories about the courage of ordinary people, there are hundreds and thousands of them. These are boys jumping on the armor of a Russian armored personnel carrier in Kupyansk, and residents of Melitopol, Kherson, Berdyansk who opposed Russian aggression at gunpoint, and a pensioner blocking the movement of enemy columns in his old car, and the actions of volunteers who deliver bread and food to pet shelters and are killed by bullets from Russian occupiers.
Many of my acquaintances, printers, representatives of distribution structures, are now fighting in the Armed Forces of Ukraine, in territorial defense, and are actively involved in volunteer activities. Not so long ago the director of the largest network printing house from Kyiv (they print for the Armed Forces of Ukraine on a volunteer basis) was ready to break through to Bucha and take out the production manager of a large packaging printing house, who was seriously injured as a result of shooting.
WTT: We are so proud of your President. He is a credit to Ukraine and the right leader for this time. Any comments?
IA: Some of his previous moves have been controversial. He partially lost influence as a player in politics. But with the beginning of the aggression, Volodymyr Zelensky showed himself to be the real leader of the nation, he managed to rally it and lead the effective resistance against the aggressor.
Therefore, I agree with your words that Volodymyr Zelensky is an effective leader today.
His most effective political opponents fell silent, got into the line and are busy strengthening the defense capability of Ukraine. When the country is on fire, there is no time for politics and strife.
WTT: Is there anything else you would like to say to our readers and sponsors at this most incredibly difficult time?
IA: We have large databases of manufacturers of equipment and consumables from all over the world. We have conducted several mailings to these databases with the beginning of aggression. We didn't ask for financial help.
Our message was simple: to issue press releases in support of Ukraine's printing industry, to provide our country with all possible information support. Express your opinion on Russian aggression. We received almost no response.
Vendors should not be afraid to express their opinion regarding the situation in Ukraine. In this struggle between Light and Darkness, Ukraine is only the first outpost. But we will definitely win, because the truth is on our side! And all of you, dear manufacturers of equipment and materials, still work in our market. Think about it today!