Your Friday What If the Speed of Light Were Slower?
A Toast to Graphene!
Was it a good week for graphene news? It's always a good week for graphene news! Seen at CES, a transparent, graphene-based toaster.
In addition to tracking the level of toasting of the bread, the device is also said to offer 50% less power consumption and enable outdoor cooking with rechargeable batteries. The device is also foldable and expandable to dual cooking/warming plates and connects to mobile devices for recipe download/control.
It's bound to make them a lot of bread.
No Peaking
If we're going to get peak pandemic era COVID numbers, can we at least bring back cocktails to-go, please and thank you?

— Adam Rawnsley (@arawnsley) January 7, 2022
Any Color You Like
BMW recently introduced its iX Flow, a car that can change color at the push of a button. Well, not all colors; just black, white, and various shades of gray. How do they do it? The car is covered in E Ink panels. Says Core77:
Because E-ink panels are flat and the car's surfaces are anything but, they essentially went into the CAD model of the actual car, grabbed each piece of the surface, and used generative design to "unfold" the contours into flat sheets. They then used a lasercutter to shape the E-ink panels
There is a practical reason for changing the hue of your car from light to dark:
Heating of the vehicle and passenger compartment as a result of strong sunlight and high outside temperatures can be reduced by changing the exterior to a light colour. In cooler weather, a dark outer skin will help the vehicle to absorb noticeably more warmth from the sun.
"In both cases, selective colour changes can help to cut the amount of cooling and heating required from the vehicle's air conditioning.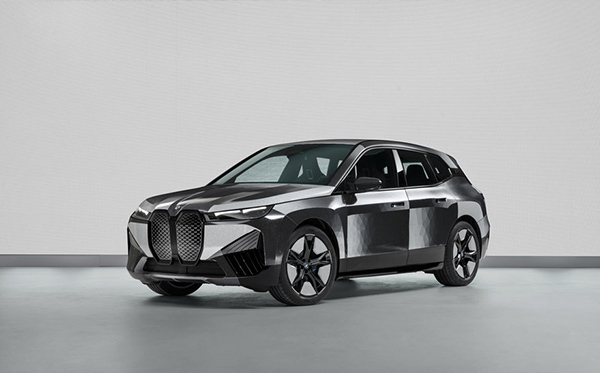 Changing hues would also help if that particular car was involved in a bank heist.
Feature or Threat?
You can now take Zoom calls from your Amazon television https://t.co/CUGyZEq3r9 pic.twitter.com/ApujXII0RC

— The Verge (@verge) December 23, 2021
The Tintinnabulation of the Dumbbells
We're bemused by the concept of the seemingly oxymoronic "smart dumbbell," which feature a "motorized weight selector" and can be electronically adjusted to change the weight in five-pound increments. NordicTrack recently announced a new Alexa-based option: voice-controlled smart dumbbells. Says The Verge:
you can ask the voice assistant to set a specific weight, increase or decrease weight, or create a preset weight for specific exercises. You can create presets for 15 common dumbbell moves: biceps curls, overhead shoulder press, lateral shoulder raises, front shoulder raise, triceps extension, bent-over row, chest press, squat, deadlift, lunge, lateral lunge, wood chop, chest fly, reverse fly, and renegade row.
The Verge writer wisely asks what the point of voice-activated dumbbells is. Well:
Aside from accessibility reasons, it boils down to speed. If you've ever followed along with a fitness app's strength training class, you're often given only 10-30 seconds in between sets. Many adjustable dumbbells work using a pin mechanism to attach or detach additional plates — meaning if you rush, you can wind up with a plate falling off mid-exercise.
That would be bad.
Autocorrect
#AmandaMcBroom, who wrote "The Rose", just sent me this…. pic.twitter.com/kiRWpSADAd

— bettemidler (@BetteMidler) December 28, 2021
French Texting?
From smart dumbbells to a "smart retainer," as in dental retainer. Say what? Does that mean that you can link your teeth to the Internet and maybe use voice commands to adjust the gaps between them?
Thankfully, no. It is to enable tongue-based texting. Says Buzzfeed:
Called SilentSpeller, the project is a communication system that allows people to send texts using a high-tech dental retainer to spell out words without actually voicing them, according to a demo video and academic paper reviewed by BuzzFeed News. The device works by tracking the movement of the user's tongue. Researchers claim the system identifies letters with 97% accuracy, and 93% accuracy for entire words.
It sounds goofy, but there is actually a practical purpose behind it.
the device could eventually be used to help people with movement disorders including Parkinson's disease and essential tremor, Starner told BuzzFeed News in an interview. He also sees potential consumer applications, like hands-free communication in really quiet places, like a library, or really loud places where people would have to strain their voices to be heard.
We'll see if nine out of 10 dentists approve.
The Things to Come
Is the situation more Howard Hawks, or John Carpenter? https://t.co/88B3EdywoF

— Frank Conniff (@FrankConniff) January 5, 2022
Believe It or Not's Ripley
Here's an odd story from the world of book publishing about someone whom Boing Boing called "The Tom Ripley of Book Publishing" and whom Vulture called "The Spone Collector." Essentially, it sounds like the most pointless crime ever committed. Here's the short version, which essentially involves someone scamming book editors: the Spine Collector—someone who clearly has insider knowledge of the book publishing industry—would "phish" for unpublished manuscripts (posing as someone from a disguised email address, such as @randornhouse.com instead of @randomhouse.com. The SC was often successful at conning the unsuspecting editor into sending him or her early drafts of forthcoming but as yet unpublished books. The SC would then… Well, no one quite knows. First of all, it couldn't be some kind of ransom; nicking a copy of a Word doc doesn't mean the publisher has to get it back. And as far as anyone knows, the manuscripts were not pirated or published illegally. Says Vulture:
Perhaps someone in publishing, or a Hollywood producer, was desperate for early access to books they might buy. Was the thief simply an impatient reader? A strung-out writer in need of ideas? "In the hacker culture that Stieg Larsson depicted, they do a lot of things not for financial benefit," Mörk pointed out this spring, "but just to show that they can do it."
Boing Boing updates the story:
But on January 5, 2022, the FBI announced that it arrested the alleged Spine Collector, who turned out to be a London-based publishing professional named Filippo Bernardini. He is being charged with wire fraud and aggravated identity theft.
And they do raise an interesting question:
why did the FBI waste their time going after a foreigner who was collecting unpublished manuscripts for no discernible reason? As Kelsey McKinney points out in Defector, even the Grand Jury indictment acknowledged that no one knows what the hell Bernardini gained from this long con. The indictment says that he needs to return any and all property related to the offenses but … why? He didn't make any money, and all the books he conned were published without a hitch. Does he need to send back the Word documents over email?
Maybe it was to sow chaos? Who knows! And maybe Matt Damon will play him in the movie.
We Are the 1%
The very cool thing about mail delivery and telephone calls now is that 99% of what you receive are either trash or scams but 1% remain of life-altering importance

— Will ?? Menaker (@willmenaker) December 16, 2021
Shelf Life
If you're like us—and we know we are—you have many bookshelves that are stuffed to the point that, like Monty Python's Mr. Creosote, you couldn't fit in one more thing. Except maybe a "wafer-thin mint" which in this case is helped thanks to this clever device that helps stuff what is claimed to be an infinite number of books into a bookshelf, although we suspect that's a bit exaggerated.
??????????????????????? pic.twitter.com/ugk05vKITW

— [email protected] (@PFgeminiman) December 13, 2021
Of course, good luck ever getting them out again.
Eternal Questions
Guy in Plato's Cave: "Okay but what if I owned one of these shadows on the wall, with the blockchain?"

— Abigail Thorn (@PhilosophyTube) December 16, 2021
Watch the Parking Meters
Oh, Heidi, what have you been up to? From The Verge:
Police in several US cities are warning residents not to pay for their parking using QR codes stuck to parking meters. That's because these codes have been placed there by scammers, who are using them to direct people to fraudulent sites that capture their payment details.
Warnings have been issued by law enforcement in Austin and San Antonio over the holiday period (we spotted the story via The Overspill newsletter). Police say they discovered a number of stickers with illicit codes appearing on parking meters, while a report by local news site Click2Houston shows how one of the fraudulent codes directed people to a site promising "quick pay parking." (The site now appears to be offline.)
…The advice for avoiding these scams is the same as for any phishing fraud: check the URL of the website you've been sent to for misspellings or less-than-professional design (not always a useful tell when it comes to local government sites).
Or other official sites (*cough*EZPass*cough*).
All Maps Amazing and Terrible, Part the Infinity
None of the countries that surrounded Poland before 1990 exist today pic.twitter.com/8Zr0BOGy5c

— Amazing Maps™ (@amazingmap) October 3, 2020
Who da ho? pic.twitter.com/CszeABF9kB

— Terrible Maps (@TerribleMaps) January 7, 2022
You Be ILin
This is the most IL thing ever. ?? pic.twitter.com/5YLUOcgRwB

— Manny's Deli (@mannysdeli) January 6, 2022
FaceBit
Perhaps it's just us, but when we hear the phrase "FitBit for the face" we can't help but think of someone falling ace first down a flight of stairs and the FitBit counting the steps. We hope that's not what this does…
Anyroad, via Gizmodo:
Engineers Debut Fitness Tracking Mask That Can Detect Leaks
Engineers at Northwestern University have taken a different approach to upgrade face masks. They have designed and built a small electronic module packed with sensors that attach to the inside of a standard medical-grade N95 mask using magnets to ensure the upgrade doesn't affect the performance of the mask in any way. The current version of the module is powered by a battery that needs to be regularly charged, but its creators are optimistic that it could eventually be upgraded to harness heat, and even the wearer's breathing motions, to recharge itself and extend the battery life to weeks on end. The project and the hardware specs have been released as open-source info in order to encourage others to tinker and further improve its design.
To be perfectly honest, and not to trash their research, there is some part of us (probably the face) that is hopeful that by the time this gets commercialized, we won't need to wear masks any longer, but the way things are going, that doesn't seem likely.
Heart Beat, Pig Meat
Pig Dies Waiting For Transplant Heart Given To Human https://t.co/3zaAQszHds pic.twitter.com/JCWjvNrhDc

— The Onion (@TheOnion) January 12, 2022
Five O'Glug
One of the oldest time-keeping devices is the clepsydra, or basically a clock that used a controlled flow of water to mark the time. And now, millennia later, product designer Yukio Shinoda has developed a liquid-based clock that uses bubbles for pixels. Via Core77:
Using a laser cutter and his knowledge of electronics, Shinoda cobbled together a series of components to create his Air Bubble Clock.
While his first version used water, for version 2 he switched to glycerin, as he found it made the bubbles more crisp.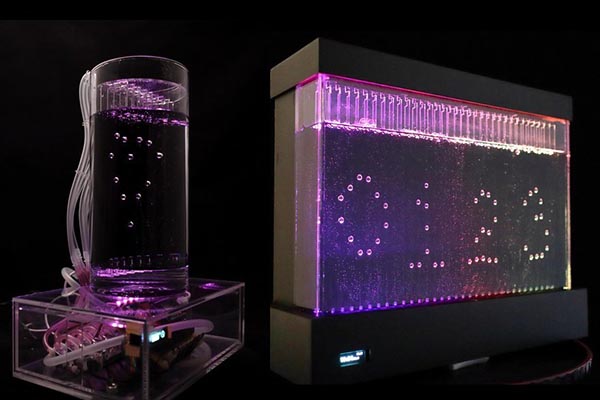 Shinoda says that unlike an LED matrix display, he finds the "slowly drifting, glowing air bubbles with some fluctuation" relaxing.
High Anxiety
Vertigo (1958) https://t.co/rIhN0COENg

— ege ingrid (@Ingrid_Ege) January 6, 2022
Speed the Plow
As winter begins in earnest, we got to wondering, how did people clear snowy roads in the days before snow plows? Core77 had the same question but, even better, found an answer: the snow roller. In use in America as far back as the 18th century, the snow roller survived until the 20th century.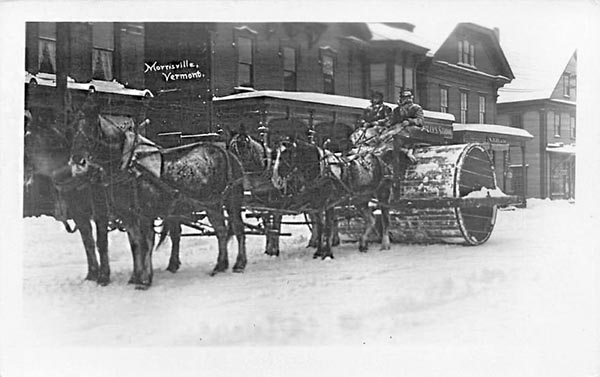 Morrisville, Vermont, year unknown. (Image source)
Because these are so big and built with metal frames, they stand a better chance of surviving the ages, unlike smaller tools that are easily lost and swallowed up by the ground. This snow roller was found in the woods near Bartlett, New Hampshire in 2014.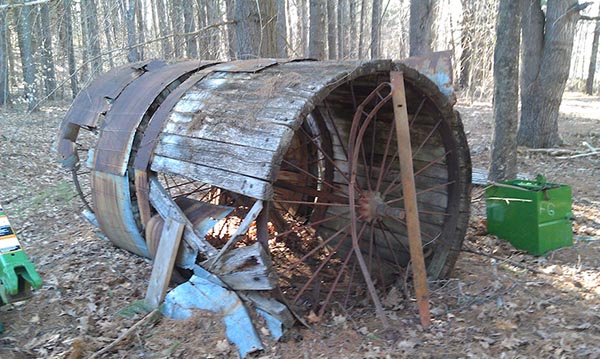 Perhaps the Museum of Printing could get a hold of one and use it as an ersatz printing method à la its steamroller printing.
Explained
Twitter, explained in 15 seconds pic.twitter.com/4dp4qytgwf

— David Hobby (@strobist) January 10, 2022
Box of Pain
Did you like the recent movie adaptation of Dune? Are you eager to get a special edition DVD of it? Do you like pain? If yes to all three of those, then good news! Walmart is selling—and we are not making this up—a "Limited Edition Pain Box" Dune DVD set.
Repeating the phrase "limited edition pain box" over and over in my head until it sounds normal pic.twitter.com/4RDBa4H1VJ

— RTL3 (@RussellLatshaw) January 12, 2022
Funny, we thought Walmart was a pain box.
This Week in Printing, Publishing, and Media History
January 10
1754: English publisher, founder of The Gentleman's Magazine Edward Cave dies (b. 1691).
1776: Thomas Paine publishes his pamphlet Common Sense.
1927: Fritz Lang's futuristic film Metropolis is released in Germany.
1990: Time Warner is formed by the merger of Time Inc. and Warner Communications.
January 11
1927: Louis B. Mayer, head of film studio Metro-Goldwyn-Mayer (MGM), announces the creation of the Academy of Motion Picture Arts and Sciences, at a banquet in Los Angeles, California.
1928: English novelist and poet Thomas Hardy dies (b. 1840).
1949: The first "networked" television broadcasts took place as KDKA-TV in Pittsburgh, Pa., goes on the air connecting the east coast and mid-west programming.
1964: Surgeon General of the United States Dr. Luther Terry, M.D., publishes the landmark report Smoking and Health: Report of the Advisory Committee to the Surgeon General of the United States saying that smoking may be hazardous to health, sparking national and worldwide anti-smoking efforts.
1755: General, economist, and politician, 1st United States Secretary of the Treasury, "Ten-Dollar Founding Father" Alexander Hamilton born.
1807: American businessman and philanthropist, founder of Western Union and Cornell University Ezra Cornell born.
January 12
1908: A long-distance radio message is sent from the Eiffel Tower for the first time.
1949: Japanese novelist, short-story writer, and essayist Haruki Murakami born.
1976: English crime novelist, short story writer, and playwright Agatha Christie dies (b. 1890).
January 13
1888: The National Geographic Society is founded in Washington, D.C.
1898: Émile Zola's J'accuse…! exposes the Dreyfus affair.
1910: The first public radio broadcast takes place; a live performance of the operas Cavalleria rusticana and Pagliacciare sent out over the airwaves from the Metropolitan Opera House in New York.
1941: Irish novelist, short story writer, and poet James Joyce dies (b. 1882).
2009: Irish-American actor, director, and producer Patrick McGoohan dies (b. 1928). Be seeing you.
January 14
1896: American novelist, poet, essayist, and playwright John Dos Passos born.
1898: English novelist, poet, and mathematician Lewis Carroll (né Charles Dodgson) dies (b. 1832).
1952: NBC's long-running morning news program Today debuts, with host Dave Garroway.
1967: The Human Be-In takes place in San Francisco, California's Golden Gate Park, launching the Summer of Love.
1973: Elvis Presley's concert Aloha from Hawaii is broadcast live via satellite, and sets the record as the most watched broadcast by an individual entertainer in television history.
January 15
1759: The British Museum opens.
1876: The first newspaper in Afrikaans, Die Afrikaanse Patriot, is published in Paarl.
1892: James Naismith publishes the rules of basketball.
1936: The first building to be completely covered in glass, built for the Owens-Illinois Glass Company, is completed in Toledo, Ohio.
1941: American singer-songwriter, musician, and artist Captain Beefheart (né Don Van Vliet) born.
1962: The Derveni papyrus, Europe's oldest surviving manuscript dating to 340 BC, is found in northern Greece.
1967: The first Super Bowl is played in Los Angeles. The Green Bay Packers defeat the Kansas City Chiefs 35–10.
2001: Wikipedia, a free wiki content encyclopedia, debuts online.
January 16
27 BC: Gaius Julius Caesar Octavianus is granted the title Augustus by the Roman Senate, marking the beginning of the Roman Empire.
1492: The first grammar of the Spanish language (Gramática de la lengua castellana) is presented to Queen Isabella I.
1605: The first edition of El ingenioso hidalgo Don Quijote de la Mancha (Book One of Don Quixote) by Miguel de Cervantes is published in Madrid, Spain.