Print volumes in the United States and Europe are declining dramatically as many employees are now spending more time working from home than ever before.
In the United States, 27% of respondents who were newly working from home due to the pandemic reported a decrease in their home printing volumes. This share was 33% in the EU.
Most respondents in the United States and Europe believed that they would print more at home if their employer paid for their supplies.
By Mark DiMattei
Introduction
The COVID-19 pandemic has been disrupting our lives for almost two years now, but there are signs that life is returning to some semblance of normal. Most kids have physically returned to the classroom, people are able to dine out and go to the movies, and many of us are returning to our offices for work. Even so, the emergence of multiple C19 variants and periodic spikes in COVID cases would suggest a need to proceed with caution. It should therefore come as little surprise that quite a few businesses are implementing hybrid workplaces and encouraging employees to split their work time between the office and home. Still other employees have recently gone fully remote for a better work/life balance or because of ongoing health concerns.
It was probably only a matter of time, but modern work patterns are affecting the print volumes that offices are producing. In the future, these shifts could have far-reaching implications for OEMs, vendors, and managed service providers.
The Only Constant is Change
Keypoint Intelligence has published numerous annual forecasts covering office print volumes over the years. Some of this forecast data explores the print volumes that would have been seen prior to COVID-19 while also predicting how the pandemic might have affected print volumes in various vertical markets.
Based on this data, the United States as well as the European Union (which for our purposes includes numbers from the UK, Germany, France, Italy, and Spain) are seeing dramatic declines in print volume with employees working from home more frequently. As shown in the Figure below, the US was hit harder than the EU—especially during 2020. Although these declines are expected to rebound to some extent as more people return to the office (either full time or as part of a hybrid workforce), Keypoint Intelligence believes that print volumes will continue to be impacted through 2022. Once again, print volume declines are expected to be more pronounced in the US than they are in Europe.
Figure 1. Change in Print Volume (US vs. EU)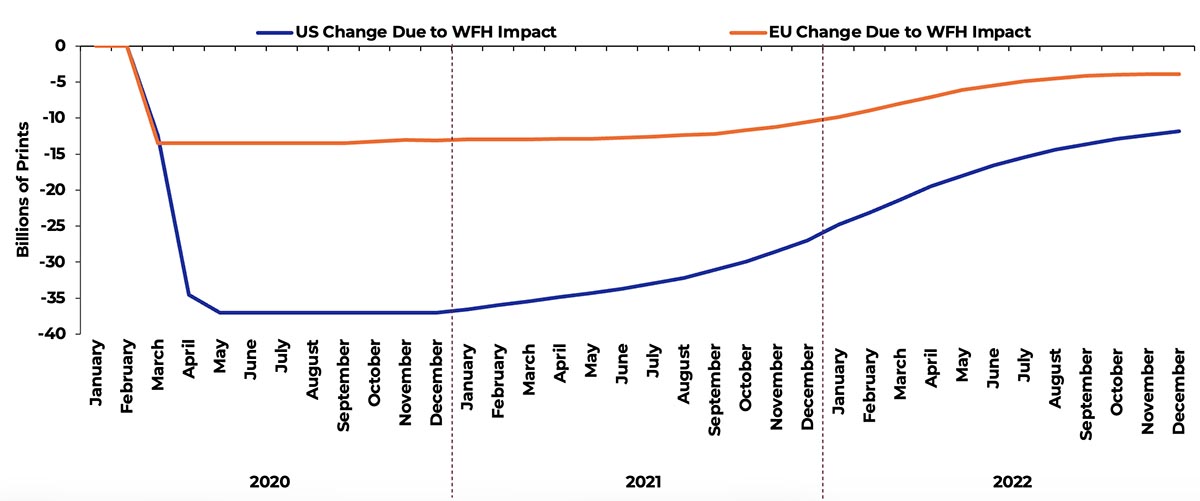 Source: Ongoing Forecast Coverage from Keypoint Intelligence
What about those employees who are now exclusively working from home, even if it is only expected to be temporary? How have their printing habits changed now that they're no longer using the devices in their physical offices? Keypoint Intelligence's Future of Office Printing survey asked employees who were newly working from home in the United States and Europe about how their personal printing volumes had changed since the COVID-induced lockdown in early 2020. While respondents in both regions most commonly reported that their printing habits on their home-based devices had remained unchanged, 27% of respondents in the US and 33% in the EU reported that their home printing volumes had decreased. It should be noted that this share was higher in both regions as company size increased.
This decline in print volumes might be at least partially attributable to supplies. Beyond the growing issue of supply chains struggling to meet demand and timetables in all industries, most of our respondents reported that they pay for their own ink and paper (unless their company provided them with a device, in which case the ink, toner, and paper was more commonly covered by their organization). During a time when people are concerned about the rising cost of living as well as the economic turmoil that a global pandemic can cause, it's unsurprising that many employees are printing less—especially if they must foot the bill.
Predictably, most respondents said that they would print more if their employer paid for their supplies. This was true among respondents who had owned a printing device before the pandemic, those who purchased one after the fact, and those who expensed a home printer to their company when they started working from home. Regardless of the situation, the majority of respondents believed that they would print more if their employer covered the cost of ink or toner.
Figure 2. Share of Respondents Who Would Print More if Their Employer Paid for Supplies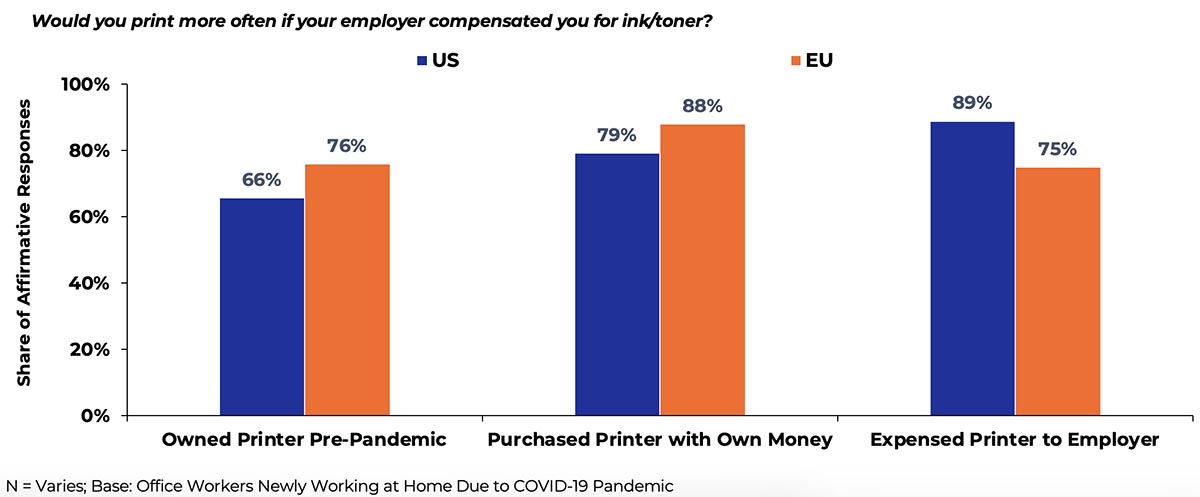 Source: The Future of Office Printing Survey; Keypoint Intelligence 2020
The Bottom Line
Beyond the concerns brought up by the pandemic regarding office structure and where knowledge workers are best located for maximum efficiency, it's time to revisit how employees are printing at home and at work. Too many of us saw our personal data being compromised as well as an increase in e-mail and telephone scams during the height of the pandemic, but print remains a more secure and highly trusted means of communicating with customers and clients. Even so, it's important that we all continue to print responsibly so we can better protect our natural resources.
Mark DiMattei is the Manager of Keypoint Intelligence's Publishing, Editing, and News department. In this capacity, he oversees the formatting, editing, and publication cycles for many different types of deliverables. He also assists in the production of blogs, analyses, research reports, and multi-client studies.