By John Nelson, Editor, Smithers
Packaging is becoming increasingly important to the print industry after COVID and the specific conditions of the pandemic have further accelerated the use of digital (inkjet and toner) equipment in this space.
The state of the art for digital print for technology and leading market drivers will be examined in depth at the Smithers Digital Print for Packaging Europe 2021 conference. It is now accepting bookings for December 8–9 in Amsterdam.
Enduring Demand
Among the keynote presenters at this conference will be Smithers' Print Consultant Sean Smyth. He is the author of the new Smithers report—The Future of Digital Print for Packaging to 2026—which shows that the value for digital print on packaging and labels was up 12.2% to $18.51 billion across 2019–2020, while surface area printed rose by 15.0%.
This is a positive message, especially when compared with graphic and publication segments, where a total of 6.4 trillion A4 print equivalents were lost from the world print market in 2020. The majority of the volumes lost in 2020 will not return. Instead, OEMs and print services providers are refocusing on packaging as one of the genuine growth markets that remain. As this happens, the experience of COVID, changes in print buying, and technical advances will further support the use of digital.
The digital surge is no short-term phenomenon. Instead, it has emphasized the advantages of these systems that some segments—principally labels—have been capitalizing on for some time. As the print industry readjusts to a post-COVID world, these will become increasingly important.
Smithers projects the market will reach a projected $21.09 billion in 2021, then grow at a compound annual growth rate (CAGR) of 11.2% to reach $35.88 billion in 2026.
Flexibility in Print Buying
Digital print's key advantages are its responsiveness, flexibility, and consequent cost competitiveness on smaller print runs. The supply chain disruption seen during 2020 and into 2021 led to many more short orders from FMCG customers as they had to react flexibly to severe peaks and troughs in consumer purchasing.
The ability of digital to produce short runs economically has changed the label sector, and is now beginning to do so across other packaging markets. Post-COVID, more brands want to avoid tying up capital in stocks, with some using digital to manage set-up costs and change the order patterns away from long runs into multiple orders, and print-on-demand ordering. New product launches and special packs mean more short runs, as will brand owner desire for greater SKU diversity and versioned packaging and labelling.
Uptime and Run Lengths
The uptime for the current installed base of presses has generally increased across 2020–2021 as the capabilities of digital production have met the fluctuating demands of large and small packaging buyers over the COVID period. The sector remains healthy, with continuing investment predicted from the end of 2021.
Eliminating minimum order quantities will further open high-quality packaging and labels to many more players, and grow the overall market significantly. While not widespread, there are online web-to-pack portals that help to reduce the administration and prepress costs by producing press-ready artwork, and these will boost acceptance of digital labels and packaging.
E-Commerce Orders
E-commerce sales surged—up 25% worldwide—across 2020, even while overall retail sales fell. Further major increases are forecast for 2021 and beyond, marking a deeper shift in consumer buying habits. This benefits print as it employs more transit packaging to ship and individual delivery labels, with several large e-commerce sellers bringing print services in line at their own facilities.
From a marketing angle, digital print can also play a role in the e-commerce unboxing experience for brands and retailers. This includes printed graphics on the inside and outside of delivery packs, including personalized messages, advertising, and discount codes tailored to the recipient. Smaller bespoke brands are also more willing to pay for the premium of digitally printed packs ordered via print-on-demand.
Simultaneously, more print buying is moving online. Many digital converters are providing e-commerce portals for print buying. This is being supported by the nascent platform economy model for print buying with websites such as Compack matching buyers to custom packaging suppliers, and printers. This favors digital systems that can be integrated with web-to-print systems and other software, improving responsiveness to the consumer and overall order turnaround.
Quick turnaround will be more important in the future as e-commerce consumers come to expect next- or same-day delivery for many purchases as the norm.
Inkjet Over Toner
Adoption of inkjet is growing in all packaging segments, eroding the share of toner presses over the next five years. As this happens, electrophotography risks becoming confined to smaller high-quality work in labels, cartons, and flexible packaging.
Inkjet has direct advantages in printing on less uniform surfaces such as corrugated board. For corrugated liner printing, there are now wide-web systems running at over 300m per minute, making them the highest performance digital presses in existence. Inkjet post-print is growing rapidly, too, with many high-performance systems being developed and installed into box plants, and some into high-volume display applications.
One sector where the two systems are in direct competition is printing on folding cartons and packaging sleeves. Here inkjet has a slightly larger share at 56.3% and will grow fast across the next five years, as more commercial print companies look to enter the market and provide promotional and short-run cartons. There will also be opportunities for both technologies in narrow-web, extending to take more custom flexible packaging work, a segment where the success of ePac shows the untapped market demand.
The Future of Digital Print for Packaging to 2026 quantifies this compelling growth market with an exclusive dataset presented in over 250 data tables and figures. It segments market (by value and volume) by print technology, and packaging format/substrate, across 30 leading national and regional markets.
It is available for purchase priced $6,500 (€5,250, £4,750).
The state of the art for digital print for technology and leading post-Covid market drivers will be examined in depth at the Smithers Digital Print for Packaging Europe conference. This is now accepting bookings for both physical and virtual attendance on December8–9 in Amsterdam.
Global Digital Package & Label Printing Output, 2016–26 (Billion Square Meters)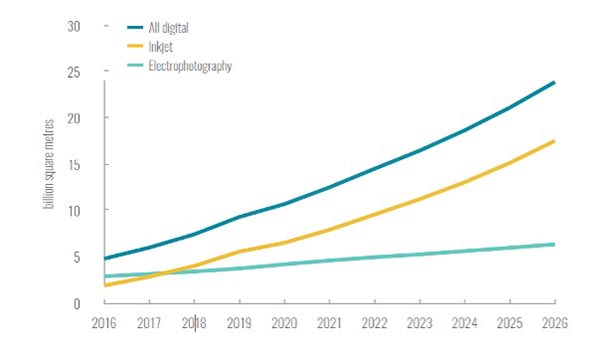 Source: Smithers
https://www.smithers.com/en-gb/services/market-reports/printing/the-future-of-digital-print-for-packaging-to-2026
https://www.smithers.com/event/sessions/10467