This article is sponsored by PlanProphet as part of WhatTheyThink's Print Software Product Spotlight series. In preparing this article, the WhatTheyThink Print Software Section contributors conducted original, in-depth research on PlanProphet. This Product Spotlight describes what the editors feel are the product's strengths in the marketplace. PlanProphet reviewed the final article for accuracy but had no editorial control over the content.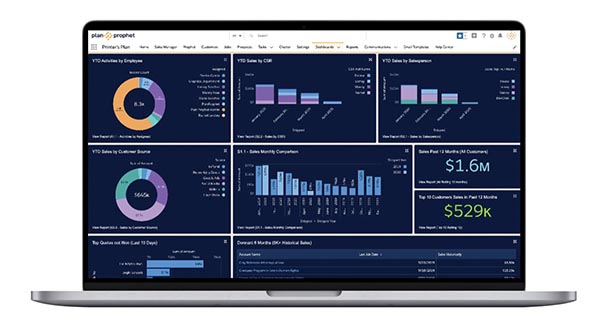 There are generalists and specialists in any profession. Take the printing industry's use of the term general commercial printer to describe a company that prints a mix of products. Compare that with a label converter, more of a specialist that focuses solely on making labels. By definition, generalists are good at many things, and specialists are more narrowly focused on being better, or the best, at a few things. The same is true for software and tools used to manage your print business.
A print MIS (Management Information System) solution should be the single record of truth for data in your print shop, providing the generic functions needed to run your business from estimating to job ticketing. Print MIS solutions typically excel at creating cost models, estimates, quotes, and job ticketing since most vendors have spent decades perfecting those modules. While the speed and accuracy of getting quotes to customers are essential, print shop owners and managers need more from the system to make real-time, informed business decisions.
Do you often feel that you are missing the correct information to make those business decisions? Is your answer stuck in multiple data sources, sunk in a data black hole? The reality for many owners, managers, and staff is that they lack the time, resources, or technical ability to unlock the value and proactively act on the data held in their print MIS. They need a print MIS virtual assistant to onboard new customers, track their trends, and automatically engage them at critical points.
PlanProphet is a specialized, complementary solution to your print MIS that acts as your business virtual assistant. Powered by the industry-leading Salesforce CRM, Plan Prophet is a cloud-based subscription software that analyzes customer data and behaviors to identify trends and automate touchpoints. How? The solution integrates live with your MIS to act consistently and systematically based on the status of your customer's last interaction or series of interactions. A new customer receives a welcome email. An inactive customer gets a promotion to return. Your salesperson is notified of a customer with declining sales volume so they can address the issues.
According to an internal survey of fifty existing PlanProphet customers, these automated customer touchpoints resulted in an average of $12,800 incremental revenue per month. PlanProphet tracks important indicators like sales volume, average order size, frequency of orders, unusually low quotes awarded ratios, high number of proof revisions, and accounts payment trends that can trigger notifications for the print shop and auto-engage with the client. All customer and business insights can be viewed and understood, at any time, by each department in your print shop through custom visual reports and dashboards.
PlanProphet also addresses two critical business processes between the print shop and clients that have traditionally been administrative headaches—communication and client invoicing. A lot of email-based communication happens between your customer, the salesperson, CSR, and other print shop staff, but it is still challenging to have a holistic view of everything said, changed, or promised. The same is true of internal communication through email, scribbles on job tickets, or sticky note riders. PlanProphet integrates with both Google and Microsoft Exchange email to provide a continuous thread of emails related to the customer and their individual orders that is visible to all users in the shop. For all the internal back-and-forth needed to keep work moving and clients happy, PlanProphet uses Chatter from Salesforce. Chatter is like a social network for your company where employees can leave notes, collaborate with each other, and upload supporting information to keep everyone up-to-date and working toward the same goal.
Getting paid is a common bottleneck in many print shops. The work is done, but getting an invoice sent to the customer, along with the reminders to send payment, creates a heavy lift often delegated to the person responsible for accounting. With PlanProphet, invoices are sent automatically when the job is completed, and recurring account statements can be sent on a weekly, bi-monthly, or monthly basis. After a period of non-payment, reminder e-mails, past due notices, and collection notices can be triggered—all in an attempt to speed up accounts receivable and improve cash flow. Once paid, the invoicing loop is closed through a payment confirmation notice sent to the client. According to internal research, PlanProphet customers average 31 account receivable labor hours saved per month using their billing automation capabilities.
The bottom line is that PlanProphet allows you to work smarter, not harder, by unlocking the data and insights from your existing print MIS solution. As the name suggests, PlanProphet uses past data to predict what should happen next in your print business. By understanding your customers' buying behaviors, the solution can kick start dormant accounts, upsell and cross-sell existing accounts, and help increase touchpoints to your most valuable accounts. It can be done automatically through business and marketing automation triggered by identified customer behaviors or milestones. These features can make PlanProphet your most valuable, albeit virtual, employee.
PlanProphet is cloud-based and offered through subscription. The solution is compatible with EFI PrintSmith Vision and Printer's Plan from Print Reach at the time of publication. New supported MIS platforms are expected in the near future. For more information visit www.planprophet.com.