Your Friday Dropping a 1,200-Pound Pumpkin 100 Feet into an Inflatable Pool
Blue Paint Blues
"Supply chain disruption" is the latest catchphrase, and is apparently the cause for any kind of shortage anywhere. The latest victim? Blue paint. Says Yahoo!:
Manufacturers are running out of supplies needed to make shades of blue paint, the latest good to be affected in the ongoing supply chain crisis. "To make paint you would need between 50 and 60 ingredients," a spokesperson from Dutch paint maker Akzo Nobel explained in a statement to Insider. "Some additives are difficult to get." The cost of raw materials and other variables needed to make paint increased by over $323 million compared to 2020, according to the company's third quarter results. Prices of Akzo Nobel have increased by 9% over the past year.
Even Sherwin-Williams is having trouble living up to their claim to "cover the world."
Sherwin-Williams told investors in September that the company is facing raw material shortages and that is increasing the overall cost to make paint, according to CNN Business. Sherwin-Williams's CEO John Morikis expects prices to be up for a while, CNN reported.
They may have to change their slogan to "cover a small landmass."
More Supply Chain Woes
Millions Of Animals Migrating To North America Over Land Bridge Of Stalled Cargo Ships https://t.co/uwxX5E7MxF pic.twitter.com/cmNCDjIpLH

— The Onion (@TheOnion) October 22, 2021
PSNFT
Are you eager to invest in non-fungible tokens (NFTs)? No, nor were we. But those who do often have concerns that the person selling an NFT is the person who made it, because we are shocked, shocked, to discover that there would be fraud involved in any of this. Well, Adobe to the rescue, with a forthcoming "Prepare as NFT" option coming to Photoshop. Says The Verge:
It's called Content Credentials, and NFT sellers will be able to link the Adobe ID with their crypto wallet, allowing compatible NFT marketplaces to show a sort of verified certificate proving the art's source is authentic.
According to a Decoder interview with Adobe's chief product officer Scott Belsky, this functionality will be built into Photoshop with a "prepare as NFT" option, launching in preview by the end of this month. Belsky says attribution data created by the Content Credentials will live on an IPFS system. IPFS (InterPlanetary File System) is a decentralized way to host files where a network of people are responsible for keeping data safe and available, rather than a single company (somewhat similar to how torrent systems work). Adobe says that NFT marketplaces like OpenSea, Rarible, KnownOrigin, and SuperRare will be able to integrate with Content Credentials to show Adobe's attribution information.
"InterPlanetary File System"? Scalability is good, but that may be a little overkill.
Deep Clean
I had 40MB of socks and underwear cleaned pic.twitter.com/ui3LhVmW1L

— Chris Stein (@chrissteinplays) October 25, 2021
3D Prince
Core77 has a look at Stratasys's print samples from its J8 series of Polyjet 3D printing machines, and is astounded at the "bonkers" 3D prints it can produce—"where they print multiple colors inside of a clear outer layer":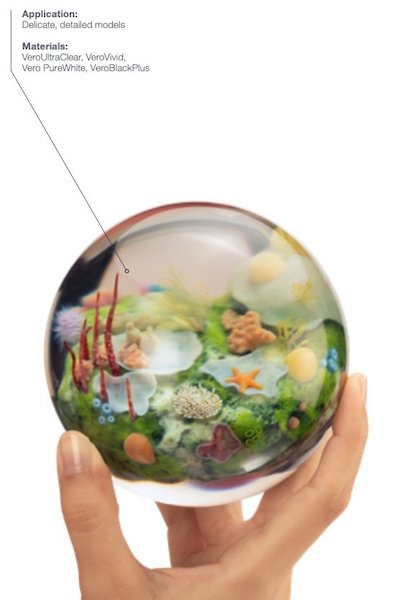 Stratasys was in the news for having partnered with Paisley Park (Prince's estate which is now a museum) to produce a 3D-printed piano case for Prince's shoes, as well as a 3D-printed textile portrait of His Purpleness: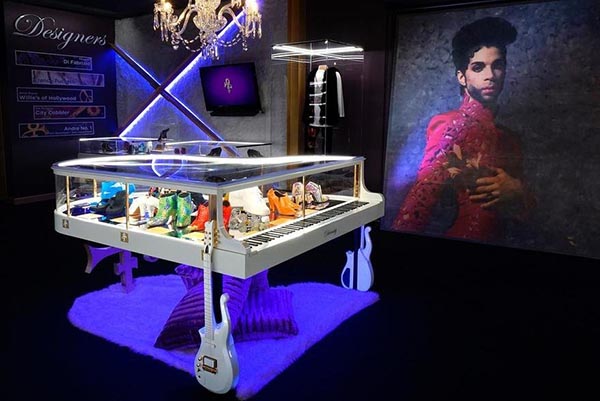 "In addition to the [piano], Stratasys also created the largest 3D printed polymer image on fabric of Prince. The nine-foot by nine-foot image is composed of 347,130 clear spherical cells with layers of color contained inside."
And here's one for Cary Sherburne:
"Stratasys' direct-to-textile 3D printing was first demonstrated by designers at New York Fashion Week in 2019." I found the relevant video, which shows fashion design collective threeASFOUR using Stratasys' tech to print lenticular blobs on fabric:
Nobody Knows Who They Were or What They Were Doing
Stonehenge under snow, 1947 by Bill Brandt. This is easily the best photo of Stonehenge that I have ever seen. pic.twitter.com/YjUq0E6KHF

— Davenant ?? (@MarcDavenant) October 23, 2021
Jeans Therapy
This new matte lyocell Tencel fiber from Lenzing is designed to diminish the shininess of denim fabric as well as diminish the horrendous environmental footprint of traditional denim. Says Sourcing Journal:
the introduction of matte Tencel lyocell fibers increases versatility in denim designs while reducing the ecological footprint of the resulting fabric and garment. Made with a resource-efficient closed-loop production process, the new fiber type maintains all the comfort benefits of standard Tencel lyocell fibers to offer next-to-skin smoothness while giving dark indigo-dyed fabrics a deep and lusterless appearance, she noted.
Think of it as one small step for fashion, one giant step for denim.
Rocky Mountain Low
City Of Denver Shuts Down Bar For Operating Without A Brewery https://t.co/FVmtf5JbnF pic.twitter.com/e2hXJfA16B

— The Onion (@TheOnion) October 26, 2021
Ship Happens
When you consider that as recently as 2014, Amazon had 0% of the parcel shipping market, the fact that by 2021 it had surpassed FedEx in parcel shipping volume is pretty amazing. From Axios: "Amazon has 21% of the U.S. shipping market — behind UPS (24%) and ahead of FedEx (16%). The Postal Service remains dominant — 38%."
The Good Old Days
Equally I didn't think I would need a password for my doorbell.

— Richard Osman (@richardosman) September 26, 2021
The Emails Are Coming from Inside the Fridge!
It was only a matter of time before "smart devices" started getting annoyed with humans. Via Boing Boing, new smart refrigerator owner shares an annoyed email he received from his fridge chiding him for opening the door too many times:
wtf our fridge just emailed us to say we opened its door too many times in the past month pic.twitter.com/MPa2cPHhCC

— Bad Ghost Dan (@hondanhon) September 9, 2021
In his defense (and why one needs to defend oneself from a refrigerator remains to be seen), he responds: WE HAVE CHILDREN."
Wait until all the smart devices start colluding.
Retinas On Display
All you have to do to get this Very Trustworthy Coin is give us a high resolution scan of your retinas for the world's biggest biometrics database!!!

But hey free money! We swear it's not creepy! pic.twitter.com/ZuxIg7HmZF

— Internet of Shit (@internetofshit) October 21, 2021
Graphene Blows Hot and Cold
Was it a good week for graphene news? It's always a good week for graphene news! Says Graphene-Info:
Researchers at Duke University have used graphene to develop a unique electrochromic technology for smart window-like devices that can alternate between harvesting heat from sunlight and allowing an object to cool. The approach could promote HVAC energy savings
… Electrochromic glass is a relatively new technology that uses an electrochromic reaction to change the glass from transparent to opaque and back again. While there are many approaches to creating this phenomenon, they all involve sandwiching an electrically responsive material between two thin layers of electrodes and passing an electric current between them. While this trick is challenging to achieve for visible light, it becomes even more tricky when having to also consider mid-infrared light (radiative heat).
In order to get this to work as desired, the researchers needed to combine the graphene with gold—as if there were a difference! Since the material is never transparent, it wouldn't necessarily replace windows, but could be incorporated into other surfaces.
Word of the Day
Words of the day are 'unanimous', united in agreement, from the Latin for 'one mind', and 'unasinous', united in stupidity, from the Latin for 'one ass'.

— Susie Dent ?? (@susie_dent) October 26, 2021
Good Grief
Sunday is Halloween and one of the all-time classic Halloween specials is of course It's the Great Pumpkin, Charlie Brown. Mental Floss offers up interesting 10 facts about this classic TV cartoon, including:
SOME SCHOLARS THOUGHT THE GREAT PUMPKIN WAS REAL.
A real myth, at any rate. Talking to the Schenectady Gazette in 1968, Schulz said that since the special began airing two years earlier, he had received a number of letters from academics wondering where the Great Pumpkin story had originated. "A number of professional scholars have written me about the origination of the legend," he said. "They insist it must be based on something." Schulz suggested they broach the topic with Linus instead.
All Maps Amazing and Terrible, Part the Infinity
Location of every city founded by the Roman Empire, outside of Italy pic.twitter.com/lW1QedWgkV

— Amazing Maps™ (@amazingmap) October 19, 2021
Restaurant order preferences in Africa pic.twitter.com/zDf07ZDYdS

— Terrible Maps (@TerribleMaps) October 12, 2021
Spam Risk
You've heard of the "boy who cried wolf"? Maybe this falls into the "wolf that made spam calls to the boy too many times"—or something like that. But you have to give the guy credit for having a phone answering policy and sticking with it. From The Guardian:
A man who became lost for 24 hours while hiking on Colorado's highest mountain ignored repeated phone calls from rescue teams because they came from an unknown number, authorities say.
It gets worse, though:
Repeated attempts to contact the man through calls, texts and voicemail messages went ignored, according to a statement released by the agency.
Surely a quick glance at a text or a brief listen to a voicemail wouldn't have been too much of a waste of time. And really, if you're lost on a mountain, what else do you have to do?
Adds the lake county search and rescue agency: "If you're overdue according to your itinerary, and you start getting repeated calls from an unknown number, please answer the phone; it may be a search and rescue team trying to confirm you're safe!"
Better Safe Than Sorry
Not a book many would expect to read, but if you find yourself in this exact predicament... you'll wish you had.

Best pick it up.https://t.co/s9eeYbpufL#RJJulia @maureenjohnson @jaycooperart pic.twitter.com/jaqhAv9VQ3

— RJ Julia Booksellers (@rjjulia) October 23, 2021
Munster, Stay Home
Well, Boing Boing just turned us onto a new podcast that will likely end up in high rotation: Bizarre Albums. In a recent episode, they gave a listen to At Home With The Munsters—"a bizarre audio tour of the Munster family home, with songs sung by each of the cast members." Needless to say, this vinyl relic has been out of print since the 1960s, but it looks like Rough Trade is planning a reissue on Black Friday.
Hunger Strike
October 21, 2021
No Strings Attached
Looking for a good gag gift for the would-be fake rock star in your life? Try a good set of air guitar strings.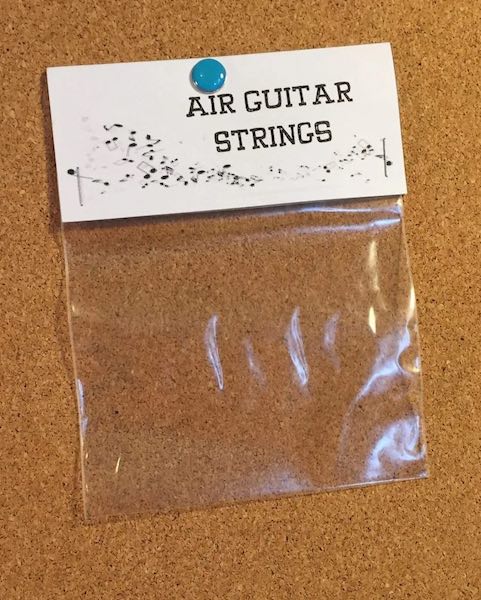 Says Laughing Squid:
Chris and Cassy Nicholson, the mother and daughter team behind Craftily Inspired, have quite hilariously thought up the perfect gift for a beloved air guitar player. After all, one can't play air guitar without the proper air guitar strings!…This and other gag gifts are available for purchase through the Craftily Inspired Etsy shop.
Twist Endings
Would love to see M. Night Shyamalan take over the Clifford franchise, and add a surprise twist where he turns out to be neither big, nor red, nor a dog.

— (((Joshua Mahalloweenalina))) (@JoshMalina) October 24, 2021
Candy Caned
With Christmas on the horizon, those trees will start going up and we may actually be able to have people over to see them. So why not make the first Christmas after lockdown a special one, with these hot dog-flavored candy canes.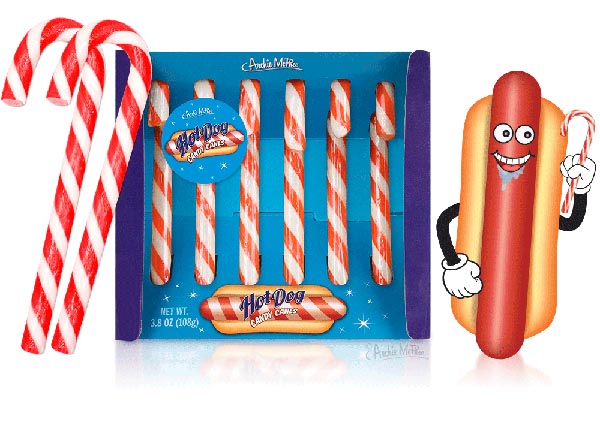 Or, it's entirely possible you may make people nostalgic for lockdown.
Update: Aww, too bad, they're out of stock. And so are the sardine-flavored and the sour cream and onion-flavored candy canes. Damn supply chain problems!
Even More Supply Chain Woes
beginning a breakup text with "as the situation with the supply chain continues to develop,"

— JP (@jpbrammer) October 24, 2021
This Week in Printing, Publishing, and Media History
October 25
1977: Digital Equipment Corporation releases OpenVMS V1.0.
2001: Microsoft releases Windows XP, becoming one of Microsoft's most successful operating systems.
October 26
1825: The Erie Canal opens, allowing direct passage from the Hudson River to Lake Erie.
1861: The Pony Express officially ceases operations.
1892: Ida B. Wells publishes Southern Horrors: Lynch Law in All Its Phases.
1946: Puerto Rican actress and author Holly Woodlawn born to walk on the wild side.
1958: Pan American Airways makes the first commercial flight of the Boeing 707 from New York City to Paris.
October 27
1858: Theodore Roosevelt born.
1904: The first underground New York City Subway line opens, later designated as the IRT Broadway–Seventh Avenue Line.
1914: Welsh poet and author Dylan Thomas born.
1923: American painter and sculptor Roy Lichtenstein born.
1932: American poet, novelist, and short story writer Sylvia Plath born.
1939: English actor, comedian, screenwriter, and producer John Cleese born.
1977: American journalist and author James M. Cain dies (b. 1892).
2004: The Boston Red Sox defeat the St. Louis Cardinals to win their first World Series in 86 years.
October 28
1726: The novel Gulliver's Travels by Jonathan Swift is published.
1886: In New York Harbor, President Grover Cleveland dedicates the Statue of Liberty. The first ticker tape parade takes place in New York City when office workers spontaneously throw ticker tape into the streets as the statue is dedicated.
1899: German-American engineer, invented the Linotype machine Ottmar Mergenthaler dies (b. 1854).
October 29
1675: Leibniz makes the first use of the long s (∫) as a symbol of the integral in calculus.
1787: Mozart's opera Don Giovanni receives its first performance in Prague.
1911: Hungarian-American publisher, lawyer, and politician, founded Pulitzer, Inc. Joseph Pulitzer dies (b. 1847).
1969: The first-ever computer-to-computer link is established on ARPANET, the precursor to the Internet.
October 30
1466: German printer Johann Fust dies (b. c. 1400).
1885: American poet Ezra Pound born.
1938: Legitimately fake news—Orson Welles broadcasts his radio play of H. G. Wells' The War of the Worlds, causing anxiety in some of the audience in the United States.
October 31
1795: English poet John Keats born.
1941: After 14 years of work, Mount Rushmore is completed.
1963: English singer-songwriter and guitarist Johnny Marr born.
1993: Italian director and screenwriter Federico Fellini dies (b. 1920).
2000: American journalist and screenwriter Ring Lardner, Jr. dies (b. 1915).
Stay fresh, Cheese Bags!