Brb, buying this mat pic.twitter.com/WSDSP6p3pP

— March For Science (@MarchForScience) October 13, 2021
Oh, You Pretty Things
Two classic science-fiction films—Howard Hawks' 1951 The Thing and John Carpenter's 1982 nothing-at-all-like-it remake—were based on John W. Campbell's 1938 short story "Who Goes There?" which first appeared in Astounding Science Fiction. The story concerned a group of Antarctic scientists who discover a spaceship buried in the ice —and a "passenger" that crawled free and froze. If you've seen either (or both) Thing(s), you know it doesn't go well for the scientists.
Anyway, Angel Bomb letterpress printing and design studio has launched a Kickstarter project (which exceeded their target) to produce deluxe print editions of Campbell's story.
Two versions are available: a luxurious Deluxe letterpress edition, quarter-bound in Japanese blue book cloth with blind emboss and tan goatskin spine. This edition comes in a custom-designed bound portfolio containing a triptych of Antarctica with notes and sketches from the expedition and holding five frame-worthy letterpress prints of artwork from the story. Embedded in the cover of the portfolio is a hand-cast, painted resin medallion of the expedition's emblem. A true collector's edition, limited to only fifty copies, this unique set will thrill you with its immersion into an expedition fighting madly against a shape-shifting alien that is hell-bent on subsuming the crew.
The Standard edition is equally beautiful, letterpress printed, quarter-bound in cold blue book cloth, and a contrasting spine coming wrapped with a letterpress belly band. Designed to be an affordable option featuring the same blind cover emboss, illustrations, and high-quality printing, this edition is limited to 200 copies.
The perfect gift for all the Thing lovers in your life.
Deep Space None
James Tiberius Kirk is in space. Watch out for Gorns!!! pic.twitter.com/gTC2dHVFhv

— Charles P. Pierce (@CharlesPPierce) October 13, 2021
Amazon just delivered William Shatner to our door. I said I wasn't happy with the delivery…

— Eric Idle (@EricIdle) October 11, 2021
The Pen Is Mightier
Via Boing Boing, a chap named Aaron Francis was looking for an automated solution to hand-write thousands of direct mail pieces. He started with a pen-plotter—the Axidraw from Evil Mad Scientist—but modified it so that one robot could write on multiple pieces of paper unattended. "So he took the Axidraw's plotting mechanism and put it on a massive eight-foot-long frame, producing a robot that can handle 14 pieces of paper at a time."
If long Twitter threads are your thing, he explains the process.
One-Upping Shatner
Mae Jemison was the first person to both go to space and be on #StarTrek send tweet. pic.twitter.com/015kbvIxwK

— Jim Sharkey (@madscienceskill) October 13, 2021
Christine: The Next Generation
Here's a highly creepy Stephen King story in the making. Apparently, a long series of Waymo's self-driving cars are being mysteriously drawn to a dead-end street in San Francisco. And no one knows why. Says Gizmodo:
The street in question is located in San Francisco's Richmond district on 15th Avenue. The Waymo cars purportedly come at all hours of the day, drive down the dead-end, make a multi-point turn and then return the way they came. (You can see them doing this in the KPIX video.) A short while later, another Waymo car will come and do the exact same thing. Occasionally, according to the KPIX report, there'll be a queue of confused Waymo cars. One resident said there can be as many as 50 Waymo cars showing up during the day and that the odd parade of self-driving cars has been going on for at least six to eight weeks.
Waymo wouldn't provide an explanation, and while one commenter suggests that it was chosen by Waymo for cars to practice their three-point turns, we think there's something far more nefarious at work. They have to be plotting something, something…evil…
Legging It
Love. https://t.co/7mMh08Y8mq

— (((Joshua Mahalloweenalina))) (@JoshMalina) October 12, 2021
30% Iron Chef
Ask any restaurant owner what their biggest challenge post-pandemic has been, and chances are it'll be how hard it has become to find restaurant staff. It's not hard to see why, since waitstaff are often in the unique position of being abused by both management and customers. Even chefs can be hard to come by, so one restaurant in Paris, Cala, has solved the problem with automation. Namely, a robot that can cook. From Sifted:
Cala is part of a new wave of food robots (some people say it's spurred on by a pandemic-induced hygiene desire to remove humans from the food prep process). In Europe, there's Pazzi, also in Paris, where a robot cooks pizzas; in Sweden, there's ice cream robot BonBot and in the UK, there's Karakuri.
Cala started its robot chef during the pandemic when delivery was the only option, and was able to offer pasta dishes as low as €8. But even when in-person dining reopened, the food quality remained high, and no one knew the dishes were cooked by a machine.
The numbers work out, as well. They don't need much kitchen space, or to pay a chef a competitive salary, so the savings can go back into quality ingredients.
The robot means Cala saves 60% on real estate costs, which it says it puts into spending more on the cost of food ingredients, allowing it, Richard says, to deliver higher quality meals at a better price. The company's labour costs are similar to other restaurants — they still have staff serving the meals to customers.
For now. But what happens when the robot chefs are inexplicably drawn to a dead-end street in San Francisco?
Life Choices
Why would I want to be a very sad 10-year-old https://t.co/oMTZO1P0xd

— Ian Ford (@ij_ford) October 12, 2021
Signs of the Times: Be On Neon
Casa Grande, Ariz., was founded in 1879 as part of Arizona's mining boom. It wasn't a boom that lasted very long, leading to a fair number of ghost towns, but Casa Grande survived by "pivoting" to agriculture, and as such it has endured—as did many of the town's neon signs. Atlas Obscura takes us to the Casa Grande Neon Sign Park, which uses signage to chronicle the history of Casa Grande and its environs.
Several of the signs required extensive restoration, including the Arizona Edison sign, which was missing the neon, and the Goddard Shoe Store sign, whose goose was missing its head. Paul the Waver, standing by the sign for the Horse Shoe Motel, is a reproduction based on a mid-century photograph. The light behind his waving arm indicated when the motel had vacancies.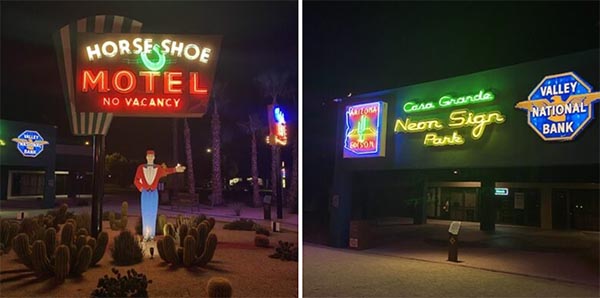 Photos by Curiousmichelle (Atlas Obscura user)
The signs are illuminated each night from dusk to 11pm.
Plane Truth
Southwest Blames Cancellations On Weather Being Too Beautiful To Spend Whole Day Cooped Up On Plane https://t.co/rsLCvMqu7u pic.twitter.com/Tdk2nQl2Zd

— The Onion (@TheOnion) October 11, 2021
Eats, Sues, and Leaves
As if there weren't enough problems with Facebook, here's one issue that wasn't the company's fault. Apparently, sloppy punctuation can get you sued in Australia. From The New York Times:
In [a Facebook post ] last year, Anthony Zadravic, the agent, appears to accuse Stuart Gan, his former employer at a real estate agency, of not paying retirement funds to all the agency's workers.
At issue is the word "employees" in the post, which read: "Oh Stuart Gan!! Selling multi million $ homes in Pearl Beach but can't pay his employees superannuation," referring to Australia's retirement system, in which money is paid by employers into super accounts for employees. "Shame on you Stuart!!! 2 yrs and still waiting!!!"
A judge ruled that the lack of apostrophe in "employees" "could be read to suggest a 'systematic pattern of conduct' by Mr. Gan's agency rather than an accusation involving one employee. So she allowed the case to proceed."
Punctuation on social media (when it exists at all) can cause all kinds of problems, although there was one recent case we can sympathize with:
One recent case in Portland, Me., involving overtime for truck drivers hinged on the lack of an Oxford comma — the often-skipped final comma in a series like "A, B, and C" — in state law. The case, settled in 2018 for $5 million, gained international notoriety when the United States Court of Appeals for the First Circuit ruled that the missing comma created enough uncertainty to side with the drivers. It gave grammar obsessives and those who adore the Oxford comma a chance to revel in the victory.
David Mamet with the Weather
Good to see David Mamet back on his game. I'd love to watch Joe Mantegna say "the game is suspended. The game is suspended due to WEATHER, Murray" while looking like he hasn't slept in three days. https://t.co/Bo3vHz31cf

— David Roth (@david_j_roth) October 11, 2021
, ,
If someone were truly a punctuation obsessive, they'd ditch the actual words entirely and just keep the punctuation. And now, thanks to a new app, discussed by Clive Thompson over at Medium, it's easy to do. He was inspired by an earlier essay on Medium in which a programmer created Python code to remove words from novels, providing an interesting alternate view of different authors' styles.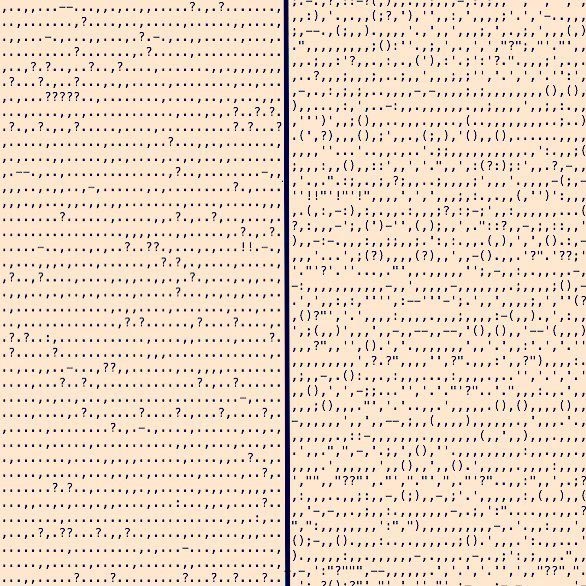 On the left, Cormac McCarthy's Blood Meridian, and on the right, William Faulkner's Absalom, Absalom. Some writers love commas, some avoid them. But then McCarthy doesn't even use quotation marks for dialogue, so one can go too far in the opposite direction.
With Thompson's new app, you copy and paste a story, and voilà! Just punctuation. We thought we'd give it a spin, and compare several WhatTheyThink contributors' use of punctuation.
First up, a recent story by Cary Sherburne:

Then David Zwang:



This can be kind of like fingerprints, in a way. And you can tell who overuses em dashes, maybe because…
…It's Too Easy
Writers only want one thing and it's an Em dash on the keyboard

— Marcus Vance (@MarcusCVance) October 6, 2021
Actually, it's Shift-Option-[hyphen] on the Mac, Shift-Alt-[hyphen] on the PC. And for those who use en dashes (–), Option/Alt-[hyphen].
In Bed with Graphene
Was it a good week for graphene news? It's always a good week for graphene news! We have been metaphorically cozying up to graphene, and now we can do so literally with graphene-enhanced bed sheets. They are being developed by EDASI, which is running a crowdfunding campaign to support its product launch. The company says that its graphene-enhanced fibers offer excellent thermal regulation while at the same time fight off bacteria and repel dust mites.
A Job for Quincy
Has anyone done a rendering of what the 12-foot tall skeleton from Home Depot would have looked like before it died

— ♥mark magark♥ (@markedly) October 10, 2021
Lofty Intentions
PrimaLoft continues to improve its manufacturing technology for insulation used in garments with updates to PrimaLoft P.U.R.E, originally launched in 2019 and which stands for "Produced Using Reduced Emissions." The innovative manufacturing technique has been a key focus for the development team at PrimaLoft as part of the company's ongoing Relentlessly Responsible mission to be as sustainable as possible, without any compromise on its high-performance products. The new processes are said to reduce carbon emissions by up to 70%.
All Maps Amazing and Terrible, Part the Infinity
The entirety of continental South America lies east of Michigan pic.twitter.com/jNKliHR80e

— Amazing Maps™ (@amazingmap) October 10, 2021
The top 12 states to live in pic.twitter.com/yBmM6nqtCP

— Terrible Maps (@TerribleMaps) September 25, 2021
Hell's Grannies
We have seen the future of horror and it is…dancing grannies. What? Says The Guardian:
Across China's public parks and squares, in the early hours of the morning or late in the afternoon, the grannies gather. The gangs, made up mostly of middle-aged and older women who went through the Cultural Revolution, take to a corner of a local park or sporting ground and dance in unison to Chinese music. Loud music. The tradition has led to alarming standoffs, with the blaring music frequently blamed for disturbing the peace in often high-density residential areas. But many are too scared to confront the women.
The Guardian then uses the phrase "The dilemma of the dancing grannies"—wasn't that a Sir Arthur Conan Doyle story?—and a technological solution: "a remote stun gun-style device that claims to be able to disable a speaker from 50 metres away."
And we would be remiss if we neglected to Monty Python's classic "Hell's Grandma's" bit.
Terrible Maps, Colorado Governor Edition
Colorado is tied for state with the least shark attacks! ?? pic.twitter.com/mMI8HAZGra

— Jared Polis (@jaredpolis) October 12, 2021
Eight Arms to Hold You
Over at (where else?) Laughing Squid, "yarn artist" Loren Ver's new line of cuddly hand-crocheted plush octopuses. She sells her cephalopods (cuddlefish?) through her Etsy shop but will also take custom orders.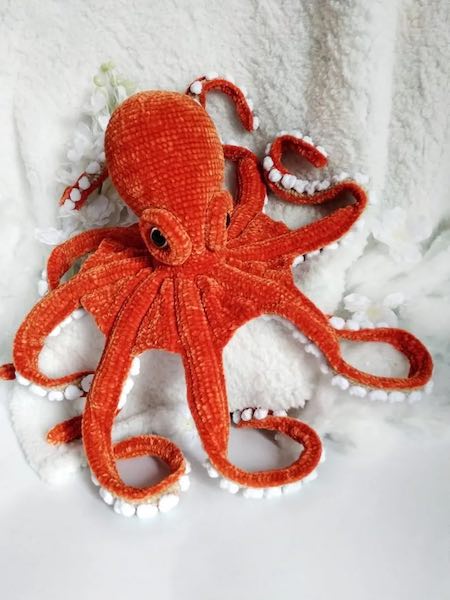 Off Putting
Keep calm and carry Off! would be a very dope bug spray ad.

— (((Joshua Mahalloweenalina))) (@JoshMalina) October 7, 2021
Your Schnauzer Awaits
Finally this week, we leave you with the "Schnauzer Chariot of Kazakhstan." Via Boing Boing: "an elderly woman [less raucous than the Chinese grandmas. —Ed.] is transported upon a chariot drawn by two large schnauzers, Rachel and Bony, retired from police service."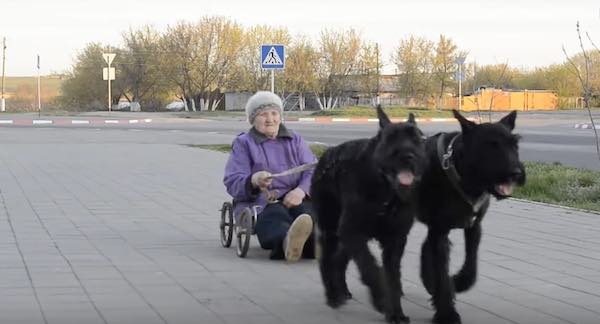 Exit Lines
October 8, 2021
This Week in Printing, Publishing, and Media History
October 11
October 11, 2021
1910: Former President Theodore Roosevelt becomes the first U.S. president to fly in an airplane.
1950: CBS's mechanical color system is the first to be licensed for broadcast by the U.S. Federal Communications Commission.
1961: American comedian Chico Marx dies (b. 1887).
1967: Typographer, known for work on Times New Roman font, Stanley Morison dies (b. 1889).
October 12
322 BC: Athenian statesman Demosthenes dies (b. 384 BC).
1892: The Pledge of Allegiance is first recited by students in many US public schools, as part of a celebration marking the 400th anniversary of Columbus's voyage.
1924: French journalist, novelist, and poet, Nobel Prize laureate Anatole France dies (b. 1844).
1979: The Hitchhiker's Guide to the Galaxy, the first of five books in Douglas Adams' Hitchhiker's Guide to the Galaxy comedy science-fiction trilogy, is published.
October 13
1881: First known conversation in modern Hebrew by Eliezer Ben-Yehuda and friends.
1892: Edward Emerson Barnard discovers first comet discovered by photographic means.
1903: The Boston Red Sox win the first modern World Series, defeating the Pittsburgh Pirates in the eighth game.
1983: Ameritech Mobile Communications (now AT&T) launched the first US cellular network in Chicago.
October 14
1582: Because of the adoption of the Gregorian calendar, this day does not exist in this year in Italy, Poland, Portugal, and Spain.
1884: George Eastman receives a U.S. Government patent on his new paper-strip photographic film.
1888: Louis Le Prince films the first motion picture, Roundhay Garden Scene.
1894: American poet and playwright e. e. cummings born.
1912: The Power of Paper: Former president Theodore Roosevelt is shot and mildly wounded by John Flammang Schrank. Regardless, Roosevelt delivers his scheduled speech—the text of which in his coat pocket blunted the impact of the bullet.
1926: The children's book Winnie-the-Pooh, by A. A. Milne, is first published.
1947: Chuck Yeager becomes the first person to exceed the speed of sound.
1968: The first live TV broadcast by American astronauts in orbit is performed by the Apollo 7 crew.
October 15
99 BC (probable): Roman poet and philosopher Lucretius born.
70 BC: Roman poet Virgil born.
1582: Adoption of the Gregorian calendar begins, eventually leading to near-universal adoption.
1783: The Montgolfier brothers' hot air balloon makes the first human ascent, piloted by Jean-François Pilâtre de Rozier.
1844: German composer, poet, and philosopher Friedrich Nietzsche born.
1878: The Edison Electric Light Company begins operation.
1881: English novelist and playwright P. G. Wodehouse born.
1908: Canadian-American economist and diplomat John Kenneth Galbraith born.
1923: Italian novelist, short story writer, and journalist Italo Calvino born.
1926: French historian and philosopher Michel Foucault born.
1939: The New York Municipal Airport (later renamed LaGuardia Airport) is dedicated (and has not been updated since).
1956: FORTRAN, the first modern computer language, is first shared with the coding community.
1964: American composer and songwriter Cole Porter dies (b. 1891).
October 16
1758: American lexicographer Noah Webster born.
1847: Charlotte Brontë's novel Jane Eyre is published in London.
1854: Irish playwright, novelist, and poet Oscar Wilde born.
1923: The Walt Disney Company is founded.
1927: German novelist, poet, playwright, and Nobel Prize laureate Günter Grass born.
1950: The Lion, the Witch and the Wardrobe by C.S. Lewis is published.
October 17
1558: Poczta Polska, the Polish postal service, is founded.
1757: French entomologist and academic René Antoine Ferchault de Réaumur dies (b. 1683). After observing wasps building their nests, Réaumur was the first to propose making paper out of wood.
1771: Premiere in Milan of the opera Ascanio in Alba, composed by Mozart at age 15.
1814: Eight people die in the London Beer Flood.
1827: Bellini's third opera, Il pirata, premieres in Milan.
1888: Thomas Edison files a patent for the Optical Phonograph (the first movie).
1907: Marconi begins the first commercial transatlantic wireless service.
1915: American playwright and screenwriter Arthur Miller born.
1919: RCA is incorporated as the Radio Corporation of America.
1979: American humorist and screenwriter S. J. Perelman dies (b. 1904).
Stay fresh, cheese bags!