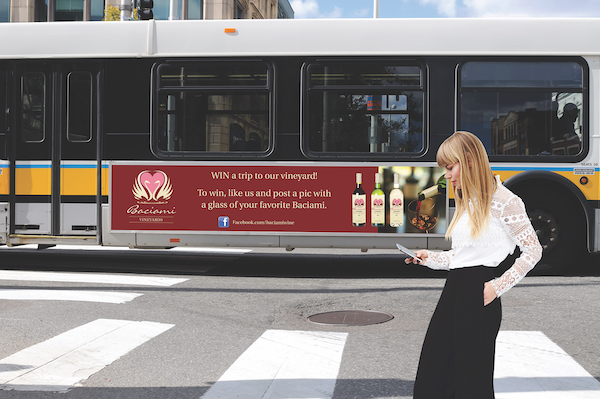 By Jodi Sawyer, Strategic Business Unit Manager, FLEXcon
For some solutions providers, the 30–40% drop in out-of-home (OOH) advertising business during the pandemic, followed by nearly paralyzing supply chain disruption, has been an overwhelming hurdle. Those that survived have done so by spending their cash wisely, leaning out processes, investing in automation, optimizing inventory, and working more closely with their supply chain partners and clients to forecast and plan for demand. Many focused on cross-training employees to avoid shutdowns in the event of illness in their ranks, as well as working closely with their customers to understand their needs and pivoting to new offerings to meet those needs. The demand for signage and graphics did not go away, however, and as businesses were finding their feet, the graphics industry did not disappoint. Providers were ready with solutions, such as signage and wayfinding to support curbside-pickup, in-store promotion of high-demand products, and awareness messaging around measures being taken to keep shoppers and workers safe.
Since its onset, the pandemic has caused a shift in how people work and live. Buying preferences that were emerging at the time accelerated. Demand for packaging and track-and-trace solutions skyrocketed. In-store visual communication, wayfinding and merchandising had to be revamped based on a new purchasing path. These changes are lingering, and they will have a lasting impact on the needs of brands and retailers. Understanding the changes, staying flexible, and bringing creative solutions that solve problems for their clientele will be essential for the success of solutions providers moving forward.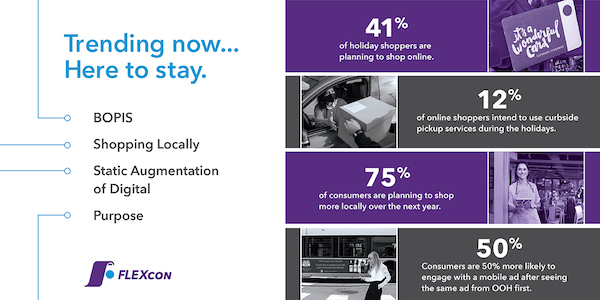 Buy Online, Pickup In Store (BOPIS)
BOPIS was a nice-to-have pre-pandemic, but it quickly became a preferred buying method, and businesses scrambled to establish systems, processes, and the structure needed to support it. Now that consumers have had a taste, they continue to demand this convenience. In fact, a new study by human behavior and analytics advisory firm Escalent found that 41% of holiday shoppers are planning to shop online, with 12% of them intending to use curbside pickup services.
In response, retailers are reconfiguring their stores to better support BOPIS shoppers. This includes creating separate paths with devoted spaces to minimize human contact. In addition, buying online competes with customers in-store, sometimes resulting in stockouts after items have been ordered online, so retailers are maintaining separate inventory as well. RFID tracking has enhanced the experience by facilitating inventory and package tracking. Retailers can ensure that appropriate inventory is in place and reflected accurately for online customers. Meanwhile, customers can buy online and then follow their orders to completion right to the point of pickup.
On a related note, brands such as retailer and brand Ulta Beauty, which didn't have a strong online presence or systems in place for BOPIS prior to the pandemic, are partnering with chains like Target to establish a stronger physical presence, access retailers' distribution networks, and engage with customers they might not otherwise reach. This has retailers reconfiguring store designs and layouts to accommodate this new path to purchase, creating the store within a store to bring direct to consumer brands and online customers into the store. Retailers are evolving to make it easier for customers to discover their favorite brands and new ones, however they chose to shop.
Retailers are also using this time to refresh and rebrand using graphics to enhance specific departments. Rite-Aid, for example, has put greater emphasis on pharmacy and beauty. All the above means opportunities to assist retailers with graphics in-store and out, and with redesigning the packaging and signage for private label products.
Shopping Locally
Buying socially and locally, favored by many consumers prior to the pandemic, has become more widespread due to the focus on safety and cleanliness and a recognized sense of belonging to their communities and local businesses. According to the U.S. Chamber of Commerce, 75% of consumers are planning to shop more locally over the next year. These behaviors have advertisers concentrating as much on local campaigns as national ones as consumers continue to look away from big-box stores.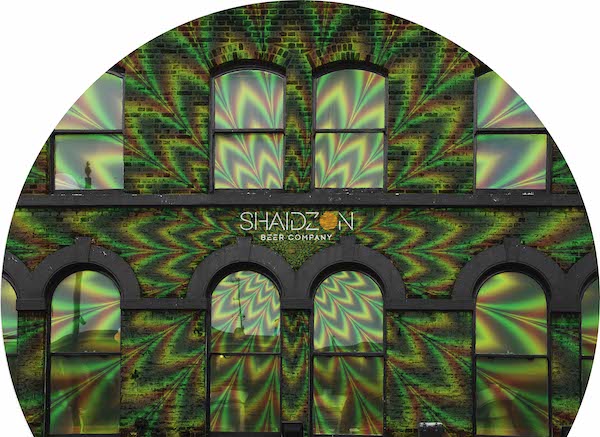 Static Connects and Augments Digital
Consumers are more powerful than ever in determining how, where and when they want to engage with and receive brand communications thanks to digital technology. What this means for brands is the increasing importance of omnichannel messaging. Brands are using out-of-home (OOH) advertising to influence them with connections prior to engagement online. According to the Out of Home Advertising Association of America (OAAA), OOH drives more than 3x more digital and social activations (per ad dollar spent) than any other media. Furthermore, consumers are 50% more likely to engage with a mobile ad after seeing the same ad from OOH first (Outfront Media). This may explain why tech companies are among the top spenders in OOH—it amplifies the online/digital message, leading to statistically higher conversion rates.
Technology is also influencing behaviors for brick and mortar. Augmented reality is elevating the consumer experience by allowing shoppers to try products out virtually, driving to the shelf in-store, and OOH can then support in-store and at the shelf. The combination of digital and OOH is making it happen.
The transition to electronic shelf labeling (ESL) is creating efficiencies for retailers in maintaining accurate product pricing at the shelf. It also allows retailers to easily highlight special promotions and product features not so easily accomplished with printed shelf labels. Changes can be made on-the-fly remotely, eliminating the need for employees to manually change out printed shelf labels. Given the current labor shortage, this is a great benefit. Moreover, label information can be synchronized with digital advertising, tying in with research shoppers are doing prior to purchase, and QR codes with pricing, product info and availability take friction out of the buying process. ESL is a top "touchless" trend according to IHL Group, with significant market growth expected. While ESL may be replacing some printed shelf labeling, solutions providers have an opportunity to shift their offerings to the necessary e-ink displays and perhaps the software that accompanies them.
Purpose
The pandemic and other world events have gotten consumers rethinking what's really important to them, making ethical and sustainable business practices a condition of purchase. According to Forbes, "Sustainability is not a trend that will pass, but a new business reality." Brands must be able to demonstrate that they are marching to that drummer. The graphics industry can support their goals with graphic materials that enable recyclability/compostability, are made from recycled content, or contain sustainably sourced materials. This means working with manufacturers and suppliers that provide transparent info about their products and how they support clients' goals for sustainability.
Translating the Trends into Action
The demands during the pandemic have presented opportunities for solutions providers to support brand clients and retailers as needs have changed. The graphics industry can continue to render support in the areas of design and material selection, serving as a resource for information and recommendations. They can also make installations less costly by offering easy-to-install materials that save installation time and enable novices, often store employees, to install on their own. This, in turn, enables more frequent graphic changeovers to support active in-store promotions and evolving pandemic-related messaging. Moving forward these options will be accessible to clients when the need arises.
Moreover, it's no longer possible to separate digital from print. It will be vital for printers to reimagine their own businesses moving forward to fill the varying desires of consumers and the needs of the retailers that service them.
A Bright Future
OOH is expected to recover at double digit rates. According to Magna, the OOH industry will return at 10.4% for the next year, and the National Retail Federation has revised its 2021 forecast, projecting that retail sales will grow 10.5-13.5%, the highest since 1984.
Solutions providers can take the learning, resilience and innovation demonstrated during the pandemic to create new opportunities in the form of innovative offerings, customer support, and alignment with the goals of like-minded customers and end users. This includes providing branding and graphics, track and trace, and functional solutions that make the consumer buying experience easier as the world continues to navigate the new normal.
Jodi Sawyer is Strategic Business Unit Manager for FLEXcon. Email her at [email protected].