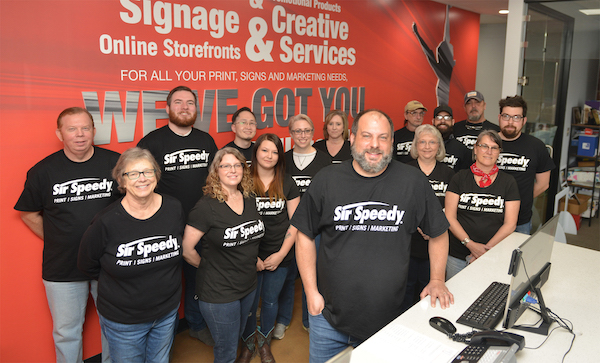 Franchisee CJ Sudman and his team.
By Sir Speedy Inc.
CJ Sudman has been with Sir Speedy in Statesville, N.C., since 2007. He was initially hired as a sales representative by the former franchise owner and worked for him for seven years. CJ said, "We had agreed that I was going to buy the company when he retired. We were working towards that goal, but unfortunately, cancer took over, and he passed in 2013. I bought the company from his wife right after he passed."
CJ thought he was going to be a recording engineer, but instead, he was offered a position as a salesperson for Sir Speedy. "I loved design and creativity, and I thought Sir Speedy might be a fun fit. As I got into it, especially on the sales side, I got involved in customer decision-making and helping people achieve their goals; I really enjoyed that. Every job we do, depending on the scale of it, is an answer to a challenge that a customer has. I find it rewarding that we help them solve their challenges."
When CJ bought the company in 2013, it had seven people and $650,000 in revenue. Today, the company has 16 people and $1.8 million in revenue. He now has two locations, a robust sign department and two designers.
An outside sales team actively goes after mid- to large-sized B2B customers, which have the potential to spend $10,000 a year. These companies tend to be 20 to 100+ employee organizations. CJ says, "If a smaller opportunity comes to us, we will explore it, but we'll move it to a customer service rep if it's not the right fit for a salesperson.
The New Owner Gets a Quick Education
Because the former owner passed very quickly, CJ had not spent any time learning the financial end of the business. He says, "I was heavily involved in operations, machinery and production, but running a business was something I had to learn. I was excited to do the financials when the time came, but I was not ready for it."
Thankfully, the franchisor, Franchise Services, Inc. (FSI) was a big help. CJ says, "Several other franchise owners reached out to me and offered their assistance. Over the years, I have called and leaned on them for thoughts and opinions.
"Today, we are a print, sign and marketing company. We are large enough to have some scale, so we're competitive in pricing, yet we are also small enough to offer service that you cannot get from a huge company. Everything we do is built around making our customers successful."
Acquisitions, Upgrades and Technologies
The previous owner bought a small, local mom-and-pop sign company just six months before CJ bought the center. CJ said, "When we bought them, we had one large-format printer, a small cutter and a laminator. That was about it. Within the course of a year and a half, though, we bought a flatbed printer, a 64-inch large-format printer for posters and vinyl."
Two years ago, CJ bought a CNC router. Since then, the sign part of the business has exploded with growth. On the print side, the main production digital press is capable of 450 GSM. CJ says, "Seven years ago, it was unthinkable to print that heavy of a stock on a copier. Now we do it every day. Those kinds of things continuously evolve."
The Pandemic Brings Opportunity and Challenge
"COVID-19 has really changed our business," said CJ. "When it hit, our phone stopped ringing. Like everyone, we did not know what was going to happen. However, after about a week with no projects coming in, I made some tough decisions. I laid off 10 people, and I closed my second store. We hunkered down for a long winter. But we quickly found that there was a significant need by our customers for PPE and for sneeze guards. Because we have a CNC, we were able to produce those in-house. The school system came to us with their need for thousands of sneeze guards. The cost was a challenge, but the availability of acrylic was a larger challenge. We simply could not get it.
"So, we worked with our team and came up with a disposable sneeze guard, which is made from yard sign material and clear vinyl from boat windows. We were able to produce these in volume and at a reasonable cost. We sold thousands of them to school systems, companies and businesses. We brought everyone back and reopened our store. So, yes, COVID-19 hurt, but we were blessed to have the right technology, the right people and the right customers to justify getting back to work."
Working as a Team
Doing things as a team is a huge part of the company's success. At first, it took CJ a while to trust people to do their job. When they were only seven people, CJ wore all the hats. He would estimate the job, sell the job, print the job, cut the job and, finally, deliver the job.
Now, the company has become departmentalized. It has salespeople, estimators, managers,
production and delivery. CJ's job is to let the managers do their job and make sure that things are moving correctly. He says, "Trusting people to do the work that they were hired to do has been a challenge for me, but I get better at it every day. I think it also empowers the employees to do well and to know that I trust them to do their jobs.
I also send my sales reps to all of FSI's annual Sales Forums, and I usually go myself. When FSI was doing regional round tables, we engaged in all of them. We try to act on all the training they offer, too. My customer service reps (CSRs) are currently doing the advanced CSR training programs."
Also important is listening to the people who have gone before. CJ says, "One of the examples is the previous owner of the business always said that he wished he had bought a building to put Sir Speedy in. He had land and he had a building, but he never actually owned the things that he was paying rent on.
"So, one of my first business plans at my first Board Group meeting included buying a building within three to five years. Four-and-a-half years later, I bought a building in downtown Statesville. So now I am paying myself instead of paying a landlord. One day this will be an asset whether I sell it, or it stays in the family. That bit of advice has always stuck with me. Own the things you pay rent on."