Your Friday Lemur Popsicle Party
'Sports Illustrated' Swimsuit Issue Features Trans Cover Model For First Time #WhatDoYouThink? https://t.co/5WB5rtwlgE pic.twitter.com/1dYXoLrDBK

— The Onion (@TheOnion) July 21, 2021
Making Book
Book sales have been a bit of a rollercoaster ride lately. The pandemic and the lockdowns were good for book buying. Said Publishers Weekly: "Print sales finished 2020 up 8.2% over 2019, and that strong performance continued into 2021, with units jumping 18.5% in the first six months over the comparable period in 2020. With the exception of the juvenile nonfiction category, all the major publishing categories had double-digit sales increases in the first half of the year. Backlist had the strongest gains, up 21.4%, but frontlist sales were also solid, rising 12.4%."
As for how 2021 will end up, there is evidence that reopenings and people getting out and about again are potentially reversing all the growth in print book sales. But there is also evidence that sales growth will continue. A more recent PW article opened with, "Few people in the industry have been willing to venture a prediction on how the book business will finish 2021." Wow—you know you're in trouble when no one is willing to make a prediction! Well, not no one. "[I]n a July 21 presentation on industry print unit sales through the first half of the year, NPD BookScan analyst Kristen McLean laid out three possible scenarios."
The first scenario is that sales stay even with 2020, which means 2021 will see an 8% increase over 2020. In the second, where sales return to 2019 levels (i.e., "back to normal"), book sales will be only 2% over 2020. And then the worst-case (or best-case…depending) is that if higher infection rates send us back to square one with new lockdown and stay-at-home orders, which, she said, would end 2021 10% over 2020.
If those are the only scenarios, all thing considered, we'd be perfectly happy with single-digit book sales growth.
Hello, Dali
Meteorologists Warn 2021 Western Heat Wave Could Be Most Daliesque On Record https://t.co/wi32sRAU7y pic.twitter.com/mnZOutzMtf

— The Onion (@TheOnion) July 19, 2021
Fountain (Pen) Solution
Do you miss the 19th century and the need to write everything with a quill? Well, if so, you may want to give the Drillog Dip Pen a try. Sure, no birds were de-feathered in the production of this pen, but it does recreate the experience of needing to dip the nib in ink every so often. Via Core77, made in Japan, the Drillog features a CNC-machined nib featuring a series of spiral channels that hold the ink and send it down to the penpoint in a smooth and controlled way. There are several different nib styles, and apparently artists are keen on this idea—it's even received $82,000 on Kickstarter. Check it out.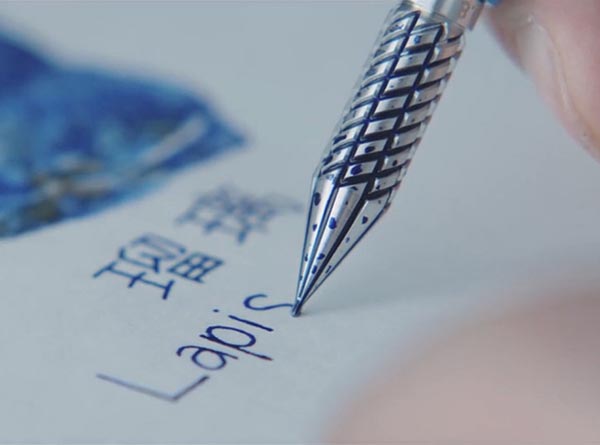 Ready for Publication
Filing a story Friday afternoon pic.twitter.com/djX8ssS9cw

— Jeff Stein (@JStein_WaPo) July 2, 2021
Dream Writer
As far as we know, none of our WhatTheyThink contributors have ever had a story co-authored by someone in a dream (nightmare, maybe), but the author of the 1985 paper "Higher Algebraic K-Theory of Schemes and of Derived Categories" listed as co-author the dream avatar of his late friend. Via Boing Boing, Robert Wayne Thomason writes in the paper's introduction:
The first author must state that his coauthor and close friend, Tom Trobaugh, quite intelligent, singularly original, and inordinately generous, killed himself consequent to endogenous depression. Ninety-four days later, in my dream, Tom's simulacrum remarked, "The direct limit characterization of perfect complexes shows that they extend, just as one extends a coherent sheaf." Awakening with a start, I knew this idea has to be wrong, since some perfect complexes have a non-vanishing K0 obstruction to extension. I had worked on the problem for 3 years, and saw this approach to be hopeless. But Tom's simulacrum had been so insistent, I knew he wouldn't let me sleep undisturbed until I had worked out the argument and could point to the gap. This work quickly led to the key results of this paper. To Tom, I could have explained why he must be listed as a coauthor.
It's not entirely unheard of for people to solve problems via dreams. A famous historical example is French chemist August Kekulé's 1890 discovery of the ring structure of the benzene molecule. As he wrote (via Chemistry World):
I was sitting writing at my textbook; but the work did not progress; my thoughts were elsewhere. I turned my chair towards the fire and dozed. Again the atoms were gambolling before my eyes. This time the smaller groups kept modestly in the background. My mental eye, rendered more acute by repeated visions of the kind, could now distinguish larger structures of manifold conformation: long rows, sometimes more closely fitted together; all twining and twisting in snakelike motion. But look! What was that? One of the snakes had seized hold of its own tail, and the form whirled mockingly before my eyes. As if by a flash of lightening I awoke; and this time I also spent the rest of the night in working out the consequences of the hypothesis.
Perhaps keep this in mind the next time you read one of our Printing Outlook reports.
Get Thee to a Thesaurus
"A synonym is a word you use when you can't spell the other one." -Baltasar Gracian pic.twitter.com/2S2MGB1D1y

— Chuck Sambuchino (@ChuckSambuchino) July 20, 2021
The Print Shop
Some of you may recall a classic computer program that preceded the desktop publishing revolution of the 1980s. Developed by David Balsam and Martin Kahn and published by Brøderbund Software in 1984, it was called The Print Shop and ran on the Apple II. Users could combine text with clip art and other basic graphic elements to create custom cards and even signage—albeit output on a dot-matrix printer. It was so popular in its day that it was eventually ported to other platforms, such as the Commodore 64 and MS-DOS-based systems.
We mention this because, via Gizmodo, if anyone is nostalgic for The Print Shop they can now check out an online recreation of the Apple II version.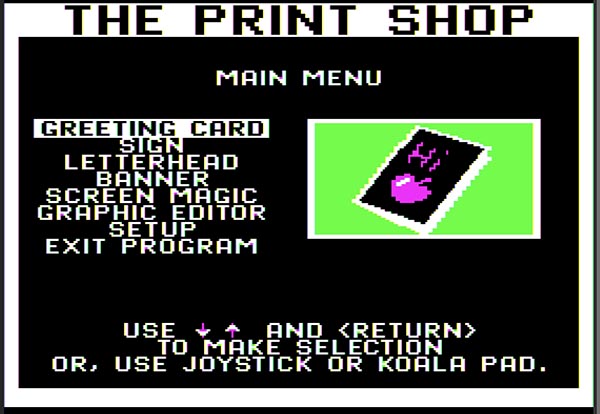 There are days when this would be preferable to Creative Cloud.
For the Record
With so much going on it seems like a good time to dump one of my most controversial opinions.

People who insistently ask if the event "is being recorded" never watch the recorded event.

Thank you.

— Tressie McMillan Cottom (@tressiemcphd) June 30, 2021
What's in a Word?
As we all know, there are a startling number of words and phrases we use today—thousands, really—that have their origins in the plays and sonnets of William Shakespeare. Mental Floss identifies 21 of them, including "advertising," "arch-villain," "cold-, hot-, and half-blooded," "inaudible," and more.
There is a caution to be made and that is to assume that Shakespeare actually invented these terms. In many cases, it's more likely that his works were the oldest known written or printed source for words which had already been in circulation for a while, since in his time very little was actually written, much less survived. This is not to demean Shakespeare's genius; but if you think about it, audiences did need to know what his characters were saying, so it's fair to assume most of his vocabulary was shared by the people watching his plays.
Indeed, new research is always turning up older provenance for some words, and the Mental Floss article identifies four words that until recently had been attributed to the Immortal Bard but have since been found to have been even older: "addiction," "assassination," "dishearten," and "manager."
What are some of Shakespeare's terms that never caught on?
Crushed
The smoke detector doesn't want me to follow my dream. pic.twitter.com/cyTX3mCUtq

— DC Pierson (@DCpierson) February 14, 2016
Badderies
Was it a good week for graphene news? It's always a good week for graphene news! And this week, graphene is taking on batteries, and while it's making progress but not quite there…yet (graphene doesn't know the meaning of the word "quit"). Still, graphene holds out a lot of hope for a more efficient and environmentally friendly alternative to the bad batteries we have impacting our environment these days.
Unproductive
Trying to work, be creative and getting shut down by tech problems, it fills me with a unique and deep combo of rage, frustration and sadness.

— @ACNewman (@ACNewman) July 18, 2021
Slow That Mustang Down
Something people may miss once the age of the electric vehicle is upon us is the smell of gasoline. Well, maybe not, but that is the thinking behind a new fragrance that the Ford motor company commissioned from perfumer Pia Long: Mach-Eau. Basically a marketing gimmick to tie in to the automaker's new all-electric Mustang Mach-E GT, the cologne for men (needless to say) has notes of gasoline and other traditional car smells. Via Core77:
In a Ford-commissioned survey, one in five drivers said the smell of petrol is what they'd miss most when swapping to an electric vehicle, with almost 70 per cent claiming they would miss the smell of petrol to some degree. Petrol also ranked as a more popular scent than both wine and cheese, and almost identically to the smell of new books.
Really? Chacun à son gout. "New car smell" wouldn't be a bad fragrance, but it's a safe bet even EVs still feature that olfactory delight.
The new scent is designed to help usher these drivers into the future of driving through their sense of smell. Rather than just smelling like petrol though, Mach-Eau is designed to please the nose of any wearer; a high-end fragrance that fuses smoky accords, aspects of rubber and even an 'animal' element to give a nod to the Mustang heritage.
Consider yourselves warned.
The Call Is Coming from Inside the Phone!
The general advice about the hijacked phone numbers has been to sit it out for a day or two, and it moves on from your number. Then there was this weird scenario: https://t.co/gC7n5YInjh

— Dara Ó Briain (@daraobriain) July 21, 2021
Signs of the Times: Cat Burglar
Signs can communicate any kind of message, including—in the case of an Oregon woman—the fact that her cat is a thief. Says People:
Oregon woman Kate Felmet decided to take action after her outdoor cat Esme kept bringing home masks, gloves, and other household items, which the feline stole from their neighbors.
Playfully addressing the kitty crimes, Felmet put up a sign in her yard reading "My cat is a thief," which featured a drawing of Esme with a pilfered glove in her mouth. Next to the sign sits a clothesline filled with the various items Esme has come home with, which passersby are encouraged to take back should they recognize something of their own that's gone missing.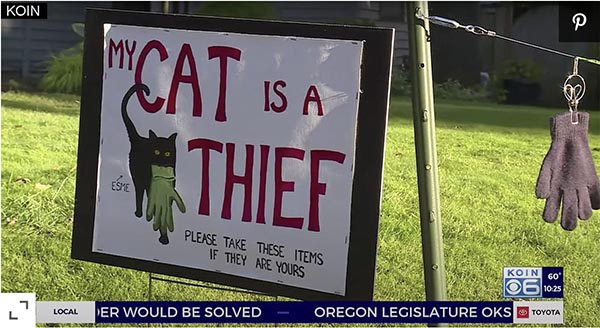 The cat declined to comment.
In the Not too Distant Future
I wish the story behind the Bezos astronaut thing was "...but his employees didn't like him so they shot him into space..."

— Frank Conniff (@FrankConniff) July 20, 2021
TIE One On
Not many people can pull off wearing a bowtie, much less one that is basically a pun, but we'd be willing to give this one a try. Created by Mike MacWolff of Kilted Katana Creations, the Bow TIE Fighter is the perfect accessory for any Star Wars nerd, although the pun may be lost on the uninitiated.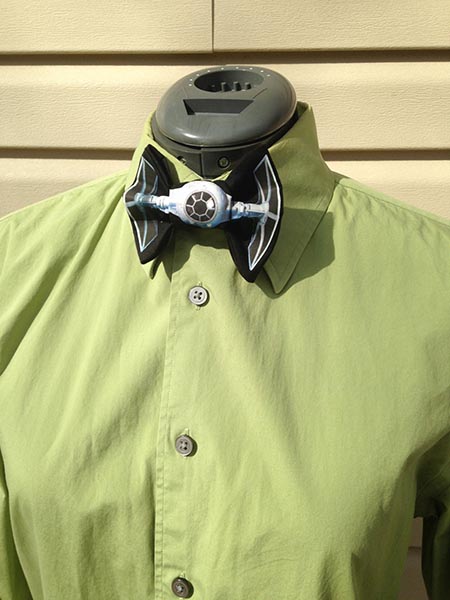 A steal at $20 on Etsy.
Oh, Stop
when someone tickles you pic.twitter.com/pRw2kTAcx0

— mothman festival queen (@amyis_trying) July 2, 2021
Trout Meth Replica
As might be expected, methamphetamine use during the pandemic skyrocketed and while that's bad enough for humans, there is often collateral damage elsewhere in the environment. Says Smithsonian:
meth isn't completely absorbed when consumed, eventually exiting the body in excrement. In their current state, wastewater treatment plants aren't equipped to remove this kind of contaminant. As a result, meth-laced sewage water released back into the environment still contains high levels of the substance.
Which is bad news for fish, specifically trout.
The team of researchers studied the effects of the drug on brown trout by replicating meth-polluted wastewater conditions in the lab. The researchers placed 60 trout in a water tank spiked with methamphetamine that matched the levels of discharge from wastewater treatment plants in Czechia and Slovakia. The trout were forced to quit cold turkey after two months of swimming in meth-y waters. These trout moved around less than the clean trout—a sign of withdrawal, according to the researchers. Horký's team also found traces of meth in the trout's brains up to ten days after the exposure.
The researchers also gave meth-doped trout and clean trout the option of entering either a stream contaminated with meth or another without. Compared to the clean trout, meth-exposed trout preferred to return to the stream with the drug, which the researchers inferred as a sign of addiction.
A Definite Possibility
Researchers Find Decline In Facebook Use Could Be Directly Linked To Desire To Be Happy, Fully Functioning Person https://t.co/UxoGAa4Xuf pic.twitter.com/TmBpfvf4fZ

— The Onion (@TheOnion) July 19, 2021
Fast'n'Bulbous
Do you like beer? And do you like the music of the late great Captain Beefheart (aka Don Van Vliet)? If you said yes to both, then be sure to check out "Stout Mask Replica," a 6.5% ABV American stout created by San Diego's Duck Foot Brewing that pays tribute to Captain Beefheart's classic 1969 album Trout Mask Replica.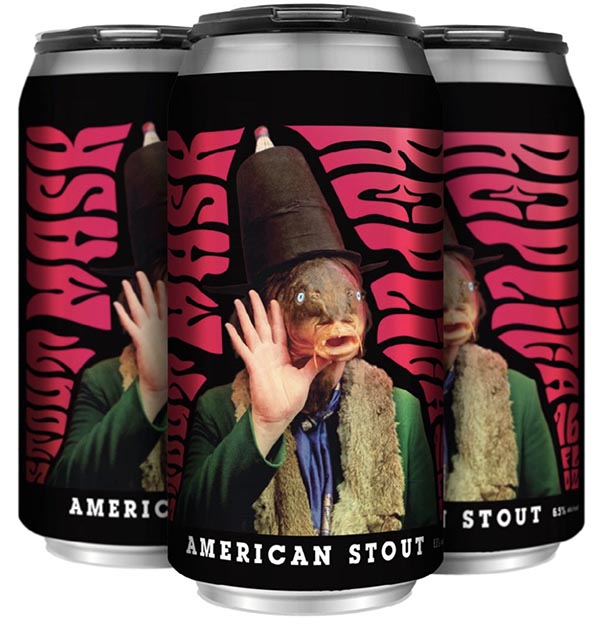 Says the brewery (via Laughing Squid):
Captain Beefheart was often described as complex and eclectic, but always influential. In honor of the release of his legendary Trout Mask Replica album in the digital realm, we present to you this beer that we hope lives up to the polyrhythmic and polytonal complexity of that album.
The release (albeit limited) of this beer was timed to coincide with the album's brand new streaming on Qobuz.
Mussel Memory
The city of Minneapolis, Minnesota employs twelve mussels to monitor water quality.

If they come across something unpleasant in the water, they close, setting off an alert.

The mussels do not have names. pic.twitter.com/tkvVBDgzZZ

— Quite Interesting (@qikipedia) July 20, 2021
Got 95 Problems But a Thesis Ain't One
We generally don't recommend insulting people, but if you're going to, why not be a tad more erudite about it and use this Martin Luther insult generator.
"You do nothing with all your profusion of words but fight a fire with dry straw."
Getting Your Goat
We leave you this week with a clip of baby goats in pajamas.
Baby goat pajama time! https://t.co/MyXYPkhst9

— Billy West (@TheBillyWest) July 18, 2021
This Week in Printing, Publishing, and Media History
July 19
1834: French painter, sculptor, and illustrator Edgar Degas born.
1868: American "singer" and educator Florence Foster Jenkins born.
1947: English singer-songwriter and guitarist (Queen) and astrophysicist Brian May born.
1977: The world's first Global Positioning System (GPS) signal was transmitted from Navigation Technology Satellite 2 (NTS-2) and received at Rockwell Collins in Cedar Rapids, Iowa, at 12:41 a.m. Eastern time (ET).
1983: The first three-dimensional reconstruction of a human head in a CT is published.
July 20
1822: Give peas a chance—Austro-German monk, geneticist and botanist Gregor Mendel born.
1903: The Ford Motor Company ships its first automobile.
1938: The United States Department of Justice files suit in New York City against the motion picture industry charging violations of the Sherman Antitrust Act in regards to the studio system. The case would eventually result in a break-up of the industry in 1948.
1969: Apollo 11's crew successfully makes the first manned landing on the Moon in the Sea of Tranquility. Americans Neil Armstrong and Buzz Aldrin become the first humans to walk on the Moon six and a half hours later.
July 21
1816: German-English journalist and founder of Reuters Paul Reuter born.
1899: Ernest Hemingway born.
1911: Canadian author and theorist Marshall McLuhan born.
1948: Doonesbury creator Garry Trudeau born.
1969: At 02:56 UTC, astronaut Neil Armstrong becomes the first person to walk on the Moon.
2015: American novelist, short story writer, and playwright E. L. Doctorow dies (b. 1931).
July 22
1598: William Shakespeare's play The Merchant of Venice is entered on the Stationers' Register. By decree of Queen Elizabeth, the Stationers' Register licensed printed works, giving the Crown tight control over all published material.
1893: Katharine Lee Bates writes "America the Beautiful" after admiring the view from the top of Pikes Peak near Colorado Springs, Colo.
1898: American poet, short story writer, and novelist Stephen Vincent Benét born.
1932: American novelist Tom Robbins born.
1967: American poet and historian Carl Sandburg dies (b. 1878).
July 23
1829: In the United States, William Austin Burt patents the typographer, a precursor to the typewriter.
1888: American crime novelist and screenwriter Raymond Chandler born.
1903: The Ford Motor Company sells its first car.
1957: English comedian, actress, and screenwriter Jo Brand born.
1962: Telstar relays the first publicly transmitted, live trans-Atlantic television program, featuring Walter Cronkite.
July 24
1847: Richard March Hoe patented the rotary-type printing press.
1895: English poet, novelist, and critic Robert Graves (I, Claudius and Claudius the God) born.
1900: Zelda Fitzgerald, American author, poet, and wife/drinking buddy of F. Scott Fitzgerald born.
1901: Author O. Henry is released from prison in Columbus, Ohio, after serving three years for embezzlement from a bank. The ending was not a surprise.
1969 : Apollo 11 splashes down safely in the Pacific Ocean.
July 25
1834: English philosopher, poet, and critic Samuel Taylor Coleridge dies (b. 1772).
1837: The first commercial use of an electrical telegraph is successfully demonstrated in London by William Cooke and Charles Wheatstone.
1965: Judas! Bob Dylan goes electric at the Newport Folk Festival.
1976: Viking 1 takes the famous Face on Mars photo.