Your Friday Undulating Patterns of Sheep Herding
Did birds capture this image? Read on!
so hot, the smart thermostat is like u ok bro #heatdome #portand pic.twitter.com/t2TrzLPhVz

— foul stack developer (@monica_farrell) June 28, 2021
Im-pressive
The very basis of printing is to run paper through a press, oui? Well, our New Hampshire correspondent and Mount Monadnock Media Maven points us to a printing press that is itself made of paper. Korean artist Lee Ji-hee has created a meticulously-detailed, life-sized paper model of the Heidelberg letterpress.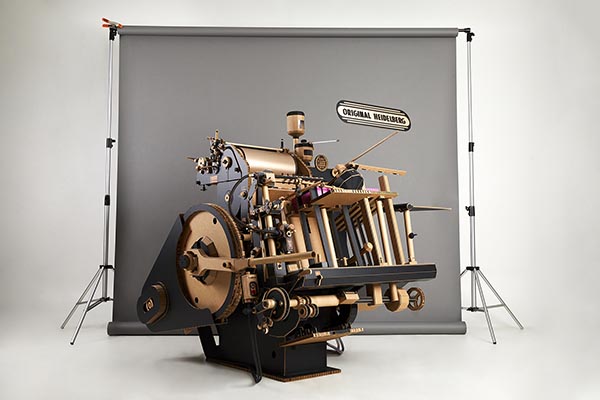 Says Colossal:
she studied the original German model closely before creating her sculpture from paper and corrugated cardboard—and is complete with an array of mechanisms and branded details, including its trademark windmill feed and plates inscribed with the company logo and manufacturing information. The machine, which took three months to complete, celebrates the long history of the printing industry on Chungmuri and Euljiro streets in Seoul.
Get Around
?? and ?? https://t.co/UrgCzLGGGQ

— yvette nicole brown (@YNB) June 27, 2021
Font Substitutions
The New York Times recently introduced us to Erik and Martin Demaine, a father-and-son team of "algorithmic typographers." They have perhaps been best known for their mathematical investigations into paper folding, specifically their "curved-crease sculptures," and in 2008 their "Computational Origami" was part of the "Design and the Elastic Mind" exhibit at the Museum of Modern Art.
These days, however, the Demaines are more focused on "algorithmic puzzle fonts," a suite of mathematically inspired typefaces that are also puzzles. The main application is fun. One font, a homage to the mathematician and juggler Ron Graham, who died in 2020, draws its letters from the patterns of motion traced by balls thrown into the air during juggling tricks.
In a 2015 paper, "Fun With Fonts: Algorithmic Typography," the Demaines explained their motivations: "Scientists use fonts every day to express their research through the written word. But what if the font itself communicated (the spirit of) the research? What if the way text is written, and not just the text itself, engages the reader in the science?"
Inspired by theorems or open problems, the fonts — and the messages they compose — can usually be read only after solving the related puzzle or series of puzzles.
Their most recent font is the Sudoku Font:
In this typeface, each letter is represented by a standard Sudoku puzzle whose unique solution "draws the letter" in the following sense: if you connect together edge-adjacent squares having consecutive numbers (1 to 2, 2 to 3, …, 8 to 9), then the longest path through these connections draws the letter shape. Consecutive numbers are easy for the puzzle solver to keep track of, and somewhat controllable by the puzzle designer, but it also seems impossible to avoid spurious consecutive-number connections; the longest path allows us to clean out these spurious connections.
Hmm…maybe we'll use the Sudoku font in our next print edition, although the issue might be late if the printer has to solve a bunch of Sudoku puzzles before the file will RIP… Still, an interesting idea.
Assuming There's a Difference
More Britons would prefer to live without a flushing toilet than abandon Facebook.

— Quite Interesting (@qikipedia) June 29, 2021
Graphane in the Membrane
Was it a good week for graphene news? It's always a good week for graphene news! From Graphene-News:
Arrays of metal electrodes are currently used in medical procedures that require monitoring or delivering electrical impulses in the body, such as brain surgery and epilepsy mapping. However, the metal and plastic materials that comprise them are stiff and inflexible while the body's tissues are soft and malleable. This mismatch limits the places in which electrode arrays can be successfully used, and also requires the application of a large amount of electrical current in order to "jump" the gap between an electrode and its target.
Can graphene solve this problem? Of course it can!
A team of scientists from Harvard's Wyss Institute and John A. Paulson School of Engineering and Applied Sciences (SEAS) has created flexible, metal-free electrode arrays that conform to the body. This conformity allows, for example, electrical impulses to be recorded and stimulated with lower required voltages, enabling their use in hard-to-reach areas of the body, and minimizes the risk of damage to delicate organs.
That is, the team had developed a set of alginate hydrogels that could successfully conform to living tissues. That was part one. "Once the team had a material that could flex and flow around tissues, they had to invent an electrode that could do the same thing. The vast majority of electrodes are made of metal because metals are highly electrically conductive – but also very stiff and inflexible." But what could they use instead? Yep, the Big G. "After many experiments, the team identified a combination of graphene flakes and carbon nanotubes as their top candidate."
Prince of Pastry
The kind you find in a second hand store? pic.twitter.com/UT4tl1U5Pn

— Al Yankovic (@alyankovic) June 29, 2021
For the Birds
It's hard to determine if this is a real thing or just a joke, but regardless, it is hard to imagine that they could be wrong. We are talking about Birds Aren't Real (tell that to Tippi Hedren), a movement that believes, via Boing Boing, "All birds in the United States have been killed and swapped with drones operated by the federal government." Uh huh.
"I think the evidence is all around us, birds sit on power lines, we believe they're charging on power lines, we believe that bird poop on cars is liquid tracking apparatus," movement leader Peter McIndoe told KOLR.
It is estimated that there are about 7 billion birds in the US and Canada (you'd have to include both countries, and probably even Mexico because unlike people—at the moment—there is nothing stopping them at the border). So that's a lotta birds to capture and replace. (Birds Aren't Real claims that mountains have been hollowed out to create bird drone factories. Hmm…was this part of the infrastructure bill?) They also claim to have uncovered a tranche of emails from the White House and Pentagon that confirms what they call "Poultrygate." (It must only apply to wild birds since the last time we baked a chicken it was conspicuously devoid of electronics.)
Still, if they are just spoofing conspiracy theorists, it's pretty amusing. They have some pretty funny merch, as well.
Family Album
Anthropologists studying my phone's photos in the future will conclude I lived in a family of accidental screenshots

— Mike Royce (@MikeRoyce) June 30, 2021
Smart as Silk
Wearable technology has been touted for many years now, and some new technologies have emerged, but one of the challenges of any kind of "smart clothing" is that sometimes clothing needs to be washed (especially when temperatures have been in the upper 90s and higher) and electronic parts don't handle water well. (Which makes us wonder…what happens to the bird drones when it rains? And what about ducks? Anyway, back to this story…)
In what could be a breakthrough for wearables, researchers at Purdue (the university not the chicken company, and what drone technology are they hiding?) have developed a silk-based approach that may hasten along wearable tech. Says Core77:
Their solution was to first sew a silk-based flexible coil into conventional clothing items, then spray the clothing with a hydrophobic coating. Armed with these two technologies, they're able to pull off some impressive tricks with ordinary T-shirts and gloves:
"I envision smart clothes will be able to transmit information about the posture and motion of the wearer to mobile apps, allowing machines to understand human intent without the need of other interfaces, expanding the way we communicate, interact with devices, and play video games," says engineering assistant professor Ramses Martinez. "This technology can be fabricated in conventional, large-scale sewing facilities, which are expected to accelerate the development and commercialization of future smart clothes."
Bad Dialogue
They really skipped passive voice and went straight to passive-aggressive voice pic.twitter.com/YkjsHNESLN

— Joshua Raclaw (@joshraclaw) June 24, 2021
But Is it ARt?
The NY Times yesterday had a story about an outdoor art exhibition that was complete virtual, as it was based on augmented reality (AR).
The exhibition, "The Looking Glass," which runs from Saturday through Aug. 29, is a show in which all of "them" — the sculptures on view — are virtual, existing only in augmented reality, or A.R.
Using an app developed by Acute Art, a London-based digital-art organization, a spectator can point a phone at a QR code displayed at one of the sites — the giveaway of where a virtual artwork is "hidden." The code activates a specific sculpture to appear on the viewer's camera screen, superimposed on the surroundings. (Unlike virtual reality, or V.R., in which a viewer wears a device, such as goggles, A.R. does not require total immersion.) Most of the virtual art will be placed on the plaza surrounding the Shed, on West 30th Street at 11th Avenue, supplemented by three locations on the nearby High Line.
It's part scavenger hunt à la Pokemon Go and art exhibition. It is a new iteration of "Unreal City," a similar exhibition that opened on the South Bank of London last year.
Whereas the title of the London iteration alluded to T.S. Eliot's poem "The Waste Land," in New York, the show gets its name from Lewis Carroll. "In today's 'Alice in Wonderland,' the phone is the new rabbit hole," Enderby said.
You got that right.
Bass Master
Critical Bass Theory. pic.twitter.com/2C2Z2fvfO1

— Tolkien Negro (@marcbernardin) June 27, 2021
Capping It Off
We all know how to recycle (or try to recycle) plastic bottles, but very often one accessory to a plastic bottle gets short shrift: the cap. What to do with bottle caps? If you're Brothers Make, you turn them into cutting boards. Via Core77:
An easy way to upcycle wood cut-offs is to laminate them into cutting boards, which is why they're common at your local crafts fair. But UK-based siblings and content creators Matt and Jonny, a/k/a Brothers Make, decided to make an upcycled cutting board out of a more pernicious material: Used plastic. Specifically, "a load of milk bottle tops and other recycled plastic we have been collecting," they write.
…We are very meticulous when it comes to the cleaning of our plastic. All plastic that we receive is hand-sorted to ensure it is indeed HDPE and that there are no non-plastic contaminants left on the plastic. We run the plastic through at least 3 sorting and cleaning cycles before we ever introduce it to heat.
Going Down
Literally disastrous ad placement. ???? pic.twitter.com/3hXM1tscmr

— Marshall Julius: Vintage Geek! (@MarshallJulius) June 26, 2021
The Candy
Man

Bot

Self-checkout in grocery stores can be very convenient if the staffed checkout lines are long. However, one of the downsides of efficient self-checkout is the drop in impulse buying of gum, candy, magazines, etc., when shoppers are stuck waiting in line. What to do? Why not have a candy-pushing robot harass self-checkout shoppers? From Candy Industry:
[Mars Wrigley] has debuted Smiley, a new robot that brings you candy as you shop.
Specifically, Smiley displays and delivers Mars Wrigley confectionery items normally found at checkout to customers throughout the store. It features catchy tunes and dancing as it makes its rounds through the aisles, offering treats for sale.
Sounds horrifying. Smiley is making its debut at a ShopRite store in Monroe, N.Y., so if you're traveling this weekend, be sure to avoid it.
In store, Smiley will display a variety of Mars Wrigley products — from M&M's and Snickers to Extra and 5 Gum — to shoppers mingling throughout the Shoprite store.
In addition, the Smiley's actions can be quickly and easily modified to optimize engagement, support store promotions and deploy new behaviors.
Like stalking?
Is There Acid in the Water Supply?
Boston Dynamics' Spot robot challenges BTS to a boy band dance-off in latest videohttps://t.co/TB1yCg8AlU pic.twitter.com/SA2iNDQCVx

— The Verge (@verge) June 29, 2021
Nothing to See Here
OK, this isn't really funny, but it's actually kind of funny. So the LAPD seized more than 5,000 pounds of illegal fireworks, and proceeded to take them away to be destroyed (that is, detonated). CBS News LA takes up the story:
Bomb squad technicians and investigators arrived on scene to remove the fireworks from the home, loading pallets full of explosives into multiple large vehicles in the alleyway behind the home where they were driven to an off-site location for eventual destruction.
Officers also found what Moore described as "improvised explosive devices," that were loaded into the containment vessel for detonation. Moore said that by the bomb tech's estimation, the vessel should have been able to safely dispose of the devices.
However, when officers detonated the explosives, Moore said a "catastrophic" failure occurred, leading to the explosion.
Ya think? The container's lid, which can weigh up to a ton, was blasted two blocks to the east.
WATCH: Sky9 was overhead when police attempted to detonate a stash of illegal fireworks that ended in an explosion in the 700 block of East 27th Street in South L.A. https://t.co/KpWiAEoyqv pic.twitter.com/UbIXLDoZjh

— CBS Los Angeles (@CBSLA) July 1, 2021
Adds Gizmodo:
LAPD Lt. Raul Jovel said in a Thursday morning press conference that the techs involved "followed all the protocols in place," but added that the bomb truck might have actually made the blasts worse.
"You put a destructive device inside a closed container where it's pressurized, when it blows up, that is a big punch," he said. "If some of these devices were to explode in the open, the impact would be a lot less because the blast would really go in all directions."
To add insult to the (many) injuries, LAPD officials later confirmed that they didn't evacuate nearby residents before the preplanned detonation ended up happening, and some of those bystanders ended up being among the injured when that detonation went south.
So please do be careful this holiday weekend!
Horror Stories
I already hit send https://t.co/pIY9rWhNEg

— Adonna (@Adonna_Biel) June 29, 2021
Nobody Out- (or In-) Jabbas the Hutt
Have you ever wondered what Jabba the Hutt's internal anatomy looked like? Good Lord, no, neither have we. But someone has. Via Laughing Squid:
Inspired by the work of Jason Freeny, Mighty Jabba created a truly realistic, highly detailed anatomical sculpture reveiling the physiology that might exist inside the infamous Jabba the Hut. The sculpture was made on an Elegoo Saturn resin 3D printer and the box was designed in Photoshop.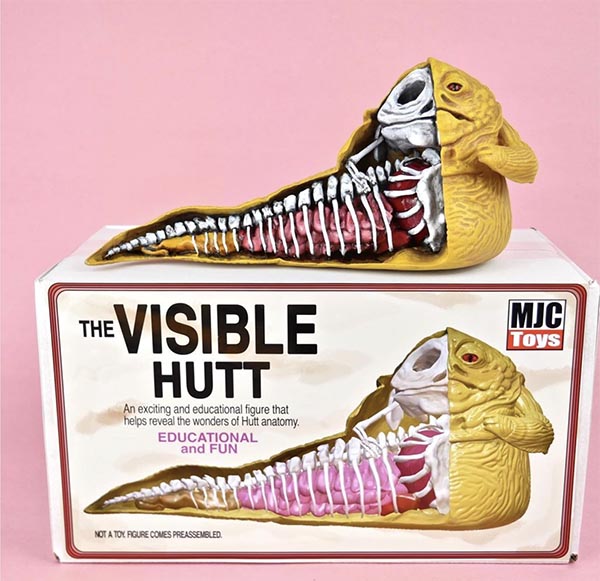 The Visible Hutt will soon be for sale, albeit in limited quantities.
I'm going to be making a small run of these figures, so let me know if you're interested. Since this is the first time I'm doing anything like this, I'm going to keep it very small at first. I'll announce when and how I will be taking orders once I've figured everything out.
Words of Wisdom
"Tweet others the way you would like to be tweeted."

- Anonymous

— Mark Hamill (@HamillHimself) June 29, 2021
This Week in Printing, Publishing, and Media History
June 28
1846: Adolphe Sax patents the saxophone.
1926: American actor, director, producer, and screenwriter Mel Brooks born.
1975: American screenwriter and producer Rod Serling dies (b. 1924).
2018: American writer Harlan Ellison dies (b. 1934).
June 29
1613: London's Globe Theatre, constructed by William Shakespeare's playing company, burns down. A second Globe was built by 1614, so all's well that ends well.
1900: French poet, pilot, and author of The Little Prince, Antoine de Saint-Exupéry, born.
1920: American animator and producer Ray Harryhausen born.
1975: Steve Wozniak tests his first prototype of the Apple I computer.
2007: Apple Inc. releases the iPhone.
June 30
1937: The world's first emergency telephone number, 999, is introduced in London.
July
July 1
1874: The Sholes and Glidden typewriter (aka Remington No. 1), the first commercially successful typewriter, goes on sale.
1881: The world's first international telephone call is made between St. Stephen, New Brunswick, Canada, and Calais, Maine, United States.
1892: American journalist and author James M. Cain born.
1963: ZIP codes are introduced for United States mail.
1979: Sony introduces the Walkman.
1869: American author and educator, and co-author of The Elements of Style, William Strunk Jr. born.
July 2
1566: French astrologer and author Nostradamus dies (b. 1503). (Funny, he didn't see it coming.
1698: Thomas Savery patents the first steam engine.
1897: British-Italian engineer Guglielmo Marconi obtains a patent for radio in London.
1900: The first Zeppelin flight takes place on Lake Constance near Friedrichshafen, Germany.
1900: Jean Sibelius' Finlandia receives its première performance in Helsinki with the Helsinki Philharmonic Society conducted by Robert Kajanus.
1961: American novelist, short story writer, and journalist, Nobel Prize laureate Ernest Hemingway dies (b. 1899).
1962: The first Walmart store, then known as Wal-Mart, opens for business in Rogers, Ark.
1977: Russian-born novelist and critic Vladimir Nabokov dies (b. 1899).
2013: American computer scientist, inventor of the computer mouse Douglas Engelbart dies (b. 1925).
July 3
1767: Norway's oldest newspaper still in print, Adresseavisen, is founded and the first edition is published.
1877: German-born Swiss poet, novelist, painter, and Nobel Prize laureate Hermann Hesse born.
1886: The New-York Tribune becomes the first newspaper to use a linotype machine, eliminating typesetting by hand.
1883: Czech-Austrian author Franz Kafka born.
July 4
1804: American novelist and short story writer Nathaniel Hawthorne born.
1826: John Adams, 2nd President of the United States (b. 1735), and Thomas Jefferson, 3rd President of the United States (b. 1743), both die on the same day.
1831: American soldier, lawyer, and politician, 5th President of the United States James Monroe dies (b. 1758).
1855: The first edition of Walt Whitman's book of poems, Leaves of Grass, is published In Brooklyn.
1950: Radio Free Europe first broadcasts.
1883: American sculptor, cartoonist, and engineer Rube Goldberg born. It was a needlessly complicated birth.
July 5
1687: Isaac Newton publishes Philosophiæ Naturalis Principia Mathematica.
1833: French inventor, creator of the first known photograph Nicéphore Niépce dies (b. 1765).
1954: The BBC broadcasts its first television news bulletin.
1958: American author and illustrator Bill Watterson born.
July 6
1865: The first issue of The Nation magazine is published.
1893: French short story writer, novelist, and poet Guy de Maupassant dies (b. 1850).
1962: American novelist and short story writer, Nobel Prize laureate William Faulkner dies (b. 1897).
July 7
1752: French weaver and inventor, inventor of the Jacquard loom Joseph Marie Jacquard born.
1907: American science fiction writer and screenwriter Robert A. Heinlein born.
1928: Sliced bread is sold for the first time (on the inventor's 48th birthday) by the Chillicothe Baking Company of Chillicothe, Missouri. At the time, it was said to have been the greatest thing since...hmmm…
1930: British writer Arthur Conan Doyle dies (b. 1859).
July 8
1822: English poet and playwright Percy Bysshe Shelley dies (b. 1792).
1889: The first issue of The Wall Street Journal is published.
1947: Reports are broadcast that a UFO crash landed in Roswell, N.M., in what became known as the Roswell UFO incident.
July 9
1901: Prolific English author Barbara Cartland born. She published 722 novels and holds the Guinness World Record for the most novels written in a single year (23 in 1976). When she died in 2000, the paper industry went into a severe recession.
1911: Decidedly less prolific English author and illustrator Mervyn Peake born.
1945: Decidedly more prolific author (but nowhere near Cartland's output), Dean Koontz, born.
July 10
1851: French photographer and physicist, inventor of the daguerreotype Louis Daguerre dies (b. 1787).
1856: Serbian-American physicist and engineer Nikola Tesla born.
1863: American author and educator Clement Clarke Moore dies (b. 1779).
1871: French novelist Marcel Proust born. In Remembrance of Things Past, he probably wrote as many words in one novel as Cartland wrote in 722.
1888: Greek-Italian painter and set designer Giorgio de Chirico born.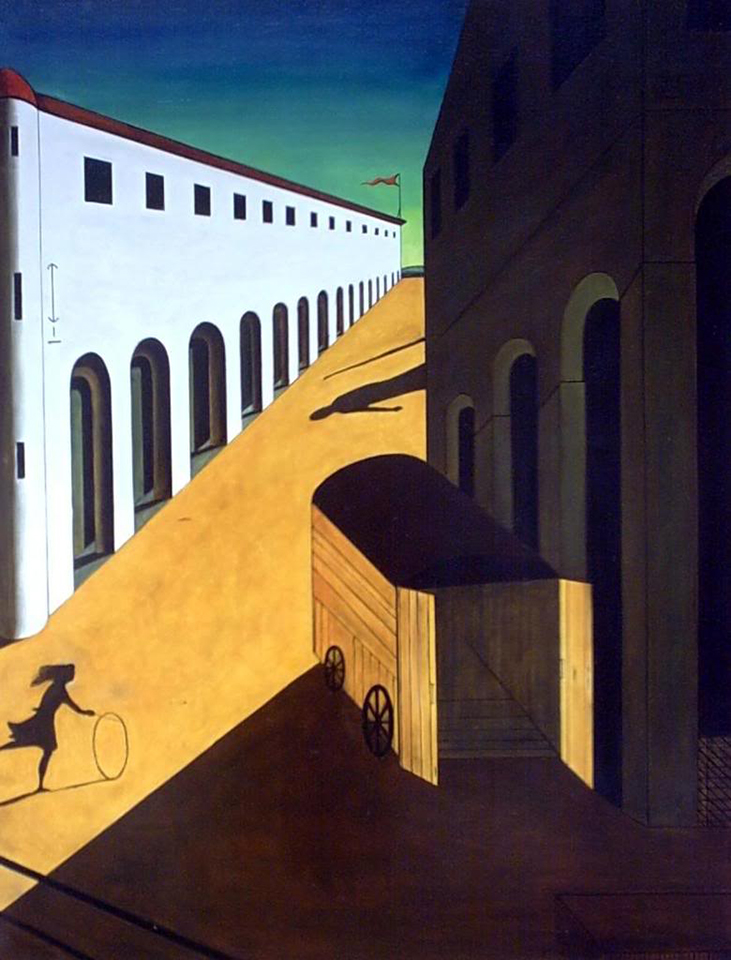 1962: Telstar, the world's first communications satellite, is launched into orbit.
1978: ABC World News Tonight premieres.
2008: Apple's AppStore opens.
July 11
1804: He did not throw away his shot: U.S. Vice President Aaron Burr (spoiler alert) mortally wounds Alexander Hamilton in a duel.
1899: American essayist and journalist E. B. White born.
1927: American-Canadian physicist and engineer, inventor of the laser, Theodore Maiman born.
1960: To Kill a Mockingbird by Harper Lee is first published in the United States.