You gotta admire the chutzpah of Prime Day--it looks at the commercialization of all other holidays and says, "Let's skip the pretense that Americans care about celebrating anything other than filling their empty souls with air fryers and earbuds." #AmazonPrimeDay

— Claire LaZebnik (@clairelazebnik) June 22, 2021
Graphene's Got Heart
Was it a good week for graphene news? It's always a good week for graphene news! Via Graphene-info, scientists from UC Berkeley and Stanford University have captured the real-time electrical activity of a beating heart, using a sheet of graphene to record an optical image—almost like a video camera—of the faint electric fields generated by the rhythmic firing of the heart's muscle cells. The uses for graphene appear to be endless—and, er, heartfelt.
Electile Dysfunction
NYC Mayoral Primary Results Delayed Until Officials Finish Watching YouTube Explainer On Ranked Choice Voting https://t.co/DXptxjpcso pic.twitter.com/luK8jwyZFG

— The Onion (@TheOnion) June 23, 2021
Keep Your Distance
As we all know, different people have different comfort levels when it comes to returning to public spaces post-COVID (if we are actually post-COVID—a big if). Metcalfe's Market, a grocery store in Wisconsin, has started offering free color-coded bracelets to help shoppers easily communicate their comfort levels. Says CNN:
Red means someone wants to stay six feet apart and have no physical contact with other people. Yellow is labeled "elbows only," for people still being cautious but not necessarily needing to be six feet apart. Green welcomes high fives and handshakes. The bands are offered at all three store locations. Customers can grab one when they walk in and team members are also wearing them.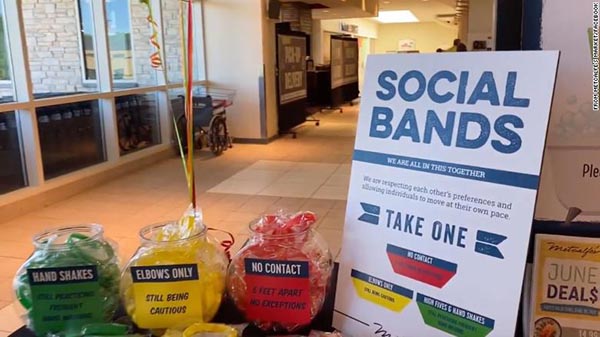 Trade shows should adopt this idea.
Danger Zone
Changed all my passwords to Kenny. Now all I have are Kenny Loggins.

— mariana Z (@mariana057) June 19, 2021
Street View
Stamen Design is a data visualization and cartography studio. One of their projects is Watercolor Maptiles, which displays OpenStreetMap data in the style of watercolor paintings.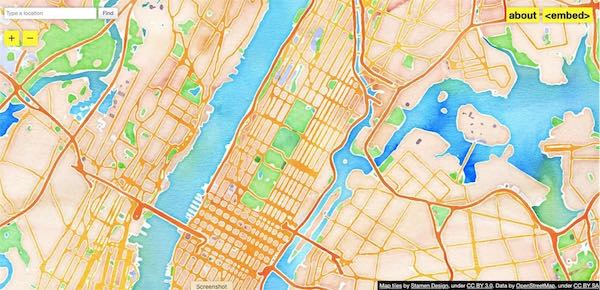 Pretty neat. Even neater is that, via Boing Boing, Stamen announced that Watercolor Maptiles was acquired by the Cooper Hewitt, Smithsonian Design Museum.
It is the Smithsonian's first acquisition of a live website into its collections, consisting of over 56 million map tiles (separate png image files) and the underlying code. In addition to archiving these assets, a duplicate copy of the live site will be maintained as a Smithsonian version, prioritizing the free access and interactivity that is inherent to the work[…]
It Is a Puzzlement
I know garden centre jigsaws are targeted at the elderly but this one is really rubbing their noses in it. pic.twitter.com/yTJMcXX3hI

— Jonathan Coe (@jonathancoe) June 10, 2021
Bass Master
Once upon a time, movie titles were an artform as creative as, if not more than, the movies they were opening. One of the great movie title designers was Saul Bass, an American designer who created titles for films directed by Alfred Hitchcock, Otto Preminger, Billy Wilder, Stanley Kubrick, Martin Scorsese, and many many more. Before Bass—and even largely after—movie titles were little more than white type over a dark background. But starting with a 1954 movie called Carmen Jones, a young Bass took a different approach to title design, and for a few decades, creative movie title design flourished.
Portuguese filmmaker/editor Luís Azevedo has created a short video, The Art of Movie Title Design, that looks at how Saul Bass pioneered the art of movie title design:
Disputin
Movies contain a disclaimer that "any similarity to actual persons, living or dead, or actual events, is purely coincidental" because in 1933, Rasputin's murderer sued MGM for libel in inaccurately depicting the events that lead to Rasputin's death.

— Quite Interesting (@qikipedia) June 14, 2021
The Glasses Half Full
Everyone it appears is working on some kind of smart glasses. As Gizmodo points out, most developers are targeting augmented reality (AR) applications. However, TCL is taking a different approach: developing them to be used as portable movie screens.
[TCL's NXTWEAR G Wearable Display Glasses] combine two 1080p Sony micro OLED displays that can supposedly emulate a 140-inch display in 16:9 aspect ratio. The glasses also sport stereo speakers and, in a nice touch for those of us with terrible eyesight, a lens adapter.
TCL also previewed a multi-screen collaboration feature, which lets you share screens across different devices—including the NXTWEAR G. Clearly, TCL is also trying to position this as a potential productivity tool. However, the design and specs seem to be better suited for viewing content, with the added bonus of privacy when you're not at home.
The powering issue has its advantages and disadvantages:
The NXTWEAR G is plug-and-play. All that's required is a USB-C display-out port from whatever device you usually watch content on. That does mean you have to deal with an unseemly wire, but on the other hand, there's no cause to worry about battery life. Not having to worry about battery life opens you up to a more comfortable form factor, as it doesn't require TCL to play the "Now Where Can We Stick This Bulky Battery?" game.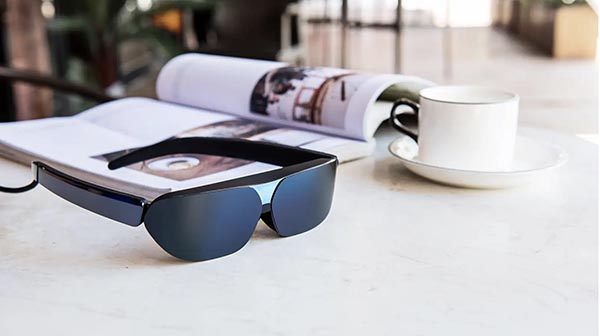 They'll be available for purchase next month…in Australia.
Roast in Peace
Energy company secretly changing thermostats remotely to roast customers in their own homes

It's official: we live in a dystopia https://t.co/wPIdA092D8

— Internet of Shit (@internetofshit) June 21, 2021
Games People Play
The first TV game show was the BBC's The Spelling Bee, which debuted in 1938 and the genre quickly became a staple both in the UK and certainly in the US. Classic American game shows have become part of our national culture, and now there is a National Archives of Game Show History at The Strong National Museum of Play in Rochester, N.Y., that will collect game show memorabilia. Says CNN:
The National Archives of Game Show History will preserve materials such as scripts, development documents, props, set designs and more to document the history of the genre.
The archives will be a research hub at The Strong and will likely not have a public exhibition for quite some time, the co-founders said. It will serve as a center for academic and industry research into the genre, providing a look back on its history, evolution, successes and failures in one place. The digital collection will be accessible worldwide via the museum's online catalogs.
"Parts of the archives could be available (online) to researchers within the next year or so, but anything (physical and) public facing is likely to be after the expansion in 2023," wrote Shane Rhinewald, senior director of public relations at The Strong, in an email.
They are asking if anyone has any material that might fit into the archives. Hmm…a search for game show memorabilia. That could be a game show in and of itself.
A Fool and His Money...
Earlier this year, an invisible sculpture was sold for $18,030. Artist Salvatore Garau says his work should 'activate the power of the imagination'.

— Quite Interesting (@qikipedia) June 24, 2021
We Need Steenking Badges
When Star Trek: The Next Generation revealed that the future of communicator technology was a wearable, it was a decided improvement over the old handheld communicator of the Original Series. However, there existed the possibility that they could fall off, as this amusing video demonstrates.
This is joyful.
Picard's popping comm badge.

(Created by Spock Pointy-ears Vulcan on Facebook https://t.co/4p0a9SgNYp) pic.twitter.com/i4FeuNDDfb

— Dr Jamie Gallagher (@JamieBGall) June 16, 2021
Bin There
Honestly? It completes me. pic.twitter.com/whNLW58Upc

— Simon Blackwell (@simonblackwell) June 19, 2021
Amazon Prime
Here is perhaps the strangest petition we have come across. Via Gizmodo:
For some bizarre reason, thousands of people want Amazon CEO Jeff Bezos to buy and eat the Mona Lisa. To clarify, the Mona Lisa in question is not food, it's probably the same Mona Lisa you're thinking of—the painting by Leonardo da Vinci that lives in the Louvre Museum in Paris. Earlier this week, an online petition for Bezos to buy and eat the famous painting suddenly started picking up traction.
The idea apparently first surfaced a year ago by Kane Powell, a Maryland musician who, while hanging with friends at an Applebee's, said Bezos should buy the painting "just because he has the money to do it." As if that were a good reason to do anything. Somehow, and no doubt the Applebee's drinks menu was involved, the idea of just buying the Mona Lisa morphed into buying and eating it. "Nobody has eaten the mona lisa and we feel jeff bezos needs to take a stand and make this happen," Powell wrote.
Of course, there would be barriers; we suspect that the Musée du Louvre, which currently owns the painting, would not be open to the idea. ("We have seen the petition but the Musée du Louvre will not comment," Sophie Grange, the museum's deputy director of communication, said in a statement"—or, in other words, a comment.) Then there is the fact that the painting is in fact not edible:
Da Vinci painted it on a thin-grained tree plank and covered it with a thick coat of lead white primer, Vice explained. You know, lead, the same substance that can kill you. The artist also used pigments in his palettes made of silica, iron oxide, tin oxide, and bone dust, among others.
Besides, all those still lifes with fruit would probably be healthier.
No New Memes
Holy. Shit. https://t.co/3DxM8k0TEd

— Josh Gad (@joshgad) June 24, 2021
For Art's Sake
Do you have a mobile phone? Do you want to help track down stolen art? If so, good news! Via Interpol's new app, you can now help nab art thieves. Via Smithsonian:
After downloading the free app—called ID-Art—users can upload images or input keywords to search for information about specific missing objects, reports Valentina Di Liscia for Hyperallergic. Pop-ups will prompt users who come across valuable information to report their findings directly to the police.
Granted, van Gogh's The Parsonage Garden at Nuenen in Spring (1884) (stolen from a Netherlands museum during COVID-19 lockdown) or the 13 works nicked in 1990 from the Isabella Stewart Gardner Museum (the biggest art theft in modern history) are probably not going to turn up at your local flea market (although you never know), but "collectors and art owners can use ID-Art's reverse-image search feature to check whether an item they purchased is of dubious provenance."
ID-Art also provides tools for people on the front lines of cultural heritage preservation. Users can take and upload photos of threatened heritage sites—for instance, a church in an active war zone—and create a "site card" with a timestamp, a geographic location and a detailed description of the scene. These crowdsourced images and information can provide a bank of digital evidence if the site is looted or destroyed.
Let's hope we never have to upload pictures of Jeff Bezos' stomach.
Just Plain Nuts
It's too bad they don't dye them anymore or they could have gotten him red handed. https://t.co/YNhOxQzSy3

— J. Elvis Weinstein (@JElvisWeinstein) June 21, 2021
When Life Gives You Lava, Bake a Pizza
Pacaya is a highly active volcano located in Guatemala, and while most of us would be wary of venturing anywhere near an active volcano, via Laughing Squid, David Garcia, a Guatemalan entrepreneur, decided to cash in and start an online pizza business—the hook being that all the pies (as well as select pasta dishes) are baked in the lava exuded by the volcano. He has appropriately named it Pizza Pacaya.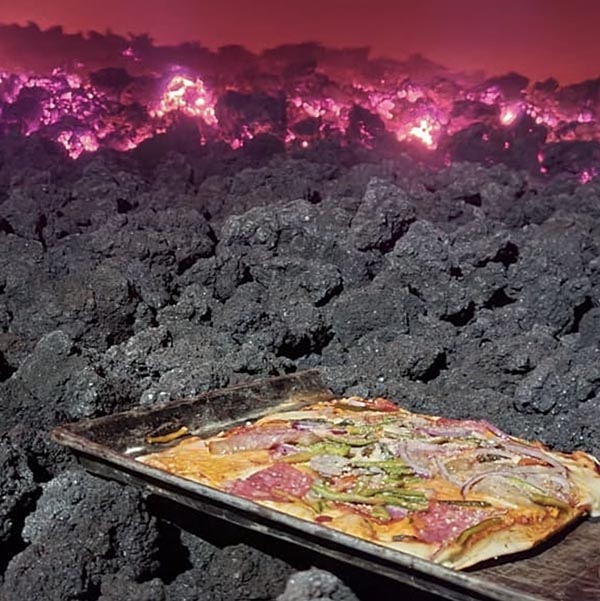 Their motto is not "Delivery in 30 minutes or less or driver gets chucked into the volcano."
Corrections
I've shopped here. That "or" should be a comma. pic.twitter.com/b06L35DLFE

— Paul Campbell (@ThePaulCampbell) June 23, 2021
Oven Ready
If your pizza-making needs are more modest than seeking out active volcanoes, via Core77, industrial design students at Münich University in Germany have created the Pizza Cannister 1.0, a jerry can-based portable pizza oven.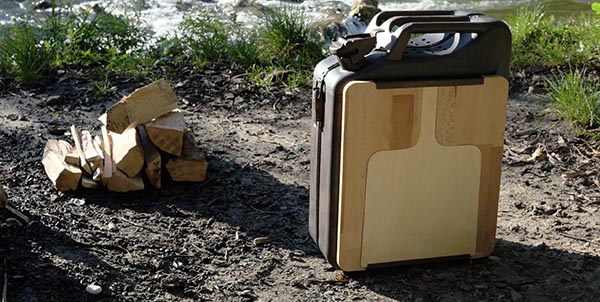 "The temperature of the pizza canister is reached by the flames reaching the underside of the pizza stone and being deflected from there to the rear area. Then it goes on into the upper chamber, over the pizza and through the fireplace outside. The stone slab is optimally heated and a pizza delicacy is created."
World's Most Dystopian Tweet
Your phone's about to get jealous of a toothbrush. ??? #OralBWOW

— Oral-B (@OralB) June 10, 2021
Let's Be Frank
OK, then, if pizza isn't your thing but cooking in lava is, head on up to Iceland, where they know from volcanoes, and team of hungry scientists had an ersatz weenie roast on an erupting volcano near the capital city of Reykjavik. Via Gizmodo, the scientists videorecorded themselves.
Apparently, volcano cuisine is a thing.
And plenty of other folks have filmed themselves cooking hot dogs in lava over the past decade, from Guatemala to Hawaii. There's even a restaurant in Spain's Canary Islands that will cook your dinner using the heat from a volcano.
The next step is to build a restaurant right on an active volcano.
Threats
Friend's Threats To Come Visit Becoming Disturbingly More Genuine https://t.co/kGjQiYDVRd pic.twitter.com/ppbKn1w6S2

— The Onion (@TheOnion) June 23, 2021
This Week in Printing, Publishing, and Media History
June 21
1903: American caricaturist, painter and illustrator Al Hirschfeld is born.
1905: French philosopher and author Jean-Paul Sartre born.
1944: English singer-songwriter and guitarist Ray Davies born.
1957: American author, illustrator, and creator of the Bloom County comic strip Berkeley Breathed born.
1973: WTF: the Supreme Court hands down the decision in Miller v. California 413 US 15, establishing the Miller test for obscenity in U.S. law.
1978: The original production of Tim Rice and Andrew Lloyd Webber's musical Evita, based on the life of Eva Perón, opens at the Prince Edward Theatre, London.
June 22
1906: Austrian-born American director, producer, and screenwriter Billy Wilder born.
1969: The Cuyahoga River catches fire in Cleveland, Ohio, drawing national attention to water pollution, and spurring the passing of the Clean Water Act and the creation of the Environmental Protection Agency.
June 23
1860: The United States Congress establishes the Government Printing Office.
1868: Christopher Latham Sholes receives a patent for the "Type-Writer."
1910: French playwright and screenwriter Jean Anouilh born.
1912: English mathematician and computer scientist Alan Turing is born.
1926: The College Board administers the first SAT exam.
1969: IBM announces that it will start pricing its software and services separately from hardware—thus creating the modern software industry.
1991: Sonic the Hedgehog is released to American audiences, then to PAL and Japanese audiences a month later, kickstarting the successful Sonic franchise.
2013: American author and screenwriter Richard Matheson dies (b. 1926).
June 24
1842: American short story writer, essayist, and journalist Ambrose Bierce born.
1930: American businessman, founder of Ziff Davis William Bernard Ziff Jr. born.
1947: Kenneth Arnold makes the first widely reported UFO sighting near Mount Rainier, Wash.
1949: The first television western, Hopalong Cassidy, is aired on NBC starring William Boyd.
1957: In Roth v. United States, the U.S. Supreme Court rules that obscenity is not protected by the First Amendment.
June 25
1848: A photograph of France's June Days uprising, "Barricades on rue Saint-Maur," becomes the first photograph used to accompany a newspaper story, launching the practice of photojournalism.
1903: British novelist, essayist, and critic George Orwell born.
June 26
1927: The Cyclone roller coaster opens on Coney Island.
1929: American illustrator and graphic designer Milton Glaser born.
1948: Shirley Jackson's short story The Lottery is published in The New Yorker magazine.
1974: The Universal Product Code is scanned for the first time to sell a package of Wrigley's chewing gum at the Marsh Supermarket in Troy, Ohio.
1997: Oh, FFS: the U.S. Supreme Court rules that the Communications Decency Act violates the First Amendment to the United States Constitution.
June 27
1880: American author, academic, and activist Helen Keller born.
1895: The inaugural run of the Baltimore and Ohio Railroad's Royal Blue from Washington, D.C., to New York City, the first U.S. passenger train to use electric locomotives.
1898: The first solo circumnavigation of the globe is completed by Joshua Slocum from Briar Island, Nova Scotia.