Your Friday If People Golfed in a Rush
Out and about in the world for the first time in 15 months and can confirm: I no longer remember how to wear shoes

— e m m a s w i f t (@emmaswiftsings) June 4, 2021
It Wasn't Us
Some of you may have experienced the brief Internet outage Tuesday morning, as some popular sites like Amazon, Twitch, Reddit, CNN, the New York Times, and many others were booted offline (WhatTheyThink was unaffected). You may have read that it was all due to a company most of us have never heard of: Fastly, a content delivery network and, says The Verge, "a major middleman in internet traffic." It was further revealed that it was a single Fastly customer and a software bug that caused all the problems.
"We experienced a global outage due to an undiscovered software bug that surfaced on June 8 when it was triggered by a valid customer configuration change," Nick Rockwell, the company's SVP of engineering and infrastructure wrote in a blog post last night. "This outage was broad and severe, and we're truly sorry for the impact to our customers and everyone who relies on them."
Apparently, whatever the request was, it triggered a bug that had only been introduced to Fastly's systems by an update in mid-May. Clearly the fault lies with Fastly for not catching that it borked its own code, but we have to ask: Who did it? Valid change or no, some specific, unnamed customer triggered the bug. It's obvious why Fastly has not named the customer or the exact set of circumstances that created this undesirable outcome, but we just want to know: What does it feel like to take down half the internet by accident?
There are some days when we imagine it would feel pretty good!
At any rate, it just goes to prove that one person can indeed have a major impact on the world.
Hot Seat
If I buy a seat on Blue Origin will Amazon immediately start emailing me ads for seats on Blue Origin? https://t.co/GdXXMzaDga

— J. Elvis Weinstein (@JElvisWeinstein) June 7, 2021
Writer's Blocks
LEGO gets retro with a new, 2,079-piece model typewriter—complete with moving keys and carriage. Says CNN:
The newly launched set, aimed at adult builders, was inspired by an idea from British LEGO fan Steve Guinness.
He submitted his concept to the LEGO Ideas platform, which takes new designs dreamed up by fans, puts them to a public vote and turns them into reality. Guinness' winning concept, which won more than 10,000 votes, will also see him receive a share of the profits from sales.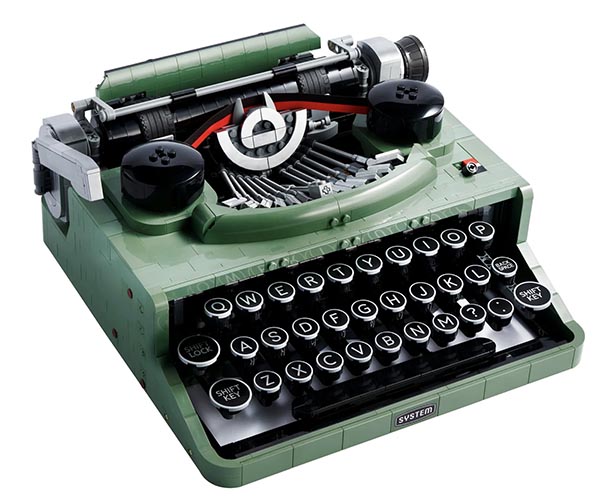 Driven Crazy
The Millennial storms in this morning with an exasperated look on her face and proceeds to tell me:

"I've been Ubering every day this week to avoid the cicadas. They owe me like $200 at this point."

— Doug Andres (@DougAndres) June 9, 2021
Taco Trucking
We thought this was an amusing headline, from the Loudon (Va.) Times-Mirror: "Cicada tacos reemerge at Cocina after brief absence." The story is even stranger. When the cicadas started emerging, Tobias Padovano, chef at Cocina on Market in Leesburg, Va., did what any enterprising epicure would do: use them as ingredients in tacos and serve them. Not long afterward, in one of those "What Did You Expect?" moments, "a customer ordered and ate the cicada tacos, only to later complain to the Loudoun County Health Department." The Health Department forced Cocina to stop serving them—but not for the reason you would expect:
Victor Avitto, an environmental health supervisor with the Loudoun County Health Department, told the Times-Mirror that the cicadas needed to be sourced from an approved food source, and only then it would it be fine to serve them. "They need to be sourced from a farm that is inspected and certified," he said.
Is there such a thing? Well, apparently yes, but some ways away.
Padovano said he found an online source for cicadas from Dubai which was approved by Avitto, allowing for the sought-after cicada tacos to again be served.
So much for sourcing food locally.
Fair Point
Restaurants are such a weird concept... yeah how bout I just sit here eating someone else's food while my house sits completely empty and open to attack. Lemme just leave my desktop computer unguarded while I go to town on this risotto. Insane.

— Brooks Otterlake (@i_zzzzzz) June 5, 2021
When CMSes Attack
It's tempting, we bet, for many journalists (and industry trade publication writers) to write humorous, Onion-like stories that are not designed to ever see the light of publication (aside from our April Fool edition). It can be rather therapeutic sometimes. Anyway, you can imagine the horror of one New York Times writer (or other staffer) when it was discovered that the Times reported online "Fields of Watermelons Found On Mars, Police Say." Bylined "Joe Schmoe" (a pseudonym, wethinks), it went on to say:
Authorities say rise of fruit aliens is to blame for glut of outer space watermelons.
The FBI declined to comment on reports of watermelons raining down, but confirmed that kiwis have been intercepted. This story is terribly boring.
The story somehow went live, although was taken down not long afterward. It was speculated that it was "the result of a content management system test that went awry." We can relate.
Malcontent is King
I prefer malcontent creator.

— J. Elvis Weinstein (@JElvisWeinstein) June 8, 2021
Batty
Some of you may have heard of British adventurer and author James Holman. Born in 1786, he was a British naval lieutenant before losing his eyesight to rheumatic illness at age 25. Despite this, he attended medical school (the first blind person to do so), but in 1819 began to, as they say, live the dream. He often dreamt of traveling, and became one of the most well-traveled men of his day and would publish an acclaimed memoir of his journeys. But he wasn't just a traveler:
Holman traveled to all known continents. In Siberia he was accused of spying, imprisoned and exiled as an enemy of the Tsar. In Africa he participated in fighting the slave trade, helping to found what is now the nation of Equatorial Guinea (where the Holman River was named in his honor). Often greeted and celebrated simply as "the Blind Traveler," he published five volumes of memoirs, and was famous enough upon his death in 1857 to warrant a multi-page entry in the Encyclopedia Brittanica.
How did he get around so well? He perfected a kind of "echolocation" (aka "acoustic wayfinding," or "using a variety of auditory cues to create a mental map of the surrounding environment") whereby the tap-tap-tap of his walking stick or the clopping of a horse's hooves allowed him to navigate via sound.
We were reminded this week of Holman after coming across this article in Smithsonian citing new research published at PLOS ONE that found that anyone can learn echolocation, regardless of age or visual acuity.
Participants were between 21 and 79 years old, and included 12 people who are blind and 14 people who are not blind. Over their ten weeks of echolocation training, they faced tasks like using clicking to figure out whether the pair of disks in front of them had a larger disk at the top or bottom or to identify how a rectangle plank was oriented. Participants also navigated obstacles virtually in the lab, and outside of the lab, they navigated using clicking and a long cane.
The results showed that all of the participants could learn how to echolocate, regardless of their age or whether they were blind. Some of the study participants even did better at their tasks when compared to the seven expert echolocators, who have more than a decade of experience using echolocation to navigate.
A perfect skill for navigating strange hotel rooms in the middle of the night.
Unsolved Mysteries
Can mimes tweet or is it a whole "letter of the law" / "spirit of the law" thing with them?

— Jeremy Meyers (@jeremymeyers) June 7, 2021
Eye-Yi-Yi
Via Core 77, Minwook Paeng, a Korean industrial designer and UX designer, who has worked for Samsung, LG Electronics, and Hyundai, is pursuing a Masters in Innovation Design Engineering at the Royal College of Art in London. His student project is a tongue-in-cheek but eminently practical solution to the problem of oblivious mobile phone users: Third Eye, a wearable designed for "phono sapiens" that is strapped to the forehead and detects when the wearer is about to walk into something.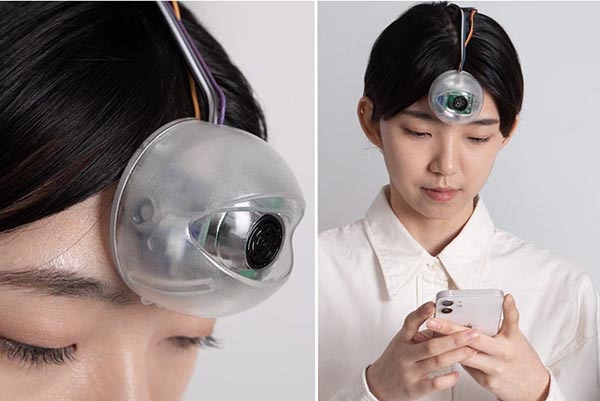 A sensor on the wearable detects when the wearer's head is tilted downwards, which prompts the eyelid on the housing to flip open and the camera to turn on. It scans for obstacles in front of the wearer, and triggers a warning buzz when the wearer's path is about to intersect with it.
Issues
Subscribing to any newsletter, I think: it would be great if all the best stuff from all the newsletters I subscribe to could be curated by someone smart and sent to me each week in a single newsletter, and then I realize I have invented the magazine.

— Olivia Nuzzi (@Olivianuzzi) June 3, 2021
Shed Your Wings
Always count on Around the Web to deliver the timeliest, most important stories of the week, such as this year's finalists in the UK's Shed of the Year Contest. Via Core77:
The UK's annual Shed of the Year competition is sponsored by British gardening supply company Cuprinol. (We looked at last year's winner here.) They've got this year's entries winnowed down to 22 finalists, and as you'd expect, the past year's pandemic and lockdown means people spent some serious time working on theirs.
Good Fern Now
I use @djrrb's beautiful font Fern for the @SongExploder site, and he's currently offering Fern as the Font of the Month for June! https://t.co/nMR5GgJskK

— Hrishikesh Hirway (@HrishiHirway) June 3, 2021
Out of the Pool
Commuters and other drivers never seem to tire of unique ways of faking extra passengers in order to use carpool or HOV lanes—usually some kind of mannequin. One Long Islander, however, thought he could get away with this lazy approach: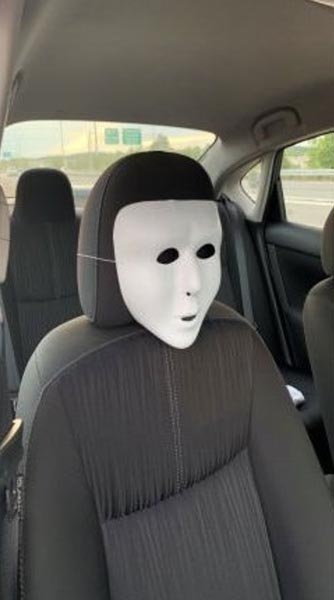 He did not get away with it.
The officer stopped the car and found that Kunis had attached a mask to the front passenger headrest in an attempt to make it look like there was a passenger in the vehicle with him.
Kunis was ticketed for the HOV lane violation.
Star Wars!
It's A Mad, Mad, Mad, Mad World. https://t.co/rK7pNiKoj1

— Charles P. Pierce (@CharlesPPierce) June 8, 2021
Sponge Worthy
Are you nostalgic for old cassette tapes? And do you use sponges? If you said yes to both, well, good news! Via Laughing Squid, Fred, a retailer of unique items, is selling a set of sponges that resemble old cassette mix tapes, complete with punny band names.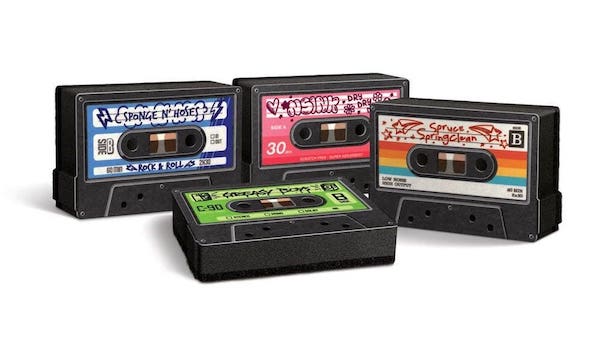 The sponges are sold in packs of four inside a retro boombox case.
Lobes' Labors Lost
So these Sony headphones ask you to upload an actual photo of your earlobes to optimise the spatial audio support and the privacy policy is hilarious pic.twitter.com/vcVkzEny9v

— Benjamin Mayo (@bzamayo) June 3, 2021
Residential Video
If your musical taste extended to the extreme fringes in the 1970s and 80s, you may be familiar with the avant garde group The Residents, who were predominantly known for two things: being completely anonymous and wearing giant eyeball heads. Since their first single in 1972, they have consistently released some of the strangest music ever made. They are still more or less active—although, since no one had ever known who they were, it's tough to determine if any of the original members remain. (Hardy Fox, long associated with the Cryptic Corporation—their public face—died a few years ago and it has long been suspected by fans that he was one of the bad. Homer Flynn, also of the Cryptic Corporation, also denied being a band member, although his speaking voice sounded pretty identical to the "singing Resident.")
Anyway, we bring this up after we came across a collection of "One Minute Movies" on Boing Boing this week. These were a series of promo films (aka videos) for several tracks from their 1980 record The Commercial Album. (The Residents pursued video as well as audio almost from Day 1, various movie or video projects threatening to bankrupt them and most remaining unfinished.)
The Residents get occasional play here in the Around the Web Cultural Accretion Bunker, which is a good way to keep others out.
Another Fair Point
Study: 89 Percent Of Networking Nonconsensual https://t.co/pDnqy0WPvU pic.twitter.com/Iku6qMR5VJ

— The Onion (@TheOnion) June 5, 2021
Bloomsday
Next Wednesday, June 16, is "Bloomsday," a day to celebrate the life and works of Irish author James Joyce, so named because June 16, 1904, was the date on which the events in Joyce's 1922 novel Ulysses take place, specifically Leopold Bloom's Odyssey-like wanderings around Dublin. To help celebrate, Mental Floss offers "12 Facts About James Joyce."
Some years ago, we had come across a podcast called "Frank Delaney's Re: Joyce," which, launched in May 2016, was a very witty and entertaining weekly, five-minute sentence-by-sentence deconstruction of Ulysses. We use the past tense because, alas, Mr. Delaney passed away in 2017 after only 368 episodes (the last episode starts in segment 9 of Chapter 10 ["The Wandering Rocks"]).
There is also a Twitter feed called Ulysses Reader that tweets out all of Ulysses 280 characters at a time.
At any rate, we wish you an enjoyable Bloomsday.
Check It Out
I had the rudest and most impatient cashier today.

That's the last time I'm using self checkout.

— Dan Regan (@Social_Mime) June 5, 2021
This Week in Printing, Publishing, and Media History
June 7
1810: The newspaper Gazeta de Buenos Ayres is first published in Argentina.
1848: French painter and sculptor Paul Gauguin born.
1911: American engineer and designer Brooks Stevens born, most famous for designing the Wienermobile.
1955: Lux Radio Theatre signs off the air permanently. The show launched in New York in 1934, and featured radio adaptations of Broadway shows and popular films.
1958: American singer-songwriter, multi-instrumentalist, producer, and actor Prince (né Prince Rogers Nelson) born.
1970: English novelist, short story writer, essayist E. M. Forster dies (b. 1879).
1971: The United States Supreme Court overturns the conviction of Paul Cohen for disturbing the peace, setting the precedent that vulgar writing is protected under the First Amendment to the United States Constitution.
1975: Sony introduces the Betamax videocassette recorder. Alas, the "videotape war" of the late 70s and early 80s would result in VHS becoming the dominant format...for a while.
June 8
1809: English-American theorist and author Thomas Paine dies (b. 1737).
1867: American architect Frank Lloyd Wright born.
1887: Herman Hollerith applies for US patent #395,781 for the "Art of Compiling Statistics," which was his punched card calculator.
1912: Carl Laemmle incorporates Universal Pictures.
1949: George Orwell's Nineteen Eighty-Four is published, initially as fiction.
1916: English biologist, biophysicist, neuroscientist, and Nobel Prize laureate Francis Crick is born.
June 9
1523: The Parisian Faculty of Theology fines Simon de Colines for publishing the Biblical commentary Commentarii initiatorii in quatuor Evangelia by Jacques Lefèvre d'Étaples.
1870: English novelist and critic Charles Dickens dies (b. 1812).
1891: American composer and songwriter Cole Porter born.
1930: A Chicago Tribune reporter, Jake Lingle, is killed during rush hour at the Illinois Central train station by Leo Vincent Brothers, allegedly over a $100,000 gambling debt owed to Al Capone.
1934: Donald Duck makes his debut in The Wise Little Hen.
1961: American screenwriter, producer, and playwright Aaron Sorkin born, and was walking and talking in no time.
1973: Secretariat wins the U.S. Triple Crown.
June 10
1793: The Jardin des Plantes museum opens in Paris. A year later, it becomes the first public zoo.
June 11
1572: English poet, playwright, and critic Ben Jonson born.
1892: The Limelight Department, one of the world's first film studios, is officially established in Melbourne, Australia.
1910: French biologist, author, inventor, and co-developer of the aqua-lung Jacques Cousteau born.
1935: Edwin Armstrong gives the first public demonstration of FM broadcasting in the United States.
1936: The London International Surrealist Exhibition opens.
1998: Compaq Computer pays US$9 billion for Digital Equipment Corporation in the largest high-tech acquisition.
2002: Antonio Meucci is acknowledged as the first inventor of the telephone by the United States Congress.
June 12
1817: The earliest form of bicycle, the dandy horse, is driven by Karl von Drais.
1916: American director and producer Irwin Allen born.
1920: American cartoonist Dave Berg born.
1939: Shooting begins on Paramount Pictures' Dr. Cyclops, the first horror film photographed in three-strip Technicolor.
1939: The Baseball Hall of Fame opens in Cooperstown, N.Y.
1949: English singer-songwriter, bass player, and producer John Wetton born.
1959: American singer-songwriter and musician John Linnell born.
1985: American computer programmer and co-creator of Mozilla Firefox Blake Ross born.
June 13
1865: Irish poet and playwright W. B. Yeats born.
1971: The New York Times begins publication of The Pentagon Papers.
1983: Pioneer 10 becomes the first man-made object to leave the central Solar System when it passes beyond the orbit of Neptune.