Your Friday Action Film-Inspired Backyard Obstacle Course for Squirrels
Watching Graphene Grow
Was it a good week for graphene news? It's always a good week for graphene news! From The Graphene Experts:
Researchers from the University of Surrey have designed a new method that enables common laboratory scanning electron microscopes to see graphene growing over a microchip surface in real time.
This discovery could create a way to control the growth of graphene in production factories and lead to the reliable production of graphene layers. The new technique not only produces graphene sheets reliably but also allows to use catalysts that reduce growth times from several hours to only a few minutes.
Calling Fowl
Not even a peck?! https://t.co/u0bNDJzTcZ

— Mina Kimes (@minakimes) May 21, 2021
What's That Smell?
Movie historians may recall Smell-O-Vision, attempts over the years (starting as long ago as 1868 in the Alhambra Theatre of Variety in London) to make plays and movies olfactorily interactive by triggering scents to be dispersed at strategic points in the production.
At any rate, the personalized, customizable platform of Virtual Reality (VR) might finally be the right niche for a true Smell-O-Vision, which might be coming soon to a VR headset near you!
The startup OVR Technology is incorporating smell into virtual reality and using it in a new program designed to allow people to experience the effects of climate change.
Truth in Advertising
Every Instagram ad is like "after 5 painstaking years of design. 10 years of research. We did it. We made a coffee machine that costs 400 dollars."

— eli yudin (@eliyudin) May 25, 2021
Doom Captcha
Tired of identifying motorcycles, parking meters, or stairs in order to complete a login? Well, via Boing Boing, why not a Doom-themed captcha?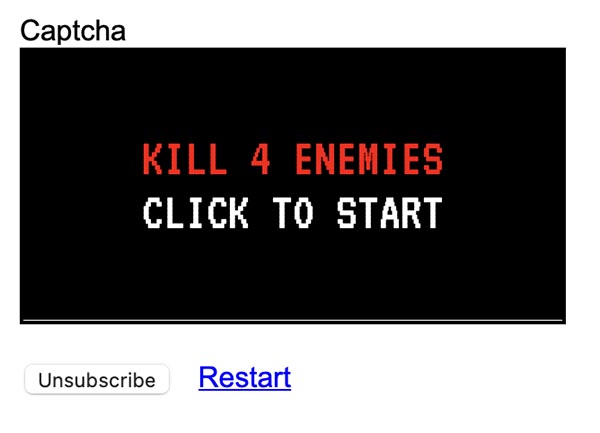 We note the disclaimer: "Don't take this too seriously, this is a little project for fun, if do you know how to code it's pretty easy to break the security of this."
Agility
me: I need a sporty SUV

peugeot: here you go

me: now if only someone could also grind my pepper

peugeot: you're not gonna believe this pic.twitter.com/UI7KUPdx4X

— Ben Schott (@benschott) May 25, 2021
Of Werewolves and Men
Are you a fan of author John Steinbeck? Actually, we're not either, although we might have made it through Grapes of Wrath in high school a lot mor easily if we had known that Steinbeck had also written a novel about a werewolf. Alas, it has never been published and if Steinbeck's estate has anything to say about it (and they do), it never will be. From the NY Times:
Nine years before John Steinbeck published his Pulitzer Prize-winning historical masterpiece, "The Grapes of Wrath," he was working on a lighthearted detective novel featuring a werewolf.
The manuscript, "Murder at Full Moon," was completed in 1930 but was never published. A single copy has been sitting, mostly forgotten, in an archive in Texas since 1969. It includes drawings by Steinbeck himself.
Although Steinbeck wrote it under a pseudonym (Peter Pym), he didn't destroy the manuscript once he had made it with the classics he is known for, which he had done with other unpublished manuscripts. Still, his agents and estate are acceding to what they believe are his wishes.
"Steinbeck wrote 'Murder at Full Moon' under a pseudonym, and once he became an established author, he did not choose to seek publication of this work," a representative of the New York-based agency, McIntosh & Otis, wrote. "There are several other works written by Steinbeck that have been posthumously published, with his directions and the careful consideration of the Estate. As longtime agents for Steinbeck and the Estate, we do not exploit works that the author did not wish to be published."
Blocked
The shortest academic paper is called 'The unsuccessful self-treatment of a case of "writer's block"'. It contains no words.

— Quite Interesting (@qikipedia) March 2, 2020
Google Gets Physical
Taking a cue from Apple and Microsoft (and even Amazon), Google is opening its own physical store in New York City. Says The Verge:
The new store will be located in Chelsea, as part of Google's campus in that neighborhood (the company's New York headquarters are already located there). The Google Store will display and sell a variety of Google products: Pixel phones, Nest smart home devices, Fitbit trackers, Pixelbooks, and more. Customers will also be able to order products through Google's online stores and pick them up in person at the physical Google Store location.
Waiting for the UFOs
the problem with all this UFO stuff coming out now is that it is not at all a good time for us as a planet to be meeting other species

— joe (@JoePerticone) May 21, 2021
Down at the Heels
For those who wear high heels, this might be good news—or it could be potentially hazardous. From Core77:
Italian inventor Veronica Crisafulli has created a workable pair of telescoping high heels. You can quickly change their height to 5cm, 6cm or 7cm, and "this flexibility allows women to embrace fashion and function in a single shoe," Crisafulli's company, Trilly, writes. "No extra shoes or removable heels to carry around."
Click a release button, and the heel height can be adjusted. The next step, we would think, would be to motorize them so they can be adjusted by remote control while they're being worn. You've heard of elevator shoes? These would be more like escalator shoes.
At any rate, they have been successfully crowdfunded on Kickstarter (for $110).
Panic
Every time I hear the list of places that might or might not have extra local Covid restrictions I can't help adding 'Dublin, Dundee, Humberside' in my head.

— Laura Lee Davies (@LauraLeeDavies) May 25, 2021
Jeans Therapy
Are you eager to venture out into the world, but don't think anyone will recognize you off Zoom? Well, French fashion company LEJE has created a pair of "optical illusion jeans" that, via Laughing Squid, "are strategically cut and stitched in such a way that the fabric of the clothing moves independently of the clothing itself. The overall effect is reminiscent of glitchy video."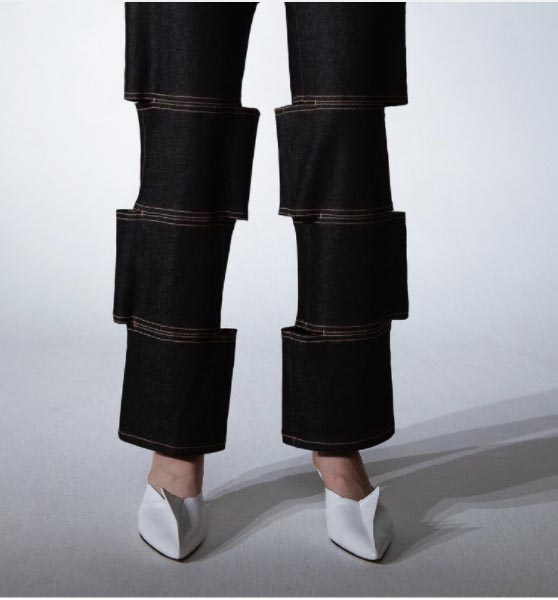 All you have to do is occasionally freeze or start soundlessly mouthing the words of what you're saying and no one will know you're not on Zoom.
Senior Moment
Surgeon Totally Blanks On What He Cut Open Patient For https://t.co/9ybxsnGCpo pic.twitter.com/rK3t33YlW2

— The Onion (@TheOnion) May 26, 2021
The Cheese Wished It Stood Alone
Here's a popular story from last week that we found amusing yet creepy (like most of the stories we highlight in Around the Web). From The Verge, the headline caught our attention immediately: "This picture of cheese helped send a man to prison for 13 years."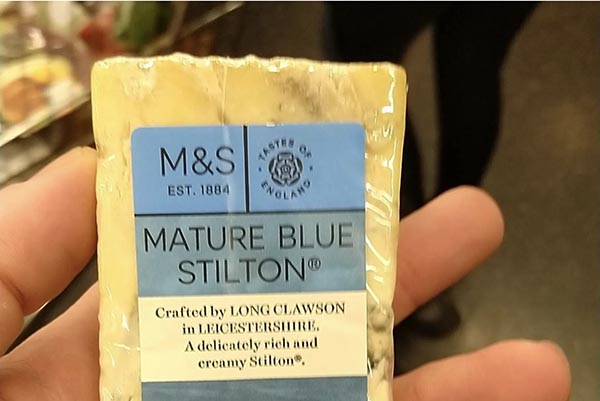 OK, in for a penny, in for a pound (of cheese): tell us more.
[UK's Merseyside Police] successfully identified drug dealer Carl Stewart (39, of Gem Street, Liverpool) and convicted him of conspiracy to supply cocaine, heroin, MDMA, and ketamine with the help of a simple photo of a wedge of stilton.
"No whey!" you may say. But yes, it was a feta compli:
Stewart seems to have made two errors in sharing his cheesy photo. The first is that the photo contained a clear image of his fingerprints and palm, which Merseyside Police were able to analyze and use to identify him. Stewart isn't the first criminal to have been convicted thanks to fingerprints identified from a photo, but it's yet another reminder that your fingerprints are far from the top-secret identifiers we often consider them to be.
Second is that he shared the photo on EncroChat, the supposedly encrypted phone system that was compromised by authorities last March, leaving its security with more holes than swiss cheese.
Could say he didn't know jack about EncroChat.
Reboot
Breaking Badly, same as Breaking Bad, but he teaches English instead of chemistry.

— Howard Mittelmark (@HMittelmark) May 23, 2021
Throw in the Towel
May 25 was Towel Day, the annual celebration of the work of Douglas Adams. It was especially significant in that 2021 marks the 42nd anniversary of the publication of The Hitchhiker's Guide to the Galaxy, "42" of course being the answer to the ultimate question of life, the universe and everything. Via Gizmodo, Del Rey has published a new anniversary edition, with all-new illustrations by Chris Riddell.
I Second That Emoji
The lobster emoji and the NY Mets logo are the exact same thing don't argue with me pic.twitter.com/dzhJm65Y71

— Jill Capewell (@capeybara) May 26, 2021
This Week in Printing, Publishing, and Media History
May 24
1595: Nomenclator of Leiden University Library appears, the first printed catalog of an institutional library.
1683: The Ashmolean Museum in Oxford, England, opens as the world's first university museum.
1686: Polish-German physicist, engineer, and developer of the Fahrenheit scale Daniel Gabriel Fahrenheit born.
1830: "Mary Had a Little Lamb" by Sarah Josepha Hale is published.
1844: Samuel Morse sends the message "What hath God wrought" (a biblical quotation, Numbers 23:23) from a committee room in the United States Capitol to his assistant, Alfred Vail, in Baltimore, Md,, to inaugurate a commercial telegraph line between Baltimore and Washington D.C.
1895: American publisher and founder of Advance Publications Samuel Irving Newhouse Sr. born.
1941: American singer-songwriter, guitarist, artist, writer, producer, and Nobel Prize laureate Bob Dylan born.
"There's a birthday in the news, Bob Dylan is celebrating his 80th. Can you believe that? But Bob's still pushing the envelope, word on the street is his wheelchair just went electric." pic.twitter.com/2zIY8gZoqd

— James Urbaniak (@JamesUrbaniak) May 24, 2021
1956: The first Eurovision Song Contest is held in Lugano, Switzerland.
1958: United Press International is formed through a merger of the United Press and the International News Service.
1963: American novelist, short story writer, and screenwriter Michael Chabon born.
May 25
1803: English author, poet, playwright, and politician, Secretary of State for the Colonies Edward Bulwer-Lytton born.
1803: American poet and philosopher Ralph Waldo Emerson born.
1878: Gilbert and Sullivan's comic opera H.M.S. Pinafore opens at the Opera Comique in London.
1895: Playwright, poet, novelist and aesthete Oscar Wilde is convicted of "committing acts of gross indecency with other male persons" and sentenced to serve two years in prison.
1898: American publisher, television game show panelist, and co-founder of Random House Bennett Cerf born.
1927: American soldier and author Robert Ludlum born.
1938: American short story writer and poet Raymond Carver born.
1953: The first public television station in the United States officially begins broadcasting as KUHT from the campus of the University of Houston.
1958: English singer, songwriter and musician Paul Weller born.
1977: Star Wars is released in theaters.
2019: Towel Day 2019, annual celebration of the life and work of Douglas Adams and The Hitchhiker's Guide to the Galaxy.
May 26
1703: English politician and diarist Samuel Pepys dies (b. 1633).
1897: Dracula, a novel by Irish author Bram Stoker, is published.
1897: The original manuscript of William Bradford's history, "Of Plymouth Plantation" is returned to the Governor of Massachusetts by the Bishop of London after being taken during the American Revolutionary War.
1904: English singer-songwriter and actor George Formby born.
1926: American trumpet player, composer, and bandleader Miles Davis born.
1967: The Beatles' Sgt. Pepper's Lonely Hearts Club Band is released.
May 27
1911: American actor Vincent Price born.
1912: American novelist and short story writer John Cheever born.
1925: American journalist and author Tony Hillerman born.
1930: The 1,046 feet (319 m) Chrysler Building in New York City, the tallest man-made structure at the time, opens to the public.
1933: The U.S. Federal Securities Act is signed into law requiring the registration of securities with the Federal Trade Commission.
1933: The Walt Disney Company releases the cartoon Three Little Pigs, with its hit song "Who's Afraid of the Big Bad Wolf?"
1934: American author and screenwriter Harlan Ellison born.
May 28
1843: American lexicographer Noah Webster dies (b. 1758).
1849: English novelist and poet Anne Brontë dies (b. 1820).
1883: English-Welsh architect and designer of the Portmeirion Village Clough Williams-Ellis born.
1908: English journalist, author, and creator of James Bond Ian Fleming born.
1936: Alan Turing submits On Computable Numbers for publication.
1945: American singer-songwriter, guitarist, and producer John Fogerty born.
1961: Peter Benenson's article "The Forgotten Prisoners" is published in several internationally read newspapers. This will later be thought of as the founding of the human rights organization Amnesty International.
2014: American memoirist and poet Maya Angelou dies (b. 1928).
May 29
1874: English essayist, poet, playwright, and novelist G. K. Chesterton born.
1886: Pharmacist John Pemberton, inventor of Coca-Cola, places the first advertisement for his product in The Atlanta Journal. It would not be the last.
1911: English playwright and poet W. S. Gilbert dies (b. 1836).
1913: Igor Stravinsky's ballet score The Rite of Spring receives its premiere performance in Paris, France, provoking a riot.
2019: The YouTube channel T-series (an Indian music record label and film production company) is the first YouTube channel to reach 100 million subscribers.
May 30
1631: The first French newspaper, Gazette de France, makes its début.
1744: English poet, essayist, and translator Alexander Pope dies (b. 1688).
1960: Russian poet, novelist, and literary translator, Nobel Prize laureate Boris Pasternak dies (b. 1890).