Your Friday IBM Selectric Golf Ball in Slow Motion
like the cicadas ?? https://t.co/qf7moFVjja

— Alex Naser-Hall (@anaserhall) May 10, 2021
A Taxing Problem
Tax week was upon us this week, and while the IRS gave us all a month's extension due to COVID, it's possible they had their own reasons for extending the tax deadline. Apparently, the agency has been struggling to process returns in a timely fashion because of broken printers. Says Politico:
Forty-two percent of printers for those involved in processing returns were unusable at the end of March. In the agency's Kansas City outpost, officials are down to three working printers and "the employees we spoke with were concerned that they would have a work stoppage if these remaining devices became unfunctional."
Some of the printers didn't have ink and, in other cases, "the waste cartridge container is full," the report said, noting the agency uses printers for everything from making copies of tax returns to preparing training packages for new hires.
They can't just buy new ink or empty the waste cartridge container? There's a bit more to it than that.
The agency's contract for the printers ended last September, though "due to COVID-19, these printers remain in the Tax Processing Centers, and the IRS is continuing to use them."
The agency signed a contract for new printers, from a different provider the following month. "However, [IRS employees] indicated that the new contractor may not have been coming into the sites to replace the old printers due to COVID-19 concerns."
Ah.
Math Problems
Only in math can you buy sixty cantaloupes and no one asks what the hell is wrong with you. - CHARLES M. SCHULZ

— Quite Interesting (@qikipedia) May 10, 2021
Tarotfied
Via Boing Boing, a COVID-based Tarot card deck, CoronaTarot, created by animator Steve Speer, occultist Ami Lahoff, and Pantheist Lena Strayhorn.
The CoronaTarot is an encapsulation of the zeitgeist, channeled to offer guidance and consolation through this wondrous and bizarre period of transition. The CoronaTarot deck is a unique and powerful oracular device for navigating the META AEON."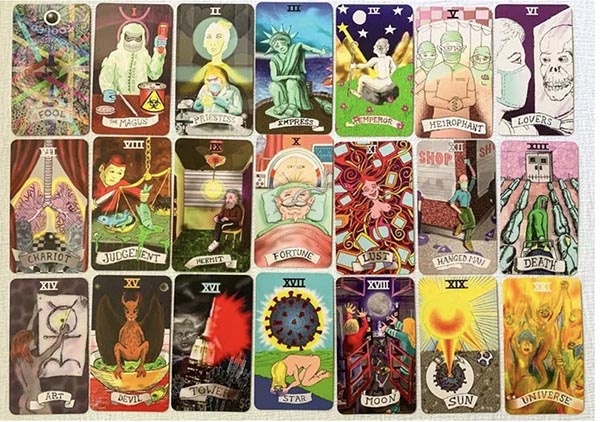 Kinda satiric and kinda creepy—just like 2020. You can buy this wicked pack of cards here.
Oh, The Sacrifices We Make
Gwyneth Paltrow broke down and ate bread during quarantine. What was your lowest point? https://t.co/ZoEBq6IsXG

— Guardian US (@GuardianUS) May 10, 2021
Stake Out
If you're into medical tourism, this would be cool: "A Romanian castle said to be the home of Dracula is offering free Covid-19 jabs to visitors as part of a vaccination drive." Do they give you the shot in your neck?
A Vert Your Eyes
I propose a third category of "vert" to be catalogued by @MerriamWebster in addition to "extro-" and "intro-":

Zoomtrovert: to experience loss of energy at a much higher rate than expected for social situations that occur over Zoom (or any other video streaming platform).

— Tim Schnell (@timateomateo) May 11, 2021
Jean Genie
Was it a good week for graphene news? It's always a good week for graphene news! Thermally regulated jeans! This is just one way the miracle material graphene is making its way into products you may be using every day in the not-to-distant future.
This Maalox Moment
Wow, it's like a picture of a stomach cramp.

— J. Elvis Weinstein (@JElvisWeinstein) May 9, 2021
Don Teflon
The world's first plant-based textile water and stain repellent. We're all familiar with the Teflon brand. The material occurs in a number of products across a variety of industries, everything from automotive to plumbing and now in a plant-based water and stain repellent coating for textiles. Durable, too: Teflon EcoElite™ finish continues to repel water and water-based stains for 30 or more washes, unlike other non-fluorinated finishes.
No word on whether you can cook eggs on it.
Weird
it better be Weird Al https://t.co/DrOVNOdzBp

— blaine capatch (@blainecapatch) May 10, 2021
Urine for it Now
Do you want to keep track of how well-hydrated you are? And do you want to be able to use Pantone color matching to do so? Well, good news! Simply get the Pantone Pee Chart. From Kottke.org:
Pantone are the color experts, so of course they've teamed up with a Scottish bottled water company to produce a chart with 5 color gradations that help you determine your hydration level.
On a good day, it's possible to match up to 95% of Pantone pee colors.
The water company in question, Highland Spring, is also offering the Highland Spring Natural 10 Challenge: "Drink 10 glasses of water* (or other fluids, such as herbal tea) every day for 10 days. Feel better, start a new healthy habit." Ten glasses of water a day may be a bit much—depending on your activity, and of course how much fluid intake you get from other sources, such as foods. The Mayo Clinic has good advice on proper hydration, although no information about how much water you get from mayo. And, of course, use the Pantone chart to determine if you are under- or over-hydrated.
When Life Gives You Pork
Ugh, my least favorite flavor. pic.twitter.com/CtfV1KqBfs

— Al Yankovic (@alyankovic) May 9, 2021
Plastic People
These days, plastic definitely needs a PR boost, which is just what Spain's EsPlásticos is doing. EsPlásticos is a PR "platform" for the European plastics industry. So, to help point out the recyclability of plastic, they have launched The Museum of Plastic, with a catch. Says Core77:
a temporary structure made out of you-know-what, erected outside of Spain's National Museum in Madrid. Its projected lifespan is just ten days; opened last Saturday, it's due to be torn down on May 17th--World Recycling Day--and recycled in its entirety, to remind the public that, yinno, plastic is recyclable.
However:
Plastic is a wonderful material, and it's wonderful that it's technically recyclable. The problem is that the vast majority of plastic is never recycled. According to National Geographic, citing a global study from the peer-reviewed journal Science Advances, just 9% of plastic gets recycled.
The Return
maybe it will come back https://t.co/5JSrpflUGk

— Emo Philips (@EmoPhilips) May 10, 2021
Duly Noted
Do you still use spiral notebooks? And do you wish yours had clever comments on the cover? Well, then good news! Why not try WTF Notebooks, featuring customizable covers and interior pages.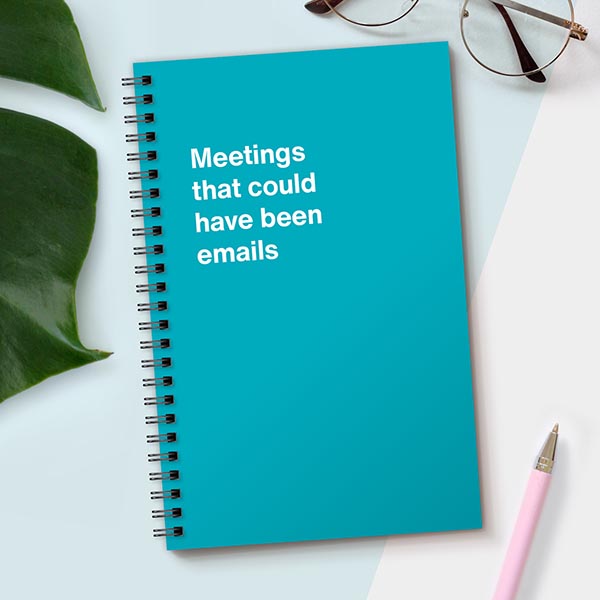 A small sampling of other options:

And there are some NSFW options, as well. Collect the set!
Upon Reflection…
Dear Honda,
Replacing wing mirrors on cars with cameras is a terrible idea. It's like replacing your eyeballs with digital telescopes. Yes you can see further but it will go wrong. Mirrors don't go wrong.
Kind regards,
Mirror man. C/o Human League.

— Tim Vine (@RealTimVine) May 9, 2021
Romper Room
Are you eager to get back out and about but still have concerns about viral infection? Oh, and would you like to look like a ninja or perhaps a member of Devo? Well, why not opt for the BioRomper.
BioRomper is the new jumpsuit for the new normal — a bold combination of sleek design, sustainable craftsmanship, and silver ion antimicrobial technology that provides an additional layer between you and the germs lurking on seats, armrests, headrests, and more. For the cautious and the intrepid, alike.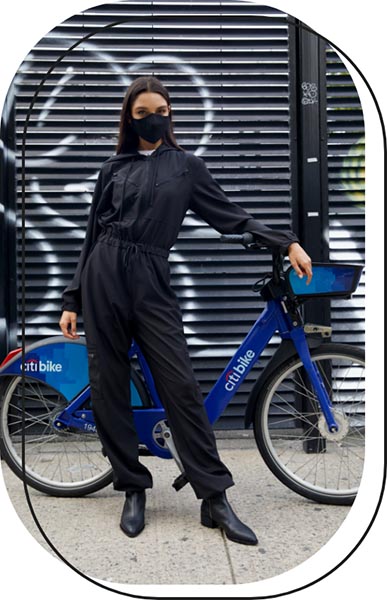 Perfect for indulging your inner Howard Hughes.
Meat the Press
Saw that #GrangeHillSausage was trending and feared the wurst.

— Jonathan Meres (@JonathanMeres) May 10, 2021
Dropping Drawers
Whenever one buys a house, one inevitably discovers a multitude of design or construction sins committed by the previous owners. New homeowner Tyler from Fishkill, N.Y., discovered a kitchen drawer requires "three-factor authentication" (in a way) to open it.
Booty Call
"Shake your booty" is terrible advice. Surely the jangling would only alert other pirates to the treasure?

— Sanjeev Kohli (@govindajeggy) April 14, 2021
Wings of Desire
Well, now it's serious. Says Vox: "The great American chicken wing shortage is upon us."
As national and regional chains rushed to meet the demand of the pandemic delivery market, a natural first inclination was to add chicken wings to the menu. In conjunction with the push to support locally owned businesses and struggling bars, demand for chicken reached its highest levels in years, and reserves are at the lowest levels seen in a decade.
… Wholesale prices have increased dramatically since before the pandemic started, and it's hitting small businesses — primarily independent bars — the hardest. No bar menu is complete without chicken wings, but nobody wants to spend twice the usual price for a dozen. That leaves bars with a choice: Pass the cost onto customers to keep everything running smoothly, like my local bar, or eat the cost by charging the same amount and essentially losing money on every plate of wings that leaves the kitchen. For massive corporate chains that regularly feature loss leaders on their menus, this is less of an issue. For independent kitchens with already paper-thin margins, the choice becomes more perilous.
Back in the before times, one fun thing to do was to go to a local sports bar that, if you went on your birthday, you got your age in chicken wings. After a certain age, though, it becomes less of a night out and more of an extinction event.
This Week in Printing, Publishing, and Media History
May 10
1824: The National Gallery in London opens to the public.
1869: The First Transcontinental Railroad, linking the eastern and western United States, is completed at Promontory Summit, Utah, with the golden spike.
1902: American director and producer David O. Selznick born.
1954: Bill Haley & His Comets release "Rock Around the Clock," the first rock and roll record to reach number one on the Billboard charts.
1962: Marvel Comics publishes the first issue of The Incredible Hulk.
1975: Sony introduces the Betamax videocassette recorder in Japan.
May 11
868: A copy of the Diamond Sutra is printed in China, making it the oldest known dated printed book.
1811: Thai-American conjoined twins Chang and Eng Bunker born.
1854: German-American engineer, invented the Linotype machine Ottmar Mergenthaler born.
1904: Spanish painter and illustrator Salvador Dalí born. (Fish.)
1942: William Faulkner's collections of short stories, Go Down, Moses, is published.
It wasn't canceled...it was murder. https://t.co/ujvpKcTWoi

— J. Elvis Weinstein (@JElvisWeinstein) May 11, 2021
2001: English novelist and screenwriter Douglas Adams dies (b. 1952). So long, and thanks for all the fish.
May 12
1593: London playwright Thomas Kyd is arrested and tortured by the Privy Council for libel.
1812: English poet and illustrator Edward Lear born.
1828: English poet and painter Dante Gabriel Rossetti born.
1846: The Donner Party of pioneers departs Independence, Mo., for California, on what will become a year-long journey of hardship and cannibalism.
1937: American comedian, actor, and author George Carlin born.
1941: Konrad Zuse presents the Z3, the world's first working programmable, fully automatic computer, in Berlin.
May 13
1842: English composer Arthur Sullivan born.
1907: English novelist and playwright Daphne du Maurier born.
1922: German graphic designer and typographer Otl Aicher born.
1937: American author and poet Roger Zelazny born.
1944: American author, screenwriter, and actor Armistead Maupin born.
1954: The original Broadway production of The Pajama Game opens and runs for another 1,063 performances. It will later receive three Tony Awards for Best Musical, Best Performance by a Featured Actress in a Musical, and Best Choreography.
May 14
1925: Virginia Woolf's novel Mrs Dalloway is published.
1944: George Lucas born. (May the 14th be with you....)
1952: Singer-songwriter, producer, and actor David Byrne born.
1993: American journalist and publisher William Randolph Hearst, Jr. dies (b. 1908).
May 15
1856: American novelist L. Frank Baum born.
1858: The present Royal Opera House in Covent Garden, London, opens.
1886: American poet and author Emily Dickinson dies (b. 1830).
1905: Las Vegas is founded when 110 acres, in what later would become downtown, are auctioned off.
1905: American businessman, amateur photographer, and creator of the "Zapruder film" Abraham Zapruder born. (Funny, he never made another movie after that.)
1923: American photographer Richard Avedon born.
1926: English playwright and screenwriter; works included Equus and Amadeus Peter Shaffer born.
1928: Walt Disney character Mickey Mouse premieres in his first cartoon, "Plane Crazy."
1948: English singer-songwriter, keyboard player, and producer Brian Eno born.
May 16
1866: The United States Congress establishes the nickel.
1888: Nikola Tesla delivers a lecture describing the equipment which will allow efficient generation and use of alternating currents to transmit electric power over long distances.
1891: The International Electrotechnical Exhibition opens in Frankfurt, Germany, and will feature the world's first long distance transmission of high-power, three-phase electric current (the most common form today).
1929: In Hollywood, the first Academy Awards ceremony takes place.
1946: English guitarist, songwriter and producer Robert Fripp born.
1960: Theodore Maiman operates the first optical laser (a ruby laser), at Hughes Research Laboratories in Malibu, Calif.
Anything catch your eye "around the Web"? Share it with us at [email protected].